You may have heard of PayPal payout, direct bank transfer or other payment options to pay affiliate commission. There's one more option to pay affiliates in WooCommerce and that is store credit.
The difference here is, instead of sending money, you're sending them store credit. It's a monetary value assigned as a credit to customers. It can be used until exhausted or expired.
This way, your affiliates get a chance to accumulate money and can use it to buy products from your WooCommerce store.
This article will help you understand how easily you can mark and send store credit to your affiliates.
Note – Use Affiliate for WooCommerce plugin to mark store credit and then, use WooCommerce Smart Coupons plugin to send store credit to your affiliates.
Why pay affiliates with store credit?
Affiliates can make purchases for free or less price
Your affiliates or your own customers-turned-affiliates who make frequent purchases from your store can find this useful. They can use the store credit to buy products from your store.
Build relationships with customers
Customers will be excited to get something from you and stay longer with your brand.
Acquire new affiliates to sell your free product
For free products, giving cash commissions may turn out costly. But giving a small store credit can earn you new affiliates. They would be happy to promote your products. It will also get you more sales from these customers in the future.
Steps to mark commission as store credit for your affiliates
Affiliate for WooCommerce is a popular plugin on WooCommerce.com. It helps you to set up your own affiliate program easily.
You can manage your affiliates from a single dashboard, create marketing campaigns, make payout via PayPal, set up commission plans and do a lot more.
Marking store credit for the desired affiliates is similar to marking reward points for your affiliates.
Here's how you can mark store credit for affiliates: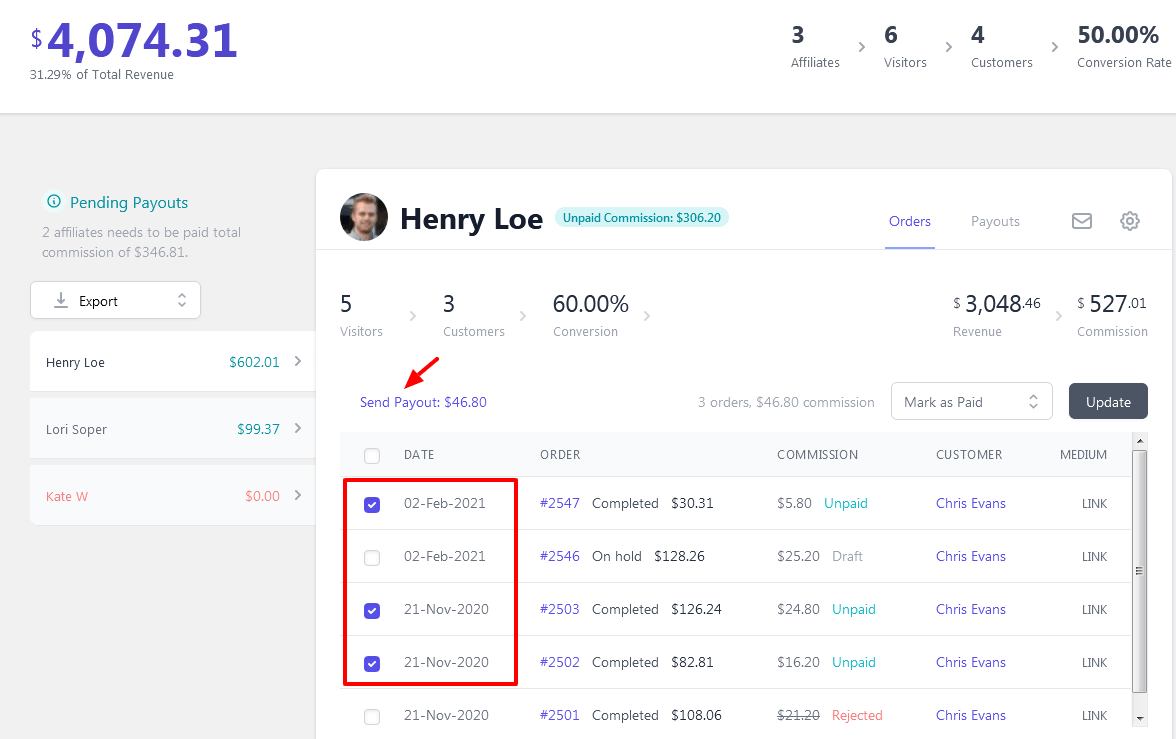 Log in to the Admin panel of your WordPress
Go to WooCommerce > Affiliates
Select the checkboxes of the affiliate showing the status as Unpaid in the commission column.
Once selected, click on Send payout

Select Payment method as Others

Select Payment Method as Others
Under Record date, mention the date of sending the store credit.
In Notes, mention the store credit value you want to assign to this affiliate. For example – $46.80 store credit.
Click on Send
That's all.
This store credit amount will not be debited or sent in the form of money. Your affiliate will find it as Notes under their My Account > Affiliate > Reports > Payout History section.
How to actually send commission as store credit to affiliates?
Now, to issue actual store credit to your affiliates, you can use the popular and official WooCommerce Smart Coupons plugin or any other WooCommerce store credit plugin you are familiar with.
Smart Coupons gives you everything you need for discounts, coupons, credits, gift cards, product giveaways, offers, and promotions.
Steps to send store credit with Smart Coupons: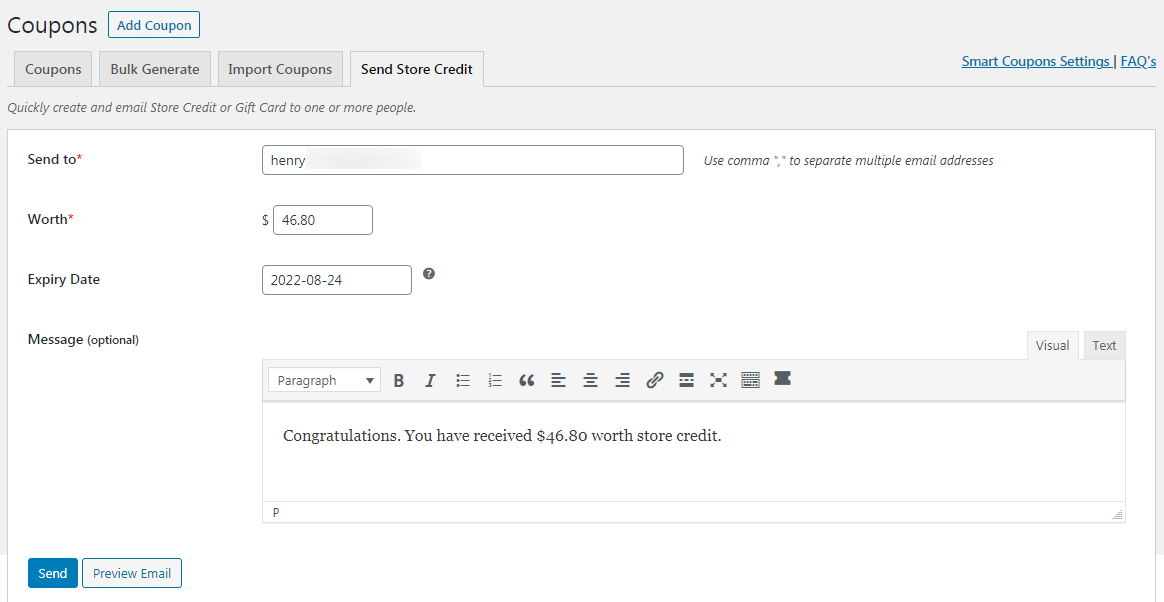 Go to WP Admin panel > Marketing > Coupons and click on the Send Store Credit tab.
Under Send to, enter the email address of the affiliate you want to send the store credit.
Under Worth, enter the store credit amount, $46.80
You can also add a message to personalize your email
Click on Send
The affiliate whose email address you have entered will receive the store credit. You can follow similar steps to mark and send store credit to other affiliates.
Affiliates can also check their store credit balance in the My Account > Coupons section.
Smart Coupons also provide you the option to create and send store credit based on advanced restrictions like products, shipping methods, user roles and others. Here's how.
Conclusion
Store credit can be an alternative to cash commissions. Paying via store credit extends you the freedom of not having to make the payments instantly and regularly to your affiliates.
It is a great opportunity for your affiliates to accumulate store credit and buy some exciting products from your store.
This and many more clever features are offered by Affiliate for WooCommerce and WooCommerce Smart Coupons plugins to take your store to the next level. Get them today!