Setting up the right affiliate commissions is a crucial step in your affiliate program.
You may have affiliates –
Who will bring in sales for your best-selling products
Who will help you sell your low-selling products
Who will make limited sales of some high-paying product
Therefore, all of them deserve commission rates on a different basis.
With its easy and quick processes, Affiliate for WooCommerce helps you to create, assign and change (whenever needed) the commission plans conveniently. And assign product-based commissions.
Assign 20% commission on best-sellers, 30% commission on slow-moving products, 25% commission on product category 'Digital' or any other case, you can set it up using a commission plan.
Steps to creating a commission plan for a product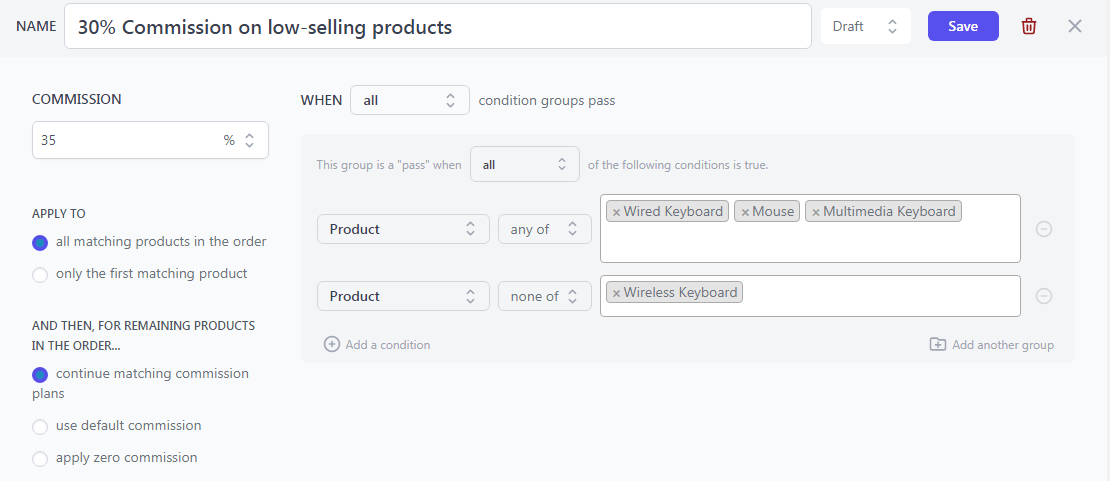 Go to WooCommerce > Affiliates > Plans
Click on Add a plan and Enter your commission plan name
Set the commission percentage or commission amount under the commission tab
Under WHEN rule, select from the dropdown
In the rule group, under This group is a pass when, select all from the dropdown
Now, in the rule-group, select Product from the dropdown.
To include multiple products for the said commission, search and enter the products and keep any of rule.
To exclude some product from the commission, click on Add a condition, select Product, choose none of and enter those products.
On the left-hand side, under APPLY TO, select all matching products in the order.
Under AND THEN, FOR REMAINING PRODUCTS IN THE ORDER… select continue matching commission plans. Here, if products other than the ones mentioned in the commission plan are present in the customer order, other commission rates if set will be applicable for these products.
Make your commission plan Active using the dropdown on the top and click on Save.
That's all.
Now, your affiliates are entitled to receive product-based commissions.
Steps to creating a commission plan based on a product category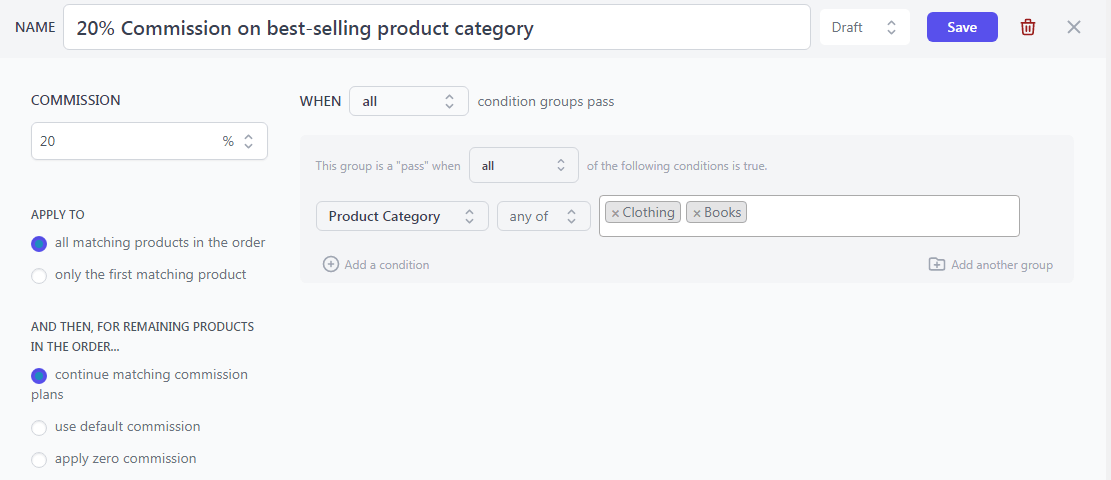 Repeat the same steps above for product category-based commission, except steps 7 and 8. In step 7, instead of Product, choose Product category from the dropdown. And in step 8, search and enter the product category instead of products.
Conclusion
Not just products, you can also assign commissions based on affiliates, tags, and others. Affiliate for WooCommerce plugin is the most simple-to-use plugin and set up your own affiliate program.
So, make the most out of your affiliate program, earn without working too hard and take your brand to the next level with Affiliate for WooCommerce.