High commissions hurt your profits. Low commission discourages affiliates.
So what helps strike a balance between the two? And also encourage more people to join your affiliate program?
It's the tiered affiliate program or tiered commission structure.
This article will tell you why and how you can set up a multi tier affiliate program on your WooCommerce store.
What's a tiered affiliate program?
It's an affiliate program structure whereby affiliates earn commissions on the sales they make as well as on the sales generated by people they refer to your program.
Let's make it clear with an example.
John is your affiliate, sells your product X and earns a commission.
Now, John referred Maria to your affiliate program, she sold your product X. In this case, both Maria and John will earn a commission.
Similarly, if Maria refers to Laura and she sells your product X, all the three – Laura, Maria and John will earn a commission.
So, Laura belongs to the first tier in your affiliate program. Maria belongs to the second tier. John belongs to the third tier.
There can be an unlimited number of tiers.
So, in a two-tier affiliate program, or a multi-tier program (two or more levels), the first tier of commission is the same as in a regular affiliate program. The only difference is the additional tier(s), whereby affiliates also earn a commission on sales generated by people they referred to the program.
Set up a multi tier affiliate program for your WooCommerce store
Affiliate for WooCommerce plugin is the most easy-to-use plugin to set up your own WooCommerce affiliate program.
And now, the plugin helps you set up a multi-tier commission structure for your store for an unlimited number of tiers. Full flexibility to you.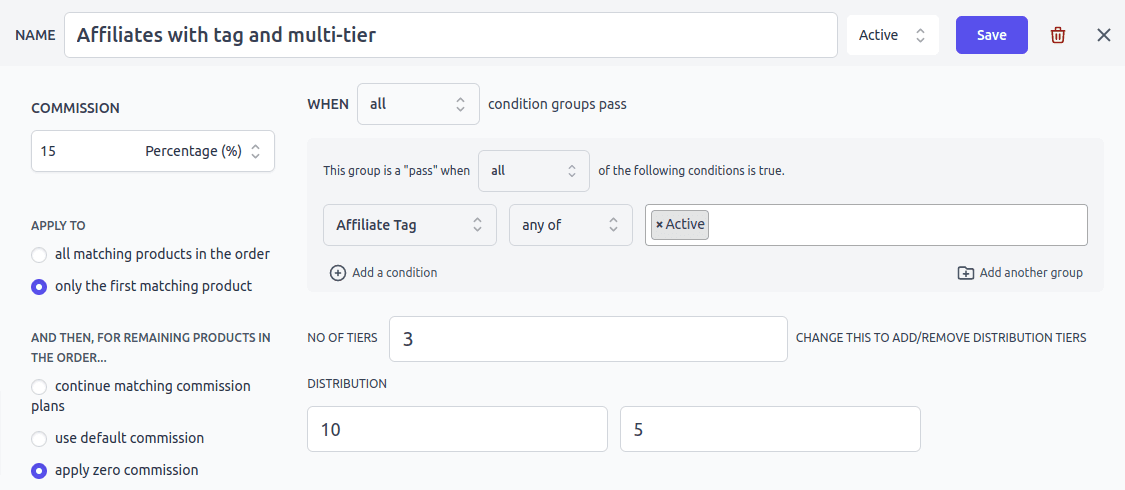 The biggest advantage of this commission structure is that it attracts more and more people who are more interested in profiting from the work of others as opposed to doing any actual work themselves.
Obviously, the two-tier commission will not be that high as of first-tier commission, but it is an addon to generate more money (passive income) without doing much work. The commission rates vary for different programs.
No doubt, why many pro bloggers prefer affiliate marketing over ad networks (such as CPM, CPC models, etc). If you are not into affiliate marketing, here's why you should start affiliate marketing right now.
Benefits of tiered affiliate commission structure
While not all affiliate programs use commission tiers, it's something you should consider for your own.
Reduce affiliate recruitment effort and cost
It takes a lot of effort to recruit affiliates for your affiliate program. But with your affiliates already in the mood to earn more money, they go all out to recruit affiliates for your program.
The result, you spend less effort, save time and cost in recruiting affiliates.
More sales due to heavy promotion
It's not just some affiliates but an army of affiliates that are promoting your products/brand. Thus, you get more visibility and more sales in the long run.
When your affiliates know they have a profitable path forward, they'll strive to perform better (i.e. make more sales).
Btw, here, your affiliates need some marketing assets to promote your brand better. Images, banners, swipe files, etc. Affiliate for WooCommerce plugin lets you create marketing campaigns with ease.
Ending notes
Get Affiliate for WooCommerce plugin and start creating multi-tier commission plans. It's quick and simple.
Require any help regarding setting up commissions, reach to us and we will help you out.