Wishlist Or Save for Later – What should I use on my WooCommerce store?
If this question is burning in your mind, I'm sure you will get the answer in this post.
You'll also see the pros of having a WooCommerce wishlist and Save for Later, and the best plugins for each of them. Let's begin.
Wishlist vs Save For Later – What's the major difference?
Users like some products but delay the purchase. Maybe they want to see the price at a competitor or wait for offers.
Now, the next time when the same user lands on your website to buy those products, the entire shopping procedure needs to be repeated again. A time-consuming task, which user finds it frustrating and abandons.
So, Wishlist and Save for Later, both help overcome this easily. But there's a big difference between the two.
A wishlist is basically a personal shopping bag that helps to store items in a list that customers like but don't have an immediate intent to purchase.
On the other hand, Save for Later help users save items or products directly to the cart, thus nudging customers to make a purchase sooner.
So, Save for Later has one major advantage over the wishlist. But that doesn't keep the wishlist behind from showcasing its own advantages.
Benefits of having a wishlist
Enhance the shopping experience of the users by allowing them to have products for future reference.
Reminds users about the products that might interest them in the future
Allow customers to name their Wishlist and create numerous lists
Include share buttons so customers can send wishlists to friends and family.
Sharing wishlists can give a boost to your store traffic
Allow customers to store out-of-the-stock products in the wishlist and notify customers via email when back in stock.
The best WooCommerce wishlist plugins
Wondering how to optimize your store to have a wishlist feature? Here we detail you on the top three WooCommerce wishlist plugins that you can integrate and install within your online store.
WooCommerce Wishlists
One of the easiest ways to add a wishlist to your WooCommerce store is to use a plugin and WooCommerce Wishlists is the best option. The plugin allows your customers to create and add products to an unlimited number of wishlists. The plugin works like a charm and is proven to increase the sales and conversion rate of the store.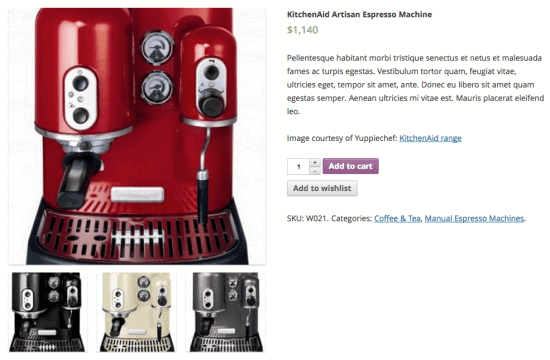 Top features:
Allows guest visitors to store products and have it saved for 30 days
Registered customers have no restrictions on the number of products and the days up to which they have access to the same.
With WooCommerce Wishlists, customers can make their wishlist public or private. Users can also share the list with their family / friends.
Regular notifications sent as a reminder for the products added to the wishlist.
Social media sharing options available for the products added to the list
A robust Admin section to view and manage created wishlists
Pricing: $79
Get WooCommerce Wishlists plugin
TI WooCommerce Wishlist
Having more than 90,000+ active installs on WordPress, this plugin by Temple Invaders is yet another popular WooCommerce wishlist plugin.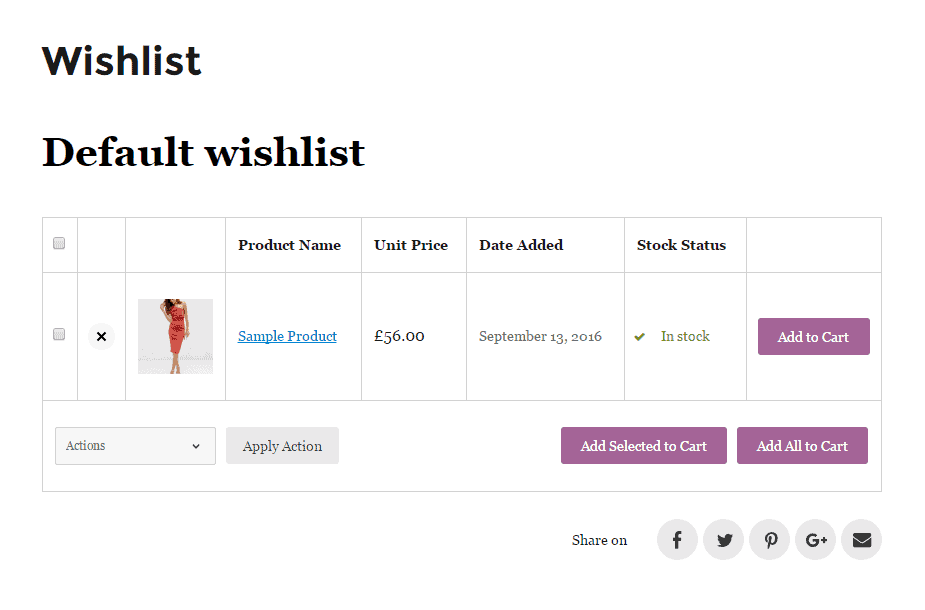 Top Features:
Specify the name or the wishlist page
Items once added to the cart are automatically removed from the list
Shortcode to place the 'Add to wishlist' button wherever desired
Customizable wishlist table columns
Share wishlist on social channels (Facebook, Twitter, Pinterest, Google+, WhatsApp, email)
Premium version allows to have several wishlists for the same user, seek an estimate, promotional emails, privacy settings, etc.
Pricing: Free version on WordPress.org, $79 – $499 for the Pro versions, based on the license you choose.
Get TI WooCommerce Wishlist plugin
YITH WooCommerce Wishlist
YITH WooCommerce Wishlist plugin helps you redefine your store capabilities by adding a wishlist feature within the same.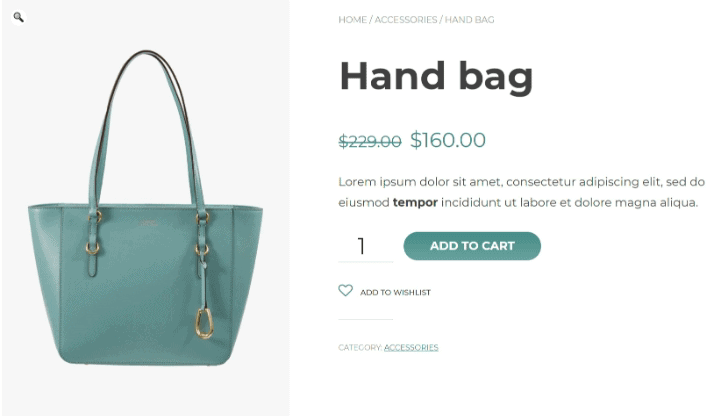 Top features:
Allow your customers to create multiple wishlists
Determine where to display the WooCommerce wishlist button or link
Show the 'Add to Cart' button in the wishlist table
Send an email to the wishlist owner whenever one of the products in the list is back in stock or on sale.
Share wishlist on social media (WhatsApp, Instagram, etc).
Pricing: $95
Get YITH WooCommerce Wishlist plugin
Why Save for Later is a better WooCommerce wishlist alternative?
Though a wishlist has its own set of pros, save for later has bigger benefits than a wishlist.
1. Drives instant purchase as items are saved in cart
Save for Later allows to store products directly to the cart. And when customers find their desired products in the cart, they get encouraged more to proceed to checkout. As the cart page is the most strategic page to close the deal, customers are more vulnerable to make a purchase. You can also upsell and cross-sell products on the cart page.
2. Save unlimited products along with quantity
Save for later also allows to save any number of products in the save for later list and also save items in quantity. Whether your customers want their favorite color shirt in a pack of three or want to gift watches to their loved ones during the holiday season, save for later makes it possible.
The Save for Later button is also adjacent to the product page, making it easier for customers to save them.
3. Manage everything from the cart page
Be it moving cart items to the Save for Later list or vice-versa, customers can do it directly from the cart page.
4. No registration required
Creating a wishlist needs an extra step of registration which is not the case when using Save for Later.
5. Quick reminder
A wishlist is not everybody may be viewing frequently compared to the cart. Being humans, we tend to forget what was added to the list. But with Save for Later, it acts as a quick reminder.
6. Insights on customer preferences
Compared to wishlist, customers save less or specific products to cart they are most likely to purchase. This helps you get deep insights into the preferences of the customer. You can design custom-fit marketing campaigns to target customers better based on this data.
With that said, let's look at the next section that has three major WooCommerce Save for Later plugins.
The best WooCommerce Save for Later plugins
StoreApps Save for Later for WooCommerce
This WooCommerce Save For Later plugin allows both guests and logged-in users to save items in cart, nudging them to make an instant purchase.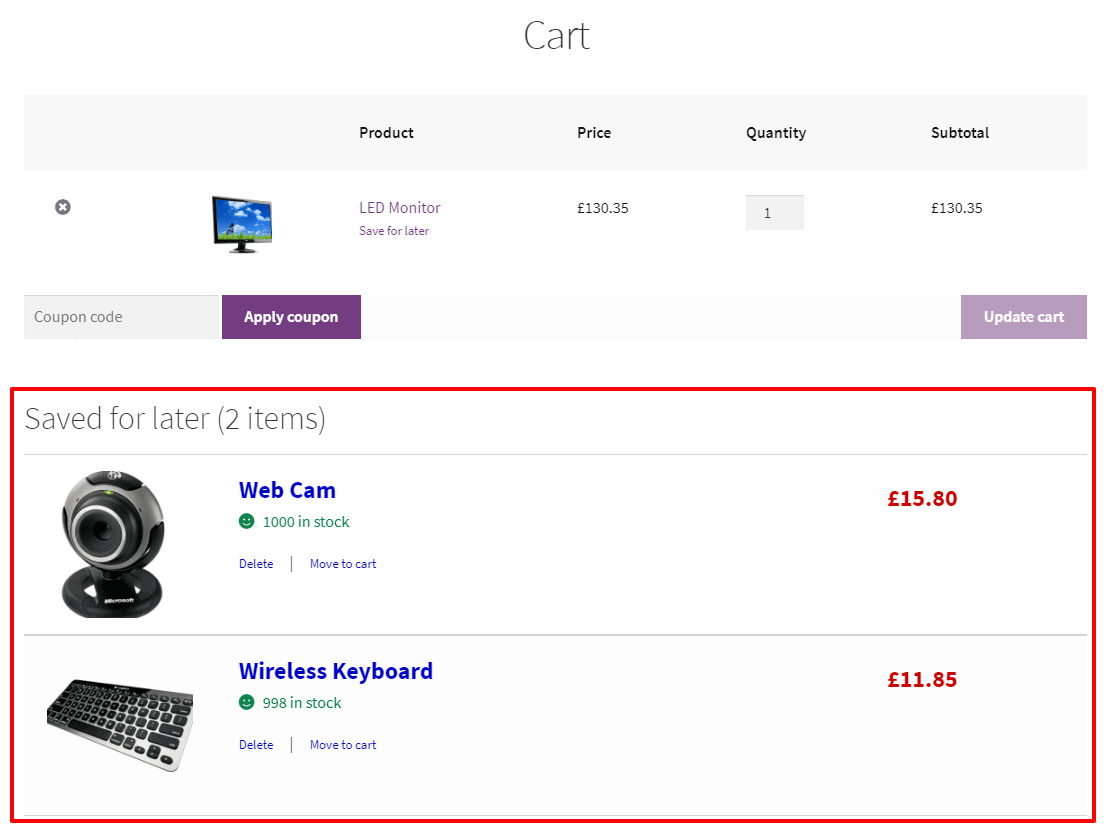 Top features:
The plugin acts like plug and play. Once installed, it will automatically add the feature to the product page.
Save for later link is placed exactly below the product name, so that your customers never miss it.
Allow both guests and registered users to move products from cart to save for later and vice-versa.
Save unlimited products for an unlimited time
Support for both simple and variable products
Pricing: $49
Get StoreApps Save for Later for WooCommerce plugin
Save for later for WooCommerce
With Save for later for WooCommerce, you save your customers time and allow them to buy products without having them search again and again.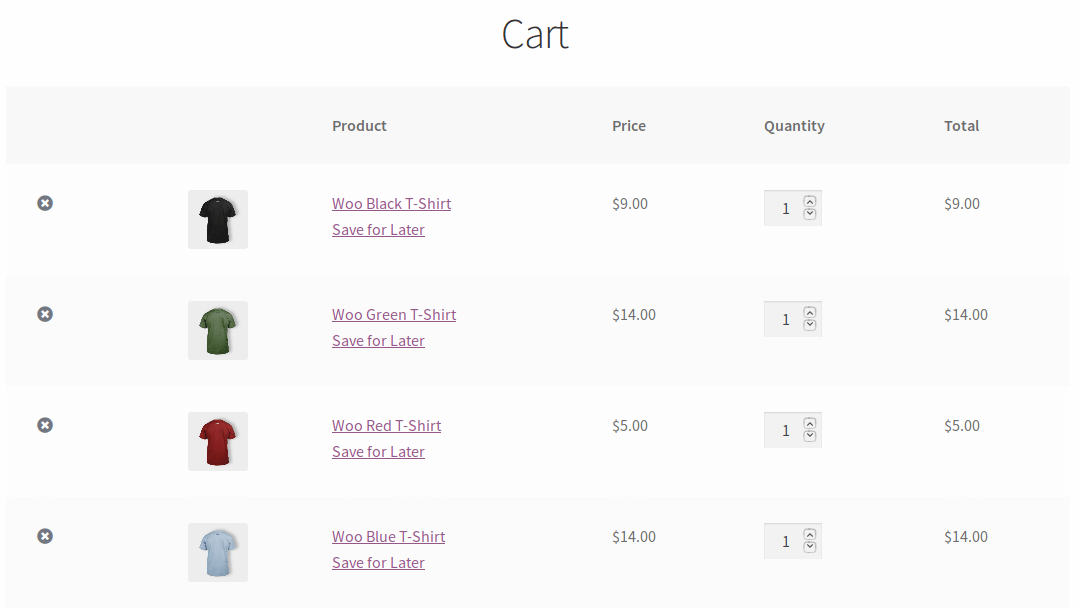 Top features:
Works seamlessly for first-time users and the registered ones
Permanent display of the option in the cart page for logged-in users
Provides support for simple as well as variable products
Save products along with the quantity
Pricing: $49
Get this Save for Later for WooCommerce plugin
WPC Save For Later for WooCommerce
A WordPress plugin for WooCommerce to add save for later functionality to products in your store.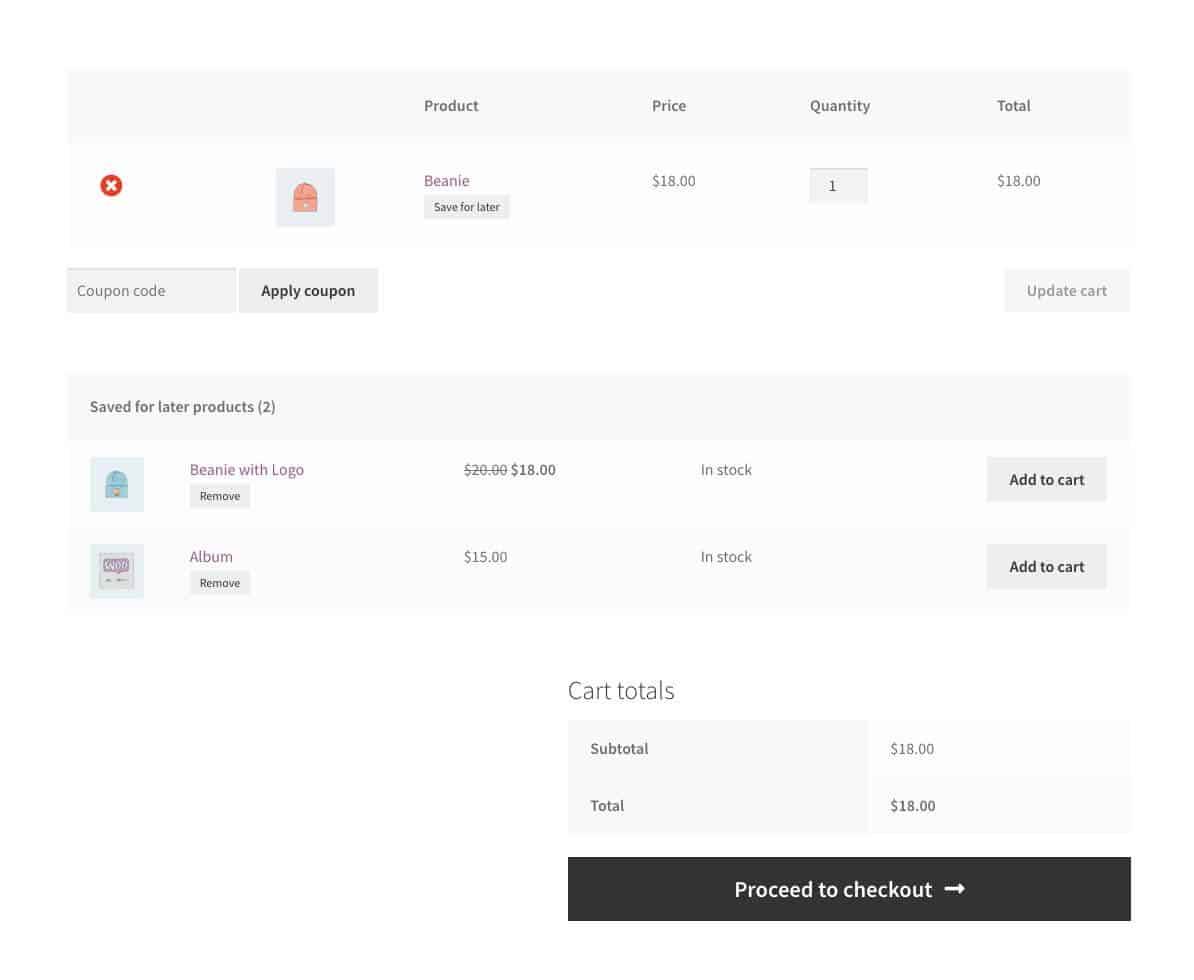 Top features:
Add as many products as you want
AJAX add or remove to cart
WPML compatible
Pricing: Free
Get WPC Save For Later for WooCommerce plugin
Conclusion
Both wishlist and save for later features are important for the WooCommerce store. While some install the former, others invest in the latter.
Looking at the overall benefits, both for you and your customers, Save for Later is a better WooCommerce wishlist alternative. It is seen that when products are added for future reference, customers are bound to revisit the store. This corresponds to a higher sales figure, improving your store's performance.
However, if you can stretch your budget and don't mind many plugins on your WooCommerce store, you can have both. We recommend WooCommerce Wishlists and StoreApps Save for Later for WooCommerce plugins.