In the search results, you may find some posts like the 'best WooCommerce wallet and store credit plugins'.
Now, this might create confusion about these plugins being the similar with different names.
But they are quite different. Faster checkouts, offers and rewards, refund compensation…this article will cover the major benefits of wallet (also account funds) and store credits, their differences and some plugins to set them up.
Let's see how wallet and store credit make the buying experience a smooth ride for your customers and also improve your cash flow.
What is a wallet?
In simple terms, a wallet is like a prepaid account where users can keep money and use it to make payments as and when required.
Of course, the user needs to transfer their own money from their bank account to the wallet to make purchases.
This makes the purchase smooth and faster as users do not need to ping the payment gateway and deal with card details and OTP.
However, when you spend from the wallet to purchase something, unless it has any reward or cashback equivalent to the purchase price, it is an expense.
What is a store credit?
Store credit is also prepaid money but is actually a gift a user gets from the store admin or from their loved ones.
This store credit/gift card is stored in the 'My Account' section in WooCommerce. Users can use it to make a purchase from your store.
When users use this gift card to make a purchase, it is not an expense, unless the purchase price doesn't exceed the gift card value or if users purchase the gift card for themselves.
For more sales-boosting ideas and creating gift cards in WooCommerce, check out this gift card guide.
Benefits of using a wallet
No chance of a payment decline – As mentioned earlier, users don't need to use their payment gateways for each transaction. This makes every online transaction a success. For users making frequent purchases, this is quite beneficial.
Faster checkout – With no payment gateways involved, customers can quickly add products to the cart and fill out the required checkout form details and checkout quickly. This leads to reduced abandonments. For even faster checkouts, you can skip cart using Buy Now buttons and then allow users to pay via wallet.
Easy top-up and withdrawal – Customers can top-up their wallets whenever required and also request to withdraw and transfer them back to their bank account.
Cashback and rewards – You can provide cashback to customers on purchases that get added to their wallets. This is more like building up a loyalty program.
Partial payments – Customers also have the flexibility to make part payments from their wallet and payment gateways together.
Benefits for store owners – Setup wallet top-up subscription intervals, automate recharge process, set min-max limit on wallet recharges, view and export wallet orders.
Benefits of using a store credit
Substitute for cash – Instead of money, customers can use store credits from their balance to make payments.
Restrictions based on products, categories – This is one major advantage of using store credit. You can set restrictions for the store credit to get applied to specific products and categories. For example, do not apply the store credit on best-sellers.
Reduce shipping costs and taxes – You can use the store credit to get it applied to the cart total. This makes the customer feel they have saved some money on taxes and shipping. Here's how.
Subscription renewals – The store credit can also be set up in such a way that it can be used once or for every subscription renewal until exhausted.
Compensation for refund – If a customer requests a refund, you can offer the same amount as store credit which they can redeem on your store later. This is a good customer retention strategy.
Popular WooCommerce wallet plugins
Now, the core WooCommerce does not provide any wallet or store credit system. You need to use plugins for it.
These are some popular plugins that do the primary job of what the wallet does. The features vary greatly from one plugin to the next.
TeraWallet
Earlier known as WooWallet, this is a free plugin with 30K+ active installs.

The plugin has more benefits for the store admin. Some of them include:
Set cashback rules according to cart price or product.
View the transaction history, export users' wallet transactions.
Lock/unlock any user wallet.
Process refund using the wallet money.
Compatible with WooCommerce Subscriptions.
Wallet for WooCommerce
This plugin can be purchased from the WooCommerce marketplace for $79.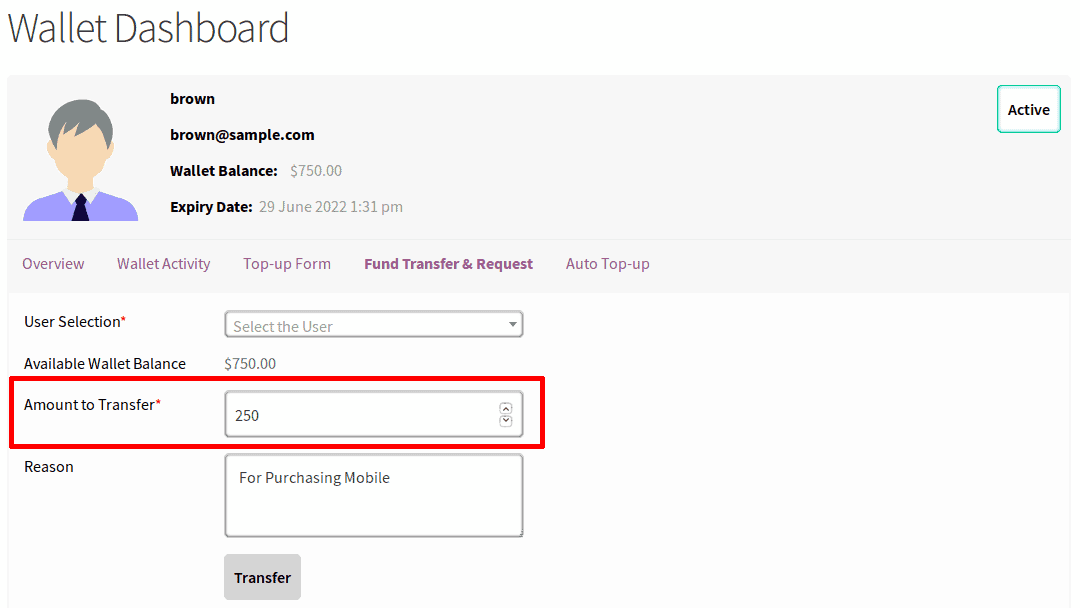 Major features include:
Separate payment gateway for using the wallet funds.
Issue gift vouchers to users they can add to their wallet balance and redeem.
Partially redeem the wallet balance for purchases.
Transfer funds to another user.
WooCommerce Wallet
WooCommerce wallet plugin can be purchased from CodeCanyon for $89.

The major features of the plugin include:
Set minimum and maximum withdrawal amounts.
Export transactions and withdrawal requests.
Wallet top-up for customers: add the possibility to show both pre-made packages and custom amounts.
Encrypted user's wallet balances that make it impossible to manually modify balances if the database is compromised.
Set cashback amount for any product or variation.
Popular WooCommerce store credit plugins
We'll cover WooCommerce marketplace extensions.
Smart Coupons
This is the official WooCommerce coupons extension. You get a complete package for $99 that does more than store credit.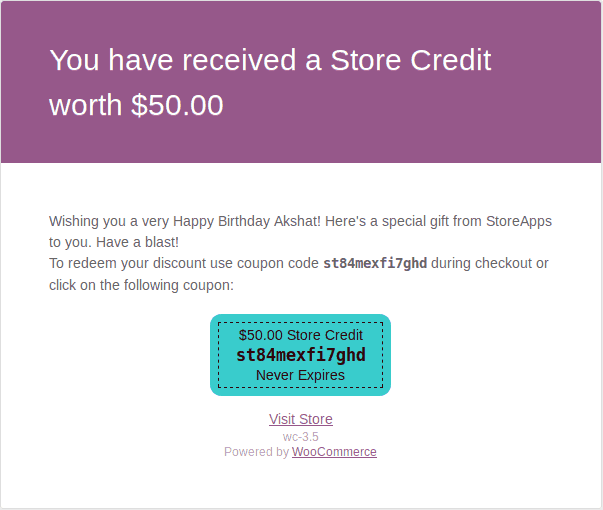 All the benefits of store credits mentioned above – apply on shipping cost and taxes, use for renewals, restrictions for products and categories.
Club multiple restrictions like products, user roles, payment gateways to restrict store credit/coupons.
Bulk generate store credit/coupons and email it to users.
Schedule store credit/coupons.
Allow store credit to get applied along with other coupons or individually.
Readymade coupon styles.
Auto-apply coupons via URL.
and many more…
WooCommerce Store Credit
This plugin focuses only on store credit and costs $79.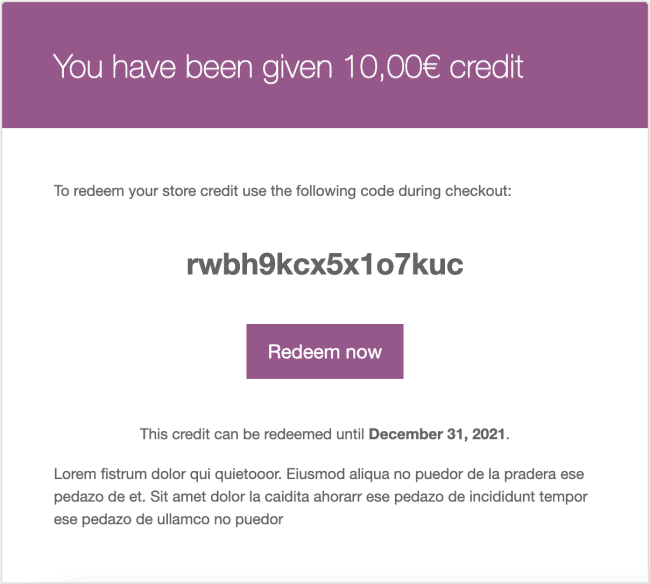 Major features include:
Send a unique store credit coupon to your customers by email.
Allow multiple purchases per coupon or limit its usage.
Restrict store credit to specific products or product categories.
Use store credit coupons to discount the shipping costs.
Allow your customers to apply the store credit coupons combined with other coupons or individually.
Easy integration with external tools such as ERPs.
Wallet or store credit – who has the upper hand?
When you compare both, a wallet has more features compared to store credit. Faster checkouts, no payment failures, cashback and rewards make it better compared to store credit.
But store credit gets an upper hand in terms of setting up restrictions, reducing the shipping costs and taxes.
Also, since money is stored in the wallet, users have security concerns.
Finally, what to opt for?
Both wallets and store credits are value-generating services for your customers. Customers want faster checkouts and cashback where wallets tick the box.
For customer retention, helping them reduce costs and reduce refunds, store credit seems a good choice.
In my opinion, using both on your store is a wise choice. Overall, you end up spending around $150 but that investment will be covered very quickly. RoI is 2x, 3x, 5x…within a quick span of time.