Your affiliate signup page will make that 'first impression' of your brand on your affiliates.
Make sure it's a good one. And for it to be a good one, it doesn't have to be fancy or complex but rather simple and easy, a hassle-free process to become your affiliates.
So how do you exactly design a sign-up form that achieves everything discussed above?
This article will answer all of your questions about designing and setting up a good sign-up form and how you take things ahead from there to create a successful WooCommerce affiliate program.
Let's start.
Must-have elements of the sign-up process
Your referral slogan
The referral slogan on the sign-up page straight away hits the intention of the affiliate to join the program. One common aim is to earn some money. So leveraging that, you can use slogans like:
Earn 20% on each successful referral
Earn upto 60%

You can refer StoreApps affiliate program page to get an idea.
Other than money, you can always promote the brand value (how the products can help others and why they should share) as well as describe the benefits of the products and ask them to share them with people who need them.
Anything you go for, keep it short, clear and to the point.
Mention the commission
Make sure to be specific on 'when' they earn that commission. This will depend on your business as to what should be tick marked for the affiliate in order to be eligible for the commission.
The conditions could be:
After making a purchase
After signing up somebody for the paid program
After signing up somebody for the premium version
Be it anything, be clear about it
About the program
A brief introduction about your program during the sign-up process would be a good idea to let your affiliates know shortly what they are signing up for.
This could also build some excitement for them to look forward to the program.
If you wish to, you can attach the payment details, payment process, referral links and such information here for your affiliates to get started right away.
You can also specifically mention that there is no financial investment required to clear the resistance your affiliates may have.
Terms of service
Do not fail to jot down the important terms and conditions that you want your affiliates to follow.
This agreement might include some rules and regulations regarding the payment process, affiliate obligations and some restrictions. Make it mandatory for them to read and agree to them before you have them on-board.
Contact details
While signing up, some affiliates could be hesitant about the program. To not lose them from there, it's important to have your contact details mentioned on the form or anywhere during the sign-up process.
This information could include your email id and phone number (optional).
At the end of the day, know that the affiliates signing up for your program are just like your customers who sign-up for your services. Keeping that in mind, you have to create an equally efficient funnel for them to enter your brand as you would do for your customers.
A great user experience goes a long way in doing that. Anybody who visits your website will stumble upon your affiliate program and might just convert into an affiliate if your sign up process is really simple.
Here are some ways to create an effortless sign-up process
Create a clear landing page to capture leads
Make sure it has all the particulars you need to ask them.
To make your job easy, Affiliate for WooCommerce gives you a shortcode [afwc_registration_form] that can be added on any page of your site and get the sign-up form for your affiliate registrations.
Following particulars are there in the form:
Email Address
First Name
Last Name
Phone number / Skype ID / Best method to talk to you
Website – where they'll be promoting your website
Password & Confirm Password
Tell us more about yourself and why you'd like to partner with us (please include your social media handles, experience promoting others, tell us about your audience etc)
Approve all users vs Approve selective users
Now, this is for making the process convenient for you. With Affiliate for WooCommerce, you get an option to automatically approve all the users as affiliates as soon as they sign up. All you have to do is:
Go to WooCommerce > Settings > Affiliates
Mark the checkbox Approval method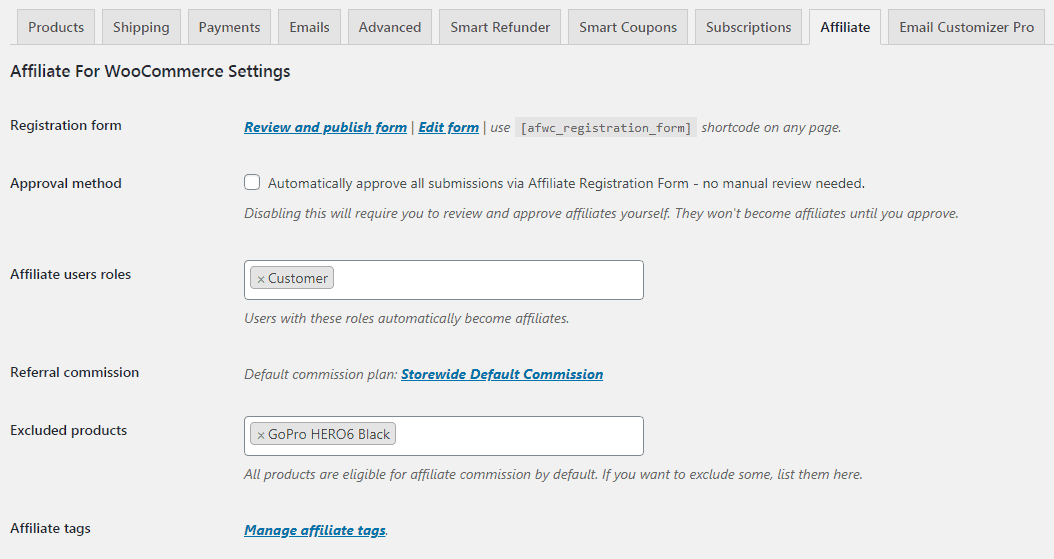 If you wish to evaluate the information of users and then approve them as affiliates, unmark the same checkbox and then follow these steps:
Go to WooCommerce > Affiliate
Find a list of all the sign-up forms marked in red colour below the Pending Payout on the left-hand side
Select the user and you will see a button on the left 'Review and Approve Affiliate'
Click on it and check the user profile
Click the Green or Red button to approve or reject the affiliate respectively
That's all.
Now that they've successfully signed up for the program, how will you guide them ahead?
Let's discuss what their next course of action should look like: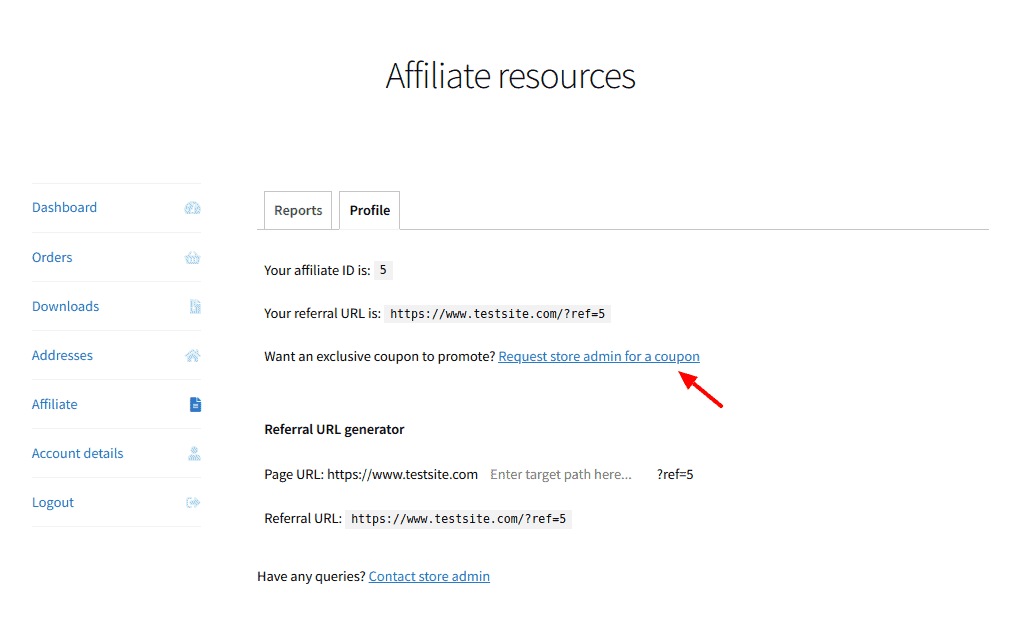 Your affiliates have just signed up and are all set to get going. This is the best time to present the referral links to them right away and keep the energy going.
Also, most probably this is going to be a top question on their mind as soon as they sign up as to 'where is my referral link?' So, it's a good idea to feed their curiosity then and there.
Send them a warm welcome email
With Affiliate for WooCommerce plugin, you can send welcome emails to your affiliates as soon as they sign up for the program.
This email can include their affiliate links, account details, the product catalog link and any other documents that you would want to include to get them started quickly.
You can find this email notifications setting from WooCommerce > Emails.
Equip them with all the promotional material
This will involve every marketing material that you think they need to promote your products effectively. Such as images, videos, promotional copies, landing page links, product links, website links and others.
Make sure all this material is accessible to them conveniently on their dashboard.
Help them make their first sales
All the affiliate entries you receive will be a mix of people who have taken such programs earlier, people who are experts at selling and people who are total newbies.
There will be some people who would need a little hand-holding and it's better you provide it at the beginning of the program itself. This will help them develop that much-needed confidence for selling your products.
You can help them by conducting some training, Q&A sessions, workshops or one-on-one doubts clearing sessions with them.
This might take those little extra efforts from your side but it's your business that will benefit the most as a result of it.
Over to You
We hope this article helped you understand how you can ease the recruitment of your affiliates and lay the foundation for a successful affiliate program ahead.
If you still have any doubts regarding the sign-up process for your affiliate program, feel free to drop them in the comments below and we will be more than happy to help!