Look good in all the emails you send out from your WooCommerce store.
With AutomateWoo, you get quite a good number of emails to engage with your audience and convert them – cart recovery, dunning, wishlist and more. But all these AutomateWoo emails are styled with the default WooCommerce transactional emails that are plain and boring.
It's like a dead-end to your customers. So how can you customize AutomateWoo emails that leave a lasting impression on your customers?
What will add that spicy tangy flavor to your emails that customers will remember? Read below to find out. After all, that's how customers remember your brand.
Solid emails from AutomateWoo but they miss out on a big opportunity
AutomateWoo is a solid automated solution for email marketing for WooCommerce. No second thoughts.
It provides you an excellent opportunity to retain customers if you lose them. From reminding about their abandoned carts to their products on the wishlist, AutomateWoo will leave no stone unturned to help you lose back lost customers.
Here's how you can win back customers with AutomateWoo: the different types of workflows/emails/messages you can send with AutomateWoo:
Follow-up/ Cross-sell emails – ask for a review or suggest other products users may be interested in.
Abandoned cart – remind customers about the items they left in the cart with automatic emails at set intervals. We feel customized abandoned cart emails work quite well as we have tasted success with it. Here's a case study.
Win back inactive customers – email special offers and recommendations to customers who haven't made a purchase for a long time. Use these emails especially during the holiday season to reconvert dormant customers.
Win back inactive customers – email special offers and recommendations to customers who haven't made a purchase for a long time.
SMS notifications – send SMS notifications to customers or admins for any of AutomateWoo's large range of triggers. Integrates with Twilio.
Review rewards – offering discounts for reviews. Limit the discount based on how many reviews are posted and the ratings are given.
Wishlist marketing – send timed wishlist reminder emails and notify when a wished product goes on sale. Uses the WooCommerce Wishlists plugin.
Birthday emails – bring a smile to your customer's faces by sending them a coupon on their special day. Works with the AutomateWoo Birthdays add-on.
Card expiry notifications – notify customers before their saved credit or debit card expires. This can reduce failed payments and churn drastically for subscriptions.
Personalized coupons – generate dynamic personalized coupons for your customers.
Subscriptions automation – perform actions based on WooCommerce Subscription events such as status changes, failed payments and renewal reminders.
Refer a friend – boost your word-of-mouth sales with the AutomateWoo Refer A Friend add-on.
Automatic VIP – Reward your best customers with VIP status based on different spending requirements.
That's quite a long list.
Know more about AutomateWoo workflows and emails
But you are missing out on a big opportunity
Wow! Each of the above emails has the potential to get you revenue. From $10 to $100 to $10000…
However since all these emails follow the default WooCommerce transactional emails, these emails do not stand out as they are plain and humdrum.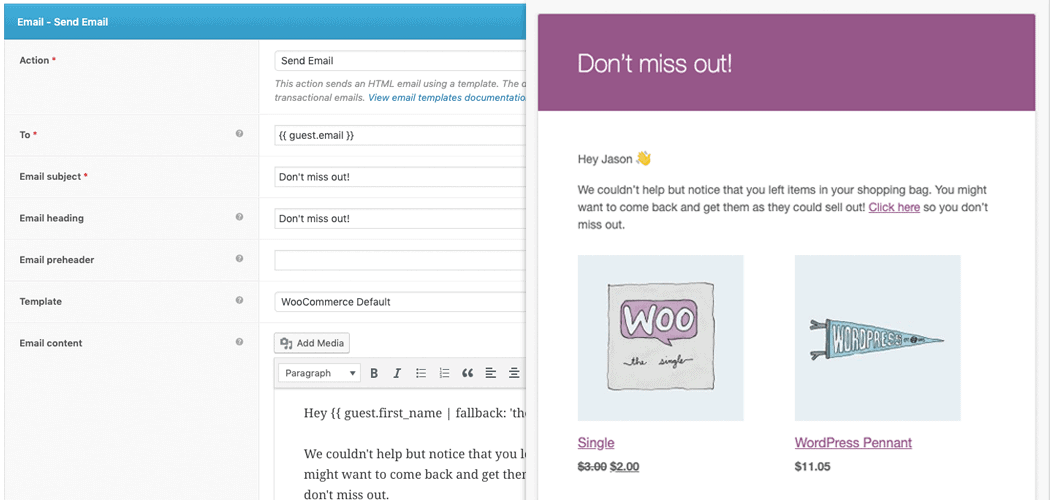 You are missing out on such a huge opportunity if you are not customizing those emails.
That's where plugins like Email Customizer Pro breaks the bank. The plugin allows you to not only regain your lost customers but also establish your brand authority.
The next time your audience looks at your email in their mailbox, they won't fail to open it.
No need for separate email customizer plugins for different AutomateWoo emails
With Email Customizer Pro, you can customize:
All WooCommerce transactional emails
All AutomateWoo emails
WooCommerce Subscriptions emails
Other emails you send out from your store
Using different plugins for each of these will cost you more than $300 but with Email Customizer Pro, you can get all this done for $79 only.
With Email Customizer Pro, you also have the benefits of readymade email templates.
Customizing AutomateWoo emails with Email Customizer Pro (sending personalized emails)
Users know that the default WooCommerce emails are sent by the system. So it lacks that personal touch.
But when you add your own branding colors, special message, links or videos to helpful resources, customers feel it is personalized for them. Such emails convert far better.
Same with your customized AutomateWoo emails.
Whatever email style you choose for your default WooCommerce emails, all your AutomateWoo emails will automatically inherit that template style.
You can fully customize the email content, design, layout, and more!
You have six different styles to choose from:
Classic
Deluxe
Elegant
Simple
Beautify
Artwork
Here's an example of how an AutomateWoo email styled with Email Customizer Pro looks: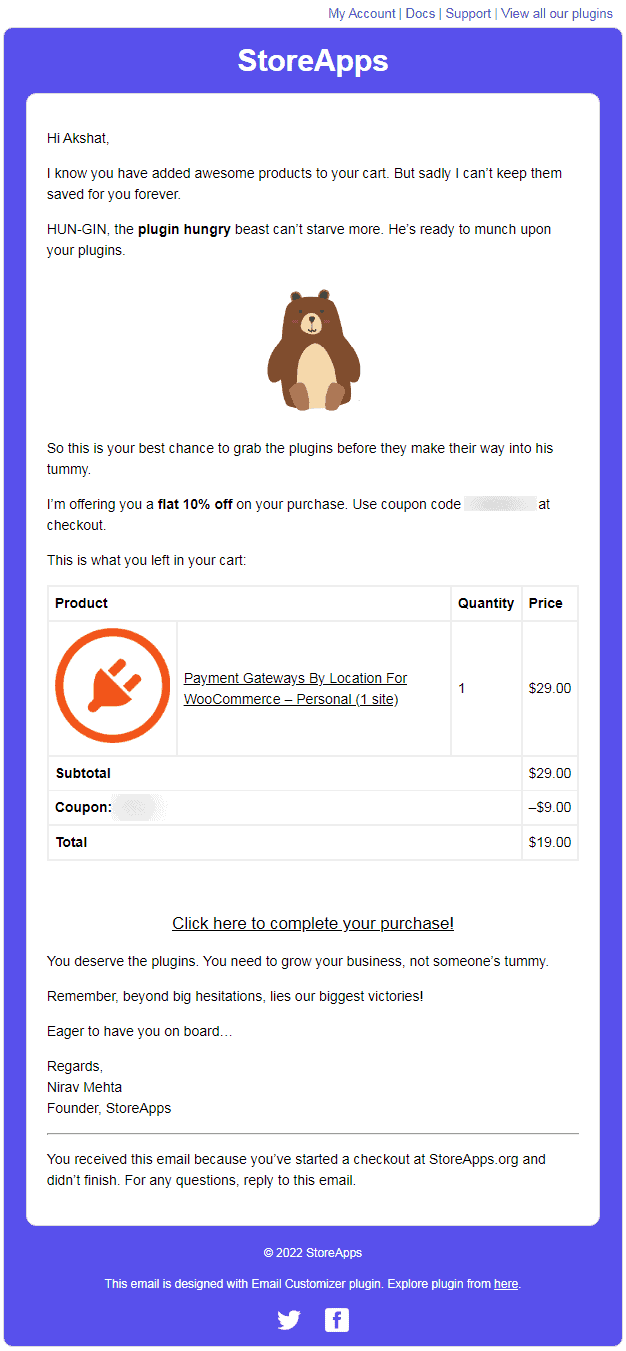 Customizing emails with Email Customier Pro
You can customize all the emails in a live preview from a single screen, thus staying in full control of your emails.
AutomateWoo workflows should first be created and defined within the AutomateWoo panel. Then, Email Customizer Pro will automatically detect these workflows and triggers to send customized email templates.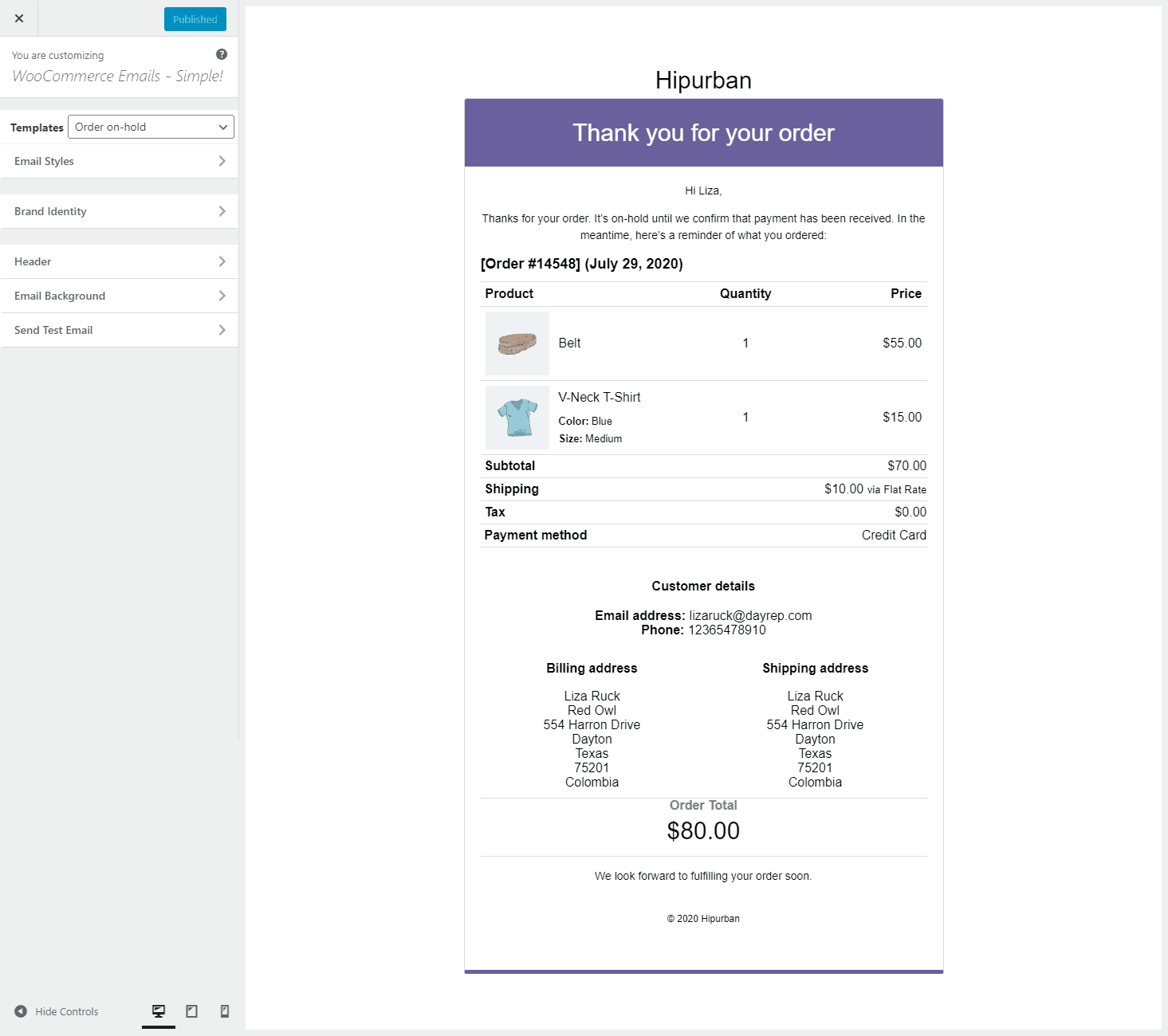 Whatever style changes you apply here, all will be reflected in your AutomateWoo emails.
Go to your WordPress Admin panel. Click on WooCommerce > Email Customizer Pro. You'll see the WordPress customizer to style your emails.
Choose an email style for the email template from the six readymade email styles. By default, the 'Simple' email style is used to send emails on activation.
After choosing the style, customize the email as per your brand identity. The 'Brand Identity' option allows you to add your brand logo, add up to five custom links (support for all styles except Classic & Simple), social media icons to link your brand pages and footer text that allows adding custom HTML.
Now, customize the email background color, header color, body color and footer color to showcase your brand better.
You can also add UTM parameters to track any links within your email in your Google Analytics dashboard.
Next, click on the Send Test Email to see how the email looks on different devices (yes, the emails are mobile responsive).
Publish the changes.
That's it. If you have selected the 'Elegant' style for your cart abandonment emails, other emails will follow the same style.
Try Email Customizer Pro live demo
Conclusion
Every AutomateWoo email – cart recovery, card expiry, wishlist, etc. is a golden opportunity for conversions if you customized them.
With Email Customizer Pro, you have the freedom to customize those emails to suit your brand identity and connect better with your customers by being personalized.
The very first glance of it generates positive vibes in the customer. So keep those vibes perennial with customized email and keep the momentum going with this Email Customizer for AutomateWoo