Why send attractive emails?
Email design has become more important than ever before. Around 66% of people prefer reading a beautifully designed email and 80% of people will delete an email if it looks ugly or non-responsive.
This means although you may have valuable email content, unless you present it in an appealing and easy to read format, chances are the readers may ignore your email.
This is exactly what happens to your default WooCommerce emails. They are plain, texty and have a dull look. Thus, they are either ignored or plainly deleted.
Customize WooCommerce Emails / Templates
The only way, to get readers interested in your WooCommerce default emails is to customize them. Generally, if a store owner knows HTML, CSS he will himself design the emails or hire some developer to do so.
In both cases, wasting tons of time and money.
The Best Option Available
Smart Emails is a solution that's fast and comparatively less expensive. Smart Email uses default WordPress Customizer to customize your WooCommerce Emails.
Create an Email within minutes
You don't have to start from scratch
1 : Select your Style
2 : Configure your Brand Identity
3 : Customize the selected Style to represent your brand. For eg, Modify header, background color, body color, font color, add menu etc
Thus in no time you've created an attractive email just like the pro's.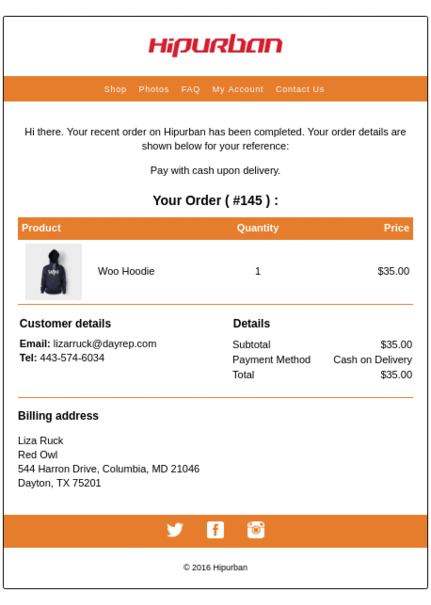 List of Emails Available
Below are the list of WooCommerce email templates that you can customize.
1.Order on-hold email
2.Order processing email
3.Order completed email
4.Order refunded email
5.Customer Invoice email
6.Customer Note email
7.Password Reset email
8.New Account email
Major Advantages
Watch a Live Preview
Another issue faced while designing email templates is that of testing. With every change made you'd have to send a test email to yourself. Thus, leading to an excess of test mails in your inbox.
Smart Emails takes away this headache. It provides you a live preview. So any change made can be directly monitored then and there.
Smart Email Templates are Mobile Responsive
More than 50% of people read mails on their smartphones. Keeping this fact in mind, Smart Emails makes every email mobile responsive. No extra hardwork needed from your end.
Other Benefits
1. Easily create good looking emails without a developer.
2. Delight your customers by sending attractive emails
3. Grow your social media follower list.
4. Share various useful links like – affiliate products, new product launches etc
Roadmap- More things coming up!
1. More Email Styles
2. More customization option
3. Support for admin emails
Your Take On This
We are eager to hear your thoughts on this product. Suggestions, questions all are welcome.