For those who get frustrated due to low productivity and sales, find WooCommerce inventory management stressful, this article will help you get rid of it easily.
In fact, you will be quite amazed to see how WooCommerce inventory or stock management is so simple, effective and efficient.
As a result, you can now equally focus on your other business activities like marketing, customer service, etc.
Already familiar with creating products in WooCommerce and the difficulties associated? Jump to the solutions.
If not, let's begin here and see every aspect of it in detail.
---
WooCommerce stock management – configuring products
Before jumping directly to the solutions, let's see the steps involved in creating products and setting attributes for your WooCommerce store. It will automatically give you an idea of the difficulties you would face.
Note – Though there's a difference between inventory and stock, they are used interchangeably. Because both of them involves managing of raw materials and finished goods ready-to-sell or sold.
Step 1 – Install & Activate WooCommerce

First of all, you need to have WooCommerce activated on your site.
If not done already, here's how you do it:
Visit your WP dashboard and search for WooCommerce
Select WooCommerce and install it.
Activate it and you are good to go ahead.
Open the WordPress dashboard and select WooCommerce. Browse through different options available. You can setup your store, manage coupons, manage inventory and perform many other tasks from this WooCommerce dashboard.
Step 2 – Select your product / Set prices smartly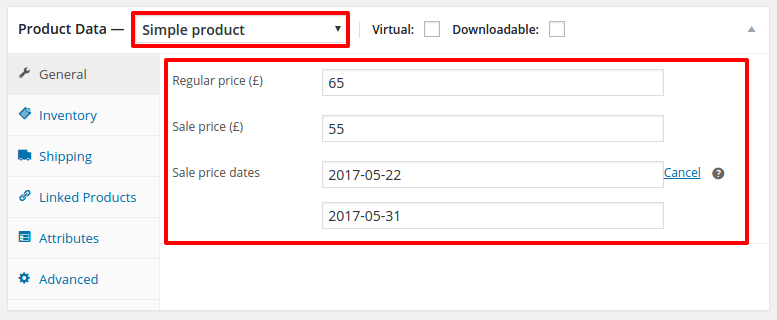 Now, it's time to create products.
Below WooCommerce option on the dashboard, you'll have an option called "Products". Select "Add New product" from it.
Next, from the drop-down, select what type of product you need to create – simple, group, affiliate.
Let's consider a simple product. Enter product price and time period for which you want to sell that product at a particular sale price.
If you want to make changes at a later stage, you can simply visit the product page and make changes accordingly.
Step 3 – Keep an eye on your stock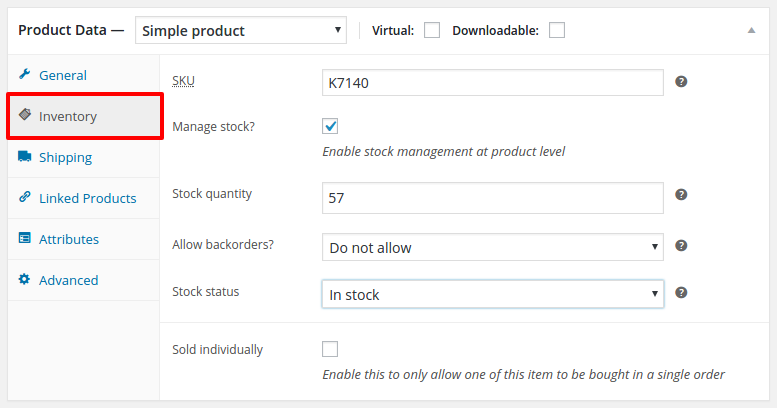 After setting the price, click on inventory on the dashboard on the left and enter relevant product details like stock-keeping unit (SKU), stock quantity, stock status – whether the quantity is in stock or out of stock, etc.
If you are getting out of inventory and want to delete the stock, you can manage it from the above dashboard. You can also update your stock from the same page.
Step 4 – Add taxes and shipping
If you have physical products to sell, you can add shipping rates and taxes.
Similarly, you can set various other parameters for a single product.
Congratulations! Finally, you have now created your product.
---
Would you repeat these frustrating tasks?
Creating a single product was quite manageable.
But wait a second!
Perhaps, not.
These are the hardships and irritation you would face while dealing with WooCommerce inventory/bulk stock management daily.
Let's look at them in detail.
---
WooCommerce inventory management difficulties : No less than a nightmare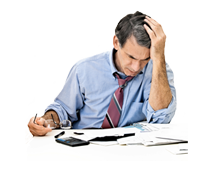 As you saw above, these WooCommerce bulk stock management is too complicated. You need to visit all the pages and settings individually to make changes every now and then.
A slight mismatch and all your WooCommerce stock management go haywire. The following are some major difficulties you will face:
1. Stressful tasks
As mentioned, managing and making changes every-time is a tedious task. Be it creating WooCommerce product variations or setting prices. Every time you need to visit all the dashboards and settings for each product to tweak changes.
2. Huge loss of time
You'll have to dedicate a good amount of time performing these changes which are not at all beneficial and recommended. Due to this, your other important work can be on-hold like marketing and customer service.
3. Inconvenience handling large database
When you're dealing with thousands of products, it's no doubt you face a headache. What follows is a set of errors. Correcting those errors indirectly adds to the extra loss of time and builds frustration.
4. No provision to update orders, customers, coupons…
You have orders as well as customers that need a frequent update and that too in bulk. You can't afford to do it one-by-one the same way as you do for products. It will only worsen your work further.
5. No inline edit
If you want to make an edit in your existing list that consists of 'n' number of variables, you are restricted from doing it. All you need is to go to the individual products and perform the necessary changes.
6. Other drawbacks
Multiple warehouse inventory management, inventory batch tracking and control, editing WooCommerce inventory reports, etc.
And there's no doubt that a particular pain can't be healed. There are plenty of solutions that overcome all the above drawbacks of WooCommerce inventory management.
But before that, let's look at how WooCommerce inventory management has become so simple and enjoyable than it used to be before.
---
How plugins help you get rid of WooCommerce inventory management difficulties
See, as your store grows, things will get complex. Handling hundreds of suppliers, items, warehouses, and other stuff is going to be a nightmare. If you do not stand up to these challenges, you are digging your own grave.
Therefore, plugins are a must-have for survival and easy life. Here are some of the benefits of using the plugins to manage inventory to eliminate your difficulties-
1. Add hundreds of products and variations in one go
If you want to add 'n' number of products, you can simply keep on adding in a single sheet one below another along with setting attributes for each. No need to create a single product, set attributes and repeat it for every product as you use to do it earlier.
2. Bulk edit / batch update in seconds
You can select as many items as you want to update them at once. Immediately change prices, stock status, description, variation prices, weight or groups for products. You can also change the status and shipping-related details for orders.
3. Inventory reports & inline edit
View your entire product catalog in one place. If you want to make changes to any particular parameter of a product, you can do it there itself. The same applies to product variations.
4. Smart search
The search feature helps you to identify the products which you want to manage. You can quickly compare items, spot anomalies and review details.
5. Automated calculations
Increase/decrease in prices, stock, etc. are calculated instantly in the background leaving no effort on your end to manually keep a track on numbers.
6. Export
If you want to analyze your products later, you can export the sheet and make an analysis based on your requirements. Not only export but also you can make changes in the copy and then upload the updated copy.
7. Warehouse inventory management
If you have multiple warehouses and need to transfer inventory from one place to another using a single platform, you can now do it easily.
---
20 best WooCommerce inventory management / stock management plugins
Finding the best tool is a confusing task. Therefore, we have hand-picked the best and popular ones that help you in WooCommerce stock management. Some of these plugins are also SaaS-based.
Here are few of the leading tools with some of their top features and pricing-
1. Smart Manager
Smart Manager is a unique and a very popular WooCommerce inventory management plugin from StoreApps. It gives you the power to efficiently manage products, customers and orders. It has provided breakthrough results for WooCommerce store owners.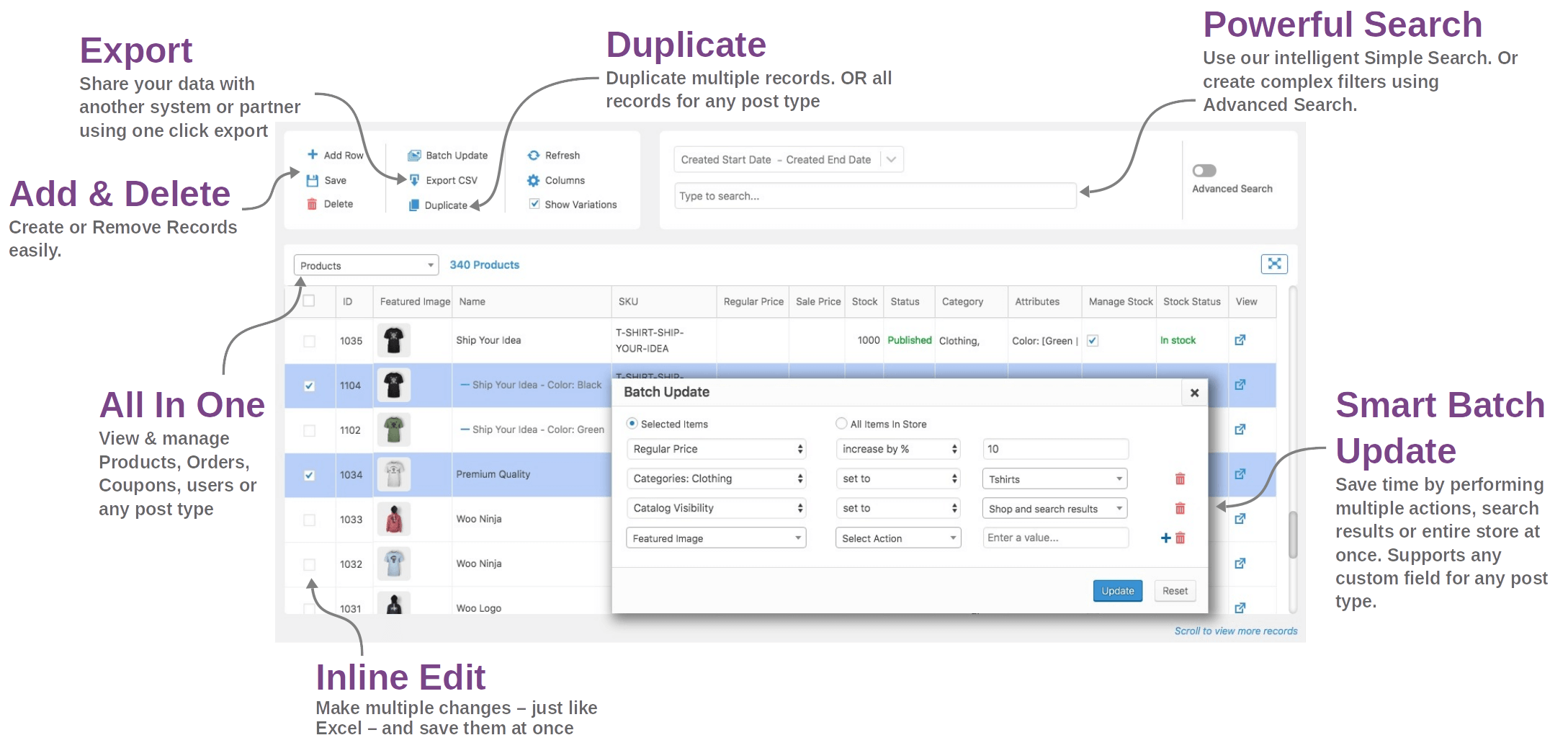 Top features
Bulk update
Using this feature, you can without any hassle. It can be addition, updating or deletion.
You can also bulk update any WordPress custom post type.
Automatic calculations
This tool helps you to manage all the calculations from the same dashboard without doing for individual products. Just enter the kind of calculation you want to do and it's done.
Inline edit
You can browse, search, add, update and delete multiple products & variations, customers or orders using a familiar, single page, spreadsheet-like interface.
Snappier navigation
Browsing and filtering with Smart Manager are extremely responsive. You also see 100 items at once. Navigation buttons are simplified and you can jump to a page easily.
Simple and advanced search
Get your desired item in a flash amongst thousand using SmaAnd it lets you see details in a floating panel.
Pricing
Free version available on WordPress repository
Single site license – $149 / yr
View live demo
Learn more about Smart Manager
---
2. TradeGecko
TradeGecko is also a popular multichannel inventory management and order management software. It has integration with WooCommerce and many other platforms. It's more oriented towards physical products.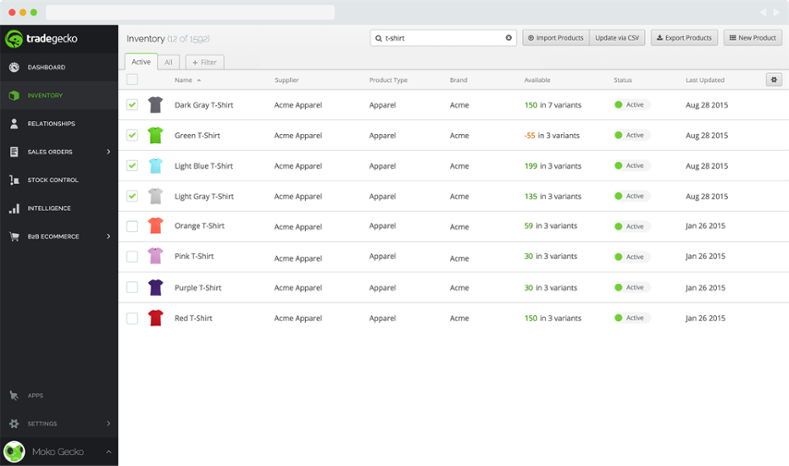 Top features
Inventory control
View your entire product catalogue and organise them using filters. Keep a track of on-hand inventory, sales orders, locations, etc.
Warehouse inventory management
Easily move inventory from one warehouse to another. The addition and deletion of stock are dealt with automatically.
Inventory optimization
You get a demand forecast regarding your inventory – what stock you should have at that time.
Accounting integration
You can create invoices from orders, buy and sell in multiple currencies, etc.
Pricing
The pricing plans vary based on the number of users, orders/month and warehouses.
Founder – $39/month
Lite – 79/month
Small Business – 199/month
Business – 599/month
There's a 14-day free trial available.
---
3. Woocommerce Rapid Stock Manager
WooCommerce Rapid Stock Manager allows to update your stock inventory and variants sizes quickly, displaying everything within one screen.  This WooCommerce bulk stock management plugin is available on CodeCanyon.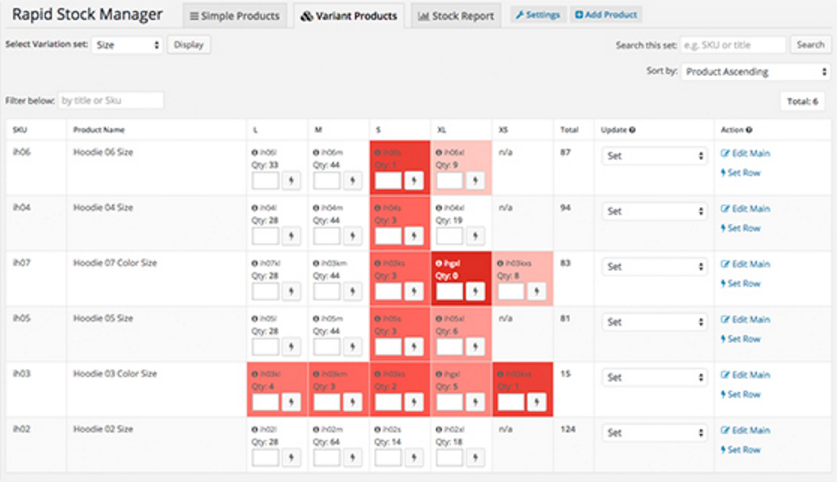 Top features
Batch update
You can update single as well as variable products from a single place.
Stock report
View your entire product catalog from a single place – the total amount of products in stock, the total amount of products with low stock.
Multiple warehouse management
Add multiple warehouses and transfer and manage stock to main inventory stock.
Pricing
Regular license – $39
---
4. Orderhive Inventory Management
Orderhive is a SaaS-based inventory management software for multi-channel online sellers. It offers a warehouse management feature through which you can manage multiple warehouses with flexible stock policies, stock transfers and easy integration of your accounting software.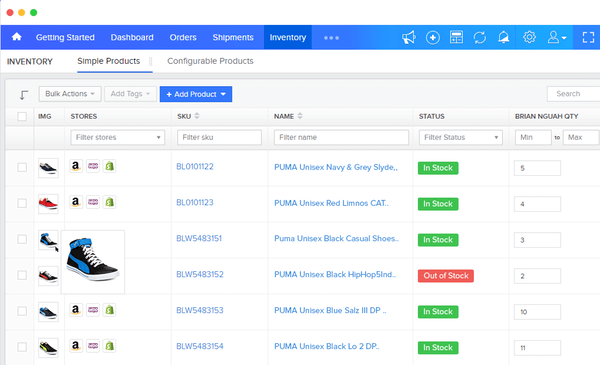 Top features
Simplified product management
Get a single virtual storage dashboard to manage thousands of SKU, multiple stores.
Complete product catalog management
Create and manage simple, variable & bundled products. Bulk import and export product information, generate and print product barcodes, manage inventory based on location.
To-the-point inventory visibility
Track where your stock is, what's been committed to whom and what is due to arrive. All in real-time and real numbers.
Just-in-time operations
Reduce every little risk of overselling and underselling with a sharp eye on every incoming or outgoing inventory.
Pricing
Starter package – $49.99/month
Professional – 149.99/month
Growth – $299.99/month
It also offers a free 15 days trial.
---
5. Zoho
Zoho is a cloud-based inventory management software. You can synchronize all your WooCommerce orders with this plugin. Zoho has also partnered with the best shipping carriers around the world.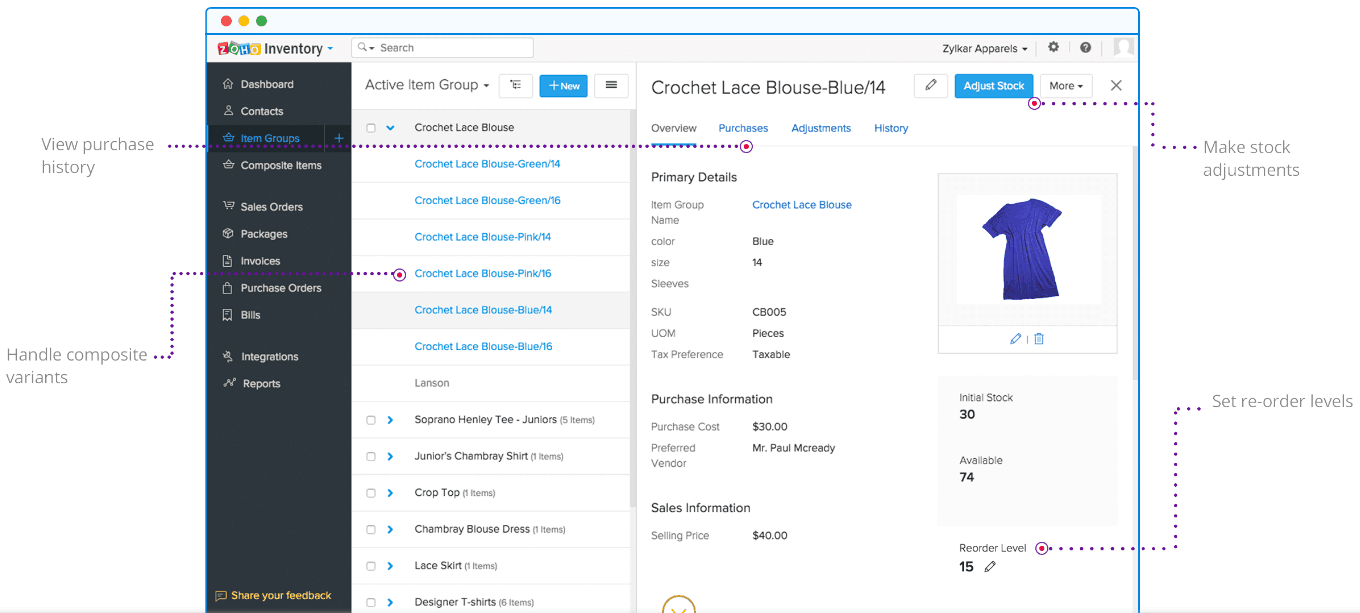 Top features
Centralized inventory
You can update your inventory quantities across all your selling channels automatically whenever a sale has been made.
Automatic re-ordering
This feature enables you to set re-order points, reminders, and preferred vendors for your products to avoid untimely stock-outs.
Barcode inventory management
Scan barcodes of items and watch the fields get auto-populated every time you create an invoice, sales or purchase order.
Serial number tracking
Identify each item in your inventory with a code and track its movement from the point of purchase to sale.
Pricing
There are four pricing plans that varies based on your number of orders, shipments, warehouses, and others.
Basic – $49/month
Standard – $99/month
Professional – $249/month
There's a Free plan available as well.
---
6. WooCommerce Stock Manager
WooCommerce Stock Manager gives you a single screen to manage all your product stock and their variables.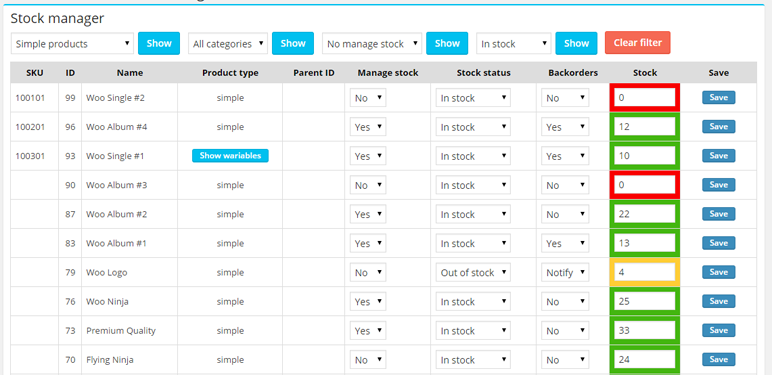 Top features
Stock report
View your entire product catalogue at one go. You can set various parameters for each product and their variations – price, weight, stock, etc.
Product filtering
You can filter products by type, category, stock manage or stock status. You can also sort products by name or SKU.
Import / Export
With plugin is possible export all stock data from your e-shop, edit them and import back with csv file.
Pricing
Free version available on WordPress repository.
---
7. Veeqo WooCommerce Order & Inventory Management
Veeqo helps WooCommerce retailers automate their entire back office.
You can manage orders, ship to customers, sync inventory across multiple sales channels in real-time, view detailed reports and take tight warehouse control – all from a single, easy-to-use platform.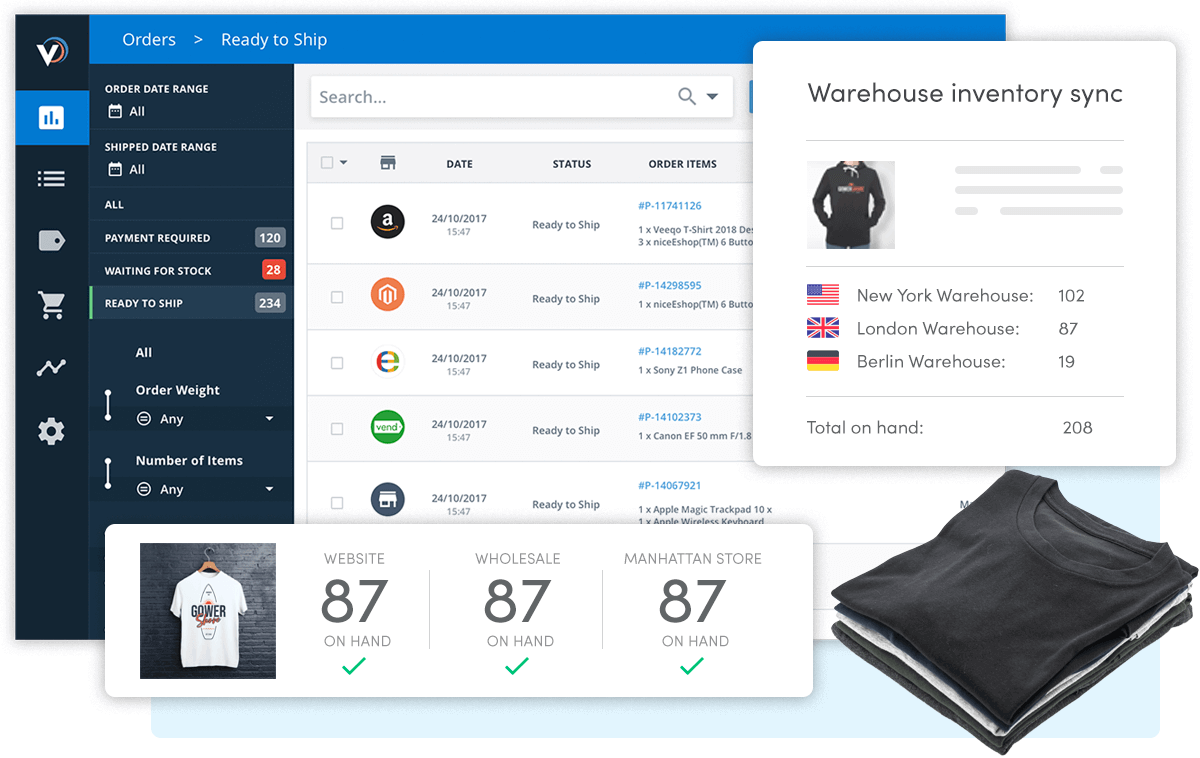 Top features
Warehouse inventory transfer
Create warehouse-to-warehouse transfers knowing the exact stock levels for both locations when sending and receiving – including inventory that's currently in transit.
Automated purchasing management
You can organize, forecast, purchase and track orders, book in stock and sync everything into your accounting software.
Inventory automation rules
You can control exactly how much inventory to display for each of your sales channels by setting automatic rules. Choose to set the quantity to advertise, minimum quantity or as a percentage of your inventory.
Streamline your accounting
Sync inventory, sales and purchasing data from every channel directly into your Xero, Quickbooks Online or Quickbooks Desktop accounting software.
Pricing
The pricing varies based on the number of users, sales channels.
Accelerator – $156/month
High Growth – $202/month
Premium – $260/month
It provides custom pricing as well.
---
8. WooCommerce Out of Stock Manager
As the name suggests, this WooCommerce Out of Stock Manager plugin can prevent you from falling in situations like low stock or out-of-stock. It is also WPML compatible.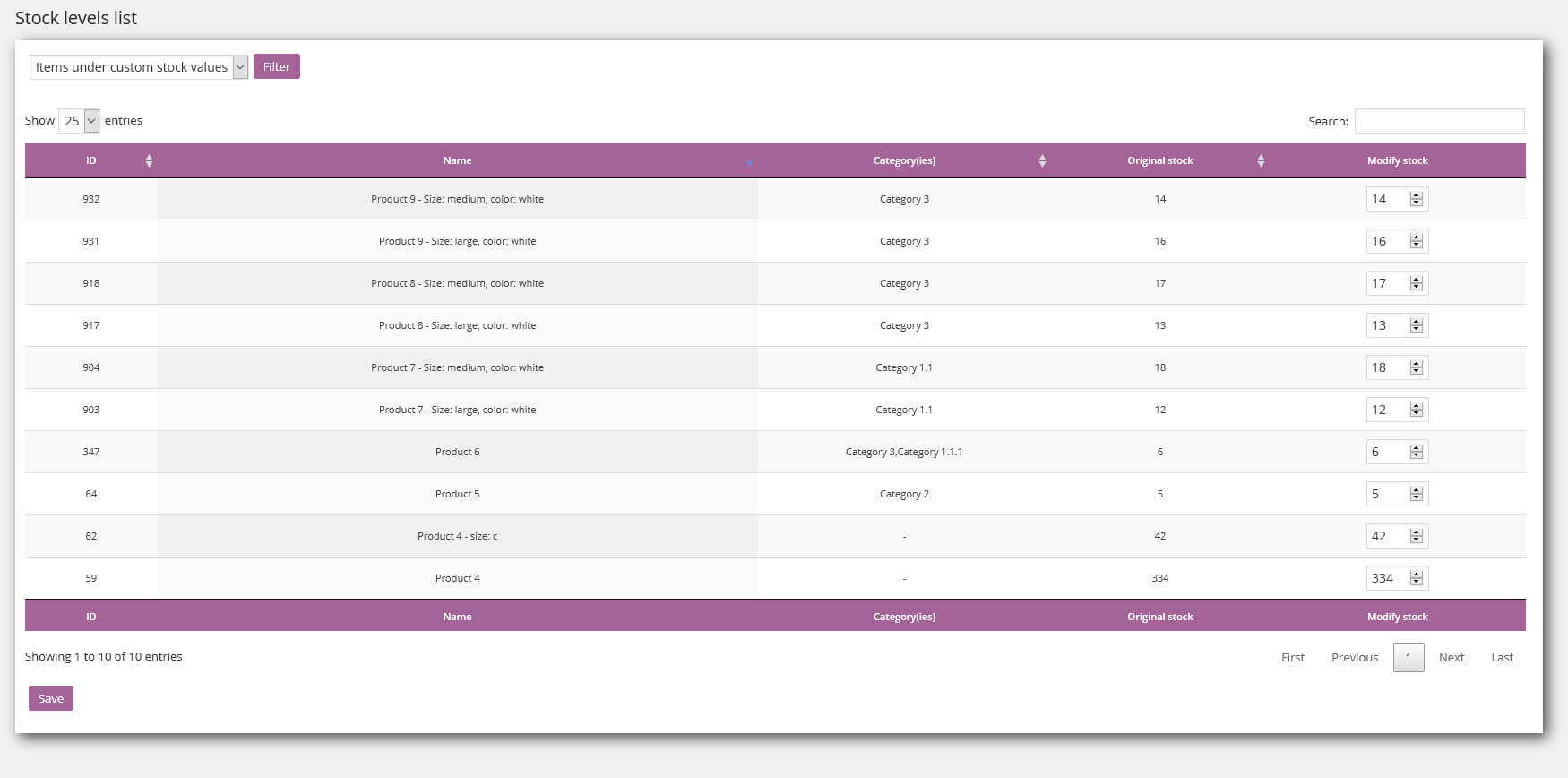 Top features
Set multiple and custom low stock values
The shop admin can assign custom low stock values to a set of products and/or categories. Shop admin can also configure a default warning value for products that do not match any custom value rule.
Dashboard widget
The plugin helps the shop admin to speed up the editing and monitoring of the products under custom low levels (or all inventory manageable items) adding a widget directly to the WordPress dashboard.
Custom product page texts
Using the Texts menu, it is possible to customize In stock, Out of stock, Above custom stock level and Under custom stock level texts showed in product page!
Email Notifications
After an order is placed, WooCommerce Out of Stock Manager plugin checks all purchased products stock left value notifying the Shop admin if one (or more) of the items has reached a configured custom warning level.
Pricing
Regular license – $16, available on CodeCanyon.
---
9. eSwap
eSwap is a cloud-based inventory manager. It supports many integrations, WooCommerce is one of them. Due to automatically updating and synchronizing functionality, you will be able to balance your stock levels.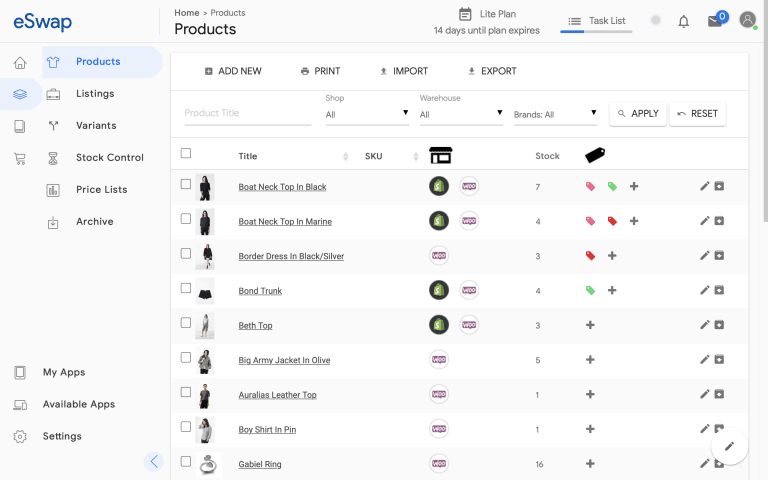 Top features
One-screen inventory management
This allows easy per channel filtering, sorting product using custom tags, view all stock of all warehouses for each item, import, export to CSV, adding new inventory directly from eSwap and sync to connected channels.
Multi-variant products inventory management
This enables to have separate variants stock in warehouses, sell variants individually and get reports per variants of the product, have different dimensions for variants for making correct shipping estimations and shippings.
Archive for your inventory
Archive any product by keeping all related information about prices, inventory, images, etc. and then again unarchive the product when you need, that too in bulk.
Pricing
Lite – $39/month
Premium – $79/month
Business – $199/month
---
10. WooPOS
WooPOS comes with a powerful cloud database feature that helps to access your data anywhere, anytime. You can easily customize your WooCommerce store with physical retail locations and add automation and new functionality to your current WooCommerce setup.
Product identification, logistics, procurement, etc are now very easy with the help of custom barcode label generator.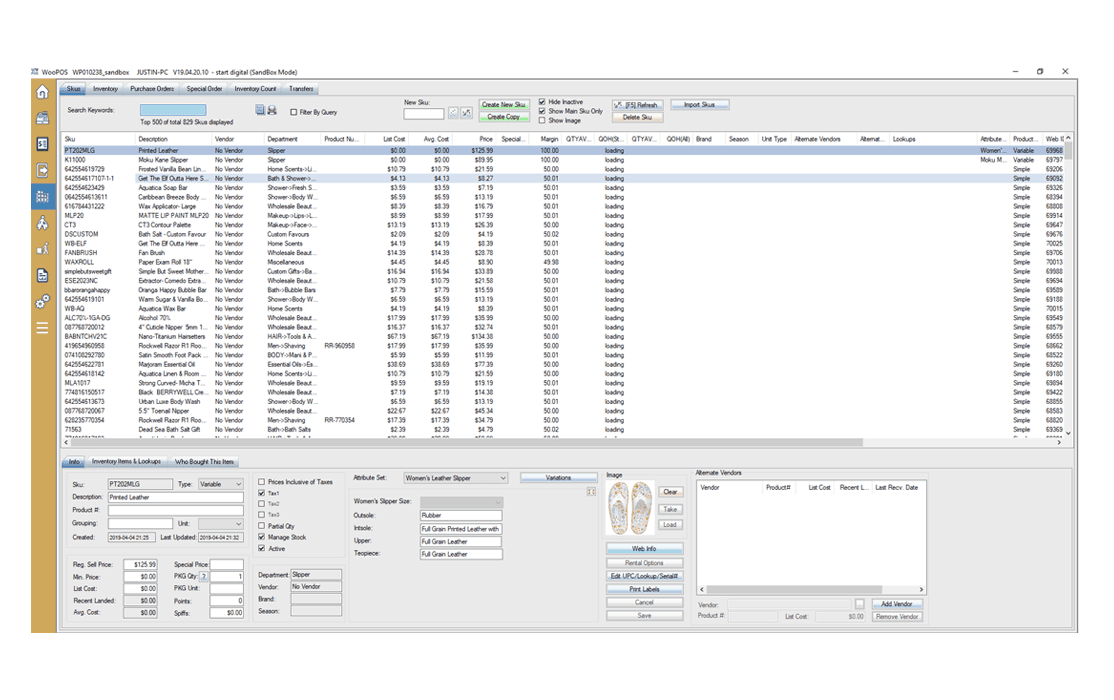 Top features
Unlimited products + unlimited customization
Track an unlimited number of products and services with unlimited attributes. Every product in your database will be easy to edit, import, export, group, filter, and search.
Inventory transfer
Track and maintain stock levels across multiple stores in real-time. Move stock between stores or your warehouse with stock transfers and quickly perform inventory lookups across all your sales channels.
Custom barcode designer
There's a built-in barcode designer that gives you the ability to design and print high-quality barcodes that work with major barcode systems out today. You can design, create and print customized mailing labels.
Physical WooCommerce inventory count
Take a snapshot of your inventory file for a specific location that can be used as a reference. Different count types including full count, selective and spot count can be chosen.
Pricing
The pricing varies based on the number of users and the number of stores.
Starter – $29/month
Growth – $119/month
Enterprise – $219/month
There's also a 30-day free trial available.
---
11. ATUM Inventory Management for WooCommerce
ATUM WooCommerce Inventory Management plugin gives you full control on the WooCommerce stock. Edit every aspect of your WooCommerce inventory, suppliers, SKUs, locations, weight or even prices. Also, users can create purchase orders, setup locations, and suppliers.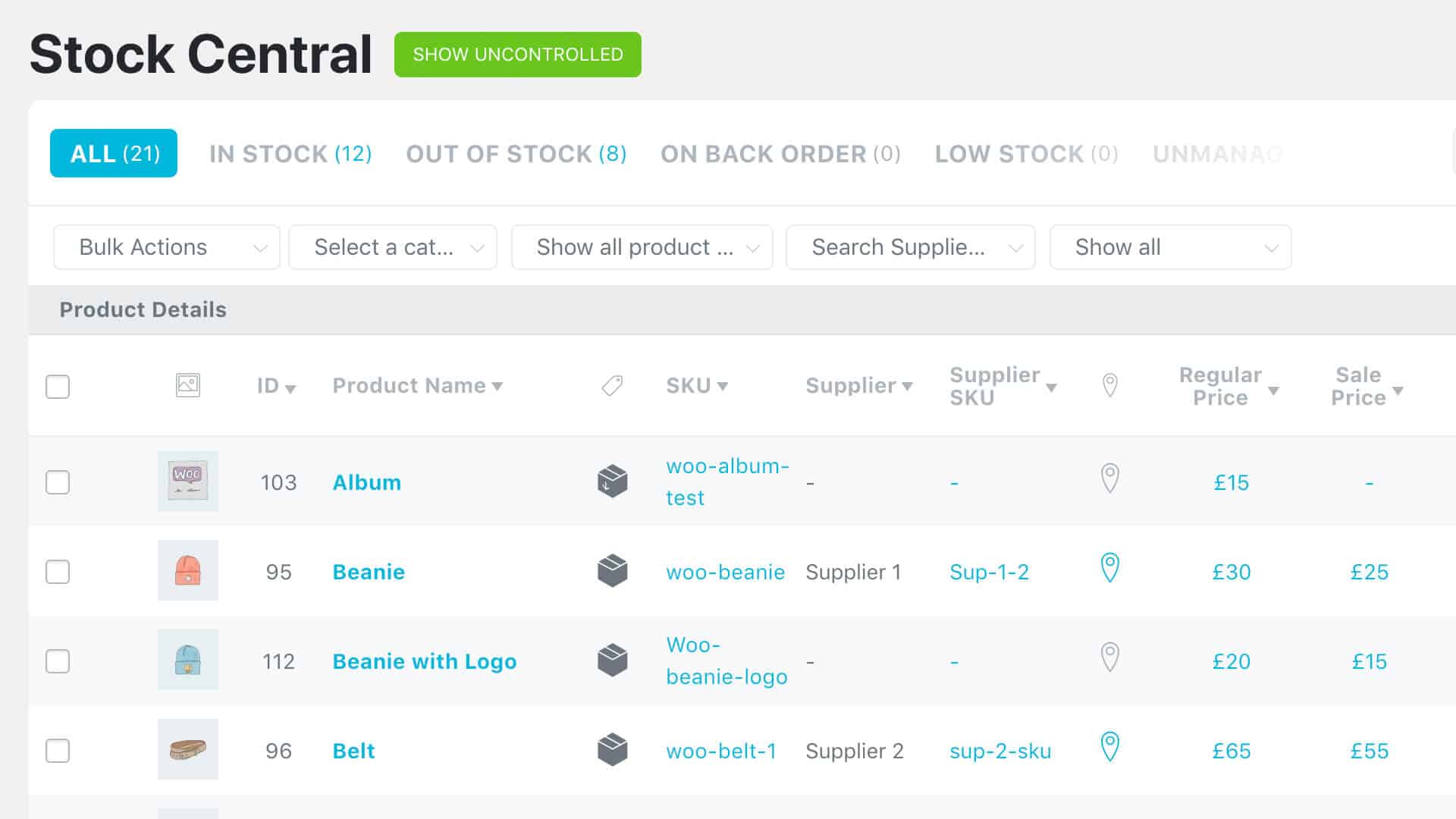 Top features
Product locations
This feature lets you create several storage locations per item.
Product data edit
Change SKUs on the fly from one screen. Edit purchase prices, regular and sale prices directly from Stock Central.
Advanced search & filters
Get Suppliers column and a fully filtered product list by Supplier name. Other filters include inventory/stock filters, new product category filters, extra drop-down filters, and new column sorting.
Pricing
There are paid add-ons you require to do a particular task like export, multi-inventory and product levels. The add-ons pricing starts at $42/year.
There's a free version available on WordPress repository.
---
12. Katana
Katana makes it easy for manufacturers selling on WooCommerce to handle business operations and inventory. Manage your product recipes, ensure on-time purchasing of materials, avoid stock-outs with relevant alerts, and control the production responsibilities of team members. Have a full visibility on your order fulfillment process.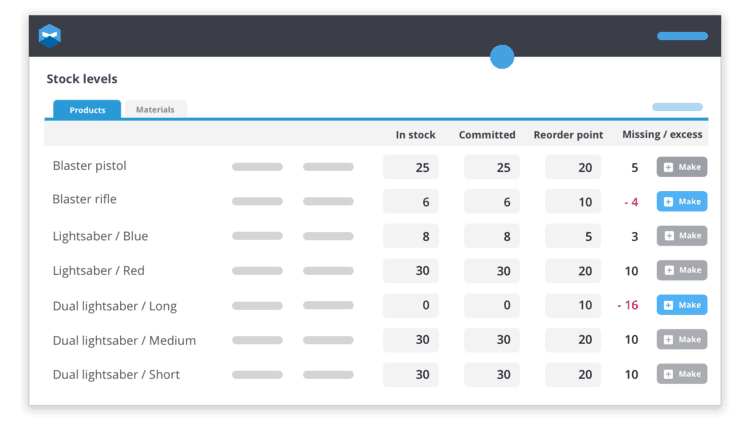 Top features
Production planning
Track the availability of required materials, identify delay risks related to material supply lead times, get real-time production status overview info from the floor-level
Real-time inventory control and optimization
Provision for automated inventory transactions, maintain optimal inventory levels using reorder points and manage inventory across multiple warehouses.
Sales order fulfillment
Track the availability of required products, identify delivery delay risks and reprioritize to meet deadlines. Sync sales orders from multiple channels into a single dashboard.
Pricing
Katana offers a $99/month license with all features. You need to pay separate fees to add users, inventory locations and e-commerce channels. Katana also offers a 14-day free trial.
---
13. WP Inventory Manager
WP Inventory Manager plugin is an open-source plugin with good features you need to manage your stock levels. However, you can also get a paid license. The advantage of a license is only the ability to get add ons.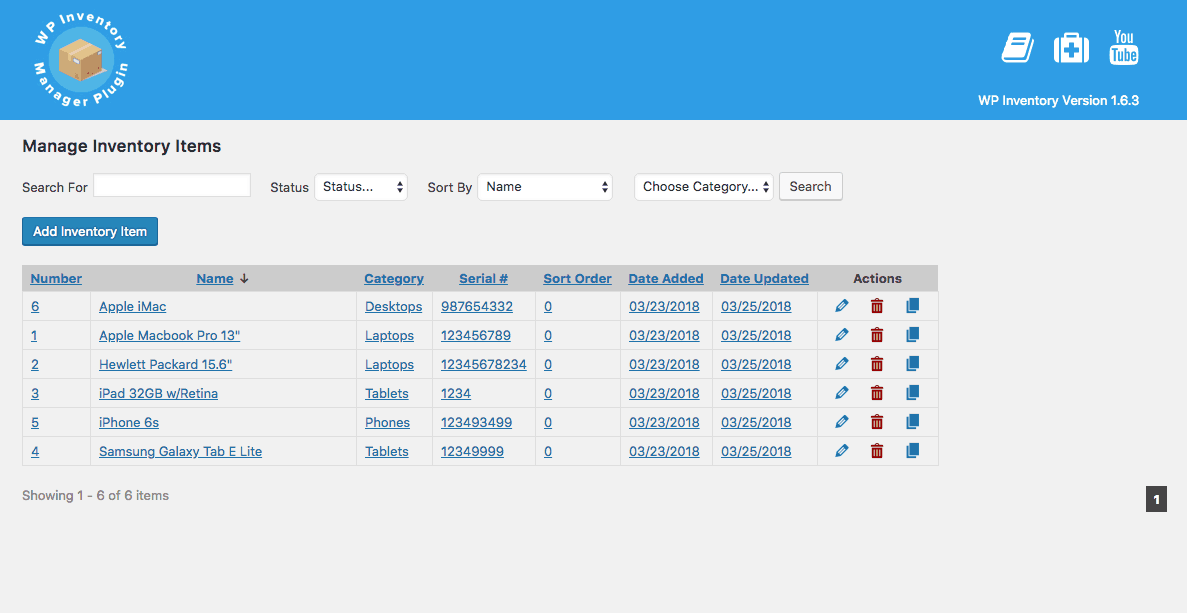 Top features
Advanced search
The plugin will create a search filter where users can choose the attributes of your inventory they want to filter by.
Locations manager
You can seamlessly manage the inventory of multiple different warehouses or other locations. Set different item quantities for unlimited locations, prioritize where your inventory is reserved from, and more.
Advanced inventory manager
Set up different types of inventory. This plugin allows you to define different attributes for each type (number of strings for guitars, the frequency range for microphones, etc). You can even customize the display setting and other options for each type.
Bulk update
Update numerous inventory items at once. Search your inventory based on any field (type, name, make, etc.) and then change the fields of your choice for every item at once.
Import and export
Import inventory from an external CSV file, and export all of your inventory items into a manageable spreadsheet easily.
Pricing
If you buy all the add-ons, the cost comes around $149.
There's also a free version available on WordPress repository.
---
Other WooCommerce inventory control and management softwares
---
Our recommendation
If you are running a WooCommerce store and need to do a quick edit of products, variations, orders, and more directly; want to bulk edit things quickly, Smart Manager is your go-to solution.
Get Smart Manager
And if you are more into managing your inventory amongst warehouses, dealing with suppliers and sales channels, you can opt for solutions like Veeqo, TradeGecko or Orderhive.
---
Increase your productivity tenfold
As said earlier, WooCommerce inventory management is now a child's task and it's your turn now.
Hence, kick-start with a new approach towards your store administration and free yourself from daily irritation and mundane.
We have listed down a few tools above to aid you out.
If you have used any one of these or other tools for the same, do share your experience with us and how it affected your productivity.