For those who get frustrated due to low productivity and sales, find it difficult managing their WooCommerce inventory and store; this article will help you get free from it easily.
In fact, you will be quite amazed to see how WooCommerce inventory management can be so simple, effective and efficient.
As a result, you can now equally focus on your other business activities like marketing, customer service, etc.
Already familiar with creating products in WooCommerce and the difficulties associated?
Jump to the solutions.
If not, let's begin here and see every aspect of it in detail.
---
WooCommerce stock management – configuring products
Before jumping directly to the solutions, let's see the steps involved in creating products and setting attributes for your WooCommerce store. It will automatically give you an idea of the difficulties you would face.
Step 1 – Install & Activate WooCommerce

First of all, you need to have WooCommerce activated on your site.
If not done already, here's how you do it:
Visit your WP dashboard and search for WooCommerce
Select WooCommerce and install it.
Activate it and you are good to go ahead.
Open the WordPress dashboard and select WooCommerce. Browse through different options available. You can setup your store, manage coupons, manage inventory and perform many other tasks from this WooCommerce dashboard.
Step 2 – Select your product / Set prices smartly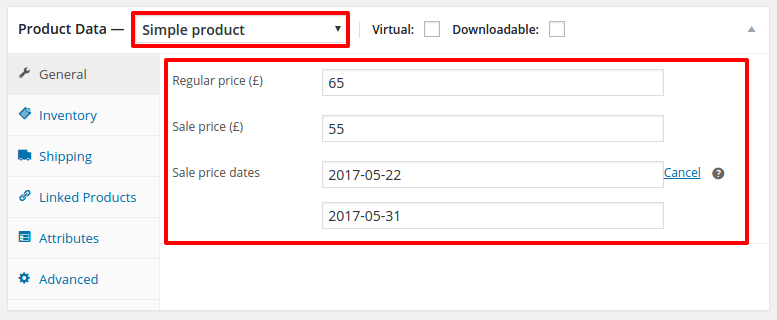 Now, it's time to create products. Below WooCommerce option on the dashboard, you'll have an option called "Products". Select "Add New product" from it.
Next, you'll have you have a drop-down to select what type of product you need to create – simple, group, affiliate.
To begin with, we create a simple product.
Next, enter the price of the product and time period for which you want to sell that product at a particular sale price.
If you want to make changes at a later stage, you can simply visit the product page and make changes accordingly.
Step 3 – Keep an eye on your stock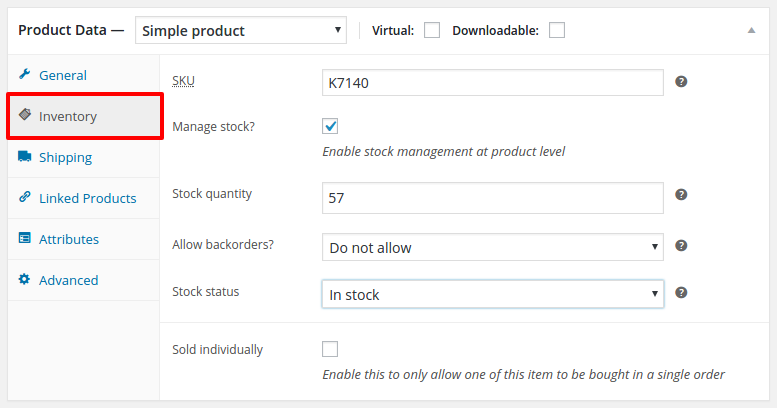 After setting the price, click on inventory on the dashboard on the left and enter relevant product details like stock keeping unit (SKU), stock quantity, stock status – whether the quantity is in stock or out of stock, etc.
If you are getting out of inventory and want to delete the stock, you can manage it from the above dashboard. You can also update your stock from the same page.
Step 4 – Add taxes and shipping
If you have physical products to sell, you can add shipping rates and taxes.
Similarly, you can set various other parameters for a single product.
Congratulations! Finally, you have now created your product.
---
Would you repeat these frustrating tasks?
Creating a single product was quite manageable.
But wait a second!
Perhaps, not.
These are what the hardships and irritation you would face while dealing with WooCommerce inventory/bulk stock management daily.
Let's look at them in detail.
---
WooCommerce inventory management difficulties : No less than a nightmare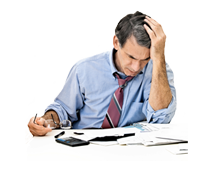 As you saw above, these WooCommerce bulk stock management is too complicated. You need to visit all the pages and settings individually to make changes every now and then.
A slight mismatch and all your WooCommerce stock management go haywire. The following are some major difficulties you will face:
1. Stressful tasks
As mentioned, managing and making changes every-time is a tedious task. Be it creating WooCommerce product variations or setting prices. Every time you need to visit all the dashboards and settings for each product to tweak changes.
2. Huge loss of time
You'll have to dedicate a good amount of time performing these changes which are not at all beneficial and recommended. Due to this, your other important work can be on-hold like marketing and customer service.
3. Inconvenience handling large database
When you're dealing with thousands of products, it's no doubt you face a headache. What follows is a set of errors. Correcting those errors indirectly adds to the extra loss of time and builds frustration.
4. Update only products
You have orders as well as customers that need a frequent update and that too in bulk. You can't afford to do it one-by-one the same way as you do for products. It will only worsen your work further.
5. No inline edit
If you want to make an edit in your existing list that consists of 'n' number of variables, you are restricted from doing it. All you need is to go to individual product and perform the necessary changes.
Other drawbacks
These were some common issues experienced by WooCommerce store owners.
Other difficulties include no provision for multiple warehouse inventory management, inventory batch tracking and control, editing WooCommerce inventory reports, etc.
And there's no doubt that a particular pain can't be healed. There are plenty of solutions that overcome all the above drawbacks of WooCommerce inventory management.
But before that, let's look how WooCommerce inventory management has become so simple and enjoyable than it used to be before.
---
Getting rid of WooCommerce inventory management difficulties at a blazing speed
Well, the world is moving towards automation and you should not lag. Tools are available to avoid tedious work and the same applies to WooCommerce inventory management as well. Here are some of the benefits of using the software to manage inventory to eliminate your difficulties-.
1. Add hundreds in one go
If you want to add 'n' number of products, you can simply keep on adding in a single sheet one below another along with setting attributes for each. No need to create a single product, set attributes and repeat it for every product as you use to do it earlier.
2. WooCommerce bulk update / batch update
You can select as many items you want to update them at once. Immediately change prices, stock status, description, variation prices, weight or groups for products. You can also change status and shipping-related details for orders.
3. Inventory reports & inline edit
View your entire product catalog in one place. If you want to make changes to any particular parameter of a product, you can do it there itself. Same applies for product variations.
4. Smart search
The search feature helps you to identify the products which you want to manage. You can quickly compare items, spot anomalies and review details.
5. Automated calculations
Increase/decrease in prices, stock, etc. are calculated instantly in the background leaving no effort on your end to manually keep a track on numbers.
6. Export
If you want to analyze your products later, you can export the sheet and make an analysis based on your requirements. Not only export but also you can make changes in the copy and then upload the updated copy.
7. Warehouse inventory management
If you have multiple warehouses and need to transfer inventory from one place to another using a single platform, you can now do it easily.
These are just a handful and you may find many more in different solutions available in the market.
---
Best WooCommerce inventory management plugins / tools
Finding the best tool is a confusing task. Therefore, we have hand-picked the best and popular ones which helps you in WooCommerce stock management. Here are few of the leading tools with some of their top features and pricing-
Smart Manager
Smart Manager is a unique and a very popular WooCommerce inventory management plugin from StoreApps. It gives you the power to efficiently manage products, customers and orders. It has provided breakthrough results for WooCommerce store owners.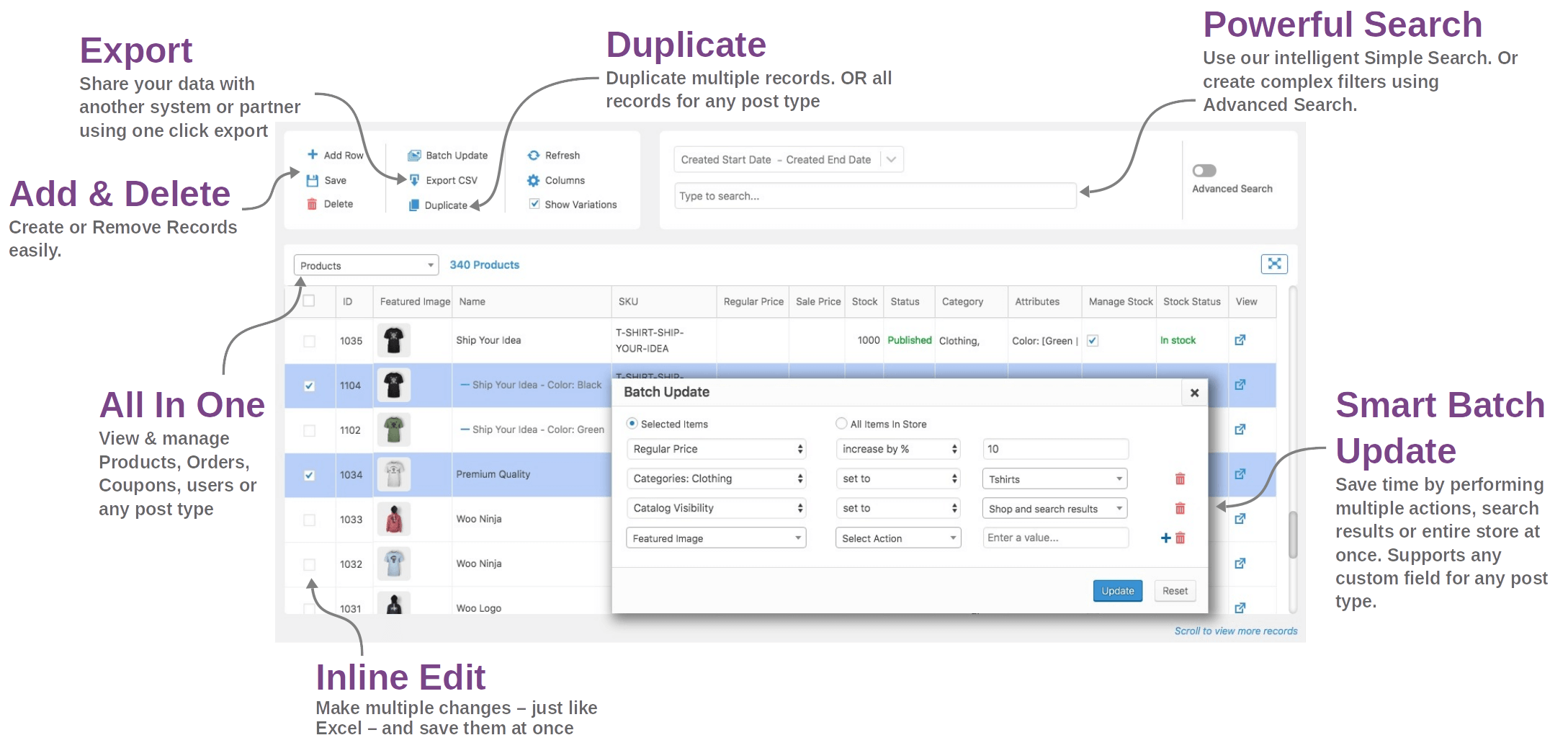 Features
Bulk update
Using this feature, you can without any hassle. It can be addition, updating or deletion.
You can also bulk update any WordPress custom post type.
Automatic calculations
This tool helps you to manage all the calculation from the same dashboard without doing for individual products. Just enter the kind of calculation you want to do and it's done.
Inline edit
You can browse, search, add, update and delete multiple products & variations, customers or orders using a familiar, single page, spreadsheet-like interface.
Snappier navigation
Browsing and filtering with Smart Manager are extremely responsive. You also see 100 items at once. Navigation buttons are simplified and you can jump to a page easily.
Simple reports
Useful details of products, their variations, customers and orders are shown in grid. And it lets you see details in a floating panel.
Pricing
Free version available on WordPress repository
Single site license – $149 / yr
View live demo
Learn more about Smart Manager
---
TradeGecko
TradeGecko is also a popular multichannel inventory management and order management software. It has integration with WooCommerce and many other platforms. It's more oriented towards physical products.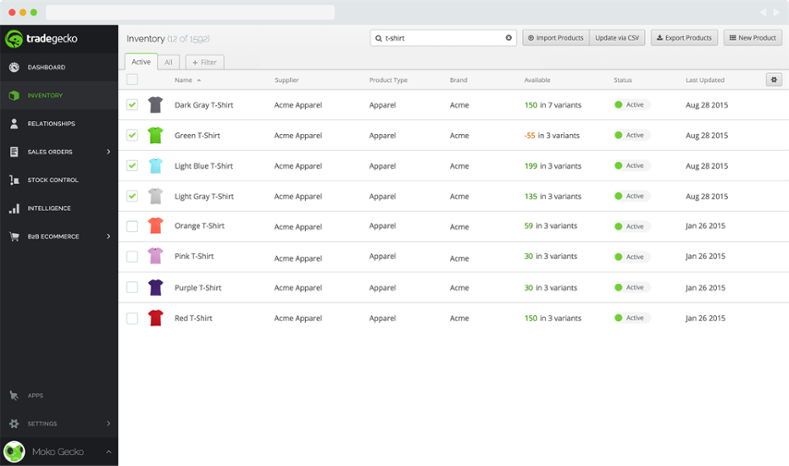 Features
Inventory control
View your entire product catalogue and organise them using filters. Keep a track of on-hand inventory, sales orders, locations, etc.
Warehouse inventory management
Easily move inventory from one warehouse to another. Addition and deletion of stock are dealt with automatically.
Inventory optimization
You get a demand forecast regarding your inventory – what stock you should have at that time.
Accounting integration
You can create invoices from orders, buy and sell in multiple currencies, etc.
Pricing
Starts at $39 / month
14 day free trial also available
---
Woocommerce Rapid Stock Manager
WooCommerce Rapid Stock Manager allows to update your stock inventory and variants sizes quickly, displaying everything within one screen.  This WooCommerce bulk stock management plugin is available on CodeCanyon.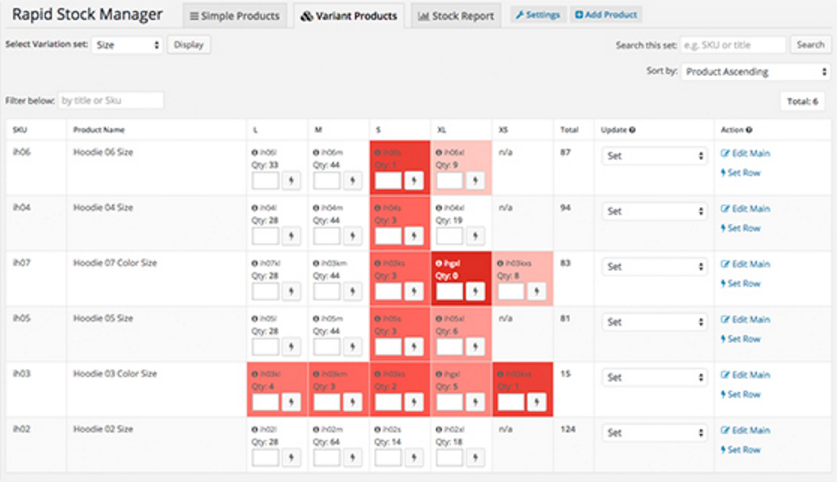 Features
Batch update
You can update single as well as variable products from a single place.
Stock report
View your entire product catalog from a single place – the total amount of products in stock, the total amount of products with low stock.
Multiple warehouse management
Add multiple warehouses and transfer and manage stock to main inventory stock.
Pricing
Regular license – $49
---
WooCommerce Stock Manager
WooCommerce Stock Manager is a free plugin available on WordPress repository.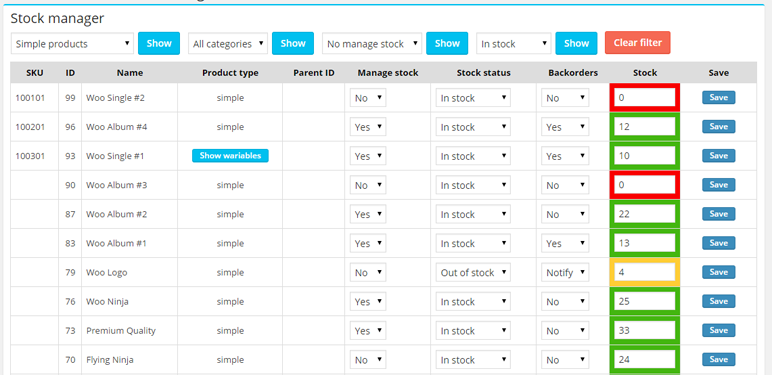 Features
Stock report
View your entire product catalogue at one go. You can set various parameters for each product and their variations – price, weight, stock, etc.
Product filtering
You can filter products by type, category, stock manage or stock status. You can also sort products by name or SKU.
Import / Export
With plugin is possible export all stock data from your e-shop, edit them and import back with csv file.
Pricing
Free. Available on WordPress repository
---
WooCommerce Inventory Management by Veeqo
Veeqo helps WooCommerce retailers automate their entire back office.
You can manage orders, ship to customers, sync inventory across multiple sales channels in real-time, view detailed reports and take tight warehouse control – all from a single, easy-to-use platform.
---
Other WooCommerce inventory control and management softwares
---
Increase your productivity tenfold
As said earlier, WooCommerce inventory management is now a child's task and it's your turn now.
Hence, kick-start with a new approach towards your store administration and free yourself from daily irritation and mundane.
We have listed down a few tools above to aid you out.
If you have used any one of these or other tools for the same, do share your experience with us and how it affected your productivity.