While we may not possess the size and scope of industry giants like IKEA, there's still ample room to grow your online furniture business.
Yes, selling furniture online is very difficult because customers prefer an in-store shopping experience. They want to have that feeling of comfort before striking a deal.
So, here we list down some simple hacks to grow your online furniture business.
Whether your business revolves around new or refurbished furniture, and whether you manage your own inventory or operate a dropshipping business, this article is for you.
Why do online furniture businesses struggle?
Furniture buying often involves careful consideration due to size, style, comfort, and material preferences, making the purchasing process more intricate compared to smaller items.
High returns: Furniture may not match customers' expectations in terms of color, size, or quality, leading to higher return rates and increased logistical costs.
Limited tangibility: Customers prefer experiencing furniture in person to physically touch and feel the comfort and quality, which is difficult to replicate online.
Logistical challenges: Shipping large items requires efficient logistics to ensure timely and damage-free deliveries, which can be a challenge for some online retailers.
Assembly: Customers may be hesitant to buy furniture online due to concerns about assembly and installation difficulties.
Quality concerns: Customers might worry about the quality and durability of furniture bought online, leading to hesitation in making purchases.
Local competition: Established local furniture stores provide personalized experiences and immediate access to products, making it harder for online stores to compete.
Additionally, cultural differences and preferences in furniture styles can also impact the success of online furniture stores in various regions.
But with the right marketing strategies, these struggles can be overcomed.
Profitable hacks for selling furniture online
Please note that the plugins discussed below cater to WooCommerce users. If your online furniture store operates on Shopify, BigCommerce, Etsy or other platforms, you're welcome to adapt these strategies to your setting.
Treat the audience with superior visuals
To provide that offline experience to customers online, you need to invest in professional photography and augmented reality (AR) technology. That's your engagement bait for customers.
Add high-quality photos and videos that showcase your furniture from various angles. Use the WooCommerce 360º Image plugin to make the product feel more real to your customers, irrespective of the device they use to browse your website.
Not just product images, you also need to implement virtual reality (VR) or augmented reality (AR) technology to offer customers a virtual showroom experience, allowing them to visualize how furniture will look in their space.
The CartMagician Pro plugin fits the bill to easily add 3D and augmented reality experiences to store products.
Last but not least, provide detailed and accurate product descriptions, including dimensions, materials, care instructions, and assembly information.
Collaborate with interior design influencers
Partner with interior design influencers or bloggers to showcase your furniture in real-life settings. Their endorsement can expose your brand to a larger audience.
Set up an affiliate program on your store using the Affiliate for WooCommerce plugin.
Enroll the desired influencers in your program as affiliates and set specific commission rates for them based on different furniture products.
For instance, assign 25% commission for home furniture, 20% for office furniture and 30% for antique furniture.
Auto-apply discount for new users
Give a special discount to customers who are shopping with you for the first time. This encourages new visitors to try out your products and transforms them into loyal customers.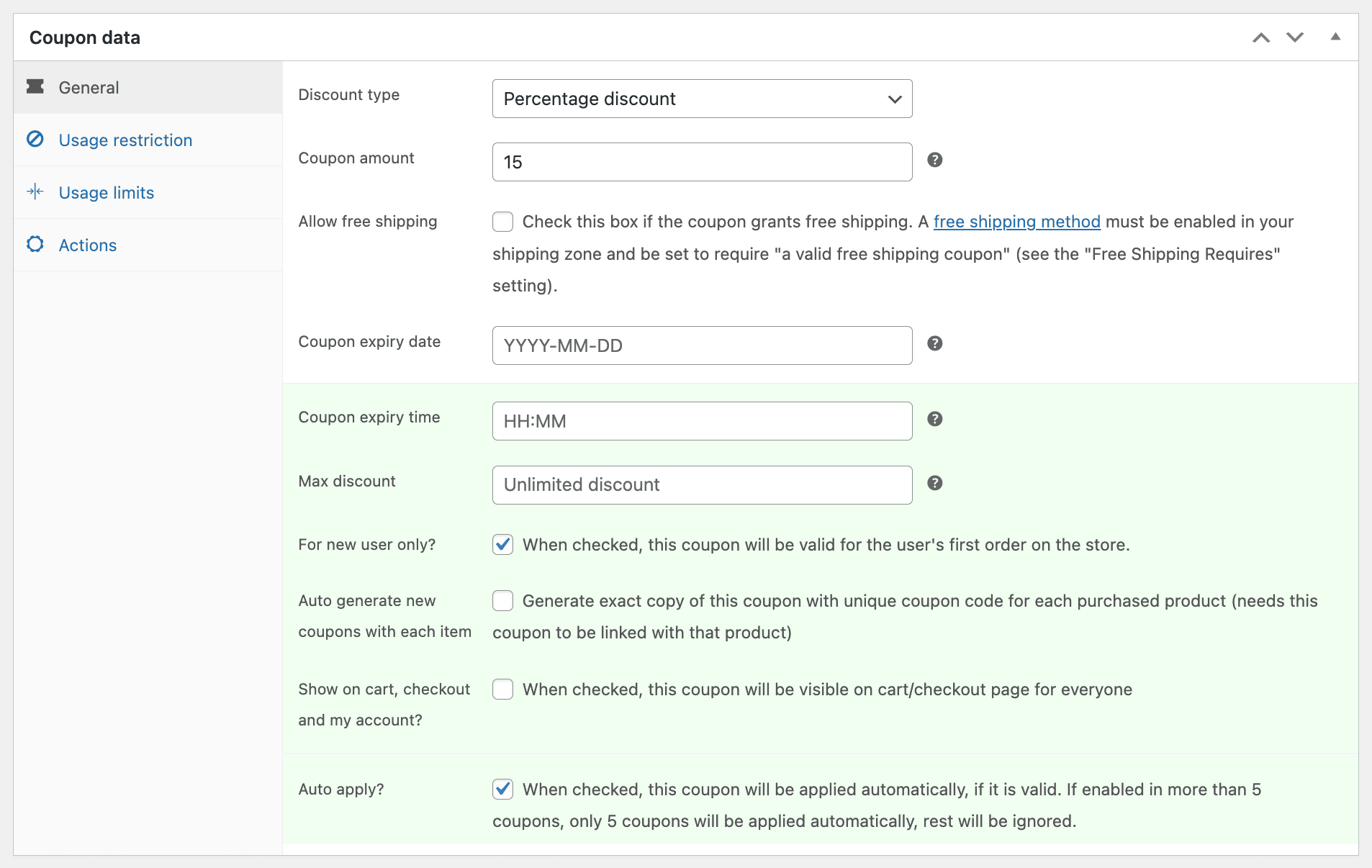 We recommend using the Smart Coupons plugin that allows you to set coupons only for new users on auto-apply mode.
With over 20K+ active users, Smart Coupons is the most reliable WooCommerce coupons plugin to grow sales and retain customers. Get gift cards, store credits, BOGO deals, bulk offers, advanced restrictions, and more, all within a single plugin, saving you at $500+.
Bulk discount for low-cost items
Buy more than 30 chairs and enjoy a 25% discount. This is especially great for businesses with offices or restaurants.
You can also put together different items from the same or different categories and offer a discount. This is perfect for people who want to spruce up their homes. Smart Coupons quantity discount feature makes all of this possible.

For example, if you buy over 100 items, you can get a 15% discount. This could include things like lights, plant pots, bean bags, kitchen stuff, bathroom storage, living room items, foldable things, and more.
Customers are free to mix and match items to their liking, but the discount only kicks in when the cart quantity hits the set value.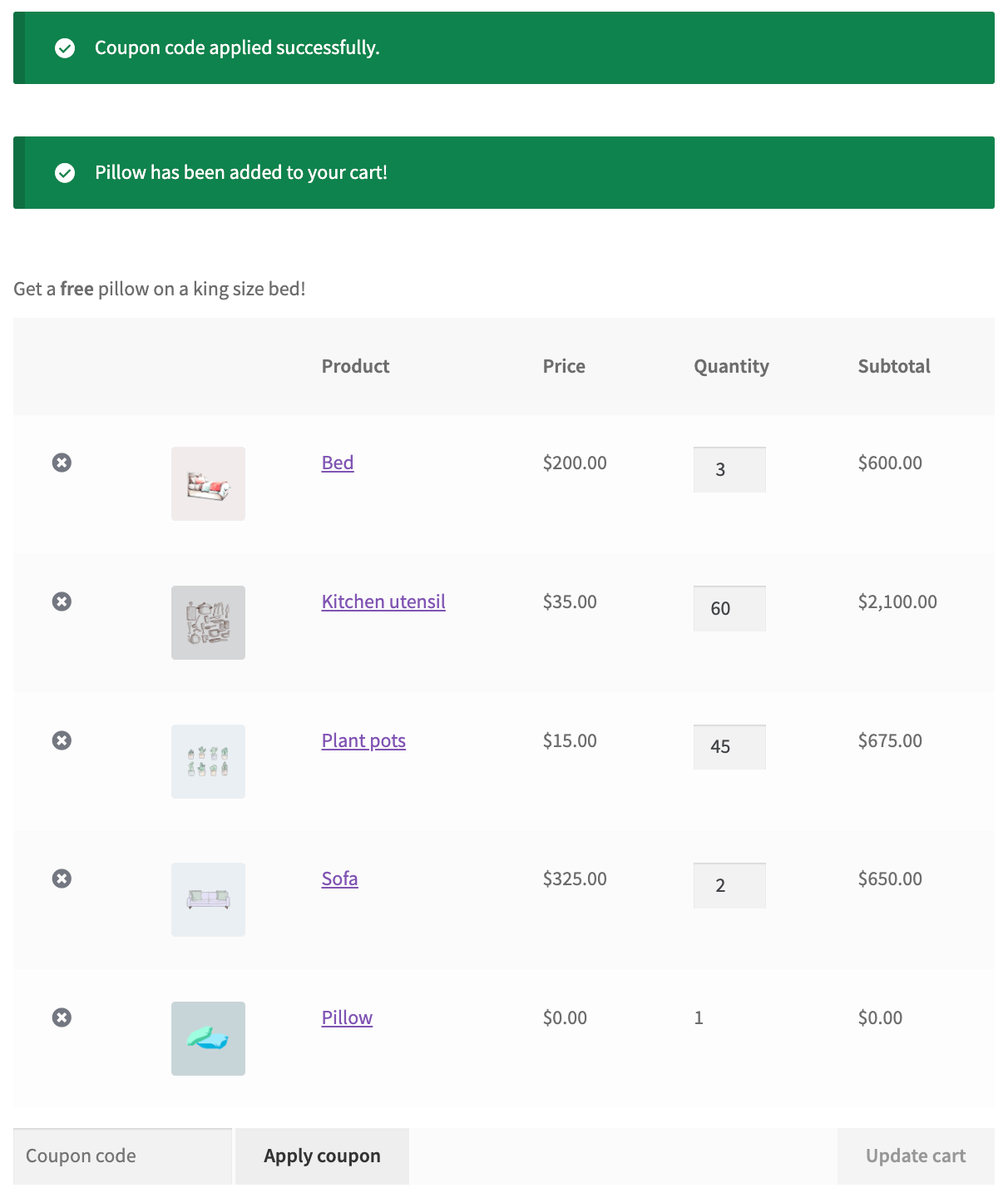 You can even control which products do not get discounts based on the attribute-restrictions feature of Smart Coupons.
Sell gift cards at a discount
$100 gift card for $80. This can serve two purposes:
Users purchase gift cards from your store and redeem them later on your store.
Users purchase it and gift it to someone else who can redeem it on your store.
Smart Coupons provide the flexibility to create and sell gift cards of any amount, fixed denominations and discounted gift cards. Here's how to set up gift cards.
Restrict discounts on heavy furniture
When you're shipping heavy items like sofas and cupboards far away, giving discounts might not be the best idea.
Instead, it's a smart move to use the Smart Coupons plugin and restrict discounts to specific locations. You can use zip codes to narrow it down.
We also recommend using the Table Rate Shipping plugin to set the best prices for your products based on the shipping destination.
Give freebies with high-end furniture
Offer a free or heavily discounted accessory (such as pillows or a side table) when customers purchase king-size beds.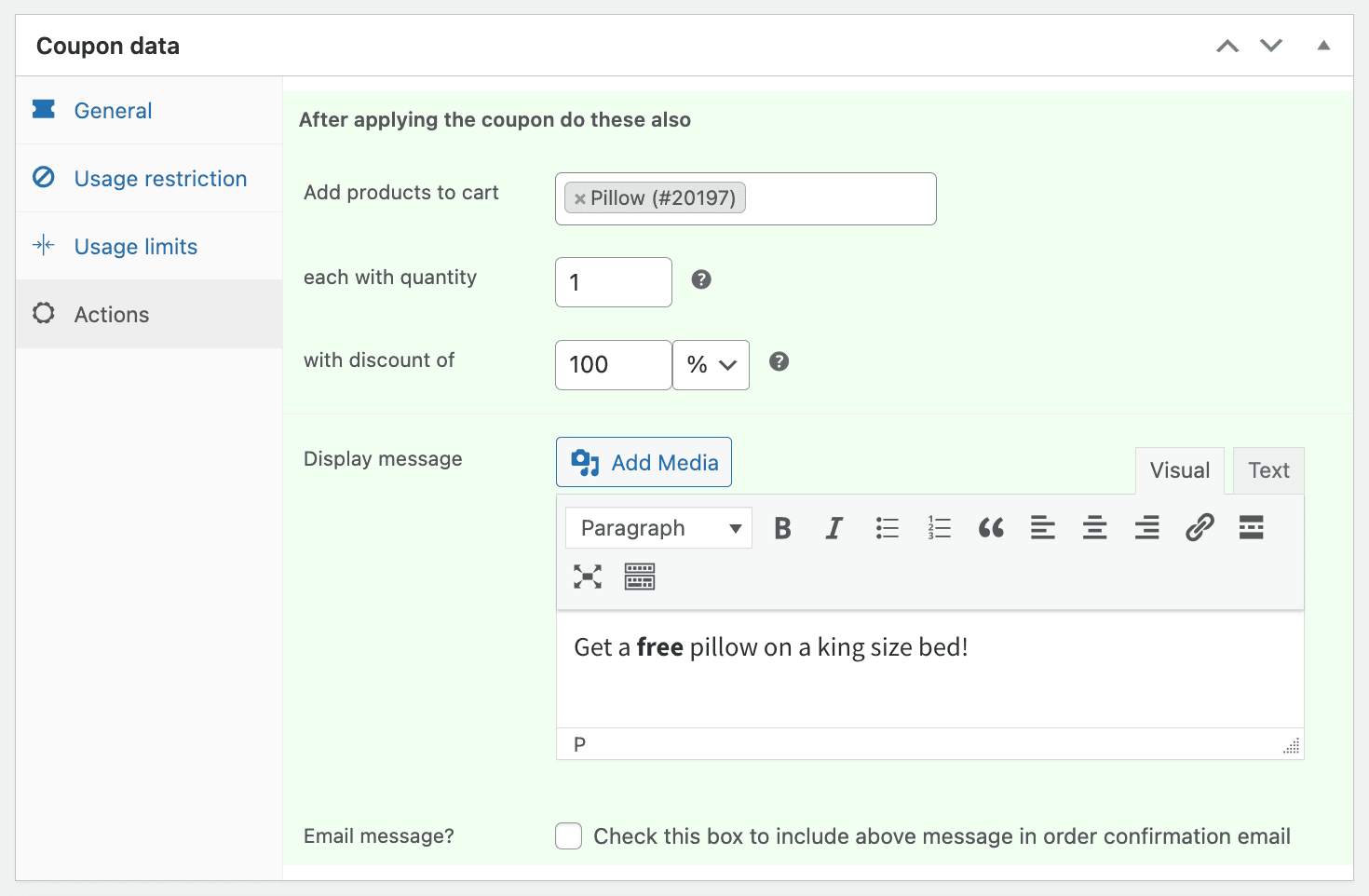 The Smart Coupons plugin also helps you here. Create a coupon and attach the product (set 100% discount) you want to give away for free. Once the coupon is applied, the products will be added to the customer's cart for free.
Offer a deal on bundles
Proactively tell users what they need rather than they asking or searching for it. A person working from home won't need just a table or desk. How about offering a 'Work from home essentials' bundle that includes a table, desk organizer, smart lights and a swag-powered coffee mug?
We recommend creating such smart bundles using Chained Products and offering them at a discount.
Send emails based on segments
These can be your target customers:
Couples in live-in or newly married
Family members with small children
Older married couples with dependent children
Students
Professionals
They may have their own home (existing or new purchase) or be on rent.
Think about it: Wouldn't it be nice if you got emails that talked about things you really needed?
You can make lists of email addresses and then send emails with stuff those people would like. There's a tool called Icegram Express that can help you make and send emails quickly.
Conclusion
I guess this blog answers your question about how to sell furniture online.
Leveraging coupons, gift cards, and product bundles can be powerful strategies to grow your online furniture business.
And yes, focus on content marketing, providing customer support, showcasing testimonials on the website and social channels.
Growth takes time and consistency. But with Smart Coupons and other plugins mentioned, stay assured of more sales and loyal customers, in spite of the competition being tough in the online furniture market.