The online jewelry market is valued at over a trillion dollars, making competition fierce.
So what strategies should you adopt to establish yourself in this market? How to boost your jewelry sales from home (selling online) faster?
Whether you're a seasoned jewelry entrepreneur or just starting, our expert tips and tricks will empower you to elevate your jewelry business and achieve unprecedented success.
Note – While these strategies focus on WooCommerce and plugins are specific to it, you can still adapt the strategies to other platforms like Etsy or Shopify.
We'll explore more coupon strategies, particularly with Smart Coupons, due to its ease of implementation.
How to boost jewelry sales from home?
Boosting jewelry sales from home requires a combination of creative marketing strategies, effective communication, and a focus on customer engagement. Here are the top hacks to help you increase your jewelry sales from home quickly.
Invest in good visuals
Since customers can't physically see and touch your jewelry, high-quality images and videos are essential. Invest in good photography equipment or hire a professional photographer to showcase your jewelry in the best light.
Make your website user-friendly and interactive. Include features like 360-degree product views, zoom-in options, and informative product descriptions.
The WooCommerce 360º Image plugin will be a great addition to showcase jewelry items in finer detail and make them appear more real.
Allow virtual try-on
Implement virtual try-on tools on your website or through mobile apps. These tools allow customers to see how the jewelry would look on them using augmented reality technology.
Provide gift cards to loyal customers
This encourages larger purchases and higher order values. A jewelry business runs more on repeat purchases. So make sure every customer is happy with their purchase.
Now, since existing customers are prone to make a purchase again, allow them to do the same. Issue a gift card on their birthdays, during the holiday season or as a token of appreciation.
With the WooCommerce Smart Coupons plugin, you can create and send any amount or fixed denomination gift cards to these customers.
Smart Coupons gives your customers the option to schedule the gift card. So they don't need to worry about missing out on sending them.
Not just your existing customers, but you can also set up some gift cards on your store and allow customers to buy them. They can use it for themselves or send it to their loved ones.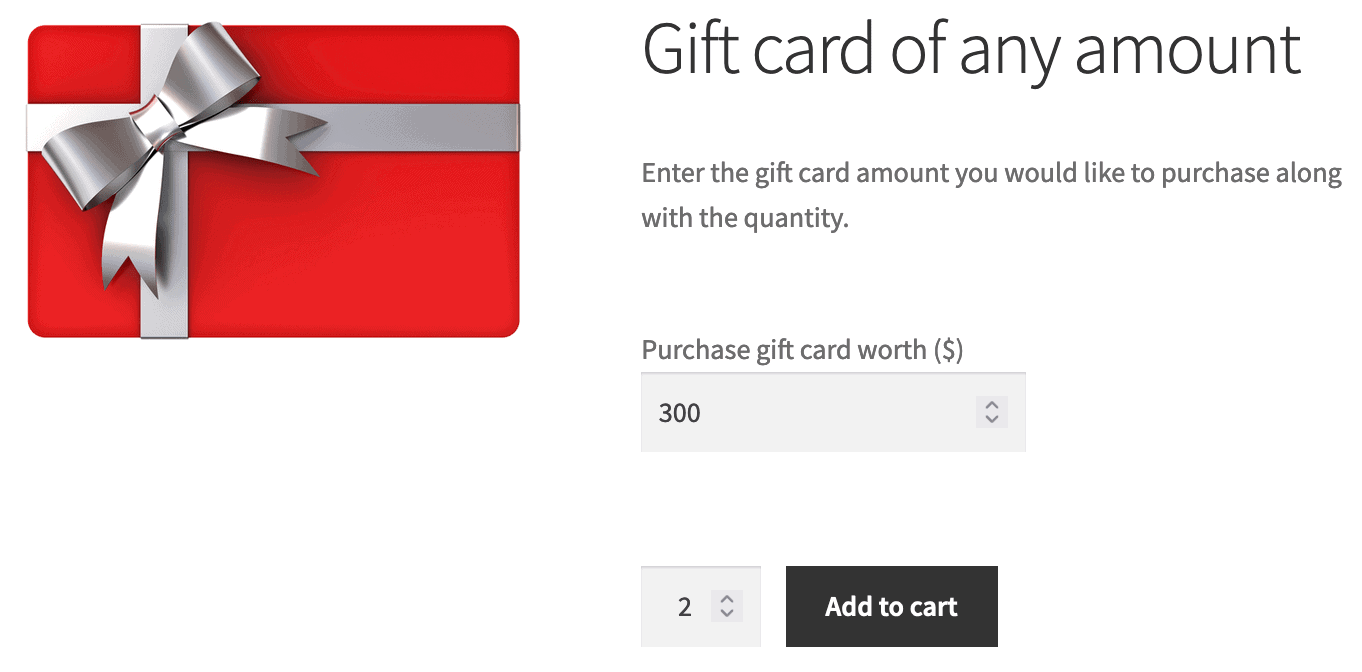 Such is the flexibility of the Smart Coupons gift card feature.
Leverage Instagram
As jewelry relies heavily on visual appeal, Instagram is an ideal platform. Share captivating images, stories, reels, and showcase real people wearing your jewelry.
Don't hesitate to share behind-the-scenes content, case studies, reviews, and coupon codes.
Collaborate with influencers
Partner with relevant influencers in the fashion and lifestyle niche. They can help promote your jewelry to their followers through reviews, unboxings, and outfit pairings.
A smart move is to set up an affiliate program and recruit these fashion influencers.
Affiliate for WooCommerce plugin helps you set up your own affiliate program within minutes.
You can choose who you want to make your affiliates, assign special commissions to these influencers, and also provide them with resources – images, videos, etc. of your jewelry products for promotion.
Run Buy One Get One offer
I'm not saying to offer a jewelry piece for free. You can do a buy one get one at a discount. This will clear your stock without hurting your profit margins.
Using Smart Coupons, you can create such BOGO coupons easily.
For example, on the purchase of a sapphire necklace, customers get a 50% discount on a matching sapphire bracelet.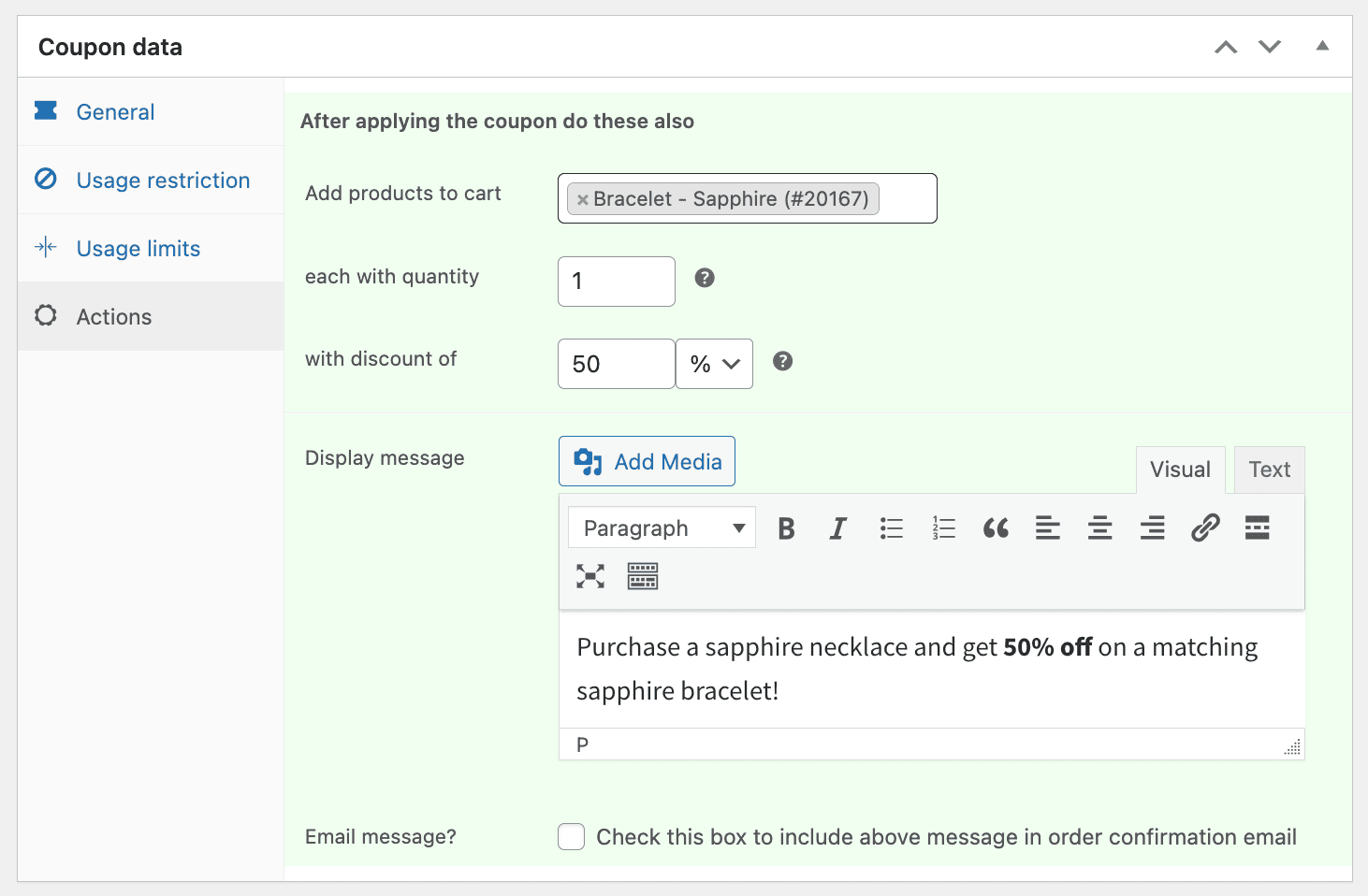 Partner with fashion stores
Partner with complementary businesses, such as clothing boutiques to offer joint discounts.
With Smart Coupons, you can bulk generate unique coupon codes and send them to these partners. Their customers can redeem these codes on your site and get a special discount.
For example, on the purchase of a chiffon gown, users get a moonstone pendant from you at 20% off. In return, you promote your partner products on your site and help them boost their sales.
Another option can be to become each other's affiliate partners and promote the products.
Auto-apply coupons for flash sale
This is another smart feature offered by Smart Coupons – auto-apply coupons via URL.
In case you run a flash sale or new product launch, set the coupon to auto-apply and share the URL on social media or email. This URL will have the discount code that will auto-apply the coupon when hit.
Create a sense of urgency by showing the expiry time, so more people can claim the discount at the earliest.
Identify what actually works using data analytics
Many store owners often struggle to gain valuable insights into their jewelry products.
They are left wondering which rings are the top sellers, which necklaces are struggling to attract buyers, whether customers are making repeat purchases, and how much customers are actually spending.
Launching marketing campaigns without a comprehensive analysis of this critical data is unlikely to lead to success.
With Putler by your side, you gain a clear understanding of what's effective and who your customers are, along with real-time information about their purchasing habits and expenditure.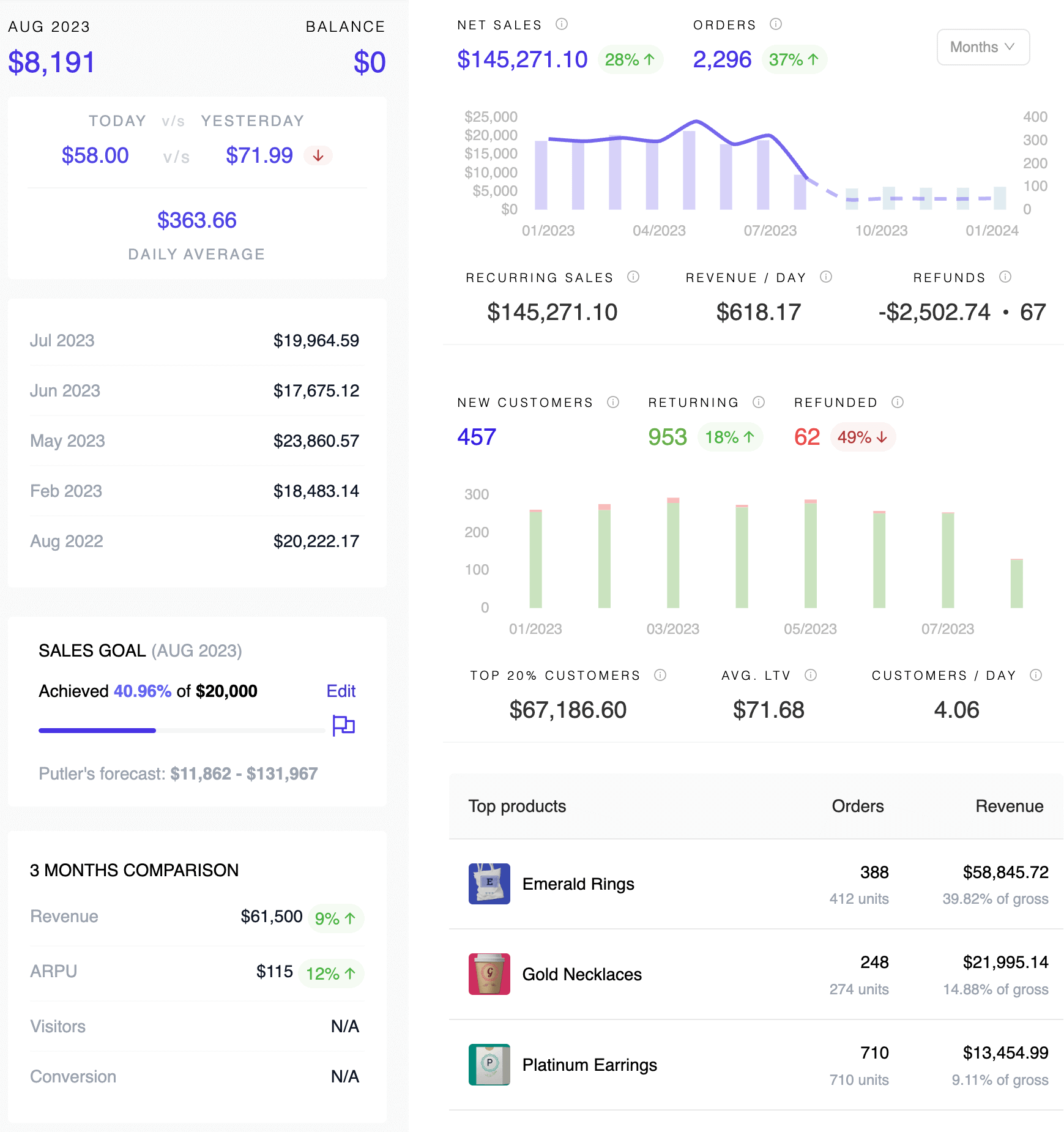 This isn't limited to just WooCommerce; it extends to Etsy, Shopify, BigCommerce, and other platforms, providing you with a holistic view of your jewelry business.
Run event-based email campaigns
Putler also gives you a list of customer segments (RFM analysis) based on their purchasing behavior – top spenders, loyal customers, lost customers…
For example:
Existing customers who bought the most expensive diamond ring.
Customers who purchased a rose gold necklace.
New customers who purchased a high-end platinum pendant.
Customers who purchased the cheapest earrings nine months ago but did not return.
You can craft a personalized email only to target these customers with recommendations and offers tailored for them.
Build an email list and send out regular newsletters with updates on new arrivals, exclusive offers, and jewelry care tips. Personalize your emails for each customer segment.
You can try the Icegram Express plugin that provides you with readymade email templates. Export the list from Putler, import it to Icegram Express, make some quick edits and send your emails quickly.
Offer bundles of matching items
Putler also gives you insights about which products are frequently bought together. Use this data to provide personalized jewelry recommendations.
You can create a bundle offering a necklace with matching earrings or a necklace with earrings and a ring.
With Chained Products, you can create pre-configured bundles, allowing customers to get the entire set than individual products, thus surging your average order value.
Run location-based coupon discounts
Smart Coupons allows you to restrict the coupon use only for a particular location – country, state, city, or zip code. For example, run 15% off on gold ornaments for the southern states of India.
Location-based coupons allow for personalized offers based on the customer's proximity to your store, making them feel valued and more likely to make a purchase.
Also, offering location-specific discounts can set you apart from competitors and attract customers who are looking for localized deals.
Jewelry care tips
Not just offers, but also provide useful information to your customers on how to care for different types of jewelry.
Educated customers are more likely to make a purchase and feel confident about the longevity of their jewelry.
Highlight your jewelry's sustainability and ethical practices. Many customers are drawn to brands that prioritize these values.
Conclusion
Remember that building a successful jewelry business takes time and consistent effort.
By implementing these hacks, using Smart Coupons and continuously adapting your strategies based on customer feedback and market trends, you can effectively boost your jewelry sales from home.