A restaurant's success depends on recommendations and loyal patrons.
The food consumption landscape has undergone a transformation due to the COVID pandemic. Whether it's a family gathering, party, reunion or late-night cravings, online ordering is preferred.
For online restaurants, cafes, bars, bakeries or any food joints, coupons emerge as the ultimate solution to entice these diners.Why? Because they offer ease of creation, seamless implementation, and unparalleled adaptability for various scenarios.
In this blog, you'll learn how to increase restaurant sales online for WooCommerce by effectively harnessing the power of coupons to attract new diners and encourage repeat business.
11 evergreen coupon tactics to boost online restaurant sales
These tactics work for any online restaurant, but the plugin we mention herein is native to WooCommerce only. If you are into Shopify, Squarespace, or other e-commerce platforms, feel free to implement these tactics. It won't fail you.
Note – We assume you already have an online food store. If not, you can try the Orderable or Restaurant for WooCommerce plugin. Both plugins boast a set of powerful features to help you easily create an online menu and ordering system.
Coming to the strategies, use the Smart Coupons plugin. It's a complete WooCommerce coupons plugin. 20k+ users trust it to set up gift cards, store credits, BOGO offers, flash sale discounts and other deals.
Reward loyal customers with gift cards
The more happy you keep your loyal customers, the more repeat sales you would earn from them.
Send them a gift card on their birthdays or anniversary via emails that they can redeem at your online restaurant.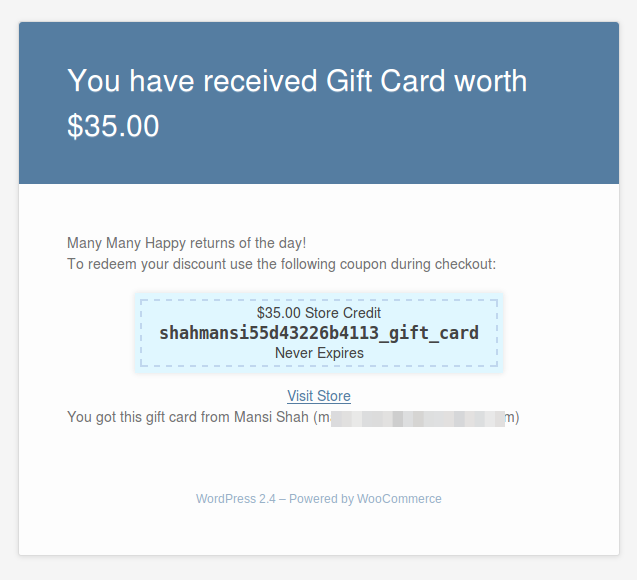 A small gift card worth $10 is a great gesture to keep customers stay with you.
With Smart Coupons, you have the flexibility to create any amount gift card as well as fixed denomination gift cards.
Run Buy One Get One (BOGO) deals
BOGO deals are best suited for pizza and pastries – buy one large pizza, get one small size pizza free.
Run it as a #MamamiaMonday or #TerrificTuesday campaign offer only and not on all days. You don't want to hurt your profit margins by giving away so much all around the clock.
More about creating BOGO deals
Issue a next-order coupon for new customers
Apart from the taste, customers look for deals. And if you want to convert new customers into repeat customers, send them a coupon for their next order also.
They will return the favor by placing an order again.
Look, once the customer gets attached to your food joint, they would simply order if you provide a discount or not.
Here's how to issue a coupon for the next order
Offer store credits for return orders
It may happen that customers may not be satisfied with the food quality today or the package may get damaged during transportation.
Firstly, replace the food package without charging any extra to the customers if customers ask for it.
If they ask for a refund, convince them by offering store credit for the same refund amount which they can use later in your restaurant.
If they don't agree here also, you don't have a choice. But don't deny refunds as a lost customer is more prone to give negative recommendations.
Show relevant upsells and cross-sells
How about a fresh salad at 50% off to complete your meal? Or upgrade your pasta to a large bowl with extra cheese for $2?
By implementing these strategies, the online restaurant can potentially increase the order value by enticing customers to opt for more premium options and by enhancing their dining experience with complementary items.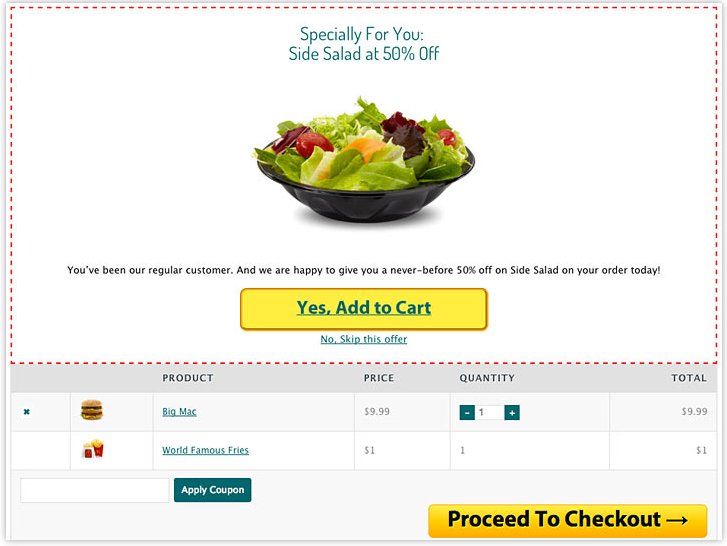 Here, you can use Smart Offers plugin to upsell/cross-sell relevant products and use Smart Coupons to create a coupon that gets auto-applied for specific users when they accept the upsell/cross-sell offer.
Issue time-restricted coupons
People in the corporate world will find this offer exciting.
Set up coupons that are only valid during specific hours or days, such as "15% off lunch orders between 12 PM and 3 PM". This helps drive traffic during slower periods.
You can set up a sitewide notice on the website for the offer and set the coupon to expire automatically at 2:59 PM for the said date and time.
Auto-apply coupons but not on best-sellers
A strategy online cafes will find more valuable.
To have that authentic coffee taste, people don't mind spending extra dollars.
So when you run an offer sitewide, allow the coupon to get auto-applied but exclude these high-margin or high-demand products from the discount. It will keep your profitability remains intact.
Btw…if you are a coffee seller, these sales strategies to boost coffee sales will blow your mind. Check them out!
Cap the maximum discount
Get 70% up to $50. The more the discount, the more customers are nudged to make a purchase. But the discount limit also prevents burning too much cash from your pocket.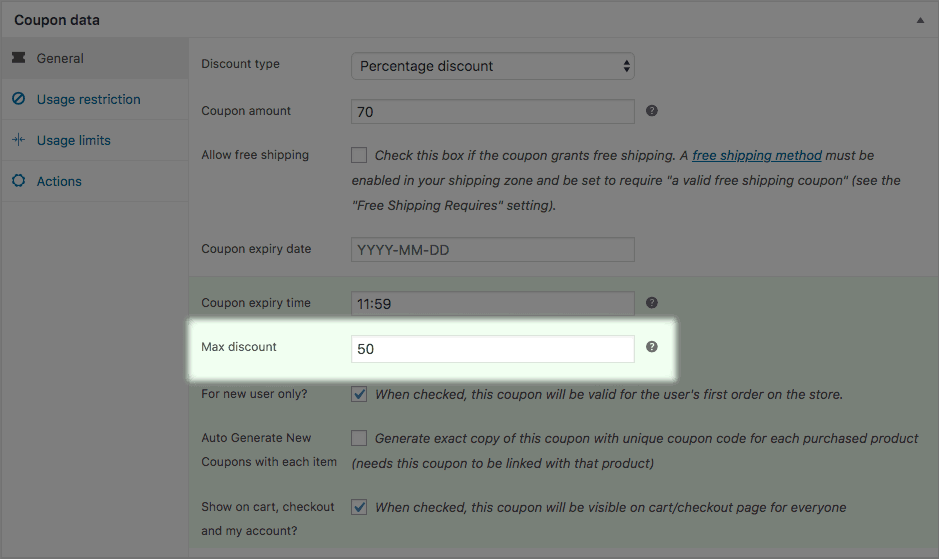 Offer bulk discounts for party orders
Kitty parties, reunions, and get-togethers…provide a discount only when the food quantity exceeds a certain value.
It can be a 10% discount for more than 50 burgers or a 15% discount if the product quantity in the cart exceeds 15 items (can be any mix – 5 pizzas, 3 pasta, 10 coke).
More about setting the quantity discounts
Create urgency for new customers
Provide coupons with limited usage to create a sense of exclusivity and urgency. For instance, "First 50 new customers only will get 25% off."
Target customers based on zipcodes
If you serve some territories outside your delivery area, you can use Smart Coupons to apply coupons based on zip codes.
Customers in these areas will feel a little burdened by the shipping costs. So you can create a coupon that applies only to this zip code and customers can apply them at checkout to reduce the overall shipping cost.
Conclusion
Implementing a well-thought-out coupon strategy can be a game-changer for increasing your WooCommerce restaurant sales online.
Start with at least five strategies mentioned in this article, and then experiment with more. You're bound to savor increased sales with Smart Coupons.