The default WooCommerce coupons only provide the Allowed emails option to allow the use of coupons for those specific emails.
But what if you want to exclude some emails from applying a coupon?
The WooCommerce Smart Coupons plugin allows you to enter those email addresses you don't want the coupon to get applied.
From targeted marketing to fraud prevention, it is very helpful in a lot of applications. Let's see how.
Why exclude emails from applying a coupon?
Excluding certain emails from applying coupons can serve specific business purposes and help manage the use of coupons more effectively.
Targeted marketing – Prevent high-value customers from applying coupons who make a purchase at a full price regularly.
Avoid losses – You don't want freeloaders or non-paying subscribers to claim the discount.
Fraud prevention – Avoid unauthorized use and email addresses based on fraud in the past. This will prevent users from signing up using email addresses from fake email address providers.
Insider misuse – Prevent your employees or loved ones from applying the coupon as it is meant only for customers.
Testing – Test different offers or coupon types among specific segments and see what works within a customer segment.
Clear communication of coupon policies and fair, transparent exclusion practices are crucial for preventing customer dissatisfaction and maintaining a positive brand image.
Steps to exclude emails from applying a coupon
As mentioned, with the Smart Coupons plugin, you can enter email addresses you don't want the coupon to get applied.
For those who entered late, Smart Coupons is an all-in-one solution for gift cards, store credits, bulk generation, BOGO, advanced restrictions (payment, shipping, user role….) and more. 20K+ users rely on Smart Coupons daily to grow their business.
Moving on how to exclude emails from applying the coupon.
Create a new coupon or open an existing one.
Choose the coupon type (store credit, fixed cart discount…) and enter the required discount amount and other details.
Go to the Usage restriction tab.
Look for the field Excluded emails. Here, enter single or multiple email addresses (separated by a comma) you don't want the coupon to get applied.
You can also exclude particular domain-based email addresses using *. For example – '*@mail.com'.
Set other advanced restrictions based on your needs.
Publish or save the coupon.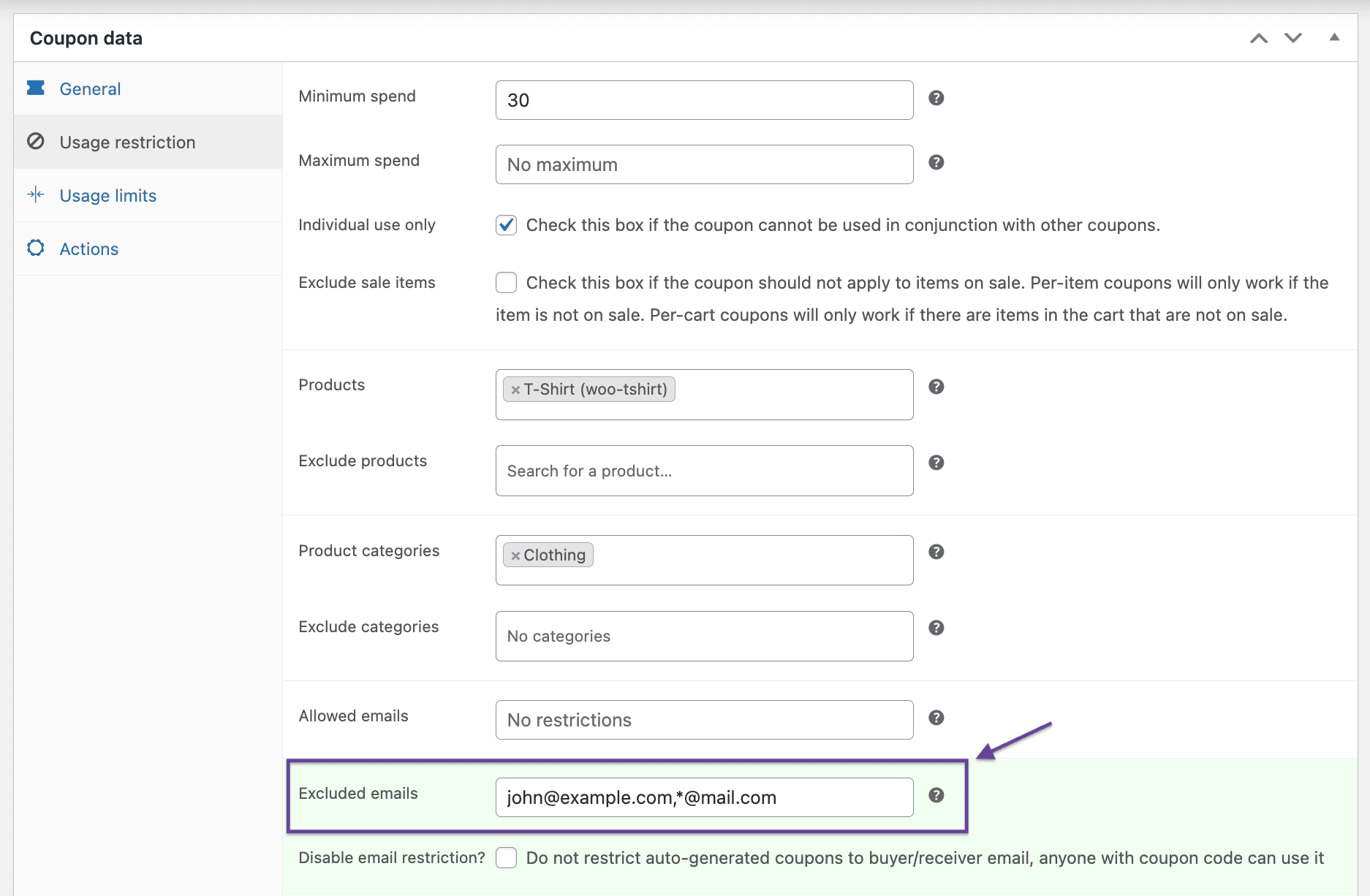 That's it. Excluding certain emails can significantly boost conversion rates on your WooCommerce store.
Summary
WooCommerce Smart Coupons plugin introduces a powerful dimension to coupon management.
To exclude emails addresses:
Create a coupon, set discount type and other values.
Use the 'Excluded emails' restriction setting to block emails.
Set other restrictions and publish your coupon.
By excluding specific email addresses, businesses can refine their strategies, prevent misuse, use targeted marketing effectively, and maintain brand integrity.