Grow your sales on autopilot
Create powerful sales funnels in WooCommerce using Smart Offers plugin.
Target personalized upsells, cross-sells, special offers to increase LTV, conversions and profits instantly.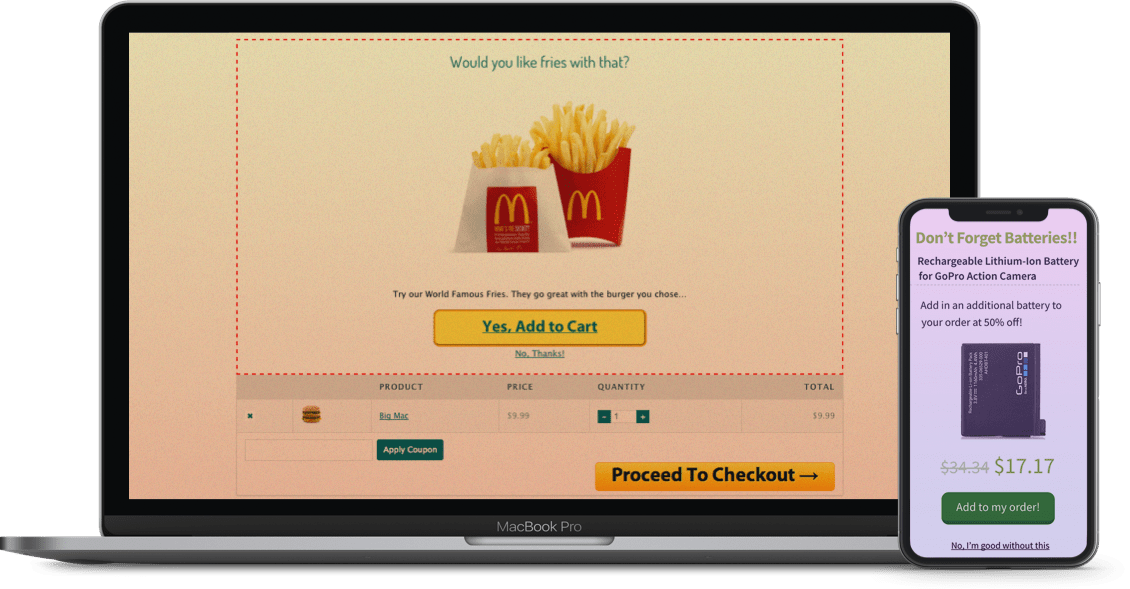 How Smart Offers can triple your profits easily!!
Transform your store into a
money minting machine!!
You probably know this already.. But a prospect is much more likely to buy another relevant product while she is checking out…

There are lots of psychological triggers working in tandem here. Scarcity, social proof, fear of missing out, greed, availability bias, mental accounting – a ton of behavioral finance principles as well.
The end result? Customers buy much more than what they initially came in for. And this keeps on happening with every customer, automatically!
💰💰 💰💰
Smart Offers works on a strategy called the Super Profit System. It works like a charm when you offer additional, relevant products to your customer at the buying stage.
It significantly increases your conversion rate and sells product that would have otherwise gone unsold, leaving you with profits and your customers satisfied with their special deals.

Every big business uses this tactic to grow
– and you now have the power to do the same.
---
Create any type of offer you want…for any scenario!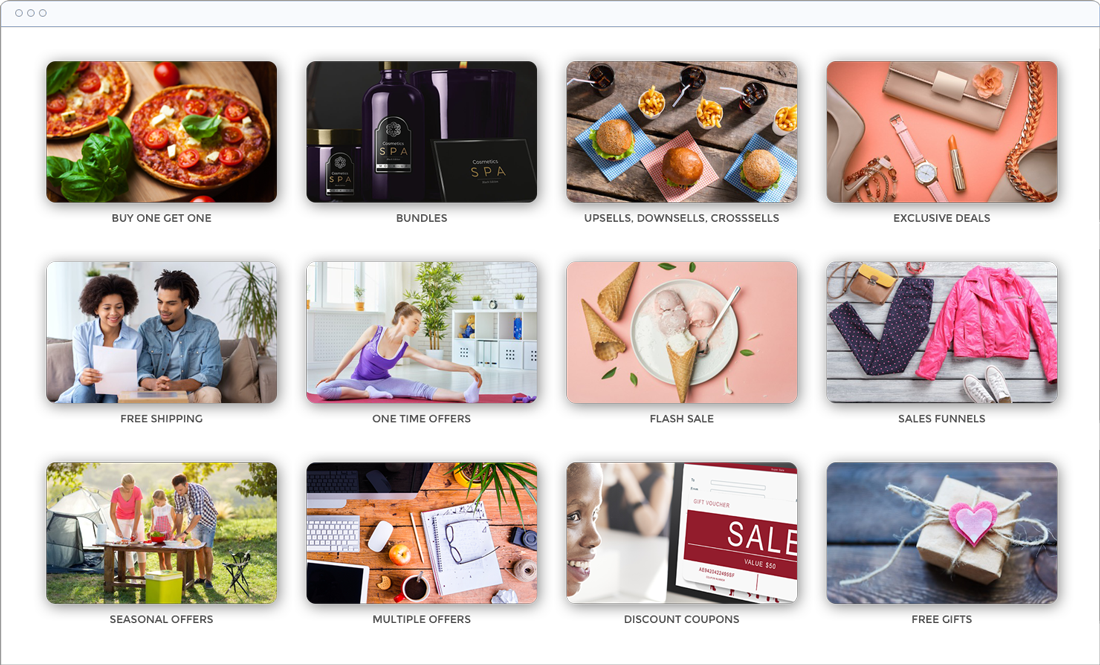 WooCommerce upsells
WooCommerce downsells
WooCommerce cross-sells
Email offers
Backend offers
Flash sales / festive discounts
One time offers
WooCommerce one-click upsells (Needs Buy Now plugin)
Buy one Get one offers
Bundle discounts
Tripwires
And more…
Best WooCommerce offers plugin…
Smart Offers becomes your smart sales person. It guides and nudges prospects throughout the buying process.
Set it once and money will keep coming in. It's like growing your sales on autopilot.
---
Check this out: Smart Offers in action…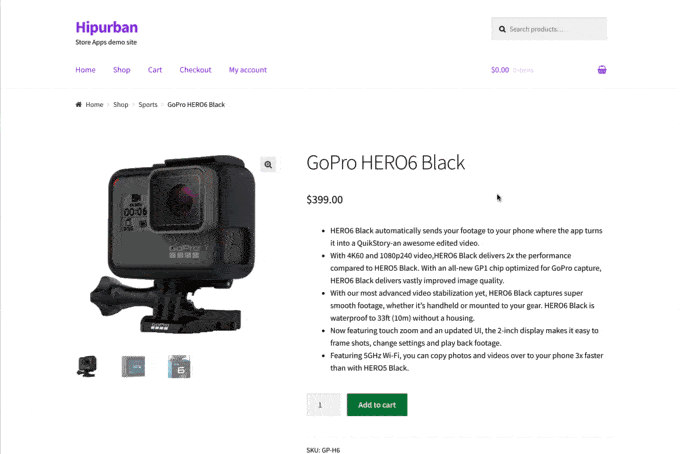 This screen recording shows Smart Offers in action on a sample WooCommerce website. When the customer adds a camera to cart, we show them a "complete kit" bundle as an upsell. After that extra memory and battery at special offer prices. When they complete the purchase, we give away an ebook. And from the My Account area we upsell a digital photography course to them..
All this is happening based on user's buying behavior, purchase history and offers that they accepted / rejected in the funnel.
Buying Smart Offers was the best decision I ever made!
Adding Smart Offers to my e-commerce website is one of the best decisions I've ever made. I looked for ages for an one-time upsell and downsell solution and Smart Offers does both.Customers love it and I love it because I know I'm now not leaving any cash on the table and I don't have to set up any follow up emails.
If you're running any kind of online store, you need this.
– Melissa Love, Founder, Design Space.CO
---
Simple setup, impressive results always!
Creating offers with Smart Offers WooCommerce plugin is very simple. You get powerful targeting rules, create as many offers as you like, and can also chain offers to create sequenced funnels.
Create your basic offer within 60 seconds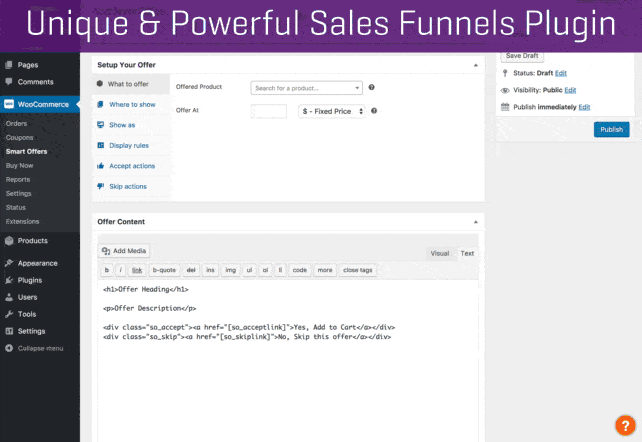 Pick a product on offer and set offer price
Decide where do you want to show the offer and how – inline or as a popup? Or via shortcode?
Add display rules – when should the offer show up?
Pick up accept and reject actions
Fully customize offer design with HTML and custom CSS
Preview and confirm everything looks great!
Lure customers with powerful targeting rules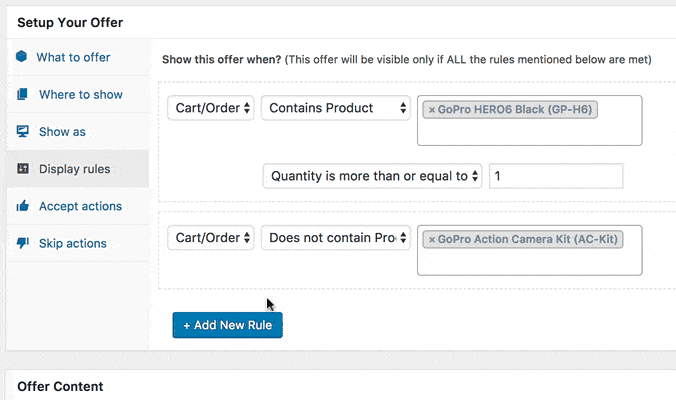 Target offers based on users – whether they are registered, how long they have been customers, what products they have previously purchased, and more.
Target offers based on the cart status, contents, categories and total value
Target offers based on the page of your website – on cart page, during checkout, on order completion, and even on the "My Account" page or any other custom page.
Schedule offers to run automatically
Sequence offers to create high converting funnels (Show multiple offers)
Do you want to show another upsell when an offer is accepted? Or a downsell if it's rejected? Want to redirect to another URL? Smart Offers lets you design flexible funnel sequences.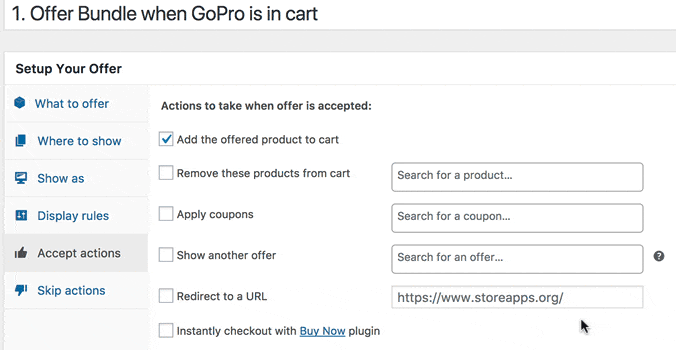 Accept / reject actions: add product to cart, remove another product from cart, apply coupons, do not show this offer again, show another offer, redirect to another page/site
Create powerful sequences / chained offers
Show different offers on cart / checkout / order complete pages
Or instantly checkout with Buy Now plugin
Track conversions, tweak offers, optimize
You only need to setup Smart Offers once. It will keep working on its own – making you more money. Just like a smart sales person!
But it also tracks conversion metrics. So you can review these reports and optimize your offers.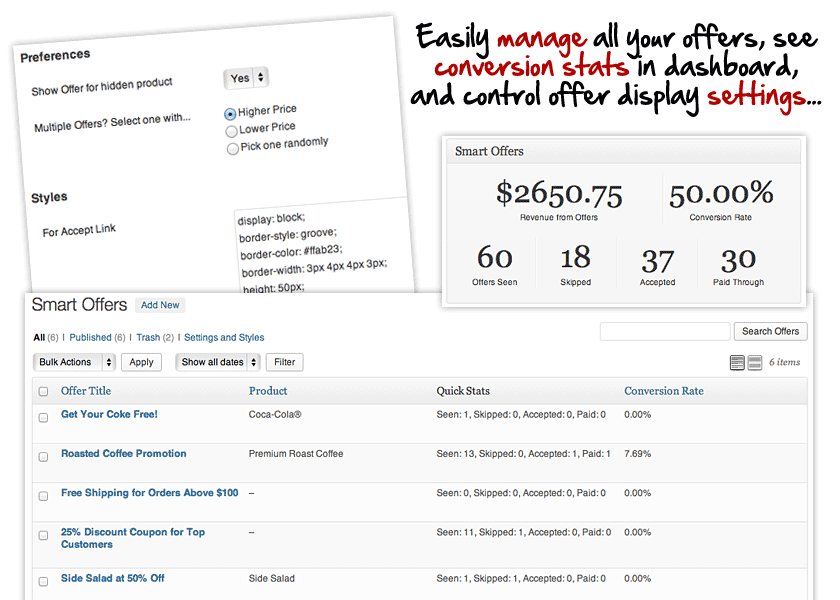 Dashboard widget with summary stats – revenue from offers, conversion rate, offers seen, skipped, accepted, paid through.
Stats for each individual offer – so you can tweak / optimize them
Quickly review and filter all your offers and their performance
Power up Smart Offers with other plugins…accelerate your sales
Embed a smart offer anywhere using shortcodes. This opens up a ton of new possibilities!!
One click upsells
Integrate with Buy Now to create WooCommerce one click upsells and reduce cart abandonment by enabling faster checkout.
Increase customer life time value
Embed an irresistible Smart Offer on personalized order complete with Custom Thank You Pages plugin.
Email special promotions and coupons
Use Smart Coupons to create and send discount coupons and offers right to customers' inbox.
High converting designs & extra targeting rules
Use Icegram's high converting designs and flexible behavior targeting to show your offers – including on exit-intent, page scroll and more.
Create irresistible bundles
Use Chained Products and pitch a bundle of relevant products as an upsell.
Newsletters and Welcome discounts
Send offers in newsletter or welcome emails using Email Subscribers free WordPress plugin.
Our customers earned their investment back from their first offer itself!
Just after I bought Smart Offers, I had my first upsell + second upsell + downsell configured. And right the day after, I earned my investment back.

Michel Lejeune, Founder Trancewerk.nl

StoreApps has the best plugin – Smart Offers – to implement your sales funnel. It's pricey but there's nothing as effective as it in WooCommerce. Highly recommended.

Naadira Burk, Royal Lioness

---
So, want to leave cash on the table or have it in your pocket?
Would you like higher revenue on autopilot?
How will your business change if you made even 10% more on an average order?
What if you could sell out your inventory quickly and customers actually felt better about buying more?
Don't you want to use this proven tactic that every big ecommerce business is using?
If your answer was YES to even one of the above questions then Smart Offers is a must try!