Smart Offers For WooCommerce
Grow your sales on autopilot
Create powerful WooCommerce sales funnels using Smart Offers plugin.
Target personalized upsells, cross-sells, BOGO, special offers to increase LTV, conversions and profits instantly.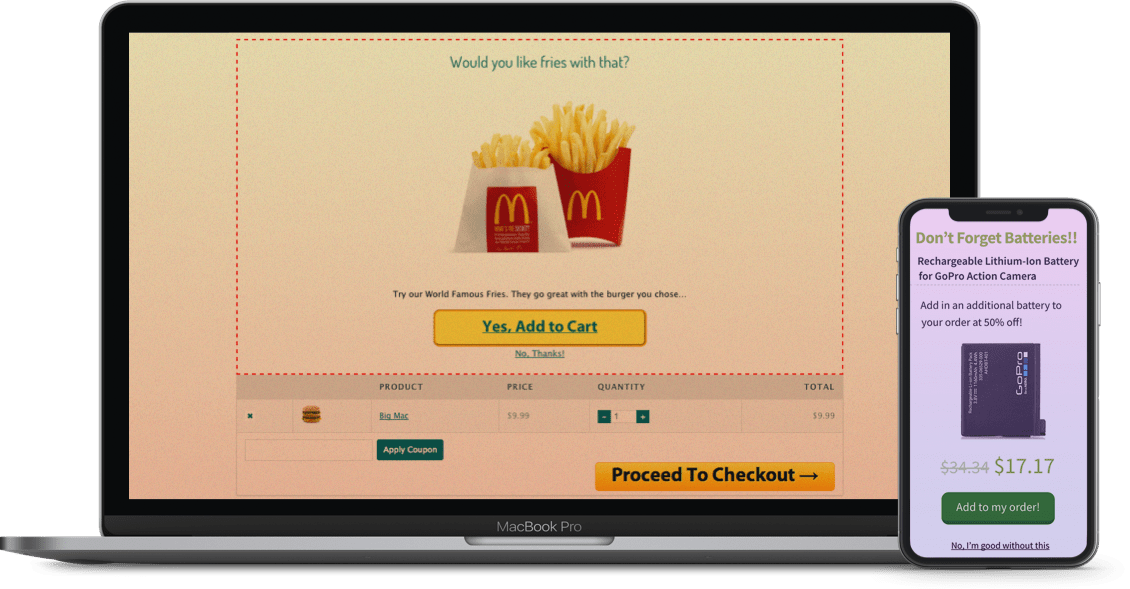 ---
Transform your store into a
money minting machine!!


You probably know this already.. But a prospect is much more likely to buy another relevant product while she is checking out…

There are lots of psychological triggers working in tandem here. Scarcity, social proof, fear of missing out, greed, availability bias, mental accounting – a ton of behavioral finance principles as well.
The end result? Customers buy much more than what they initially came in for. And this keeps on happening with every customer, automatically!
💰💰 💰💰
Smart Offers works on a strategy called the Super Profit System. It works like a charm when you offer additional, relevant products to your customer just as they are completing the checkout.
It significantly increases your conversion rate and sells a product that would have otherwise gone unsold, leaving you with profits and your customers satisfied with their special deals.

Every big business uses this tactic to grow – and you now have the power to do the same.
---
Create any type of offer you want…for any scenario!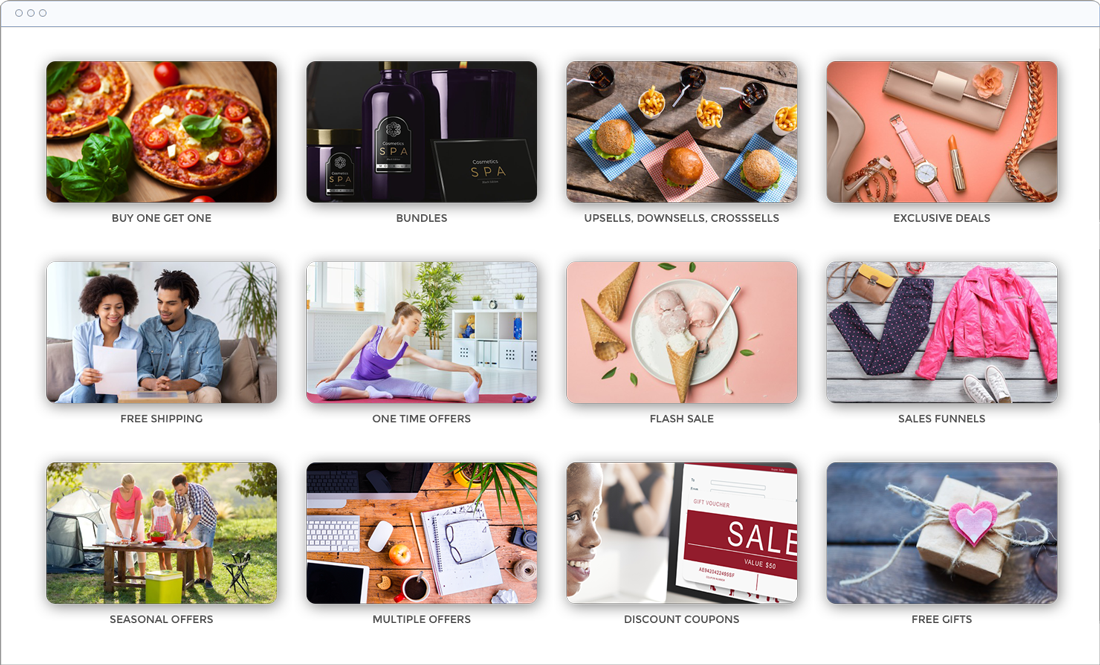 WooCommerce upsells
WooCommerce cross-sells
WooCommerce downsells
WooCommerce BOGO (Buy One Get One)
Email offers
Backend offers
Flash sales
Black Friday, Cyber Monday deals/festive discounts
One time offers
WooCommerce one-click upsells (Needs Buy Now plugin)
Bundle discounts
Free shipping
Tripwires
And more…
Best WooCommerce offers plugin…
Smart Offers , continually showing customers your special offers. Working in the background, Smart Offers requires no additional salespeople, email newsletters, or separate offer creations.
Set it once and money will keep coming in. It's like growing your sales on autopilot.
---
Check this out: Smart Offers in action…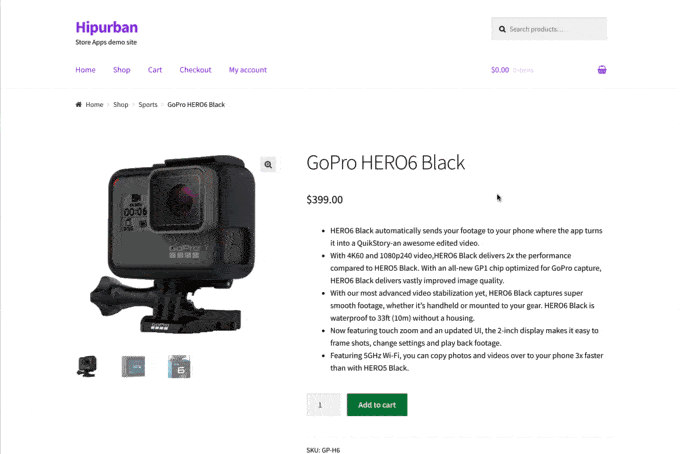 This screen recording shows Smart Offers in action on a sample WooCommerce website.
When the customer adds a camera to cart, we show them a "complete kit" bundle as an upsell.
After that, extra memory and battery at special offer prices.
When they complete the purchase, we give away an ebook.
And from the My Account area we upsell a digital photography course to them…
All this is happening based on user's buying behavior, purchase history and offers that they accepted/rejected in the funnel.
---
Simple setup, impressive results always!

Creating offers with Smart Offers WooCommerce plugin is very simple. You get powerful targeting rules, create as many offers as you like, and can also chain offers to create sequenced funnels.
Create your offer within 60 seconds…no coding required

All done in three steps – select the product to offer, set the price, publish and preview. Up-sell, down-sell, cross-sell, BOGO, tripwire… be it any type of offer, Smart Offers will handle the designing part.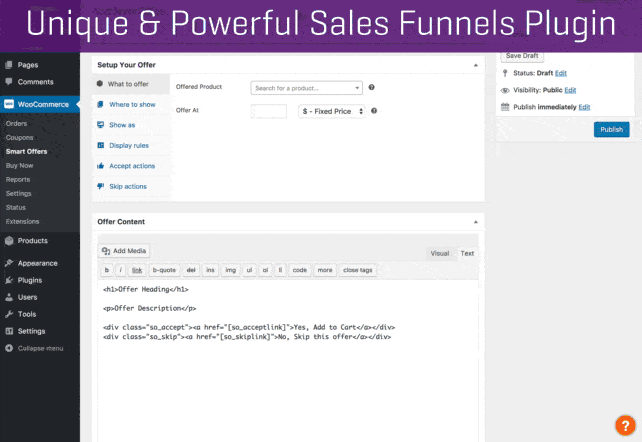 Pick a product on offer and set offer price
Decide where do you want to show the offer and how – inline or as a popup? Or via shortcode?
Add display rules – when should the offer show up?
Pick up accept and reject actions
Fully customize offer design with HTML and custom CSS
Preview and confirm everything looks great!
Woo your customers everywhere on your website with powerful targeting rules

Don't let unrelated offers upset your customers and ruin a sale that is already happening. Use Smart Offers' powerful, rule-based, offer targeting system to precisely determine what each individual customer needs. Determine who will see your offer, where will they see it, when they will see it, and what happens if they accept or skip your offer.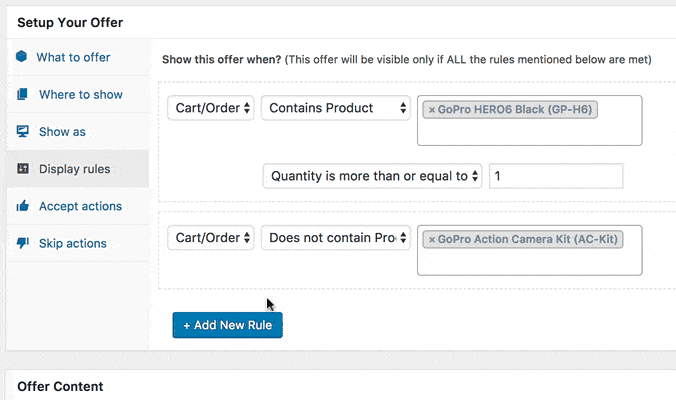 Target offers based on users – whether they are registered, how long they have been customers, what products they have previously purchased, and more.
Target offers based on the cart status, contents, categories and total value
Target offers based on the page of your website – on cart page, during checkout, on order completion, and even on the "My Account" page or any other custom page.
Schedule offers to run automatically
Set-up multiple targeting rules using 'OR' &
'AND' + 'OR' rules

Instead of creating multiple offers for multiple rules, you can simply create a single offer and set up multiple rules within the same offer.
Create as many rules within the same offer, no matter how complex the rules are. Smart Offers will handle them for you.
Works for all types of products
Best suited for increasing sales of variable products.
Sequence offers to create high converting funnels (Show multiple offers)

Do you want to show another upsell when an offer is accepted? Or a downsell if it's rejected? Want to redirect to another URL? Smart Offers lets you design flexible funnel sequences.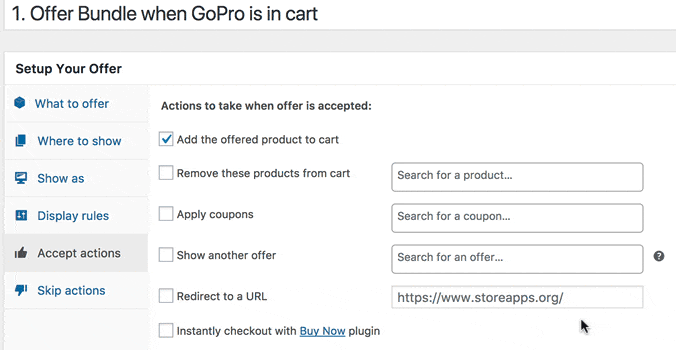 Accept / reject actions: add product to cart, remove another product from cart, apply coupons, do not show this offer again, show another offer, redirect to another page/site
Create powerful sequences / chained offers
Show different offers on cart / checkout / order complete pages
Or instantly checkout with Buy Now plugin
In the case of a tie (i.e. all rules are met for two or more offers) Smart Offers chooses which offer to share with your customer…automatically.
Track conversions, tweak offers, optimize

You only need to setup Smart Offers once. It will keep working on its own – making you more money. Just like a smart sales person!
But it also tracks conversion metrics. So you can review these reports and optimize your offers.
You can also view how much revenue Smart Offers contribute to an order.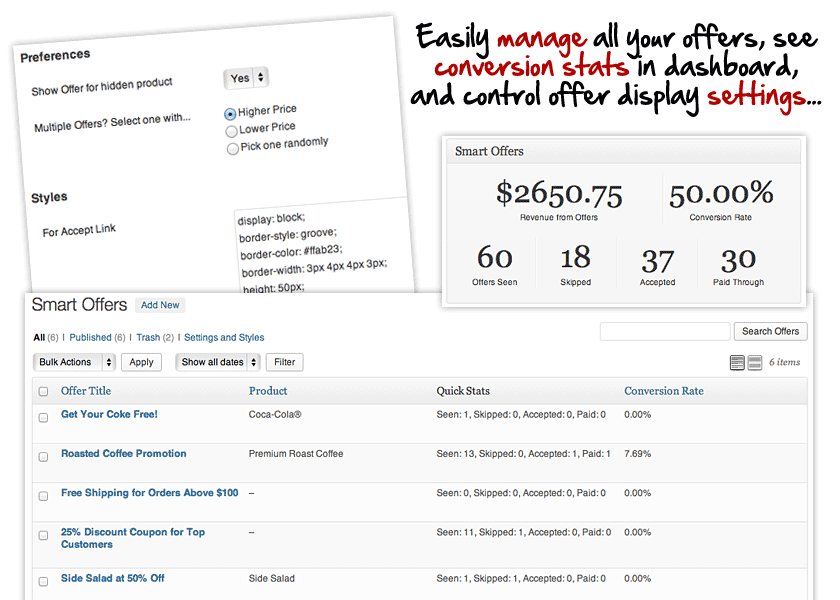 Dashboard widget with summary stats – revenue from offers, conversion rate, offers seen, skipped, accepted, paid through.
Stats for each individual offer – so you can tweak / optimize them
Quickly review and filter all your offers and their performance
---
One-click upsells, integration with page builders, WPML compatibility and more
Power up Smart Offers with other plugins and accelerate your sales. This opens up a ton of new possibilities!!
High converting offer designs


Smart Offers integrates with these popular WordPress page builder plugins to help you create more attractive offer templates. WordPress Classic Editor, Elementor, Beaver Builder, Divi, Visual Composer and Thrive Architect.
Compatible with WooCommerce Subscriptions
Easily show upsell, downsell, BOGO, cross-sell offers on subscription products and earn more revenue.
Create irresistible bundles
Use Chained Products and pitch a bundle of relevant products as an upsell offer.
Email special promotions and coupons
Use Smart Coupons to create and send discount coupons and offers right to customers' inbox.
Increase conversions using multiple languages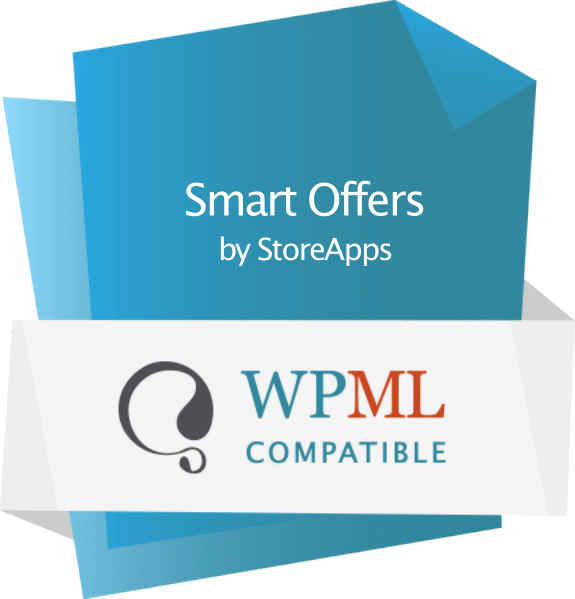 Smart Offers is compatible with WPML. Show your offers in the languages you run your website – Spanish, German, Chinese, Arabic or other. Let user connect with the language they prefer and increase your chances of converisons.
One click upsells
Integrate with Buy Now to create WooCommerce one click upsells and reduce cart abandonment by enabling faster checkout.
Increase customer life time value
Embed an irresistible Smart Offer on personalized order complete with Custom Thank You Pages plugin.
Extra targeting rules
Use Icegram's high converting designs and flexible behavior targeting to show your offers – including on exit-intent, page scroll and more.
---
2K+ users, 6+ years of track record…you can't go wrong with Smart Offers!
Smart Offers is designed to free you from the complicated task of nudging customers and help you achieve minumum 2X profits.
We have been successful in what we promised and these customers are a proof of it. Most customers generate return on their investment in just a few minutes.
No need of a coder/designer

Tom Broderick, internetgorilla.com
I have used Smart Offers on several other websites without any problems at all. Our conversion rate is between 15% and 20% with all of the offers being paid upsells at checkout. The offers are so flexible, you can place them anywhere on the website.
Best decision I have ever made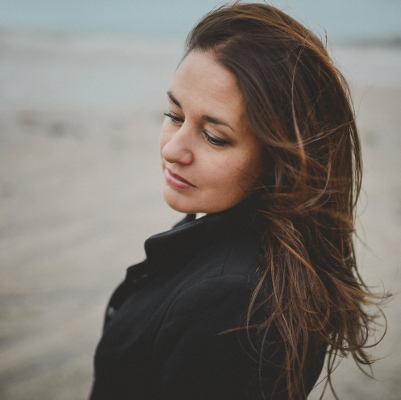 Melissa, thedesignspace.co
I looked for ages for an one-time upsell and downsell solution and Smart Offers does both. Customers love it and I love it because I know I'm not leaving any cash on the table and I don't have to set up any follow up emails. If you're running any kind of online store, you need this.
Doubles conversions instantly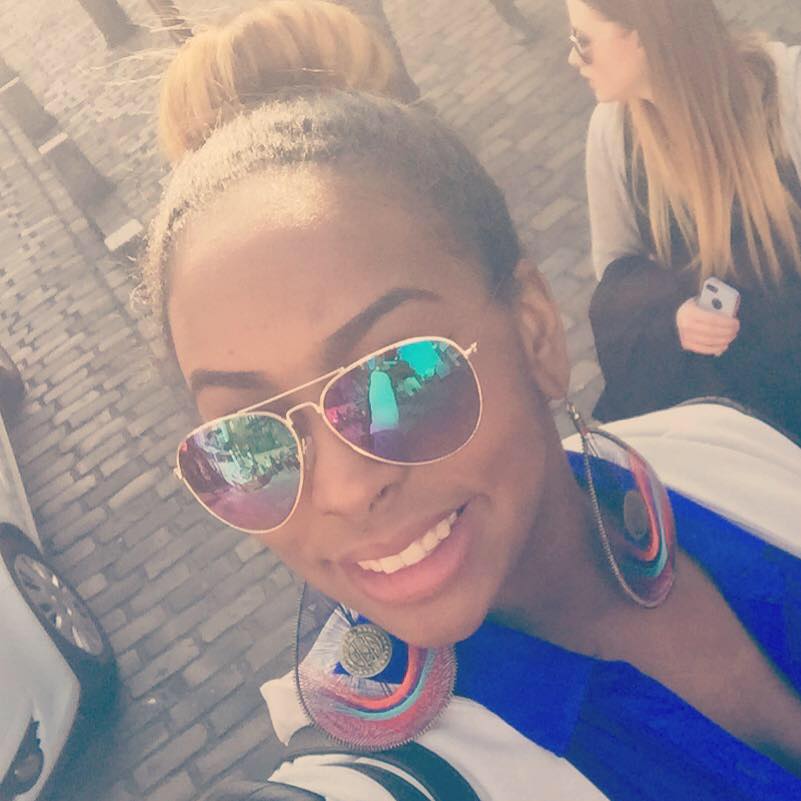 Naadira Burk, royallioness.com
Store apps has the best plugin – Smart Offers – to implement your sales funnel. There is simply nothing like it in the market. It may seem a little pricey but Smaert Offers is worth it because it will at least double your conversion rates. I highly recommended it.
The most effective sales-booster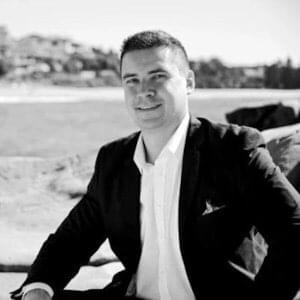 Razvan Popescu
Smart Offers is a game changer. It's amazing how easy is to create complex sales funnels that motivate customers to purchase more and come back to the store. Different sets of conditions and types of rules lead to impressive results. The outcome is almost unbelievable!
Felt like a Pro being a beginner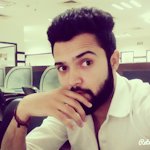 Pankaj Thakur
I am a beginner to WooCommerce and got a tricky work which required Smart Offers plugin to finish. I just installed the plugin and it was so easy to work with. It has all the options my client was asking for and it take me no time to implement the same.
Never seen before features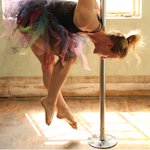 Danna Rossi, polefitnessdancing.com
The support I received was very quick and professional. Helped me get the plugin working with my bundled products quickly. Upselling and down selling a digital good like a membership in a store that sells "physical goods" can be difficult but Smart Offers makes it easy!
---
So, will you let your cash slip away?
Would you like higher revenue on autopilot?
How will your business change if you made even 10% more on an average order?
What if you could sell out your inventory quickly and customers actually felt better about buying more?
Don't you want to use this proven tactic that every big ecommerce business is using?
If your answer was YES to even one of the above questions then Smart Offers is a must for you!