Offers, discounts, deals, coupons are great! They work as candy bars and tempt customers to make purchases. However, the only bottleneck is it's visibility. An offer/deal that is shown on your website is only spotted by the ones that visit your website. What about the tons on your list that don't visit you often?
Or the ones that have gone dormant after their initial purchases?
This feature is about capitalizing on such customers. It is about making the most out of your offer. That is, by displaying it to regular website visitors and also to the huge chunk of dormant customers on your list.
The Big Feature: Emailing Offers!
Going by the same idea, Smart Offers now allows you to send offers directly via emails. You no longer have to depend 100% on the traffic that comes to your website to spot the offer. You directly send them an offer. Make them view it right in their mail boxes and then pull them towards your website.
P.S. Emailing offers is more like a home delivery service. And who doesn't like a pizza delivered right at your doorstep?
How does it work?
The working is simple. Smart Offers provides you a HTML option right in the dashboard.

Once the offer is ready (you have designed your offers and set the rules)… simply copy the HTML content and insert it in your mail. And voila, you can then send this mail to your list.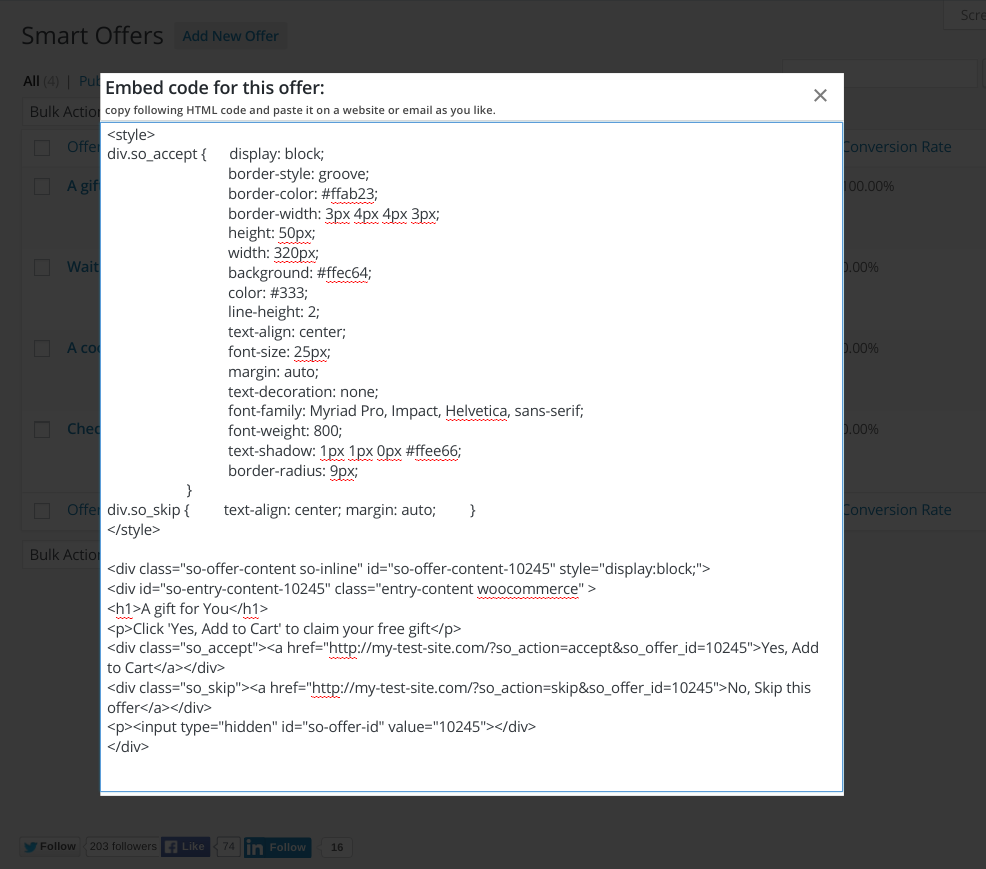 Benefits of emailing Offers
Provides maximum visibility of your offer
Tempts dormant customers to make purchases instantly
Valuable offers improve your buyer-customer relationship
Smart Offers + Buy Now
A combination of Smart Offers and Buy Now is an excellent remedy to reduce cart abandonment.
What happens when this combination is used with email offers????
When the customer clicks on the offer in the email he is directly taken to the checkout page.
Note: This works only if Buy Now is installed & activated and the customer has made at least one order from the store in the past which is in completed status.
Eliminating the Logging in Hassle
Yes, just as Smart Offers + Buy now makes checkout faster by automatically filling in the checkout details. Another deadly combination of Smart Offers + Express Login + Klawoo can eliminate the hassle of logging in into the My Account area.
How???
As you may know, Express Login is a plugin which automatically logs in a customer into his My Account area without the need of him manually filling in any credentials (username,password). Now, our email marketing solution Klawoo provides a shortcode for Express Login. Thus, if you have Express Login and Klawoo you can send offers to clients and get them logged in once they click on to the offer.
The Process in depth:
So, once the offer is created in Smart Offers, the Call To Action of the offer can be synced to the Express Login details of every customer on the mailing list.
Then this offer can be embedded in Klawoo (email marketing system) along with the shortcode provided and sent instantly.
As and when a client will click on the CTA, he is directly logged into his My Account page due to the Express Login shortcode.
Benefits of using Express Login + Klawoo + Smart Offers:
This eliminates the portion where customers need to type their usernames, passwords in order to enter their My Account Pages. As this process of Express Login gets a user logged in automatically, your dormant customers need not fend for their passwords/ usernames or waste time requesting a new one. The time saved in all this only pleases the customer and makes them complete the purchase even faster.
Our Super Combination
Smart Offers + Buy Now + Express Login + Klawoo
Simply combining all the goodness that each of these plugins provide. If all these plugins are used for creating and emailing a offer, the results will be really explosive and filled with benefits. That is,
Over To You
The feature of emailing offers itself can wakeup a lot of long forgotten customers and if coupled with Buy Now, Express Login and Klawoo will only make the purchase process a lot faster and absolutely hassle free. We're excited to know how it works for you, so do try it out and please share your experience or if you have any queries simply by commenting right below. Cheers!