People say – "Get the right affiliates and you'll see your conversions soar". They also say it's a little tedious job.
However, I say that's easy. Those right affiliates are not elsewhere, but with you.
Yes, your very own customers are potential affiliate candidates to turn the tide in your favor.
Let's see how to approach them, make them reliable affiliates and grow your sales.
Why make customers your affiliates?
Customers are reliable
Think this way.
Your customers have already bought and used your product. And they are happy.
Then who can be a better option than them to promote your products and get something in return?
Customers may have a large outreach and experience
What if they have their own business, audience who need your products? Or what if they turn out to be influencers? They can promote your brand using their own experience.
This will give your customers more visibility as well as build relationships.
Customer likes rewards and money
After all, the money customers invested in your product will also be recovered through the affiliate program they join. And giving them incentives will make their day.
Bang on! Making them your affiliates is the most logical step here.
If you are a WooCommerce user, here's a very popular and easy-to-use plugin to set-up your own affiliate program.
Thirteen hacks to make customers your affiliates
To convert an existing customer into an affiliate, you need to have a stable and a reliable business.
This makes people a part of your vision. Through excellent customer service and a decent enough offer, you can motivate your customers to promote you for a small cut for a little effort they've invested.
Provide excellent customer experience and service
This stands above all. Without it, you are plumb.
This one might seem obvious but, according to stats from CreditDonkey, 35.9% of customers at big businesses and 5.7% of customers at small businesses are disappointed with the service they receive.
When establishing a customer-brand relationship, it's best not to force anything.
Be polite, efficient and help them with any problems. Take feedback, implement their suggestions. Once you see some good engagement from their side – review, praise, propose a potential affiliation idea, and also ask them how they would do it.
This practice makes your customers feel like they're your colleagues, and not any hired guns to do the promotion.
Select customers based on their lifetime value, average order value
Not every customer can be an affiliate. Similarly, not every product can be the best-seller.
If you want to get your affiliate program up and running quickly and build some momentum, starting with your most loyal customers is the way to go. Not only are they more likely to be interested in becoming affiliates; they also often have the most experience with your brand and products.
So customers having a higher LTV or AOV and having a good presence online could be potential affiliates to promote your best-sellers.
Likewise, average LTV customers can promote your other popular products.
Select customers based on their Recency, Frequency of purchase
As said earlier, targeted customers turn out to be good affiliates. If you have some recent customers, they cannot be good affiliates at the start. You should know them first, what products they purchased, etc.
However, if these customers turn out to be frequent buyers, in the long run, they can be good affiliates.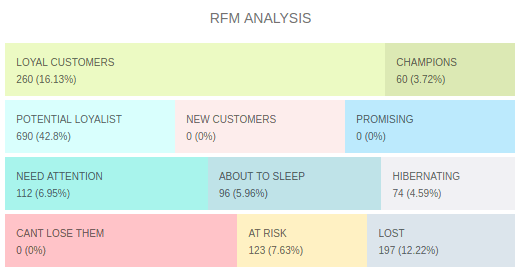 Want to cut down the hard work? Putler automatically gives you all the data related to the recency, frequency and monetary values of all your users. And also regarding customer's lifetime value and average order value.
Offer an enticing sign-up bonus
If at all you need some recent customers to sign-up for your affiliate program, you need to give them something they can't refuse. Consider things like competitive flat-rate commissions or higher percentage commissions rates for initial sales.
All depends on what you pitch
Targeted customers mean targeted messages – email, chat, phone calls. You need to tailor your pitch based on the customer. Then only, they get encouraged to sign-up for the affiliate program. Like you can't offer a heavy commission to recent customers.
Offer loyalty program / aggressive incentives
Some of your customers may be financially struggling. Some may be stable and do not need money. So how to target these people?
Loyalty program or rewards.
The key here is to encourage customers to spread the word about you in exchange for handsome rewards.
For stable customers, you can give them early access to your future products, gift cards, etc.
For starting customers, some promo codes or extra commission on the number of paid referrals will work.
Show customers the future
It's not that all targeted affiliates will stay. Some may leave. Do you know why? That's because of the lack of future prospects.
Affiliates want to commit to brands, ideas, products that offer them hope, make their life easier. So they can promote it better. Since most affiliates are tasked with little promotion, they don't see any chance for advancement and quit after a short time.
Therefore, to make the best possible transition from customer to affiliate, you have to be honest right away. Motivate your affiliates into giving you their reviews, ideas, and comments. Share about your future plans, new product ideas and development, etc. That vision is necessary.
Keep the process simple and clear
Tell affiliates your marketing plans, instruct them on what to do and be there for them if something goes wrong. Make sure all T&C's related to payment are clear beforehand. Always ask what you can do for your affiliates, not the other way round.
Be flexible
Every affiliate is different. Some will work at a different tempo than others, while still providing the same results. As a result of this situation, you should give your affiliates the freedom to better use their power. You can provide them with creatives and resources that make their job easier.
Send Thank You notes
Thank you notes are a fantastic, and very personal, way to surprise your customers. They show you care about their business – and you aren't simply a faceless, money-hungry corporation.
Never put a limit on their earnings
As the business grows, their earnings will too. This won't negatively impact your total ROI. It's crucial to have long-time, reliable and stable affiliates to operate on a bigger scale.
Have a dedicated affiliate page
A dedicated affiliate page keeps things upfront, transparent, and easy to comprehend for any prospective affiliate – existing customer or otherwise.
Here's our affiliate program landing page. Join our affiliate program and start minting money.
Have a simple affiliate program
Complicating things is always a negative sign, no matter how much money you're paying to your affiliates.
Therefore having your own affiliate program gives you unprecedented advantages:
High-end exposure and greater promotion
Lower costs
Full control
Customize your program to your own needs
Straightforward and dependable
Consistent marketing on the go
Using WooCommerce? Here's an easy way to set-up your own affiliate program
With your own affiliate program, you can reach out to a greater mass and enjoy greater and heftier profits on the go.
Affiliate for WooCommerce plugin makes it easy as a pie to set-up your own affiliate program.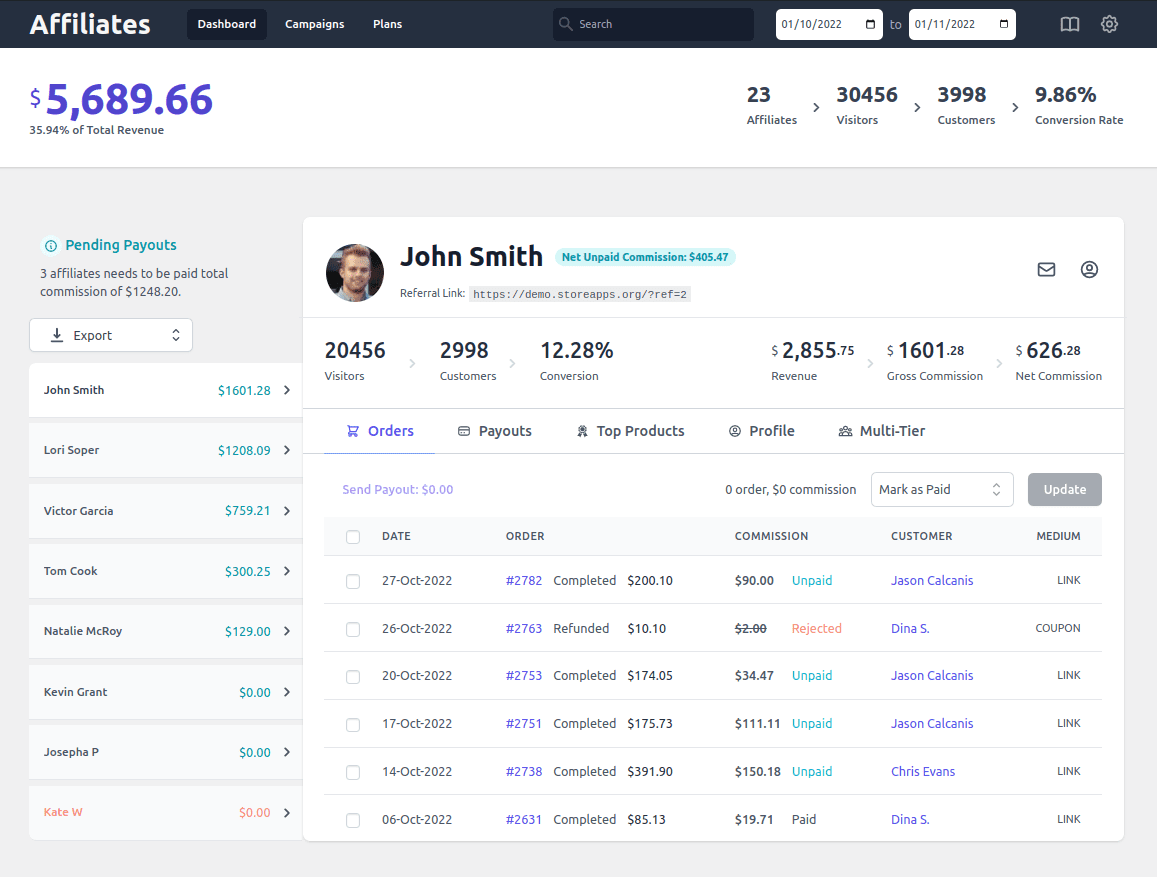 It's simple, jargon-free and without complications, unlike other plugins. It's one of the hot-selling plugins on WooCommerce.com.
Powerful features you need
Single-screen interface
Use coupons for tracking referrals
Payout affiliates easily using PayPal
Unlimited affiliates, links, visits
Create unlimited affiliate marketing campaigns – add images, banners, email swipes, videos, whatever you wish to. Your affiliates can simply use them to promote your brand better.
Real-time, accurate and advanced reports
Affiliate level performance
Affiliates can generate links, and track commissions themselves.
Automatically turn your customers (or any other WordPress users) into affiliates.
Get Affiliate for WooCommerce plugin
How to encourage more users (non-customers) become your affiliates
Not just customers, but other people who make a living purely on a commission basis can also be your affiliates. Here are some ideas to get them:
Contacts and word of mouth
Coupon and deal sites
Social media
Through influencers
Forums, hiring platforms
Domain name and research
Your own affiliate program – landing page, product sales, marketing
Winding-up
Not every customer will be an affiliate, so don't spend too much time pushing them. The ones who want to be involved will usually make themselves known.
Also, the process may be slow but worth the efforts. But make sure you keep them in the loop. Stay in touch with them, reward them, help them and leave no stone unturned to provide them with a superior experience.
So which particular hack do you find the most useful? Did we miss out on some? Share your thoughts in the box below.