Nobody likes losing a customer.
Unfortunately, sometimes customers want their money back because they're not happy with what they bought, the help they received, or because something they expected is missing.
In genuine cases and refund policies, you are bound to provide a refund.
But here's a way to turn things around – you can actually retain that customer by providing a store credit for a refund on your WooCommerce store.
This blog shows you the easy and quick way to offer store credit to customers.
Why issue store credit to customers?
First, understand 'what is store credit'. In simple terms, store credit is the monetary value you issue as a credit to the customer. So the customer uses that credit to make purchases until the credit is exhausted or its validity expires.
Top benefits of giving store credit to customers:
Customer retention – Store credit can incentivize customers to return to your store to make additional purchases, thus building customer loyalty.
Flexibility – Customers can purchase any product with store credit (if product restriction is not set) compared to receiving a specific product as a replacement.
Positive customer experience – Offering store credit demonstrates that your business values its customers and is willing to accommodate their needs.
Cost-effective – While providing store credit does involve some cost, it can be more cost-effective than offering cash refunds, especially if the return rate is high.
However, it's important to implement store credit policies that are clear, fair, and easy for customers to understand.
Let's see the steps to issue store credit.
Sending store credit for a refund via email
Out of the box, WooCommerce doesn't offer the feature to provide store credits. To address this, we'll make use of the official extension.
The WooCommerce Smart Coupons plugin is the most feature-rich and useful plugin. Store credits, gift cards, BOGO deals, bulk generation…get all in one and avoid spending hundreds of dollars on multiple plugins.
You can use Smart Coupons to create store credit of any amount, fixed denominations, discounted store credits with advanced restrictions, and also schedule it.
That's the reason why 20K+ paid users rely on Smart Coupons to boost sales and retain customers.
Steps to send store credit via email
In this case, when the customer asks for a refund, you can send the same amount of store credit, partial amount, or even a higher value directly via email.
For instance, your customer Steve found a missing feature and requested to refund his $99, which is the product price. You convinced him to get the store credit instead and he accepted.
Install and activate the Smart Coupons plugin and follow these steps:
Go to your WordPress Admin panel > Marketing > Coupons > Send Store Credit.
Under Send to, enter the recipient's email address.
Under Worth, enter the store credit amount, $99 in this case.
Under Expiry Date, set the store credit expiry, but it is optional.
Write the message for the user for the purpose of sending store credit (optional).
Click on the Preview Email button to see how the store credit email will look.
Click on Send to send the store credit immediately.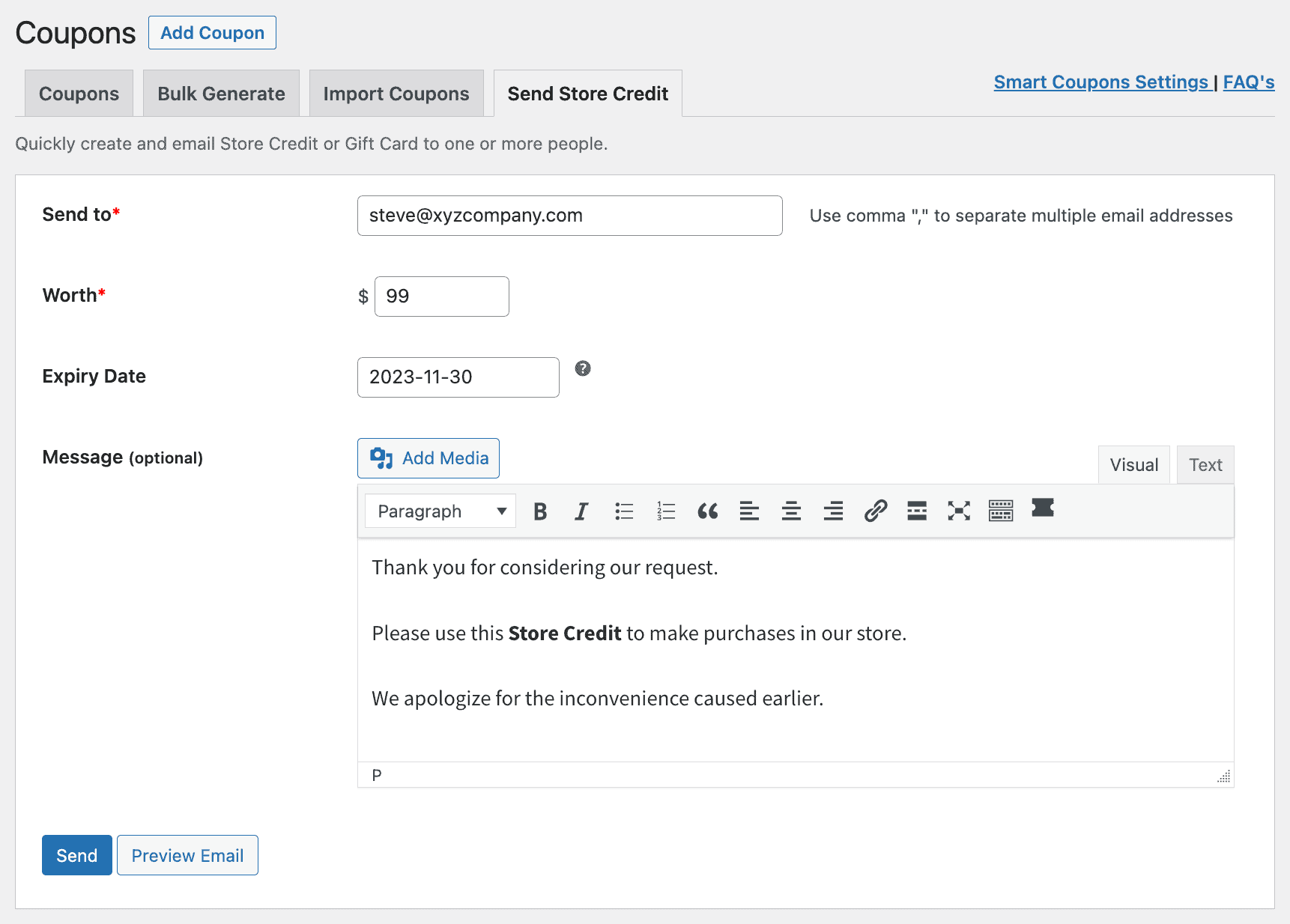 That's it. The customer will find the required store in their email.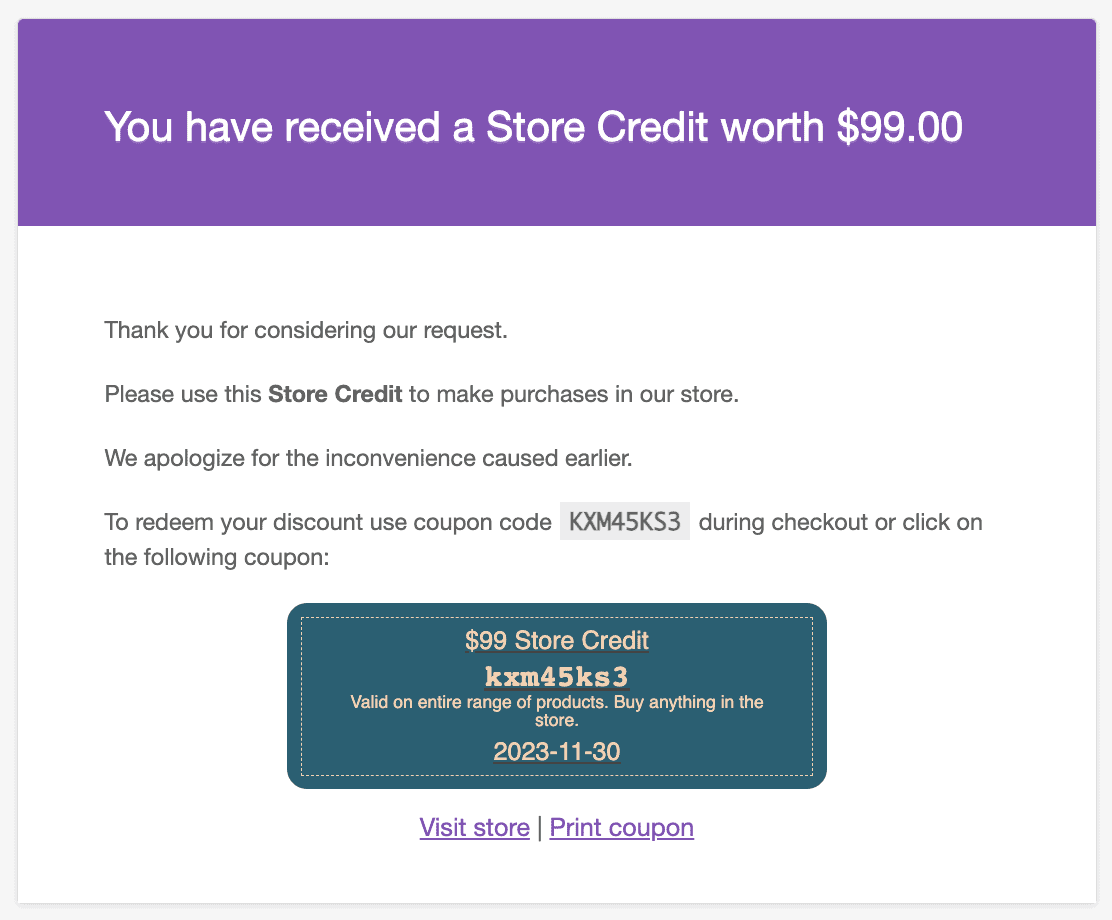 Summary
No one likes to lose money and customers. So this blog is a valuable piece for WooCommerce store owners to tackle refunds using store credits.
And with Smart Coupons, a flexible WooCommerce store credit and gift cards plugin, the process is very simple and quick. Enter the required store credit amount, preview email and send it.
Get Smart Coupons today to explore a plethora of benefits. You won't be disappointed.