We all track traffic metrics, sales metrics, and email marketing metrics. But have you paid attention to affiliate marketing metrics?
If you don't track these metrics, you can't tap into the full potential of your affiliate program.
There may be 30+ metrics. But let's focus on the most important affiliate marketing KPIs that are actually your affiliate program and business growth drivers.
It's easy and low-risk, with higher returns.
Top affiliate marketing metrics that actually matter
These metrics help you understand the effectiveness of your strategies, optimize your efforts, and make data-driven decisions.
Visitors (Click Traffic)
This is the traffic or clicks that affiliates drive to your website. Analyze this metric as a whole and per affiliate. It is an important indicator of how well your affiliate program is performing and how strong your affiliates are.
We suggest comparing the traffic on a monthly basis and yearly basis to gauge your overall affiliate program growth.
If your traffic is low, it's time to recruit better affiliates and work on your promotional campaigns. And of course, providing better incentives to affiliates.
Customers
What if you acquire only 50 customers (paid/leads/free trials) out of 10,000 visitors via affiliates? So tracking your Customer count is also important.
50 out of 10000!!! That's a shabby 0.5% conversion rate! And that's our next and the most helpful partner performance metric which even experts keep a close eye on.
Conversion rate
Conversion rate is the percentage of click traffic or visitors that eventually result in a purchase (customers). It helps you analyze how many clicks it required to drive one sale.
Monitor this metric to evaluate the performance of individual affiliates and identify your top-performing partners.
Be vigilant for any irregularities in this key affiliate marketing metric, particularly following specific events. For example, you might examine shifts in the conversion rate after implementing a special promotion like the holiday season to gauge its impact on audience engagement.
Top affiliates
It's a good practice to view all your affiliates' performance on a regular basis. The more revenue an affiliate brings, the higher they rank on the leaderboard.
If you are in the WooCommerce space, then Affiiate for WooCommerce plugin automatically shows you all your top affiliates, sorted based on their earnings. More about the plugin later.
This affiliate marketing KPI is my favorite because I can identify the most productive affiliates. If their productivity decreases, I can push them with some promotional materials and better incentives to bring them back on track.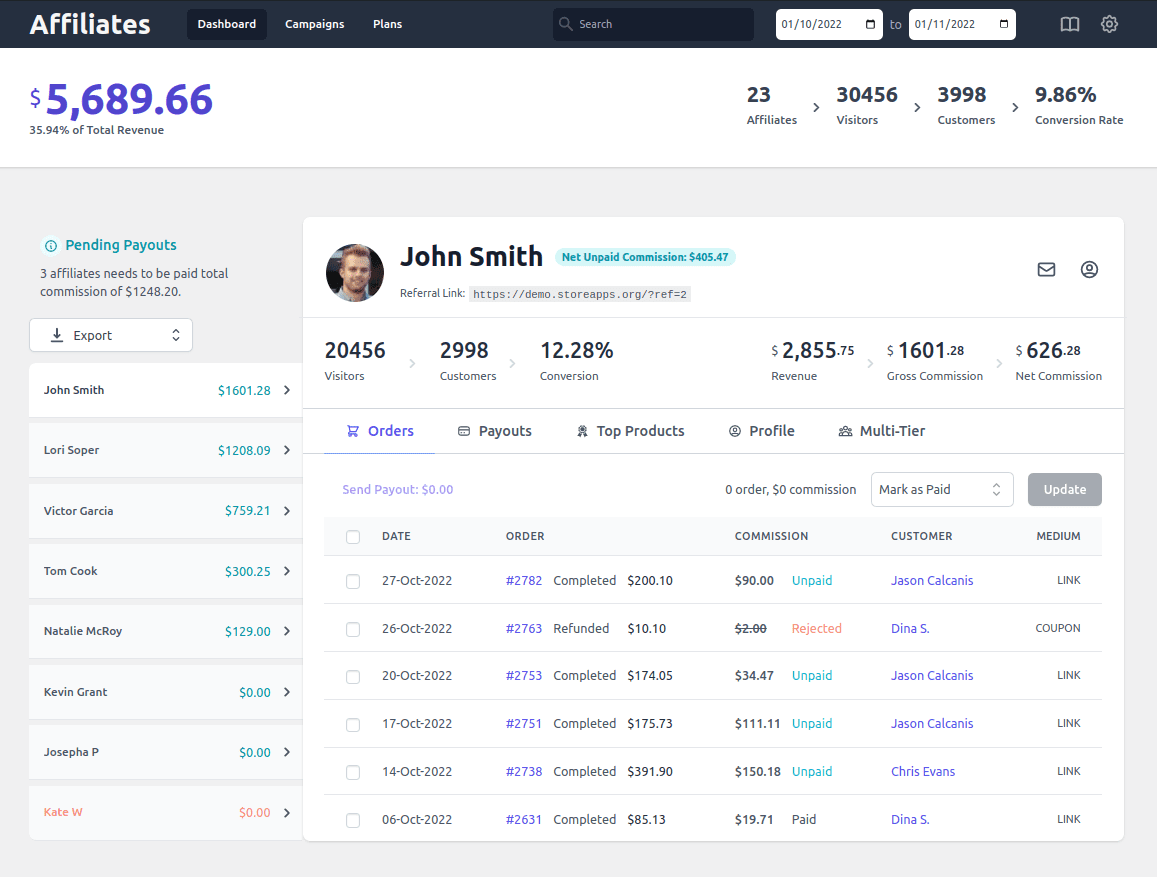 Revenue
You need to monitor two types of revenue:
Overall revenue
Revenue per affiliate
The overall revenue is your affiliate program revenue earned from all those clicks that converted into a purchase. It helps you compare and identify which is your most profitable channel – affiliate, organic search, emails, social, direct, paid ads or other referral traffic.
The revenue per affiliate metric shows the sales contribution of each affiliate. It's the revenue you earn from their audiences who made a purchase on your site.
Products sold
This is an underrated metric. When you get to know which affiliates sell which product, you get a better idea of their influence.
There may be some good products in your inventory, fading in the dark, and suddenly, you see a spike in their sales. Say a big thank you to these affiliates for showing light to these products.
So how about setting up a special commission rate for these affiliates and growing sales of your good yet underperforming products?
It's a win-win for both your affiliates and you.
Marketing campaigns
Which campaigns are really good at getting people to click and buy? Using UTM tracking, you can easily figure out in Google Analytics which ones these are. This helpful information can guide your future plans.
For instance, your affiliates sent an email to their audience about your new product launch and that brought more people to your website.
Another campaign could be the holiday season banners that attracted more people to buy things compared to other times. This kind of information helps you decide where to put your efforts for the best outcomes next time.
Referrals and Payouts
Referrals tell you the commission statuses (paid, unpaid, rejected) and Payouts tell you when the payment was done via which method, along with the amount.
If a particular affiliate's commission status is Unpaid for a majority of orders, better to pay them on time. Paying affiliates regularly will keep them happy and they will promote your brand for a longer period aggressively.
Get these affiliate marketing metrics in one place
For WooCommerce users, you'll find all the above metrics in one place when you use the Affiliate for WooCommerce plugin. Refer to the image above in the blog.
This premium plugin helps you set up and run your own successful affiliate program and manage everything from one place.
Top features:
No complex dashboards, multiple screens, or jargon.
Simple and clean UI.
Affiliate registration forms
Approve or reject affiliates as per your wish.
Set different commission rates for different affiliates and affiliate groups.
Set different commission rates based on different products and categories.
Set up lifetime commissions and tiered commission plans.
Create and share marketing campaigns or creatives.
Make payouts using PayPal and other payment methods.
Conclusion
The main motive for tracking affiliate marketing metrics is to find the best affiliates and help them promote you better.
All the metrics mentioned, be it the top affiliates or the conversion rate, each of them will assist you in fine-tuning your approaches and improving your affiliate marketing endeavors.
Keep an eye on them consistently to achieve superior outcomes.