Surprised by the title?
When you check the Individual use only option in WooCommerce while creating a coupon, only that coupon can be used per order. No other coupons can be applied to that order.
Usually, it's best to limit discounts by allowing users to apply only one coupon. But you might want your existing or loyal customers to use more coupons for greater discounts to keep them happy.
So using the Smart Coupons plugin, enable your loyal customers to use multiple coupons while restricting other users to apply only one coupon per order.
Seems like magic, right? Let me reveal the trick.
One discount coupon, one store credit coupon
Yes, the trick is to create one 'Individual use only' discount coupon and one/more store credit coupons.
Smart Coupons provides an exceptional feature – If the user has any store credit with them, they can apply it on their purchase along with another coupon even if that coupon is set to 'Individual use only'.
Only store credit coupons and not any other coupon.
An example would make it more clear. Consider it's Independence Day in the US. You want to offer:
15% sitewide discount to all users in the US who visit your online supermart.
Additional $15 off for your ten loyal customers.
By default, WooCommerce allows 'Individual use only' and basic restrictions. To create location-based discount and store credit coupons, you need the Smart Coupons plugin.
Smart Coupons gives you all the benefits/features in one plugin – gift cards, store credits, bulk generation, BOGO, advanced restrictions, and more.
140+ five-star reviews, 20K+ customers; in case you have buying concerns.
Moving on to the steps:
Create a location-based discount coupon
Go to your WordPress Admin panel > Marketing > Coupons > Add new coupon.
Click on 'Generate coupon code' or enter your own code.
Enter coupon description for reference – Independence Day Sale.
Select Percentage discount as the Discount type, and enter 15.
Set the coupon expiry date(2023-07-04) and time (23:59) respectively.

Under the 'Usage restriction', check the Individual use only option.
Scroll down to the Locations option. Search and select the United States.

Under 'Usage limits', set the usage limit per user to 1.
Publish the coupon.
You can use the storewide notice coupon feature of Smart Coupons to show this 15% discount coupon code in an action bar (header or footer) on your website.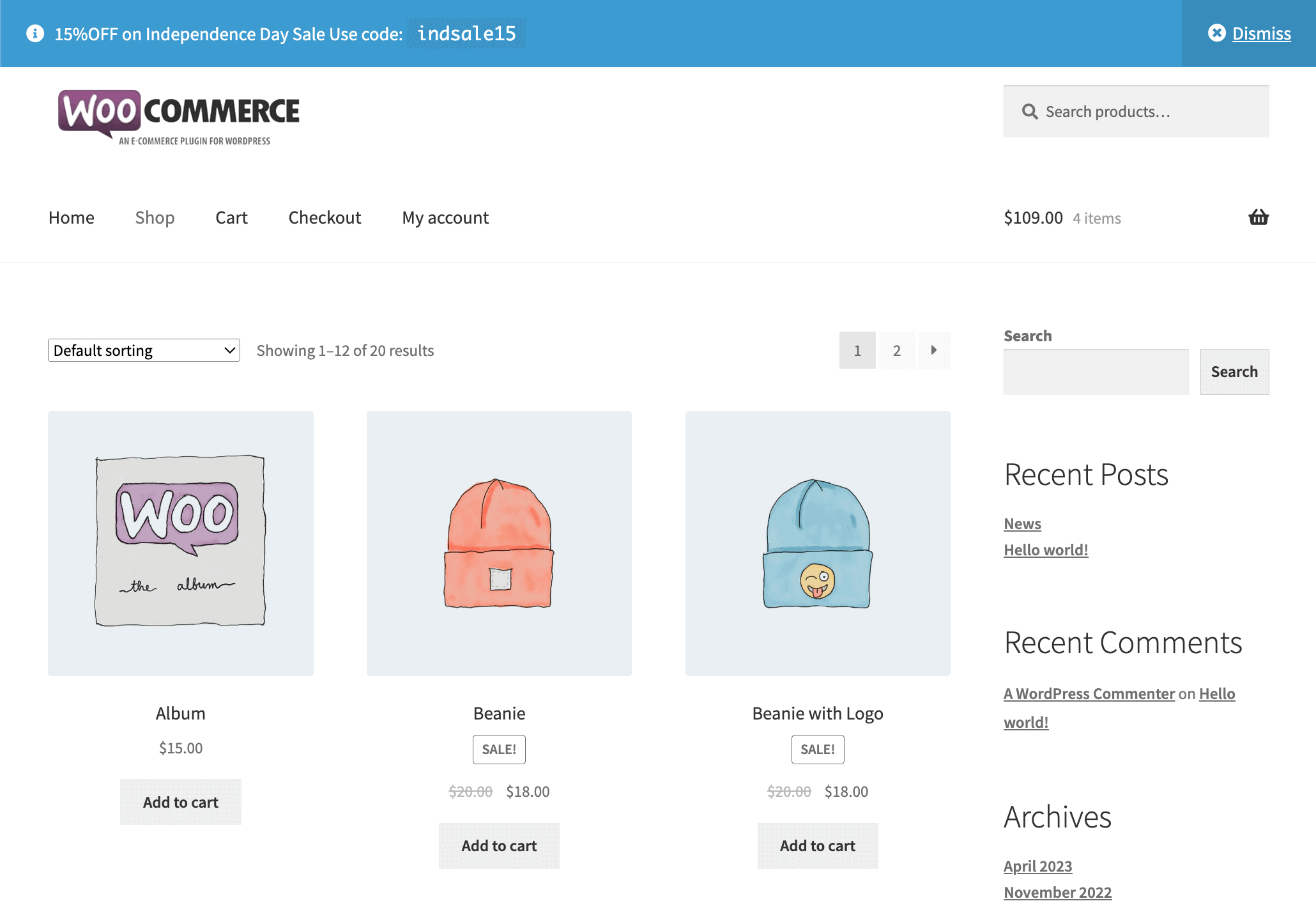 When your new website visitors in the US apply this coupon code, they receive a 15% discount. They can't apply any other coupon apart from store credit (if any) due to the 'Individual use only' option.
For your loyal customers to apply both coupons, you need to give them a store credit.
Send a store credit coupon
Go to your WordPress Admin panel > Marketing > Coupons > Send Store Credit.
Under Send to, enter the email addresses of the recipients, separated by a comma.
Under Worth, enter the store credit amount, $15.
Under Expiry Date, set the store credit expiry.
Write a message for your users for the purpose to send store credit (optional).
Click on the Preview Email button to see how the store credit email will look.
Click on Send to send the store credit immediately.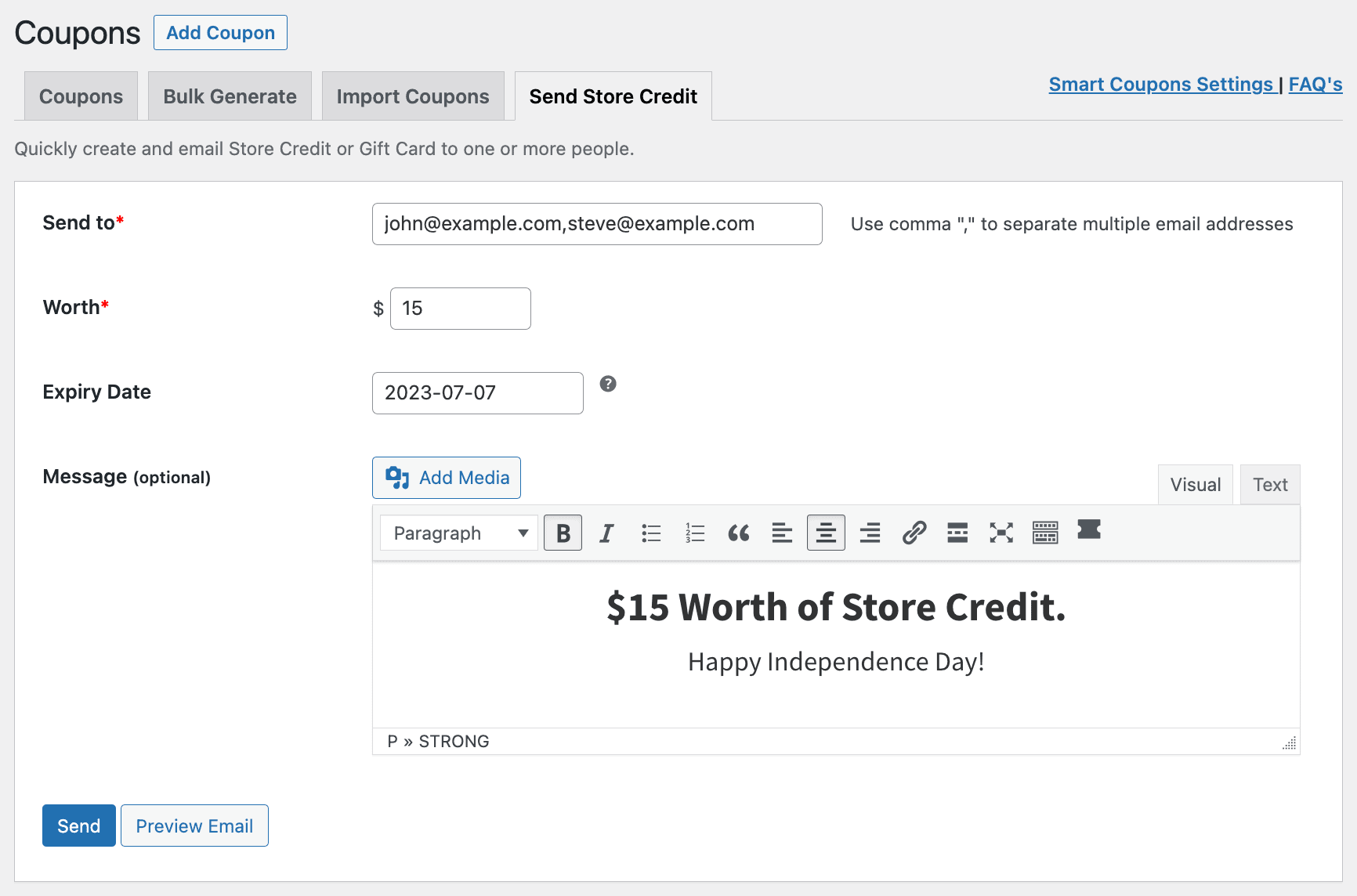 Your loyal customers will receive the store credit in their email.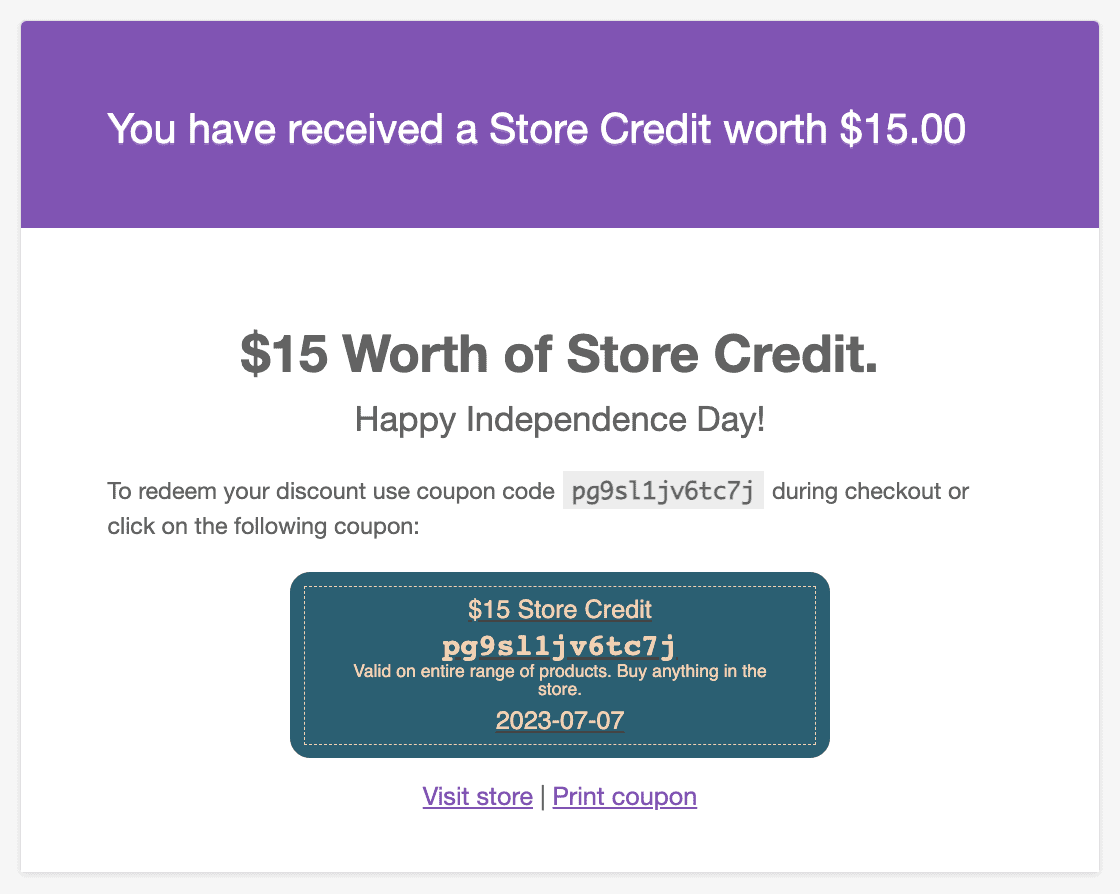 So, while making a purchase, your ten loyal customers can use the 15% sitewide discount coupon and also the $15 store credit to get an additional discount.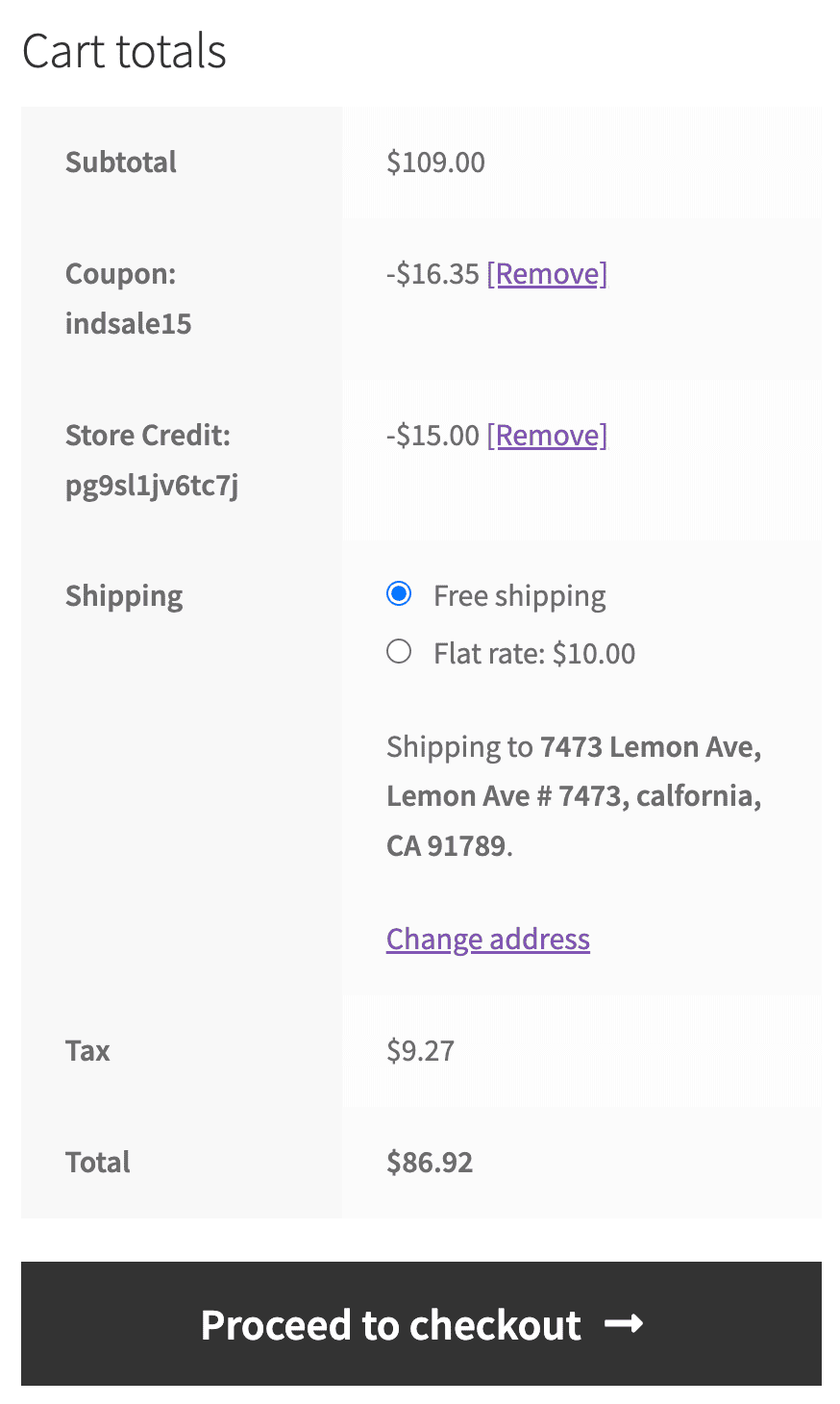 If these loyal users or other users have any other discount coupon apart from the store credit, they won't get applied.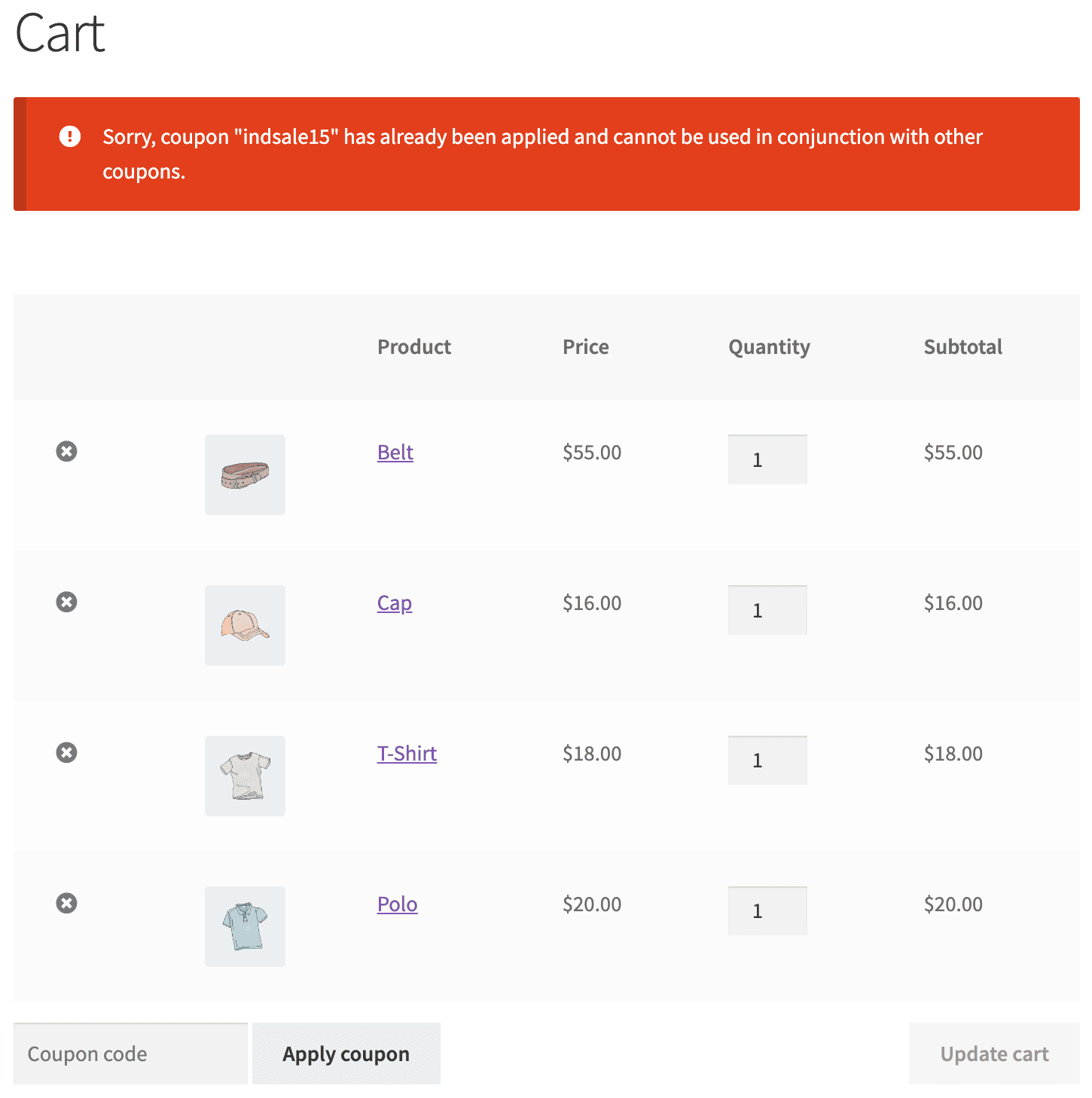 That's it.
Winding up
By leveraging WooCommerce Smart Coupons, you can creatively enhance coupon strategies. Combining discount and store credit coupons lets you reward loyal customers with added discounts while respecting 'Individual use only' restrictions for others.
This dynamic approach allows you to cater to different customer segments and occasions, all while maintaining control and flexibility over your discount strategies.