In this article, you'll learn why Smart Manager is considered as the best WooCommerce bulk edit plugin.
You'll also see how to bulk edit WooCommerce products (simple, variable, all types), orders, users, coupons, any WordPress post type quickly using Smart Manager.
And some top bulk edit applications. So stay till the end.
Businesses, believe us, we feel you!
Let us imagine a situation where inflation forces you to increase the price of all products, say 450 on your WooCommerce store by 15%. The thought of manually going to each product and editing it is very time consuming and frustrating.
Another hassle is the filtering option. Without filters, making a simple edit to a particular item among thousands will give you goosebumps. (correct me if I'm wrong!)
This is just a one-off situation. You and we know what running an online business requires.
Remember, you are here to grow your business and not waste time in these mundane tasks.
So, if anything like making changes in bulk seems a life-saving option, right?
Yes. The default WooCommerce does provide it but with limitations.
Traditional WooCommerce bulk edit fells short
You may have bulk edited WordPress posts or put them in the draft in bulk. But you can also bulk edit products to some extent.
Go to your WP Dashboard > Products and check the products you want to edit. Then, select "Edit" from the "Bulk Actions" drop-down.
b) Click on "Apply". A bulk edit window appears. Now use the appropriate areas to bulk add a product category, change the status, increase/decrease price…and then click on the button "Update" button.
You've now bulk edited a bunch of products.
But here are its limitations
Does not work for complex product types such as variable and grouped.
No filtering option to edit only selected products (it only works by category, stock status, and product type).
UX is not that great.
You cannot select multiple products across multiple admin dashboard pages (you'll need to edit them 1 page at a time).
Can't bulk update orders, coupons, or any WordPress custom post type.
So, if your business requires a more advanced WooCommerce bulk edit plugin that overcomes all these limitations. And provides
Why Smart Manager is the best WooCommerce bulk edit plugin?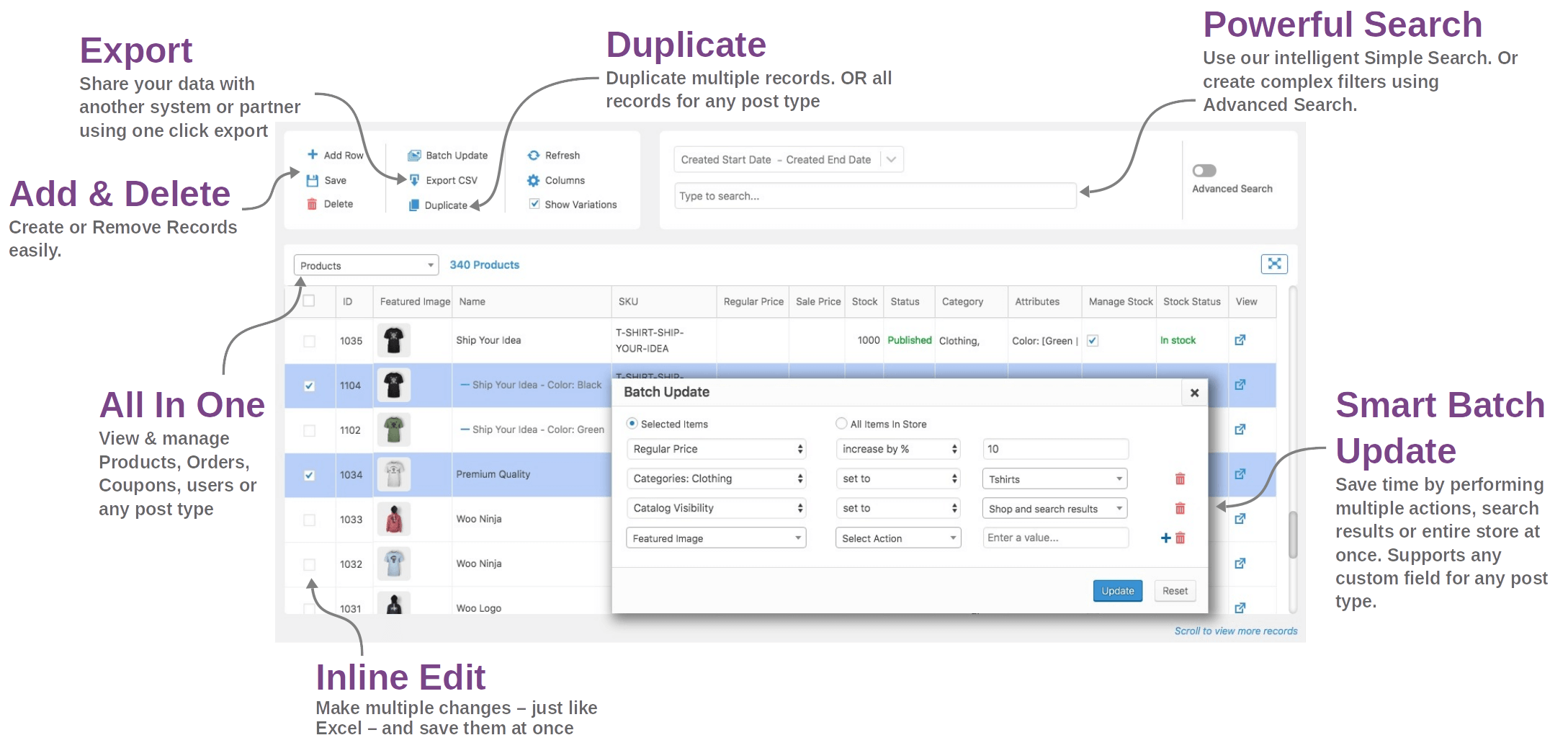 Alright, long things short. Smart Manager gives you the ability to manage your entire WooCommerce store using an Excel-like spreadsheet with ease and peace.
But
20K+ users rely on Smart Manager daily to manage their WooCommerce store and accomplish hours of work within a few clicks (and a few seconds).
Bulk edit stock price, product variations, product categories, product description, orders, attributes, coupons, blog posts…any WordPress post type, any field in no-time. It's fun and time-saving!
But that's not it. Smart Manager is compatible with these top plugins selling on WooCommerce.com –
And also compatible with Yoast SEO and Rank Math SEO plugins.
So you can also bulk edit subscriptions, bookings, memberships, keywords, etc.
View Live Demo
Get Smart Manager
Here's how to perform bulk edit using Smart Manager
We'll see three cases:
1. Bulk edit selected products with multiple parameters
Here, we update the following parameters for selected products in bulk – regular price, sale price, stock, manage stock, and description.
Watch the video below and you'll get to know how in seconds you can bulk edit things.
Also learn how to change product price in WooCommerce (bulk price edit)
2. Bulk edit entire WooCommerce store
Be it 10, 100, or 1000 or more records, you can bulk edit anything. You can also bulk edit your entire WooCommerce store. Say, Halloween is approaching and you want to increase prices of all your store items by 10% before running an offer.
Step 1 – Go to 'Smart Manager' and under the drop-down menu, select 'Products'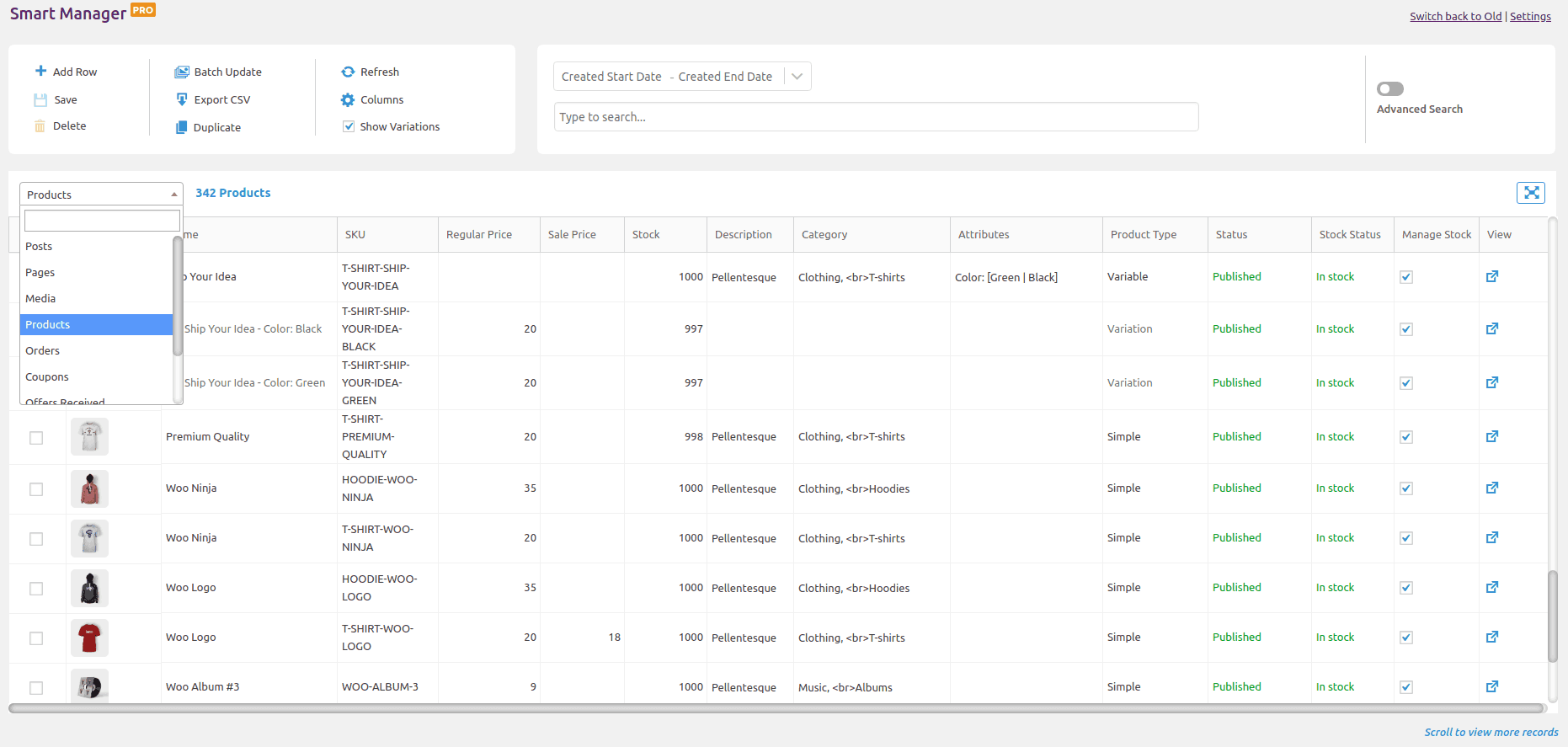 Step 2 – Simply check the 'header checkbox' (i.e. checkbox in the row of column headers) to update all records for a particular post type, click on 'Batch Update'.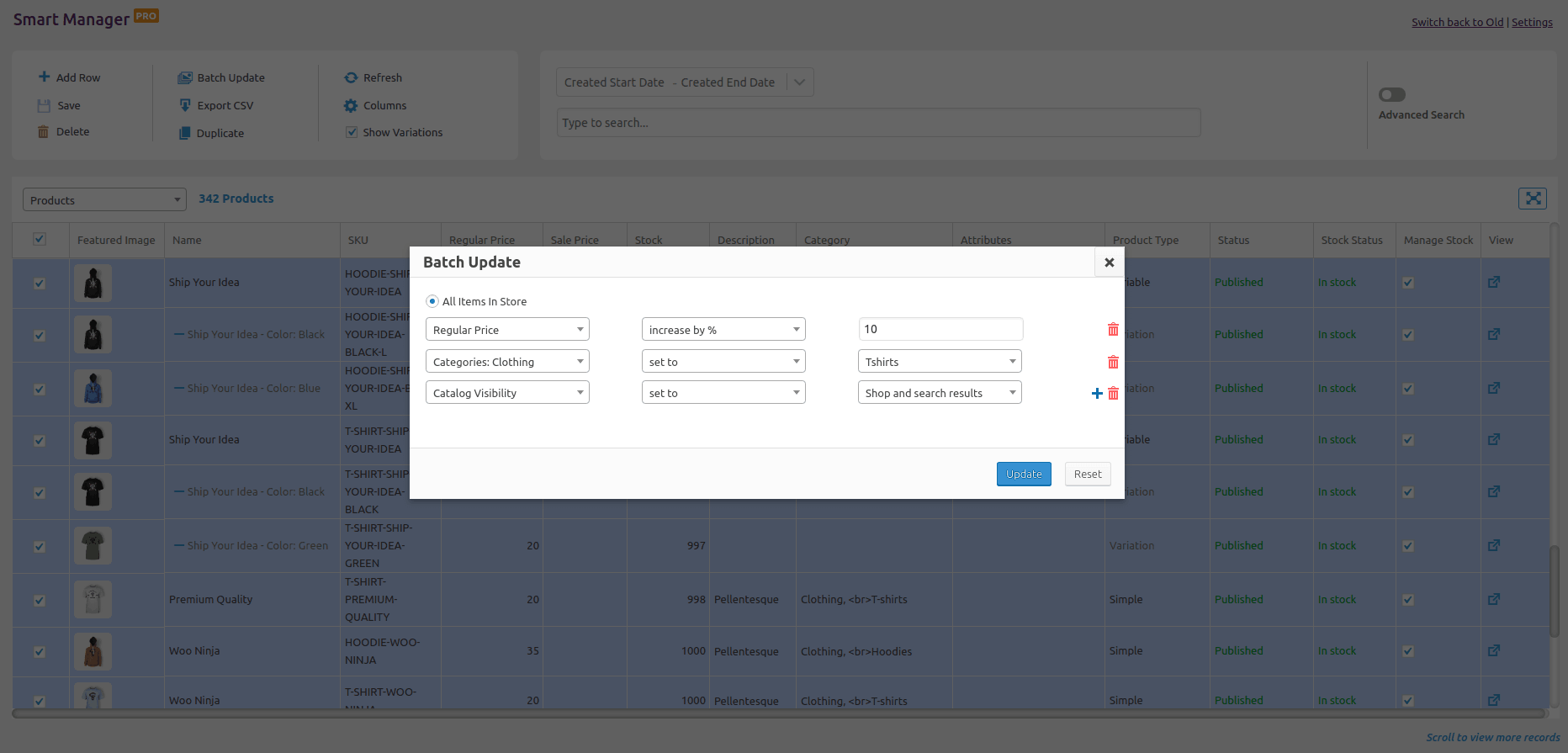 You will be able to see the updates on your online store within seconds!
3. Bulk edit using search filters
In this case, you have 1000's of T-shirts but want to update the price of only Polo T-shirts having product attribute 'Color' and only white and black colors.
Simply enter these search terms in Smart Manager, select them, and update the entire search result at once. It's a matter of seconds, you'll see updated prices of white and black Polo Tees.
Also learn about how to bulk edit attributes in WooCommerce
Benefits of using Smart Manager's bulk edit feature
Helps you save your time and effort on manually editing each product.
Eliminates the risk of human errors and miscalculations as numbers are involved.
Reduces the risk of missing out on any record while making an update.
Gives the simplest store management people always wish for.
Makes your life easy.
More benefits of using Smart Manager features
Inline Edit: Make multiple changes directly in the spreadsheet and save it all at a tap. No need to go through each entry one-by-one.
Quick & Easy Export: Export the data as per your requirements – entire store or based on date, search and column filters.
Duplicate Entire Store: Easily make a copy of selected records or all the existing records for any post type.
Robust Search: Our simple and advanced search feature will help you find what you need within seconds!
Add & Delete: Easily add or remove data rows as per requirements. You can also bulk delete WooCommerce products.
Column Management: Sort data – price in ascending or descending order, show or hide data columns you like to deal with.
View Live Demo
Get Smart Manager
Eight use cases where Smart Manager's WooCommerce bulk edit will be an absolute boon
Listed below are some of the widely use cases that can make your work-life simpler and easier at a very gradual effort!
There may be countless use cases and Smart Manager will prove the perfect plugin for that.
1. Increase or decrease prices for all products by a set percentage (%) or value ($)
It's the biggest sales season of the year – Black Friday and Cyber Monday. You don't want to leave any stone unturned to earn maximum revenue.
To make this quick, you offer a flat discount of 30% on all your products – which includes variations as well. Your product inventory says you have 3600 products.
Imagine doing this manually.
Oh sorry!! Why imagine when you have Smart Manager?
Use Smart Manager's Bulk Edit /Batch Update feature and get this done within minutes!
2. Modify sale price based on the regular price
Imagine you are a grocery store owner. Now, due to inflation, seasonal changes, and demand, the prices of commodities like fruits and vegetables keep fluctuating and you have to be quick.
Say, you need to up the sale price by 20% compared to the regular price for 10 days. For the next corresponding 10 days, reduce the sale price down by 15%.
Editing prices and managing stock of perishable items is a tedious task.
But with StoreApps Smart Manager bulk edit feature, you can save your company's cost and effort to a high level in this case.
3. Update inventory for simple products within one selected product category
You know it's rainy season lined up in a month and you need to add stock of ponchos, dri-fit pants, rain-cover for bags, etc. beforehand.
Assume your product category is rainwear and you want to increase the inventory of all products falling into this category by 200 units.
Simply, search for product category using Smart Manager and all your products will be listed belonging to rainwear. Select all items in the search result by checking the 'header checkbox', increase stock by 200 and it will be reflected in all the products within seconds.
4. Bulk edit sale price of all variation products within one selected product category
There's a huge competition in the smartphone market; say $200-$250 range.
And you have 3 phones with 9 variations falling into this segment.
Since you see a downfall in sales, you want to attract customers by offering a discount on top-selling variants.
Switch to StoreApps Smart Manager and you can get this done within minutes-saving cost and being real-time!
5. Update description and SEO 'Noindex' status of multiple blog posts
Pruning old, non-performing blog post can result in more qualified traffic as your website get a higher rank in Google.
So, instead of going through each post-one-by-one and non-indexing them, simply search and select those blog posts, add a description as 'Poor performing post' and 'Deindex' them using Smart Manager.
6. Increase coupon limit for purchasers between a particular date range
Customers may not continue the subscription or may not purchase from you the second time. But we can at least try to nudge them to renew or buy again.
For this, you can select specific customers who made a purchase one year ago using a coupon, say a 15% off.
So, simply select all these users and extend their coupon usage to two or three times further.
Btw…no need to manually do this one-by-one. Smart Manager will get this done within seconds, literally!
7. Update subscription statuses in bulk
We know some customers keep on using the free-trial and ask to extend. But in the end, they don't convert even if you try your best.
You want to cancel/suspend subscriptions of these customers (say twenty in number) who have taken the free plan from December 2020 to January 2021 and haven't migrated to the paid plan.
Manually doing this sounds painful, right? Smart Manager's bulk edit feature makes this process a no-brainer!
8. Update order statuses
Let's say, during the sale period, you launched a new product and offered 'Free Shipping' on the first 100 orders.
Now, orders are shipped and you want to update the statuses of these 100 orders from 'Shipping Pending' to 'Shipped'.
As usual, the bulk edit feature will do that for you.
Buy Smart Manager
Ready to make your life easier?
Bulk edit, one-page store management, excel-like spreadsheet, compatibility…what more do you need? Smart Manager is a complete package.
8+ years into business and Smart Manager continues to be a popular and reliable plugin for tons of WooCommerce users.
Now it's your turn to reap those benefits…even more than what other users have reaped from Smart Manager. It's a promise, you won't be disappointed.