It's not easy for an e-commerce business to thrive in the industry. The changed buying behavior of customers is to be blamed here. For example, people add stuff to the cart and then forget them forever.
It's shocking to know that the cart abandonment ratio is more than 69% across all kinds of industries. This is a concerning figure and e-commerce industry players must find a way to lower it.
Gladly, we have a viable solution for WooCommerce and it's the mini cart.
So what is a WooCommerce mini cart? How should one get started? What benefits does it provide? Read the post to figure out the answers to all these questions.
What leads to cart abandonment?
The e-commerce industry has been at its all-time boom in the past two years. As per the leading market estimates, the global e-commerce industry will touch the mark of $6.5 trillion in 2023.
If these stats seem impressive, hold on for a second. You should also know that:
Nearly 3/4 of online shoppers leave the website without making a purchase.
Mobile users have a nearly 85% of cart abandonment rate.
Every year, nearly $4.6 trillion in sales is lost just because of cart abandonment.
This might make you wonder what could go wrong with the cart page that will compel buyers to drop the idea of buying stuff.
Well, there are ample reasons:
The cart page shows tons of information.
Lack of offers on the cart page.
Poor navigation on the cart page leaves the buyer confused.
Cart pages seem to be an additional resistance for orders with a single product.
One single distraction is enough for a customer to drop the idea of purchasing.
Smarter cart page alternatives in WooCommerce that works
Gladly, the cart page issue can easily be fixed with solutions such as:
Direct checkout – skip cart and redirect customers to the checkout page.
One-click checkout – skip cart, checkout, payment; complete order in one click.
One-page checkout – show cart, checkout and payment on a single page.
Guest checkout – allow customers to checkout via a popup.
Mini cart – lets the prospective buyers review their cart items without actually going back to the product pages.
While all these options work well in reducing the high cart abandonment rate, our focus today is on the mini cart.
What is a mini cart and why use it in WooCommerce?
In simple terms, a mini cart or side cart is like a replica of the cart page but opens up on the fly via a sidebar popup. Customers don't need to visit product pages again to modify their order.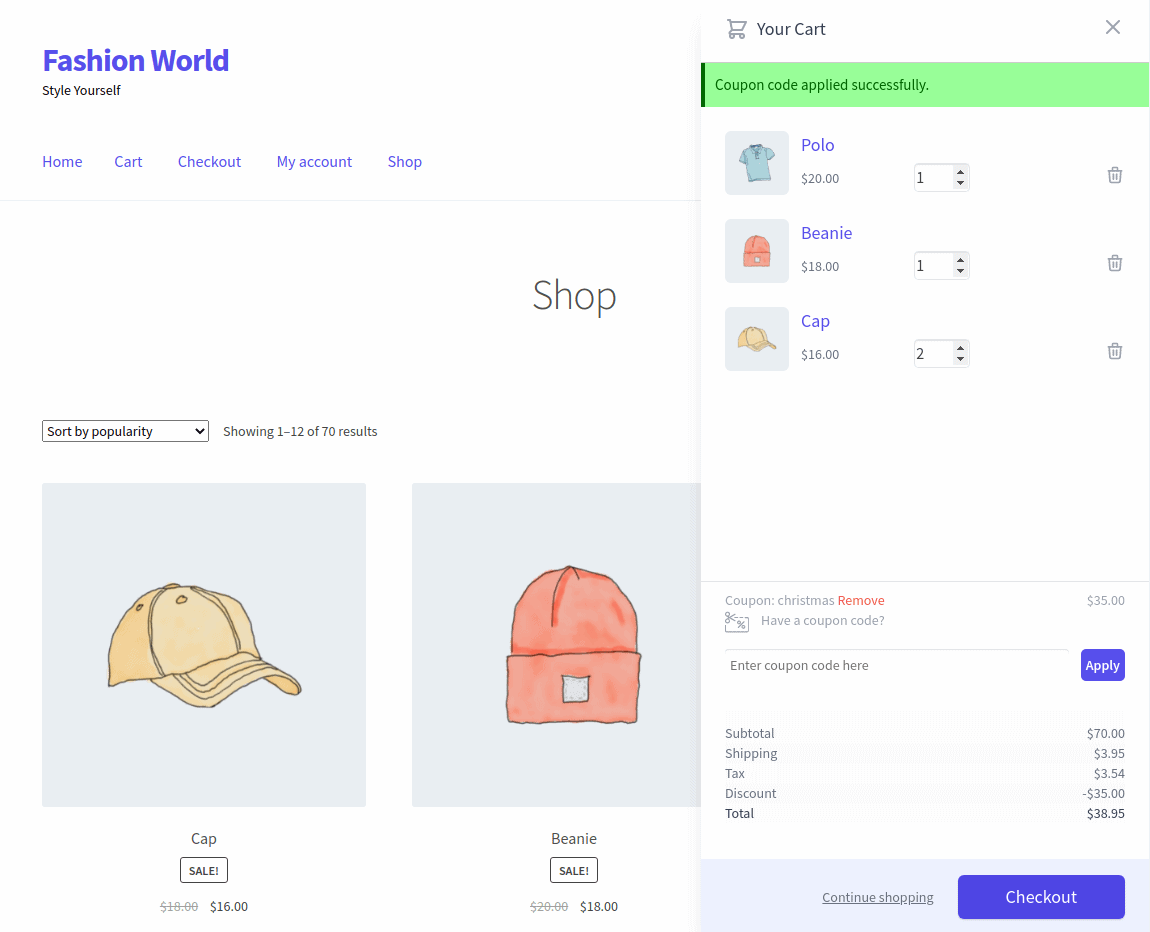 Adding a mini cart feature to your WooCommerce store will reap multiple benefits such as:
Quick glimpse: allows customers to view and review added products in the cart in a jiffy.
Shop-wide instant accessibility: no matter on which page the customers are, if they need to access the cart, it's possible to click the cart icon present sitewide.
Cart summary: along with product details and quantity, information like order summary, the coupon applied, savings done, the payable amount, shipping and taxes are available in one place that causes less distraction.
A mini cart features everything required to make the shopping experience quick and seamless, which will undoubtedly reduce the cart abandonment rate.
How to set up a WooCommerce mini cart?
Cashier is a popular WooCommerce plugin that offers additional cart and checkout customization abilities. Its activation will certainly bring noticeable outcomes.
Activating the mini cart with Cashier is a simple task as there is no configuration or laborious setup required..
If you use Cashier plugin, enable the Side cart option using the toggle and the cart icon will be automatically added to all the pages. However, the icon won't be added to the checkout page.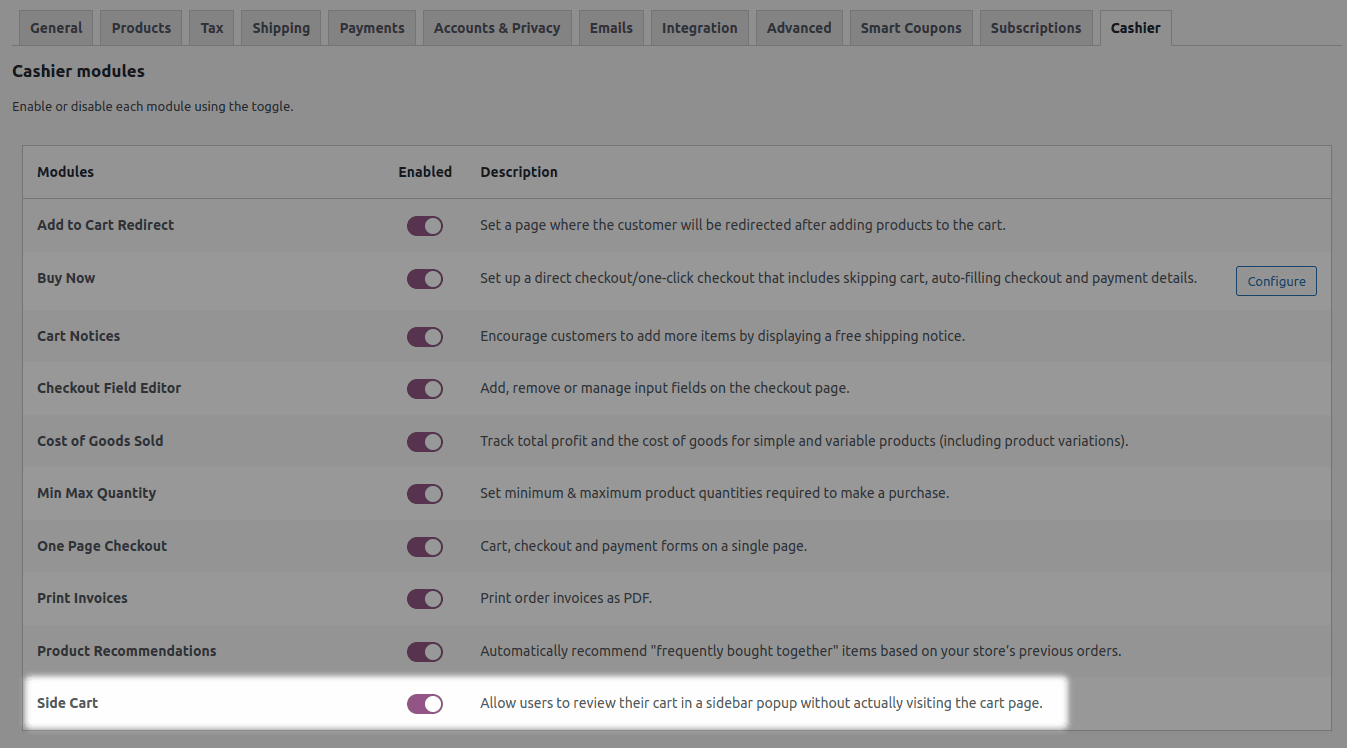 As soon as the buyers add a new product to the cart, the sidebar, featuring the mini cart will open using AJAX (Refer to the mini cart image above in the blog).
No further page refresh is required. From the sidebar, customers can now view their cart items, modify them, add or delete coupons, see product price, taxes applied, shipping cost and total order value.
Another thing is the call-to-action buttons on the side cart widget. You can allow customers to shop more or proceed to checkout. This way, Cashier entirely speeds up the check-out process and makes it smooth for your customers.
Other Cashier benefits
Direct checkout and one-click checkout with the help of the Buy Now buttons.
Checkout field editor – edit/remove the core WooCommerce checkout fields and also add custom fields
Redirect buyers using Add to Cart links.
Set the minimum and maximum quantity for each product.
Turn any page into a one page checkout.
Track the profit earned from goods sold.
Automatic product recommendations.
Print PDF invoices for orders.
If you buy multiple plugins for these, it will cost you above $300. But Cashier gives you all of them for just $49. You can purchase the plugin from the WooCommerce marketplace.
Wrapping up
It takes tons of effort to run a WooCommerce store. Hurdles are many and cart abandonment is the most dangerous. However, a solution like Cashier's mini cart is quite effective to take care of abandonments.
With zero configuration and top-notch features to optimize checkout, Cashier will certainly improve buyers' shopping experience on your WooCommerce store and make it free from any distractions.