Did you know that about $260 billion could be recovered just by optimizing the checkout process of WooCommerce stores?
No kidding, Baymard Institute have figured that stores can increase their conversion rate by 35.26% if they only focus on checkout usability issues.
While talking about checkout optimization, we can't help but think about the dreadful WooCommerce cart abandonment rate. The mundane commonly used design, unnecessary fields, lack of creativity are just some of the aspects that hurt your store due to the cart page.
However, there's always a way to fix it. One of the most important aspects of the checkout process that you must look into is enhancing your cart page.
This article will help you understand the different cart enhancements that build a customized user experience that not just delights your visitors but also converts them. And a popular plugin for each of them.
Skip cart
Popularly known as the direct or one-click checkout, this cart enhancement skip cart and redirect visitors to the checkout page, enabling them to complete the order swiftly.
And if customers previous order and payment details are available, they are redirected directly to the order received page. If you run a store that sells digital products, subscriptions or downloadables, this cart type is for you.
Cashier
Being a complete solution for checkout optimization, Cashier plugin provides a Buy Now button / link to enable direct or one-click checkout. With Cashier for WooCommerce plugin, you can:
Enable the Buy Now button for all the products, specific products or some specific categories.
Works with PayPal Standard, Stripe, Braintree, Authorize.net, Direct Bank Transfer, Cheque Payments and Cash on Delivery.
Enables you to share the Buy Now link in emails, social media, blogs.
Show product recommendations like Amazon to increase sales via cross-sells.
Show cart notice to nudge visitors buy more and qualify their order for free shipping.
Cost of Goods metric for simple and variable products.
Provides major checkout features like one page checkout and checkout field editor.
Side cart
If you have a side cart installed in your store, the visitors don't have to navigate to the cart page just to review their cart. They can do so with a sidebar that opens up on the same page as they are on. WooCommerce stores like clothing, stationery, accessories can benefit immensely from this enhancement.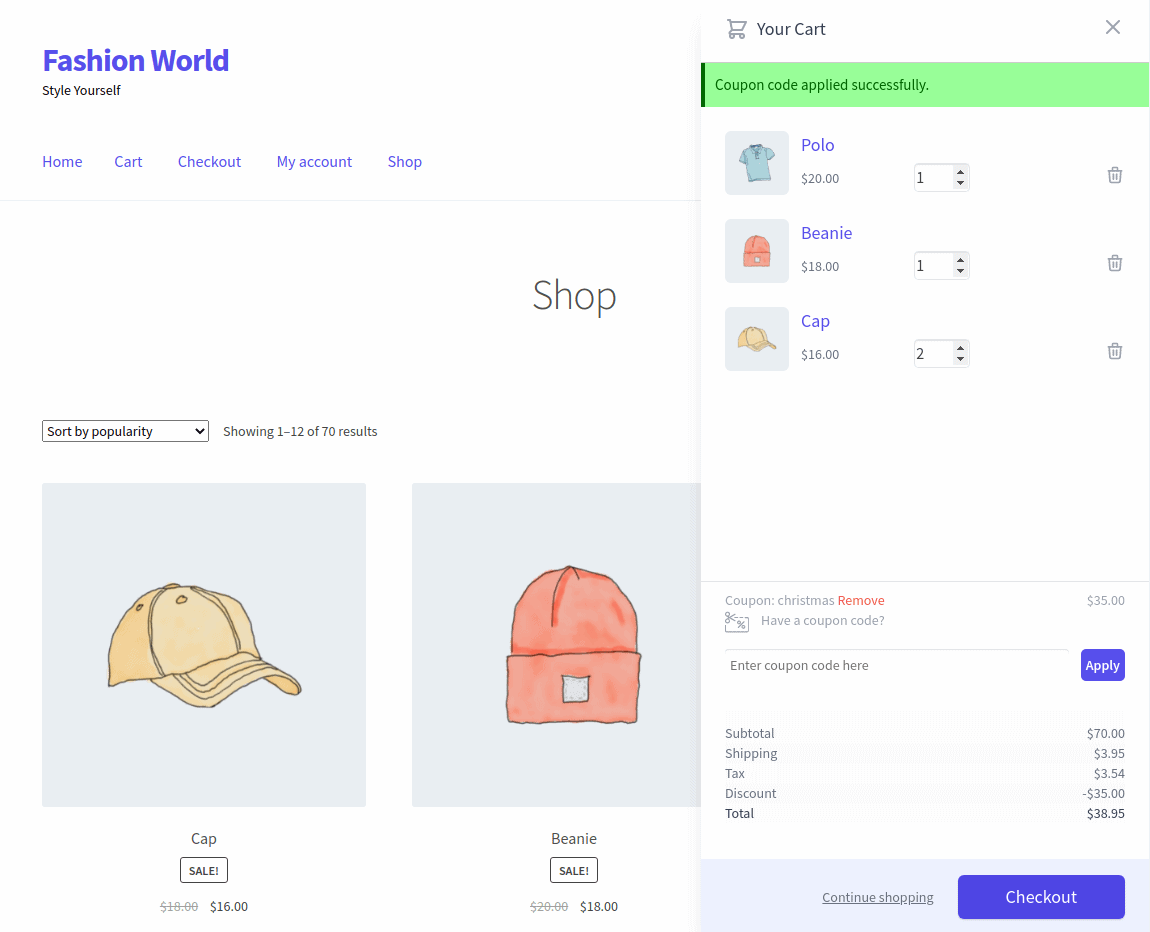 Cashier
Cashier plugin also allows you to optimize your checkout process by providing the side cart widget. It enables a side panel on every page except checkout that opens up only with the click of the cart icon.
This keeps the customers updated with their product list added to the cart from the same page they're browsing. Wish Cashier side cart:
You need not handle any complicated settings or configuration.
Visitors can conveniently change products, update quantities, add coupons, check the shipping cost.
Link to the checkout page or shop page using the call to action button.
Menu cart
Here, a cart button is added directly to the navigation bar of the WooCommerce store. The products get added to the cart in an organized manner which keeps no space for confusion regarding the cart items. This cart option gives the visitors a quick summary of all the products they've added to the cart.

WooCommerce Menu Cart
The most popular menu cart plugin with over 1 million downloads on WordPress.org. Notable features:
A choice of over ten cart icons.
Display cart icon, or only items/prices.
Shortcode to display cart anywhere on your site.
Also compatible with WP-Ecommerce, EDD, Eshop & Jigoshop.
Save for Later
As much as you put in efforts to create an amazing experience for the visitors of your site, you also need to keep reminding them to finally get that 'sale'. Save for later allows visitors to save items in the cart, persuading them to make an instant purchase.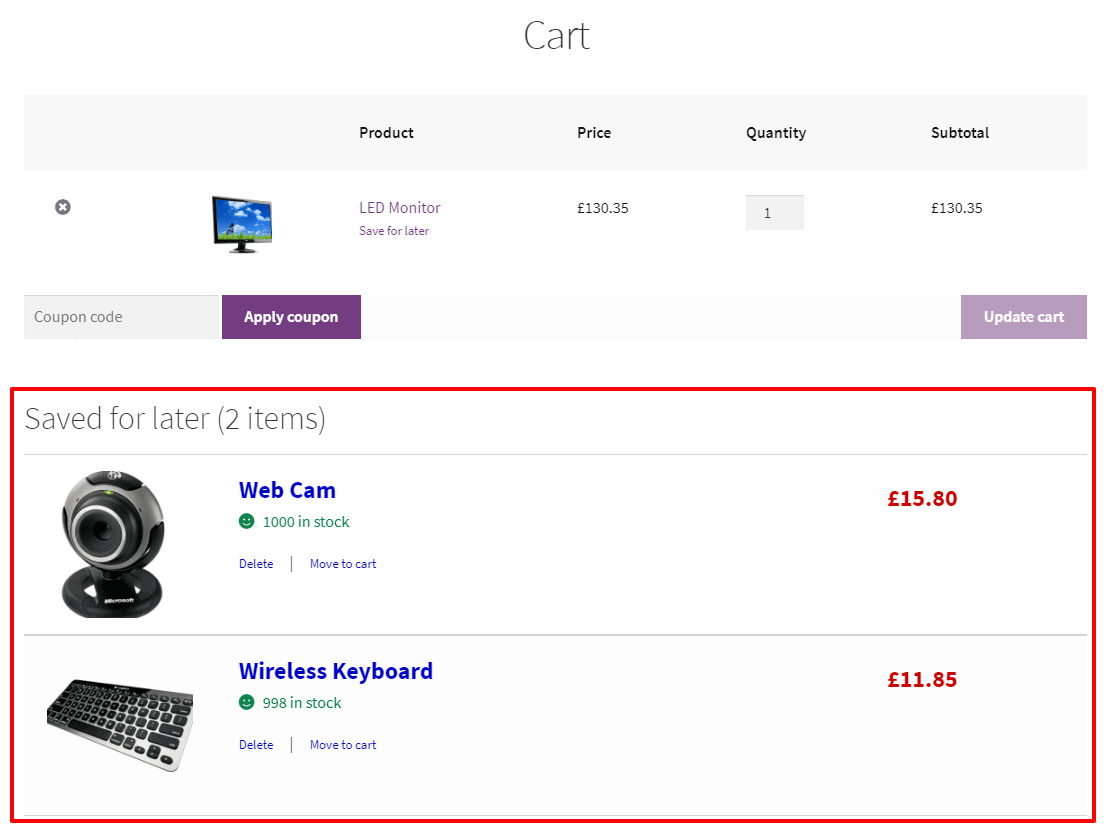 Save for Later for WooCommerce
Save for Later for WooCommerce plugin is your virtual agent that will not just allow your visitors (both guests and the logged-in users) to save items in the cart but will also act as a reminder to them to make the purchase. The plugin:
Allow the users to save unlimited items for unlimited time.
Let them use the cart page like the wishlist.
Shows previously saved items on the empty cart.
Update variations in cart
Your customers can update i.e. change their product variation, the quantity they wish to directly from the cart page without having to go back to each product page. This makes this perfect for stores like healthcare, makeup, clothing, skincare, FMCG, etc. where users often want to make changes in their order.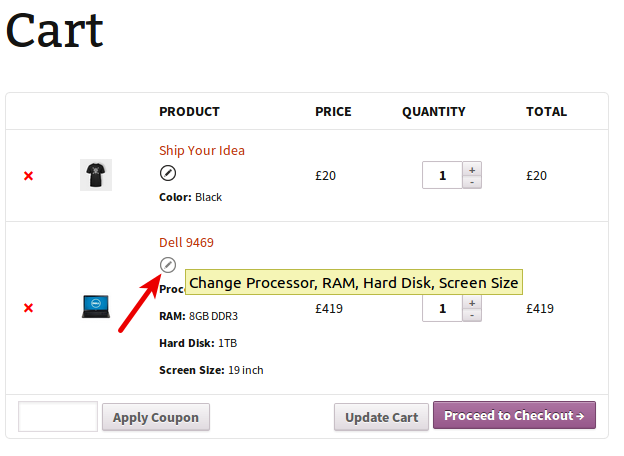 WooCommerce Update Variations in Cart
The plugin allows users to change and update product variations based on attributes (color, size, weight, type, etc) directly from the cart. Notable features:
Change multiple product variants in one go.
Quick installation & easy to use, no coding required.
Option to change the text of the 'change variation' link button.
Support for custom product attributes.
Get Update Variations in Cart plugin
Ajax add to cart
A simple cart type that saves your customers time by not reloading the page every time they add a new product to the cart. This saved time helps them to complete their transaction faster, leading to an increased conversion rate of your store.
Ajax Add to Cart for WooCommerce
Use the ajax add to cart for WooCommerce plugin to enable this cart type for your store. With an average rating of 4.5 stars, it stands out for providing a speedy user experience. It's also quite easy to install, configure and run.
Cart notices
"Order this item today and you get a 10% discount"! Wouldn't you place the order right away if you saw this? That's exactly how cart notices persuade your store visitors to take action.
Such messages are displayed right above the cart so that they are noticed promptly by the right audience. You can experiment with these messages for the low ticket as well high ticket product types and categories.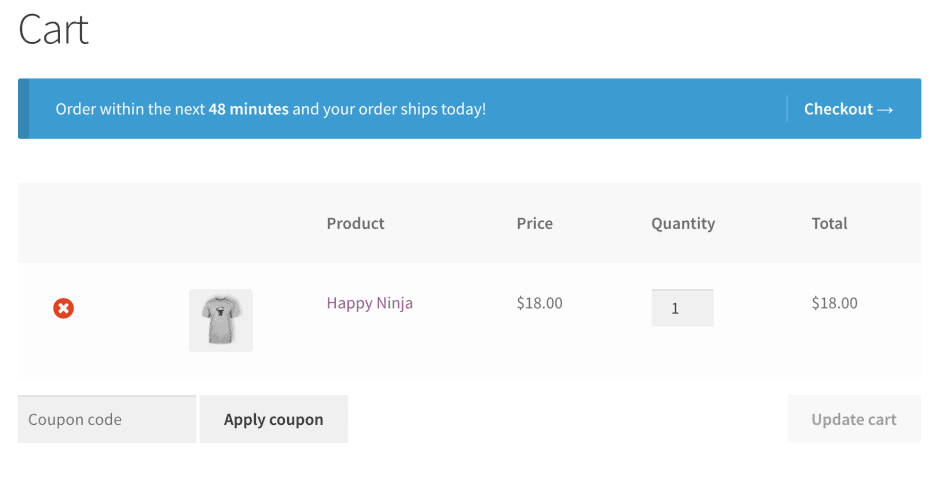 Cart Notices
WooCommerce Cart Notices plugin helps you boost sales by displaying dynamic, actionable messages to your customers as they check out.
Five notice types that have different messages, CTA options.
Set minimum and the maximum discount amount by using the 'Product in Cart' notice.
Display notices anywhere on the site using shortcode.
Floating cart
Instead of a sidebar panel, a floating cart allows visitors to review their cart items in a popup. With a floating cart, the cart is always accessible, even when your usual buttons aren't.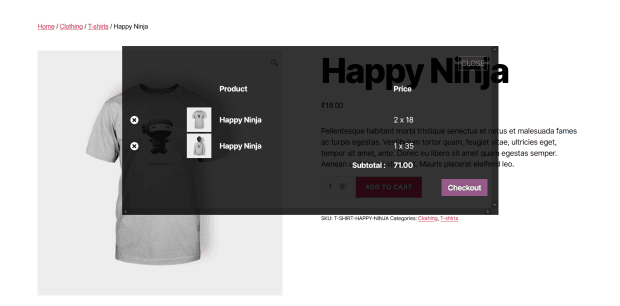 Floating Cart for WooCommerce
You can purchase this extension from the WooCommerce marketplace. Notable features include:
Creatively designed animated floating icon.
Customization for the icon, popup, button, loader as per your company branding.
Mobile-friendly for your customers.
Clear cart / Empty cart
What if users add too many wrong products to their cart? Clear cart feature allows users to remove all products and start shopping from scratch.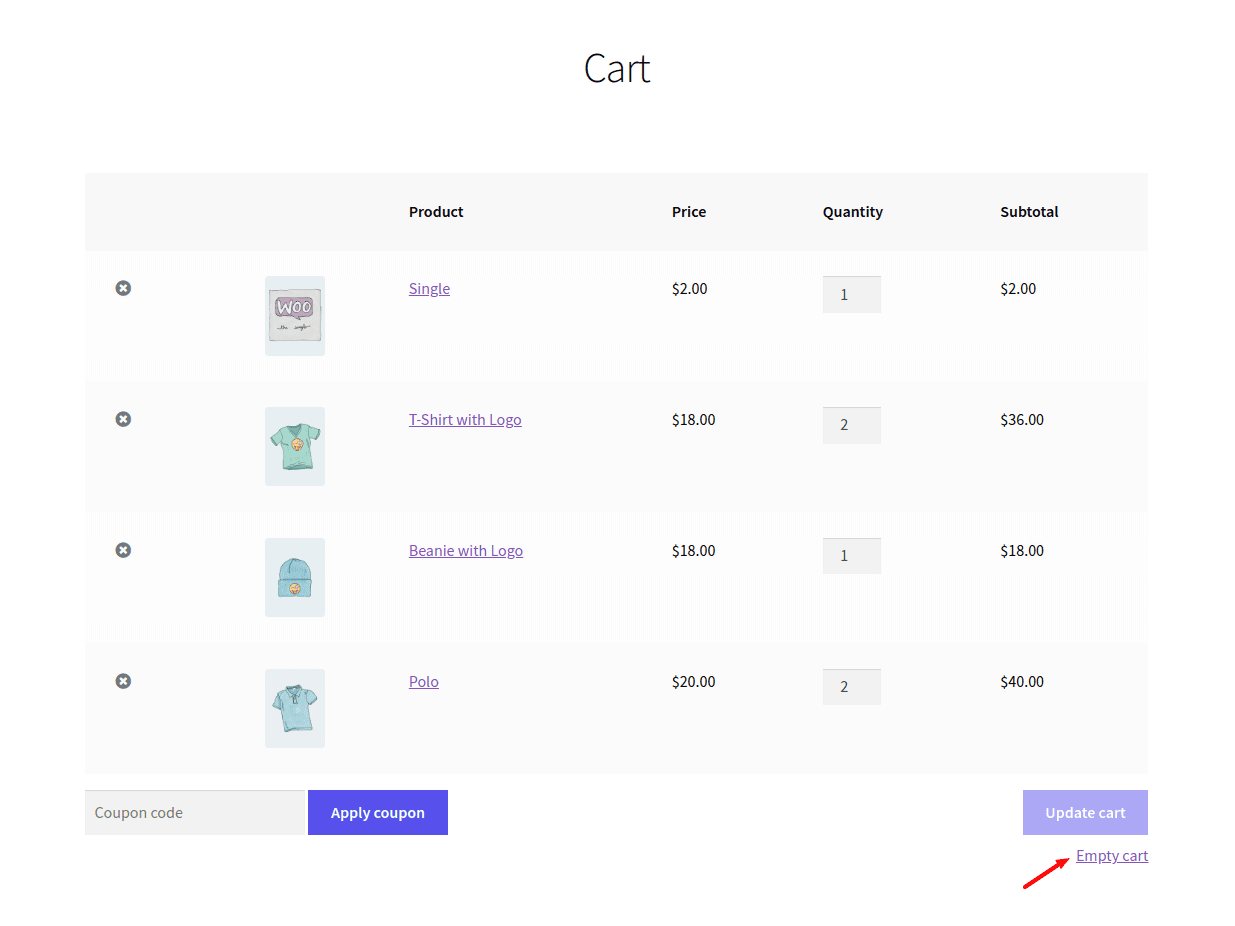 Cashier
Once again, Cashier does not fail to miss the mark. It provides an 'Empty cart' option on the cart page, allowing users to clear their cart in one click.
For a safer side, it also gives an alert to users that they are about to clear their whole cart.
Show upsells, cross-sells, BOGO offers on using the cart page
The cart enhancement you choose could also act as a marketing strategy for your store. Don't just sell your visitor once but target them with effective upsells and cross-sell offers sneaking right into their cart.
Smart Offers for WooCommerce plugin helps you do that by targeting the potential customers with the right offers based on powerful targeting rules.
Other than Smart Offers, Offermative also does a great job at pushing discount coupons, upsell products on the cart…all done automatically. It enables cart bumps on the cart page and creates upselling or cross-selling opportunities.
Final thoughts
Now with all these WooCommerce cart enhancements and plugin information in your kit, we hope you choose the one that shoots up your conversion rate and your store's growth.