Apart from the crazy and advanced trends like adopting augmented reality, keeping the online store ready for voice search, headless commerce for a faster & smooth shopping experience, etc., one basic thing that will drastically improve your online store conversion is the personalized product delivery option and same-day delivery option.
Letting the customers pick a convenient product delivery date saves time for both the customers and the store owners.
A survey on personalization in online retail revealed that retailers who have adopted 'advanced personalization capabilities' saw a 25% revenue lift while retailers who used 'basic personalization capabilities' saw only a 10% revenue lift.
A personalized experience is great. But store owners might be wondering if they let their customers pick a delivery date, it might become difficult for them to maintain inventory, manage shipping and handle backorders.
Luckily, we have a perfect solution for WooCommerce store owners to easily set delivery dates per product and also set same day or next-day delivery.
Pick a product delivery date right from the page
Product Delivery Date plugin for WooCommerce allows the user to select a delivery date right from the product page itself and add it to the cart. As a result, online shoppers can easily check out at last.
Apart from making the end users' shopping experience smooth, the Product Delivery Date plugin also allows the store owners to set several criteria to make their life easier.
For example, a particular set of dates can be specified so that users can pick only the given dates. Likewise, the store owners can also set maximum deliveries per day/per user and set recurring weekdays so that shoppers can order only on specified weekdays. For instance, on Tuesdays & Thursdays alone, the cakes can be ordered from an online bakery store.
Where the Product Delivery Date plugin really makes sense is the store owners can set specific delivery dates for each product. Let's see how you can set WooCommerce delivery date/time per product.
How to set WooCommerce delivery date/time per product?
For an WooCommerce store with various types of products, managing inventory and setting the product delivery date based on availability will save valuable time and money for the site owners.
Let's consider there is a WooCommerce flower delivery shop where the Daffodil flowers are available only on Wednesdays & Fridays and the Tulips are available only on Mondays and Thursdays.
Once you have installed the Product Delivery Date plugin, go to the Daffodil flower product. You can see a 'Product Delivery Date' meta box right below your product.
Select the Enable Delivery Date option.
Select the Recurring Weekdays check box.
Under the delivery days options, select the days you want. In our case, we will select Wednesday and Friday.
You can also set the maximum number of deliveries per day.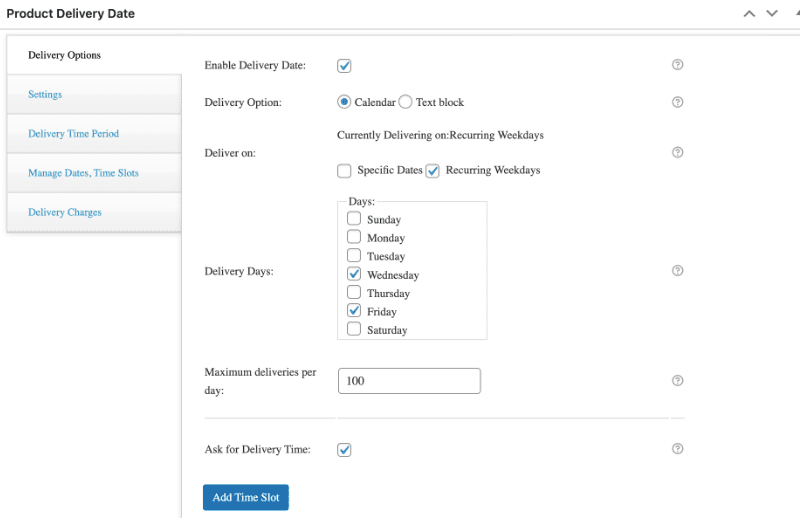 You can also set a delivery time window so that you can manage your shipping accordingly.
To set WooCommerce delivery time per product, select the Ask For Delivery Time checkbox and select the delivery start & end time. You can even set maximum deliveries per delivery to avoid overburden during delivery time.
For the demonstration purpose, let's say that we can deliver from 8 am to 4 pm.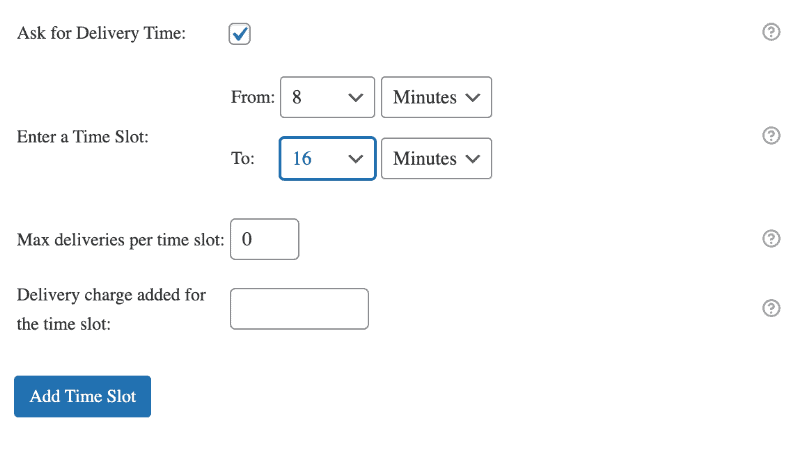 Experience from the end user side
Now that we have set all the parameters, let's see how the Daffodil flower product looks on the frontend.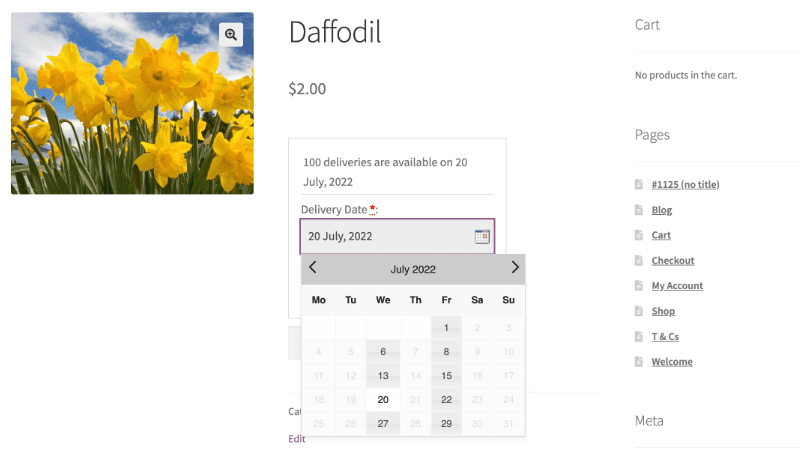 As you can see, the product is available only on Wednesdays and Fridays, as we have selected. Once you select a delivery date, the time slot will be shown.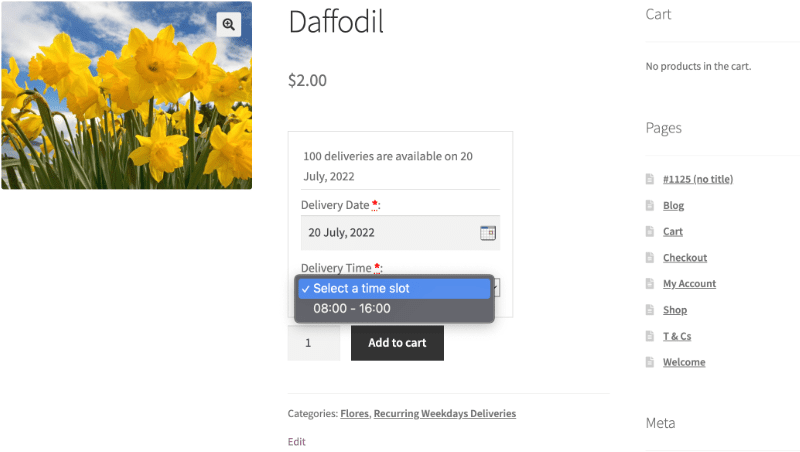 How to set same day delivery in WooCommerce?
The Product Delivery Date for WooCommerce plugin lets you set same day and next day delivery as well.
A sensible feature that store owners will be using all the time is the 'Delivery cut-off time'. Delivery cut-off time is the time beyond which you won't deliver.
Say, for example, if a pizza store won't deliver after 9 pm, then the delivery cut-off time will be 9 pm. Since we took pizza as an example, let's set the same day delivery for Pizzas.
Just like what we did in the flower shop, go to the Pizza product.
In the product delivery date meta box, navigate to the Delivery Time Period settings.
You can see the Same day delivery cut-off time option.
Set the delivery cut-off time as per your requirement. In our case, we are going to set 21:00 (9 pm).
Note: If you want to set next-day delivery, set the cut-off time for the Next day delivery, and you are all set for next-day delivery.
Experience from the end user side
The customer who is going to place a Pizza order on your online store will see a screen like this: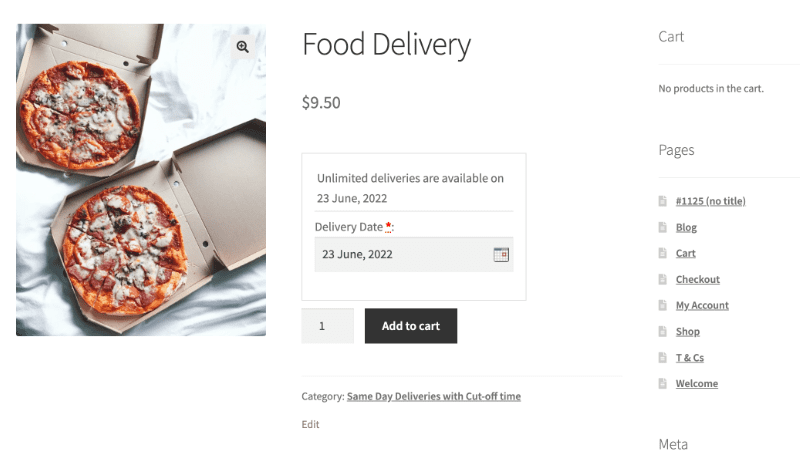 At the same time, if the customer is going to place an order beyond the cut-off time we mentioned, the customer won't be able to select the current date.
Apart from the recurring weekdays options and same day delivery, the product delivery date plugin has other useful features as well. Here are a few-
The minimum required time for each product delivery can be set in hours.
Set a number of dates available for advance delivery.
Disable the weekdays on which you do not deliver the products.
Limit the number of orders to be placed per product per day.
2-way synchronization of your deliveries with Google Calendar in real-time.
Set holidays on the dates you do not deliver products.
With the Product Delivery date Pro plugin, the store owners can provide a plethora of product delivery options to their customers.
Conclusion
Same-day delivery and personalized delivery feature might sound simple, but flexible & fast delivery is something that online shoppers expect in almost all stores. In fact, a study shows that 80% of consumers want same-day delivery and nearly 61% of users are ready to pay extra for same day delivery.
The same day delivery market value in 2021 was $8.41 billion and is expected to grow to $26.4 billion by 2027.
Giving customers the power to select product delivery date and providing same day delivery can lift the online store to the next level.