Looking out for a simple way to display multiple products? A quick way using which customers can buy multiple products without visiting separate product pages?
Then you must consider WooCommerce product table plugins.
With the product table plugins, you can easily add a product table anywhere on your site. A searchable table layout is displayed with filters as opposed to the default WooCommerce grid format. You can use it for quick order forms, large product catalogs, restaurant order systems, wholesale layouts and more.
In this article, we will cover what you need to know about the WooCommerce product table and a few plugins to get started. You'll also find some plugins here you may have never heard of.
Why you need a product table plugin?
Every WooCommerce store chooses a particular style to display products. It also depends upon the product portfolio size.
Some stores take the traditional approach of rows and columns, spaced out equidistant. Some stores take the list view approach with or without images.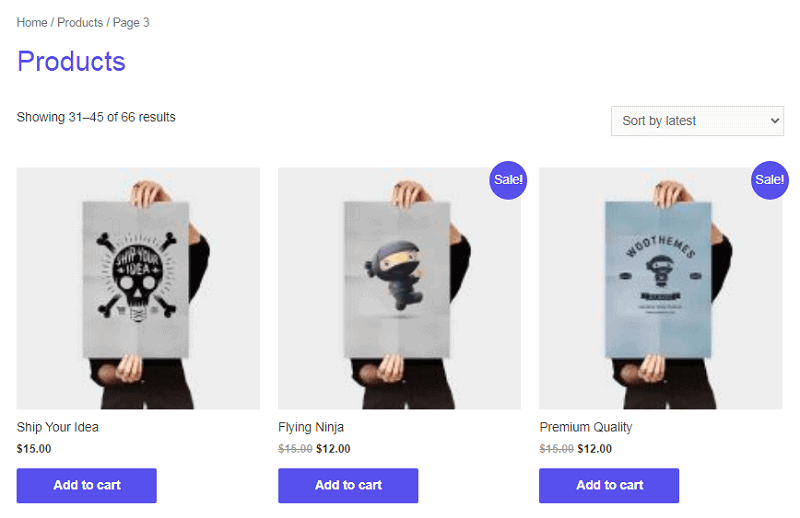 StoreApps have taken a different approach. It shows products based on categories and the arrangement is quite unique.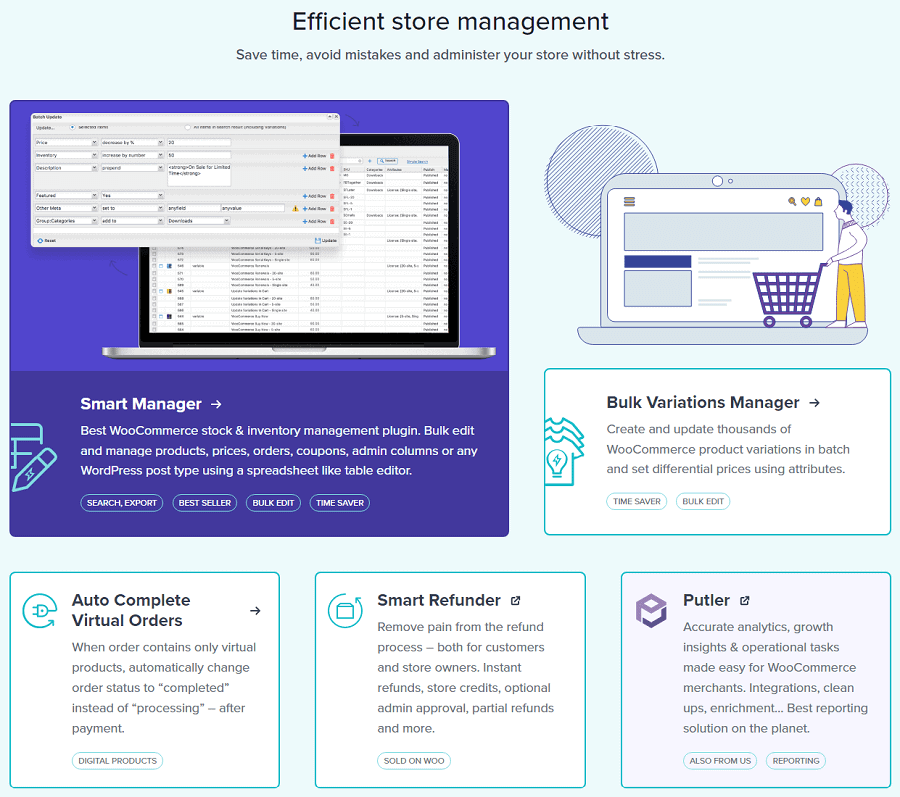 We do have positive words from visitors on this layout. View our product portfolio layout.
However, what if your store is selling a large number of products? FMCGs, books, fasteners, food and beverages…if they take the traditional approach, won't it affect the shopping experience? The customer needs to scroll and scroll for viewing the products.
What if instead, you could display all these products in a simple table format on a single page? You can also add a filter, an 'add to cart' button, include product thumbnails, stock status, ratings and more, all on the same page?
Users can simply filter and add the products to the cart quickly, thus enhancing their shopping experience. Of course, you'll have a higher conversion rate too. Using WooCommerce best product table plugin for WordPress, you can achieve all these.
With the need of having a product table now clear, let's now move to the popular WooCommerce product attribute table plugins and decide which one is better for your store.
When should I use the WooCommerce Product Table?
A WooCommerce product table, such as a WooCommerce product attributes table or a WooCommerce products table, can be beneficial in the following scenarios:
Large product catalogs: When you have an extensive range of products in your WooCommerce store, using a product table helps organize and showcase them effectively.
Product comparisons with a WooCommerce product attributes table: If your products have multiple attributes or variations, a WooCommerce product attributes table allows customers to compare different options side by side, aiding in their decision-making process.
Quick access to product information with a WooCommerce products table: A WooCommerce products table presents essential details like pricing, stock availability, and add-to-cart buttons in a compact format, providing customers with a convenient overview of the products.
Enhanced browsing experience: Implementing a WooCommerce product table, whether it's a product attributes table or a products table, enables customers to utilize filtering, sorting, and search functionalities, making their browsing experience more efficient and effective.
Streamlined purchasing process: By incorporating an add-to-cart button directly within the product table, a WooCommerce product attributes table or a products table simplifies the purchasing process, allowing customers to add products to their cart without navigating to individual product pages.
Leveraging a WooCommerce product attributes table or a WooCommerce products table can optimize the organization of your products, facilitate comparison, and improve the overall shopping experience for customers.
Best WooCommerce Product Tables plugins
We begin with the plugins listed on the WooCommerce marketplace.
Product Table for WooCommerce
Product Table for WooCommerce lets you automatically display products with filters in a responsive table with full control over what's displayed.
Product Table for WooCommerce plugin is perfect for creating product list views, order forms, wholesale, product catalogs & more.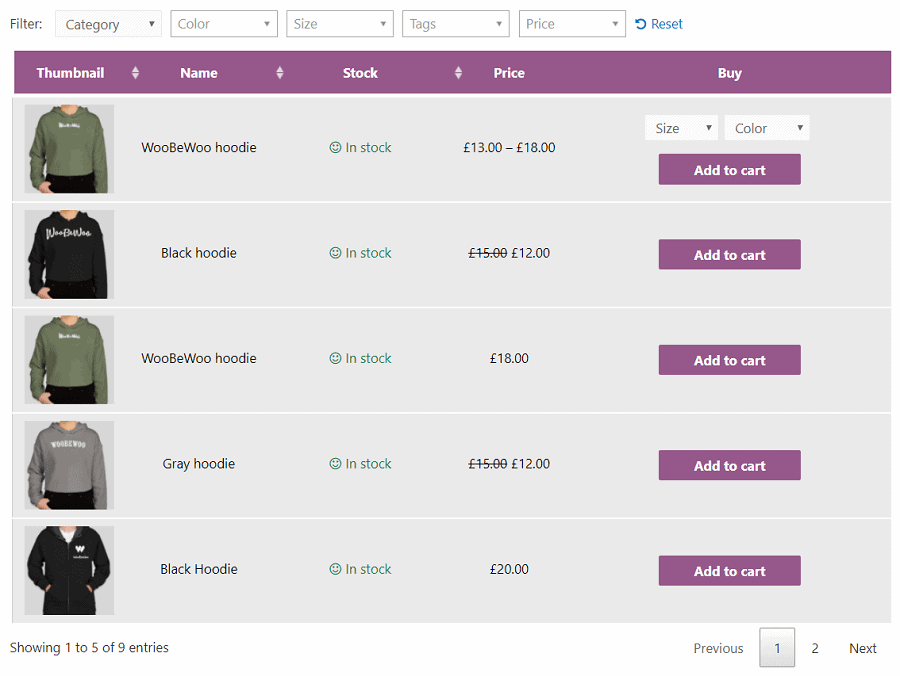 Features:
Simple and user-friendly setup.
Using the sort and filter tools, you can quickly search the product line.
Use categories, tags, characteristics, pricing, and custom taxonomies to filter products.
Display product variations with drop-down menu for attributes.
Using the shortcodes, add the product table to any page/post.
To use the Product Table extension, you'll have to install the free version first.
Pricing: $49
Get Product Table for WooCommerce plugin
Product Tables for WooCommerce
Another plugin on the WooCommerce marketplace, Product Tables for WooCommerce lets you add fully-customizable product tables to deliver a one-page shopping experience to your customers.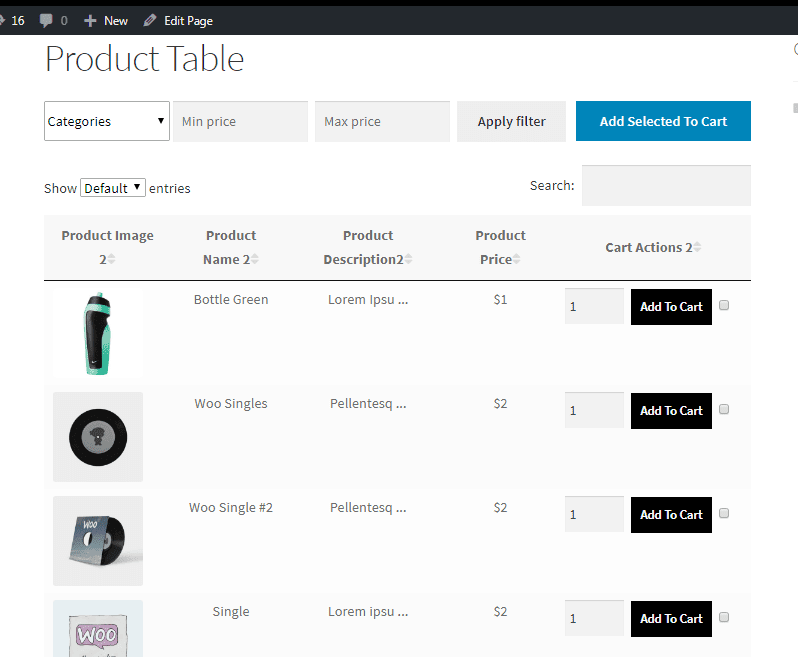 Features:
Create as many product tables using shortcodes as you want, each table with different settings, product data, and customization options.
Support for variable products and allows customers to filter products using variation attributes.
Ajax search for quick filtering and sorting without page reloads.
Option to show/hide product based on categories.
Display product variations with drop-down menu for attributes.
Checkboxes on your product table to allow customers to select multiple products and add all of them to the cart with one click.
Pricing: $49
Get Product Tables for WooCommerce plugin
Cashier
Well, Cashier is not exactly a product table plugin, but it will surely enhance the purchase experience with a single-page checkout option.
You will be able to create a custom page with a list of products in a tabular form so that users can quickly select product quantities, update their order and complete the checkout and payment on the same page.
You can enable one-page checkout for pre-selected products, product ids and product categories.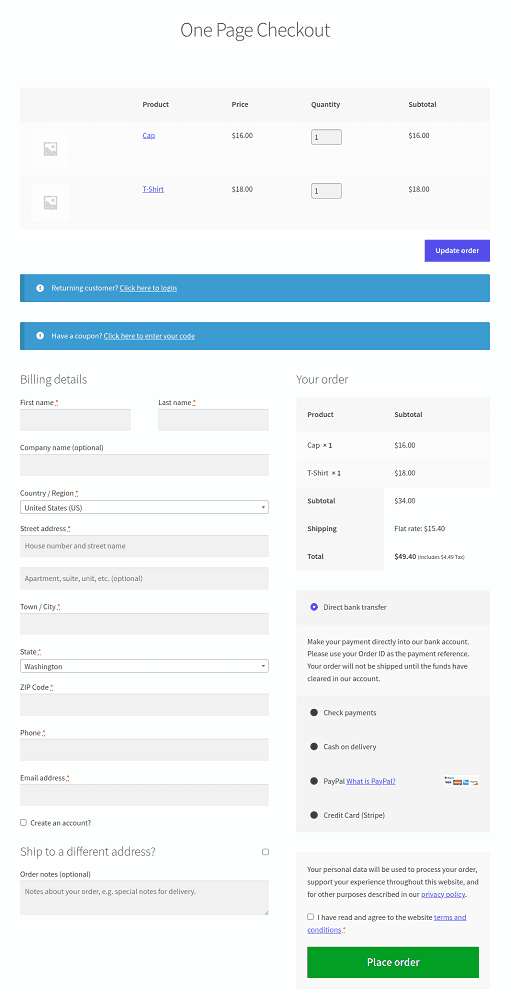 Other Cashier features:
– add/edit/remove default WooCommerce fields and custom fields.
Enable direct checkout and one-click checkout with quick Buy Now buttons/links.
Side cart to allow users review and modify their cart items without visiting product pages.
Automatic product recommendations to boost sales via cross-sells.
Cost of Goods Sold, Add to Cart Redirect, Cart Notice, Printing order invoices.
Pricing: $49
WooCommerce Product Table Lite
Would you like to create a product table on your WooCommerce store for free? If so, you must consider WooCommerce Product Table Lite. The plugin has 9000+ active installs on the WordPress repository.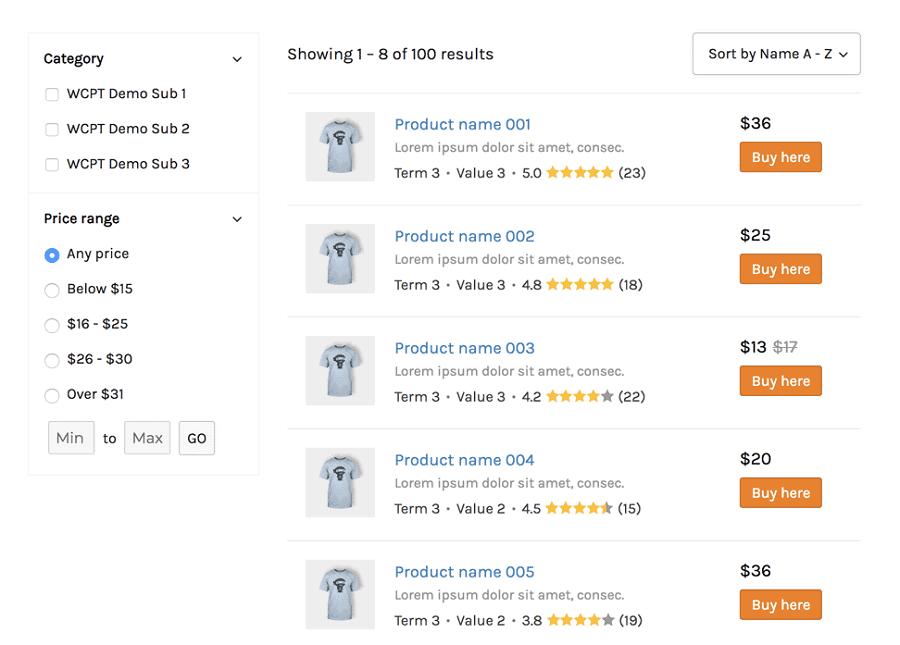 Features:
Create custom columns for product display.
Buy buttons on the product display page.
A dropdown table-building interface.
Display images in a lightbox.
Search, sort, and filter options to navigate with ease.
While the free version is good to use, it has its own share of limitations:
Manually creating each column for your product table is time consuming.
Need to create columns separately for mobile devices.
No import and export of tables.
Downlaod WooCommerce Product Table Lite
WooCommerce Product Table Pro
This is the Pro version of the WooCommerce Product Table Lite plugin. You can upgrade to the PRO if you liked the free plugin and are looking for some additional features.
Features:
Override the default WooCommerce grids with this archive override.
Add products to cart using a checkbox.
Column sorting arrows in the column headings.
Select product variation in the table using dropdown or radio buttons.
Duplication of tables without errors.
Create a button that allows you to download any type of file.
Pricing: $49
Get WooCommerce Product Table Pro plugin
WooCommerce Product Table
Interested in showcasing your products, allowing them to be sorted and searched by category, adding them to a shopping cart, and completing the purchase all on one page? Well, the WooCommerce Product Table plugin looks like it might fit your needs.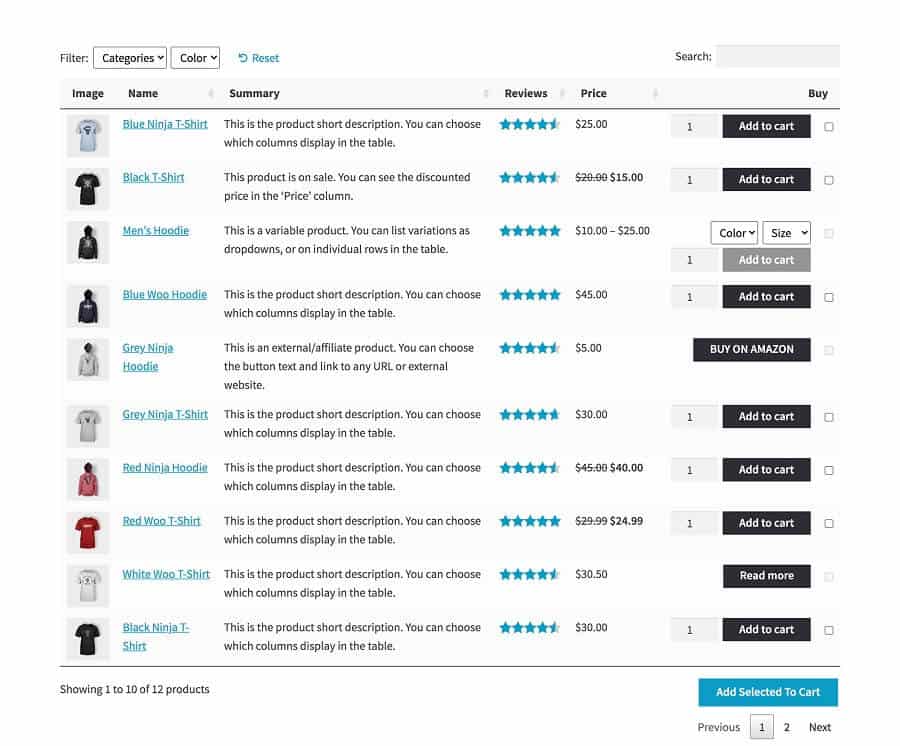 Features:
Create columns based on custom fields or choose from a variety of common column kinds.
Display images in a lightbox.
Include an Add to Cart button, as well as quantity and variation choices.
Automatically inherit styling from your theme.
List the products based on category, tag, date, custom taxonomy, or custom field value.
List products that the current user has ordered previously.
Pricing: $99
Get WooCommerce Product Table plugin
Woo Product Table
Woo Product Table is a freemium plugin on the WordPress repository with 8000+ active installs.
The plugin allows you to customize colors, headings, column labels, button text, and a whole lot more. This makes it easier for you to match and blend your product table with your site.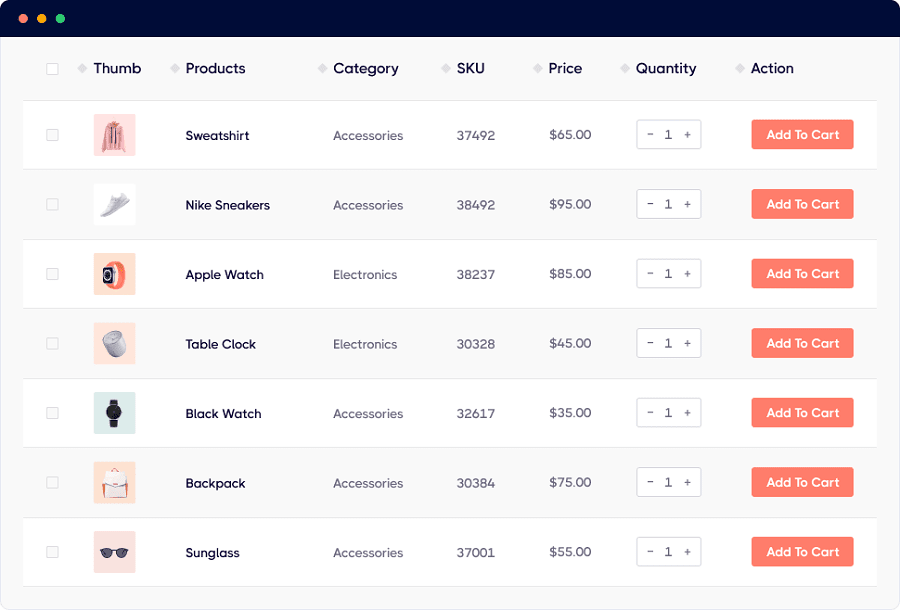 Features:
Make an audio player using your audio files.
Change the font size, color, and background of each column, among other things.
Column settings to override the shop layout.
All plugins for custom fields and taxonomies are supported.
From the custom post type, you can edit and customize the table's layout, column, and content.
Image display in a variable-wise lightbox.
Pricing: Free version on WordPress.org, Pro versions starts from $60.
Other WooCommerce product tables plugins
We also listed some more plugins you can have a check.
FAQs
Will I be able to export data from the WooCommerce product table plugin?
Yes, most WooCommerce product table plugins like Smart Manager allow you to export data from the table in various formats, such as CSV or Excel.
Where is the product table in WooCommerce?
By default, WooCommerce does not have a product table. You can use a plugin to add a product table to your site and display products in a tabular format on any page or post.
Can I import data back into WooCommerce using the CSV Importer and Exporter?
Yes, you can import data back into WooCommerce using the Smart Manager plugin. This plugin provides a spreadsheet-like interface that allows you to make bulk changes to your products, orders, customers, and other data, and then save those changes directly back to your WooCommerce store.
Conclusion
And that's a wrap!
Using product tables, customers can easily browse through your product portfolio, buy multiple products in one shot, thus giving you a higher conversion rate.
Each WooCommerce product table plugin mentioned in this blog has its own unique features. With more or less the same features, the plugins meet the end goal of providing your users with a smooth shopping experience.
We find all plugins good. So which plugin to choose is your decision based on your store requirements.
I hope you've enjoyed this article. If you have any questions, feel free to ask us in the comments below. We'll be happy to help.