Welcome to an in-depth article on WooCommerce checkout. Which's the best WooCommerce checkout type for your WooCommerce store; popular checkout improvement plugins, strategies to grow sales, you'll learn everything. So let's begin.
Same like what Apple was to Newton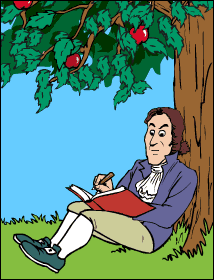 There, the hero was gravity (the pull force or attraction) that led to one of the biggest principle or laws on which today's world is built.
Similarly, in WooCommerce, it's the checkout process that pulls or gravitates visitors from buying stage to your paying customer database.
But standard WooCommerce checkout doesn't just cut it. Cumbersome form filling, confusing steps forces customers to leave the checkout immediately. We have to value our customer's time more than them.
To turnaround this scenario, it's mandated to modify the checkout page experience so that the user converts or passes through the purchase stage smoothly and hassle-free. It involves efforts but results yielded are very fruitful – more sales, potential leads, more customer loyalty and what not.
The five WooCommerce checkout types
So based on different type of products and pricing you offer, the WooCommerce checkout type will differ. We have categorized them into five Woocommerce Checkout page models for increased sales leads & revved online revenue.
Note – Checkout may differ for every niche. . It's purely your choice to identify the best one for your niche based on your analytics data.
1. WooCommerce One-Page Checkout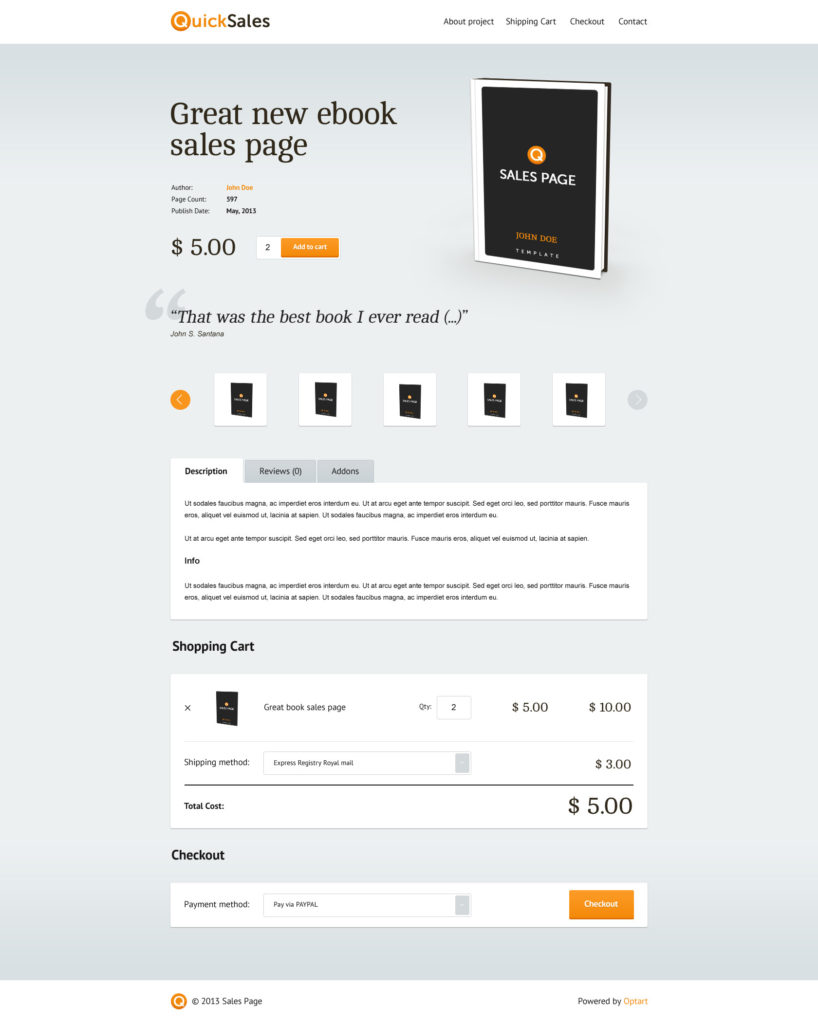 The WooCommerce one-page checkout or WooCommerce single page checkout process places the entire purchase process on a single page. Your product, cart, checkout form, payment details, all are on a single page.
This checkout is suitable for WooCommerce stores selling a single product, very expensive products, digital products having maximum of three or four pricing plans.
What's good
Low abandonment as everything on a single page
Increased sales
What's not good
A lot of clutter and clumsiness on the page
Too many fields on a single page result in slow speed and bad user experience
Can't be used in industries with multiple products categories
Best suited for these industries:
Digital products
Club Memberships
SEO services, web agencies
Hosting
Events, concerts
Popular WooCommerce One-Page checkout plugins
We have covered two renowned plugins for this page model:
Woocommerce One Page Checkout
WooCommerce One Page Checkout plugin displays product features and checkout on a single page which provides the user with an easy and seamless shopping experience. Customers can add or remove products from their cart and complete payment without leaving the page.
Pros
Simple code-free setup
Built-in & custom templates to suit your website
Cons
Rushes the consumer to purchase which can backfire at times
Pricing
Starts at $79
2. WooCommerce One-Click Checkout


WooCommerce One-Click Checkout It uses user's pre-filled data capture from previous sessions to make the purchase. In such a scenario, the payment information is not captured along with shipping details but extracted from predefined entries.
What's good
Instant checkout
No cart stage involved
Best for returning customers
What's not good
Doesn't factor in the modifications which may be necessitated due to change in billing or bank details
No re-confirmation before placing an order
Best suited for these industries:
Books
Literature
Health & Fitness
Medical
Photography
Travel & Tourism
Entertainment
Non-profit
Arts & Craft
Designs
The reason behind mentioning the above niches is because in such cases, the user is almost absolutely sure about what he needs. Hence, 1-click checkout is the optimum choice.
Popular WooCommerce One-Click Checkout plugins
We got one plugin in this category:
WooCommerce Buy Now
Based on Amazon's 1-click purchase model, WooCommerce Buy Now from StoreApps is the original and successful one-click checkout plugin that skips the cart and jumps to checkout.
You can enable 'Buy Now' for the entire store or create special buy now links for products of your choice. You can even embed coupons, choose shipping and redirect to a page of your choice with Buy Now links.
Pros
Works for both guests and logged-in users
Can complete the payment also in just one click for customers with at least one previous order.
Enables users create one-click up-sells in conjunction with Smart Offers
Cons
Not suitable for stores who need multiple checkout steps
Pricing
$49/year for single site; includes free support
Get WooCommerce Buy Now
3. WooCommerce Direct Checkout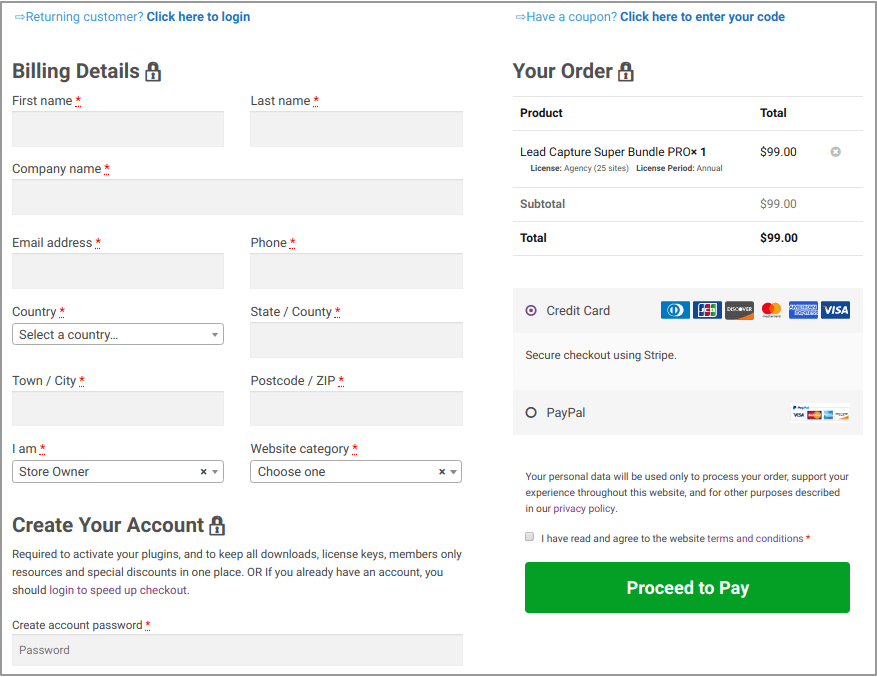 Our third checkout page model is the WooCommerce Direct Checkout. Here, the user directly enters the checkout stage bypassing the cart entries. Unlike one-click checkout, it neither pre-fill entries from previous orders, nor completes a one-click purchase for repeat orders.
What's good
Great from a user experience point of view due to faster checkout process
Faster order processing
What's not good
Loss of data collection stage which gets diluted due to a direct landing on the checkout stage
Not compatible with multi-stage products feature settings
Best suited for these industries:
Digital products
Jewellery
Music
Networking
Home & Decor
Bookings
Health & Fitness
Btw…the same niches where WooCommmerce Direct Checkout is applicable can also opt for WooCommerce One-Click checkout and vice-versa.
Popular plugins to use for direct checkout
We have covered one very renowned plugin here:
WooCommerce Direct Checkout PRO
Using WooCommerce Direct Checkout Pro plugin, you can skip shopping cart page and implement add to cart button redirect to checkout page with more options and product based, leading to an immediate increase in sales.
Pros
Added individual settings and "Additional Button" options for products
Implement 'Add to Cart' button redirect to checkout page pattern based on global settings
Cons
Securing the payment process is a detrimental factor in this plugin as the payment happens at a single stage of the process.
Although the market considers it an ideal gateway, direct checkout may turn off the consumer due to less scrutiny during the buying stages.
Pricing
Starts at $39.
4. WooCommerce Multistep Checkout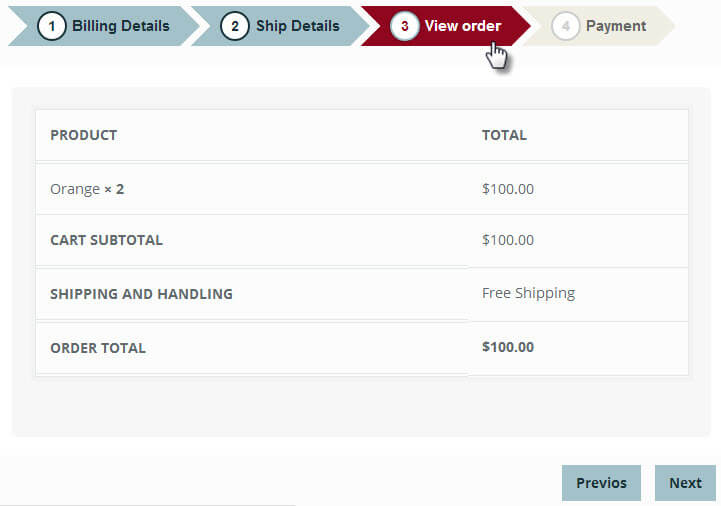 The fourth checkout type is the most common and used by many – WooCommerce multistep checkout. In this WooCommerce page model, there are multiple pages to gather product level data and shipping/payment details. The user is provided with varied options in terms of categories, product features, and payment methods.
What's good
The user is assured of drilling down to the minutest details during product purchase to guarantee a fulfilled experience.
User can easily navigate between multiple steps to re-confirm details or stay assured.
What's not good
Has more abandonment rates compared to other checkout types.
Understanding analytics for this stages for improvement is a complex task.
Consumes lot of user's time
Best suited for these industries:
Electronics
Clothing & Fashion
Babies & Kids
Retail/FMCG/Grocery
Food & Beverages
Hospitality
Finance & Banking
Manufacturing
Popular plugins to use for Multi-page checkout
We got two very popular plugins under this category:
ARG Multistep checkout
ARG Multistep checkout plugin is a top rated, fast and reliable multi-step checkout plugin. You can achieve a better user experience by dividing the most important elements of the default WooCommerce checkout process.
Pros
Compatible with all the WooCommerce and WordPress based themes
Cross browser compatible, fully customizable and fully responsive.
Cons
Not compatible with higher versions of WordPress. Need updates.
Need coding experience to handle bugs
Pricing
$19
WooCommerce Product Table
WooCommerce Product Table plugin lets you add product tables anywhere across your site. You can include shopping attributes like ID, SKU, product name, description, reviews, stock level, product categories, product tags, product attributes, price, variations, and add to cart buttons.
Pros
List products in searchable, filtered stack
Quick order forms for restaurants, wholesale dealers etc.
Display variable product option efficiently
Cons
Can slow down the website speed due to bulk loading of item options
Can hamper the user decision-making process due to bulk choices
Pricing
Starts at $99/year
5. WooCommerce Custom Checkout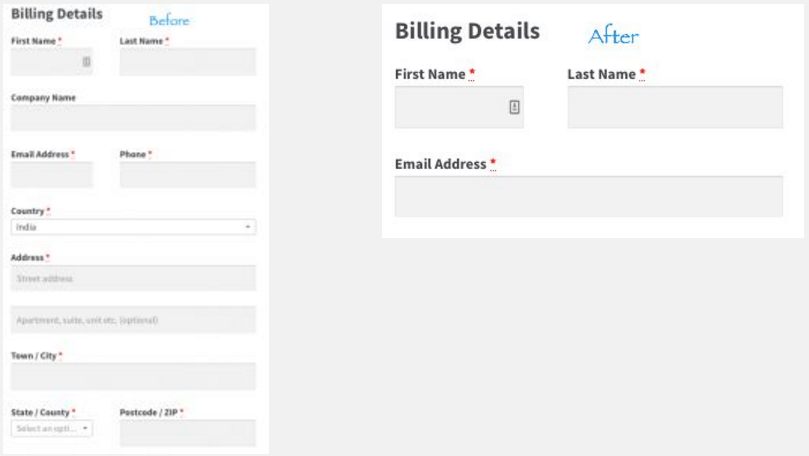 Here, you are playing with the existing WooCommerce checkout and modifying fields based on your needs.
Custom checkout eliminates the non-priority fields and re-organizes the prime fields at the top so you deal with only which is important from a user point of view.
It's better to conduct A/B testing on fields before finalizing on the correct format.
What's good
User can add or remove fields based on his choice
Flexibility to modify parameters like logo, fonts, colors, links, etc.
What's not good
Requires coding knowledge
Wrong field placements or missing fields can backfire at times
Best suited for these industries:
Services
Ebooks, music albums
Digital goods
Popular plugins to use for custom checkout
In this model type, we have covered two plugins:
Express Checkout For Virtual And Downloadable Products For WooCommerce
Woocommerce Express Checkout for Virtual and Downloadable Products eliminates the unnecessary details section for virtual and downloadable products(related to shipping and billing) & ensures a quick and smooth checkout process for the customers.
Pros
Gives you the option to choose what parameters you see on your checkout page and what you don't
Faster checkouts due to short forms
Cons
Doesn't provide option to modify checkout fields other than shipping.
Pricing
$39 onwards
Checkout Field Editor (Checkout Manager) for WooCommerce
Checkout Field Editor plugin provides an easy way to customize (add, edit, delete and change display order) your fields displayed on WooCommerce checkout page.
Pros
No coding required
Easy install / customizable features for fields
Cons
Difficult to gauge the impact of conversions on page elements.
Need a thorough funnel study as to what caused the fluctuations in results.
Pricing
$39 onwards
All your niches and their corresponding checkout type at one place
Based on what products inventory you offer, your store size, options like shipping, payment gateways, your statistics on current checkout behavior, etc. you should opt for any one of these five checkouts.
Here's the summary of all together in a table.
More than one type of checkout will be applicable for a particular niche. Select the best based on your needs.
| One-Page Checkout | One-Click Checkout | Direct Checkout | Multistep Checkout | Custom Checkout |
| --- | --- | --- | --- | --- |
| Digital products | Books | Digital products | Electronics | Services |
| Club Memberships | Literature | Jewellery | Clothing & Fashion | Ebooks |
| SEO services | Health & Fitness | Music | Retail/FMCG/Grocery | Music |
| Hosting | Medical | Networking | Food & Beverages | Digital goods |
| Web Consultancies | Photography | Home & Decor | Hotels, Hospitality | |
| Events | Travel & Tourism | Bookings | Finance | |
| Concerts | Entertainment | Sports | Banking | |
| | Non-profit | Designing | Manufacturing | |
| | Arts & Craft | | Babies & Kids | |
| | Designing | | | |
How to measure the success rate of each checkout?
Just a basic formula.
Divide the number of unique pageviews of the thankyou page by the number of people who have viewed the checkout.
For example, unique views = 5885/9900 reveals the checkout success rate of 59%.
Finally, some strategies to increase sales before and after checkout
Getting the right checkout is not the only requirement to get sales. It all depends on how you keep the user engaged before and after checkout. So here are some strategies to encourage users to get pass the product stage and pay more after completing purchase.
Before payment/checkout strategies
Users tend to convert only if they are offered an assurance of quality, trust & long term bonhomie.
Below are some time-tested tricks to affect sales before a purchase:
List offers/deals/coupons – Promoting a value-added feature in form of deals can induce loyalty and long term value.
Testimonials – Listing testimonials, case studies, reviews and ratings on product page imparts rapport and trust.
On-sale top items – Projecting supplemental products on cart page will spur extra views on website pages and may affect more sales.
Option for guest checkout – User who gets bored with the drudgery of filling long fields can directly go to checkout using a Guest account wherein details are covered at later stages.
Free shipping – There is nothing such as FREE lunch is most common adage but in e-commerce, we can use this to advantage. FREE word is a common ploy wherein user is enticed to BUY due to value addition at buy stage.
Pros of this strategies
Value addition on order
More revenue / order value
Cons of this strategies
More of push marketing strategy
Acquiring personal details at this stage can put off the consumer
After payment/checkout strategies
Happy with the sale? You shouldn't be as you can still upsell or cross-sell after the payment is finalized. Some of the post-purchase promotion strategies are listed below:
Display similar products – Display discounted or hot selling items just after the purchase. One-click upsell is your best bet at this stage.
Refer a friend/ Share on Social media – A satisfied user is an asset and can spread the cheer to others.
Feedback/Suggestions – You can never gauge the user happiness index even after purchase, there can be certain whims. So keep options open to vent their opinion by way of comments/suggestions.
Retargeting Ads – A user leaving the purchase funnel halfway can be targeted again using retargeting advertising method by sending personalized email campaigns.
Pros of this strategies
Option to get a return purchase from the user if he saves
Upsell of similar products in category
Extra revenue generation/sales orders
Cons of this strategies
The user may avoid it after the payment is affected
Low user attention span at this stage of the purchase
Summing up…which checkout you choose?
For a seamless and structured checkout functionality, adopt checkout optimization measures which will help your online store reap rewards in the long term. Whether opting for a single or multi-page or customized checkout, ensure that it suits the needs of your industry and your customers.
Third party plugins come in handy to gather steam and engagement and can help push the value chain up further. Select the one that best suits your budget and specifications.
How valuable you found this article? Did we miss any industry or checkout type? Have any case study to share? Do let us know in the comments section below.