This is not another article that covers how to create a WooCommerce variable product.
But, what lies beyond it. Default WooCommerce falls short in managing variable products or WooCommerce product variations.
So, here we will be covering some plugins that help both store owners and their customers, how they can save time, get free from stress, do tasks speedily and boost sales while managing WooCommerce variable products.
Keep reading further if you want to boost your store productivity.
10 plugins to manage WooCommerce variable products / WooCommerce product variations
Some of these plugins are helpful for store owners, some of them for your customers. Let's look at the popular ones with their features and pricing.
Smart Manager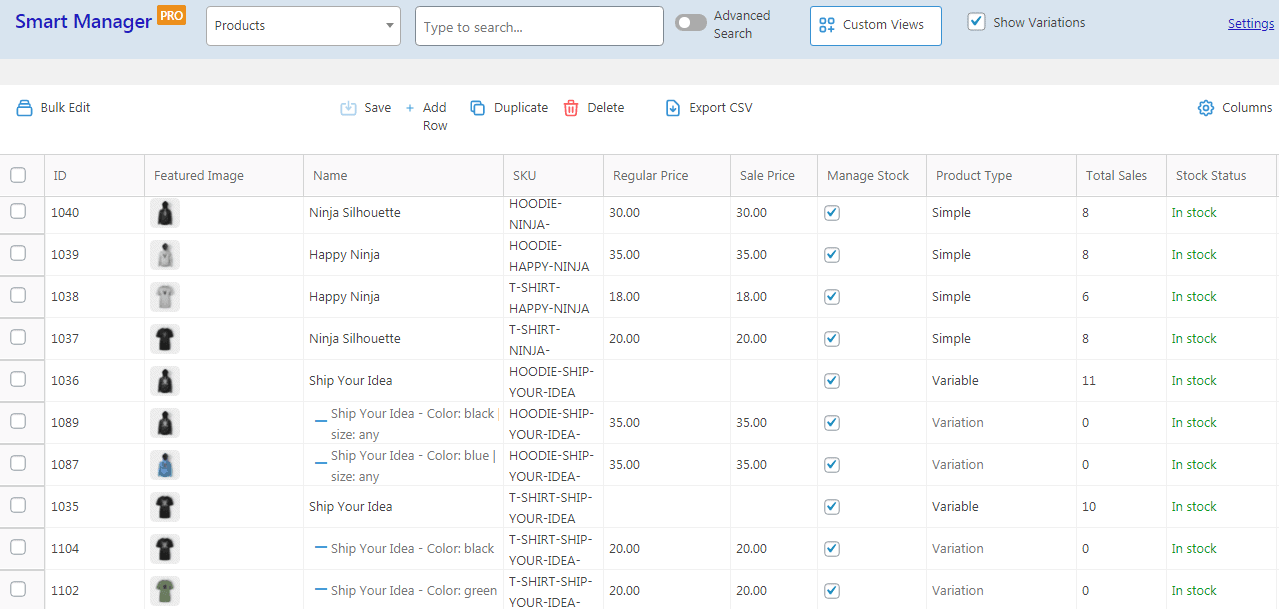 Smart Manager for WooCommerce and WordPress is a popular, premium plugin that helps you manage your entire store 10x faster, using an Excel-like spreadsheet.
Products, orders, posts, coupons, users, any WordPress post type, you can manage them all.
What makes it stand out are its features like bulk edit, inline edit, advanced search, export CSV to manage variable products / product variations.
Top features:
View and manage product variations from one place
Directly add as many variable products and product variations as you want
Inline edit (make an edit directly) any product sale price, regular price, description, etc.
Manage backorders, inventory, set stock status and quantity
Bulk edit products – price, categories, attributes, inventory and all other product related fields. Also bulk edit custom fields. View list of all fields you can bulk edit for products.
Apply filters and make an edit to your products
Export variable products data as CSV
Sort products based on pricing
Manage media directly – add, delete 'Product Gallery Images'
Create Excel-like custom views or segmented views for all post types
and a lot more…
Pricing: Free version on WordPress.org, premium version for $149
Bulk Variations Manager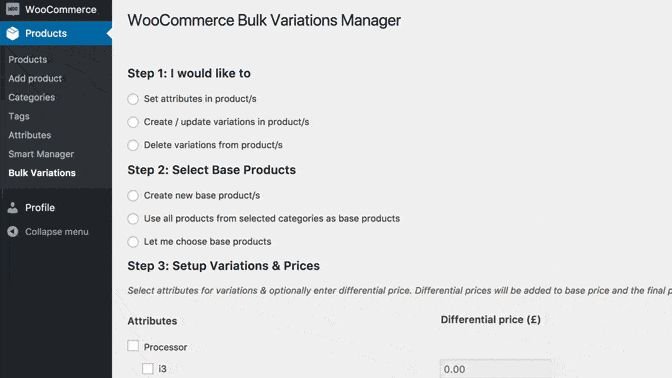 Bulk Variations Manager for WooCommerce plugin helps you create thousands of product variations in bulk at once. And set a differential price based on attributes.
Top features:
Add a bunch of variations to multiple products using product attributes.
Create new variable products and add many variants to them in bulk. Add to an existing product or to all products in a category.
Add, update and delete hundred, five hundred or even thousands of product variations from one simple form.
Set base price and differential price. The plugin will automatically calculate the final price for each product variant and update them automatically.
For example, set the base price of a t-shirt to $12, keep the same price for Small size but add $2 for Medium, add $4 for Large size. Reduce $1 for white color.
Bulk delete variations from products
Pricing: $49
Get Bulk Variations Manager plugin
WooCommerce Update Variations in Cart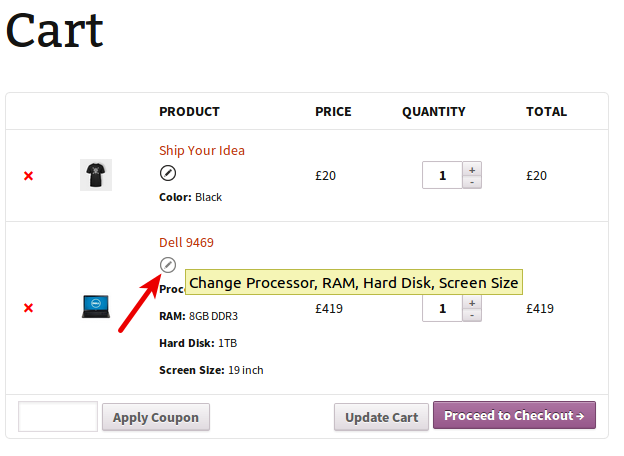 This WooCommerce cart plugin allows users to change and update product variations based on attributes (color, size, weight, etc) directly from the cart without disrupting the user flow. Update cart with ajax, no page reload.
Top features:
Install and activate the plugin and all existing products & newly created variable products will automatically be enabled with the feature to change variation in cart.
Option to change the text for the 'Change' variation link. 'Update Variation', 'Change Variation'…keep whatever you feel like.
Your users can change variations for multiple / unlimited products on the cart page in one go. Select variants, click on Update. The changes will be automatically reflected along with the change in price if any.
Have created custom product attributes for unique products? Your user can change that too from the cart page for that product.
If a user has added any subscription product variant and wants to update it; like update from a single year subscription license to five years license, the user can do it from the cart itself.
Pricing: $29
Get Update Variations in Cart plugin
WooCommerce Sold Individually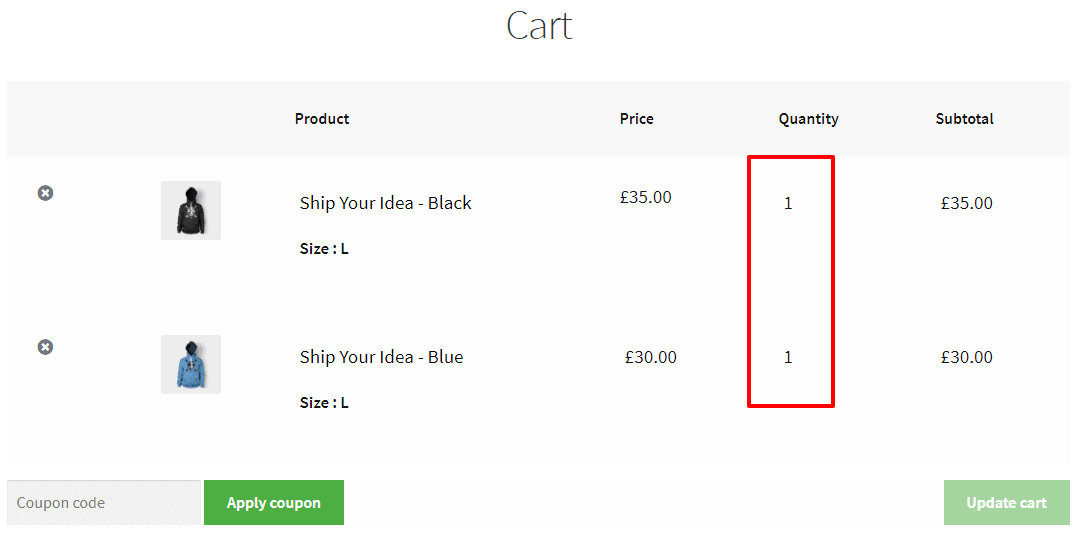 WooCommerce Sold Individually plugin lets you sell only one quantity of a product in an order. This is to maintain exclusivity, avoid going out of stock early and also enable more new users to grab the product.
The plugin also allows you to buy multiple products in one order but again, the quantity will be one.
Consider, for example, you sell a variable product named Ship Your Idea in black and blue color variants respectively. Then your customers can add only one quantity of each variant in one order. That means, one blue and one black color Hoodie in a single order but not two quantities of either blue or black.
Pricing: $19
Variation Swatches for WooCommerce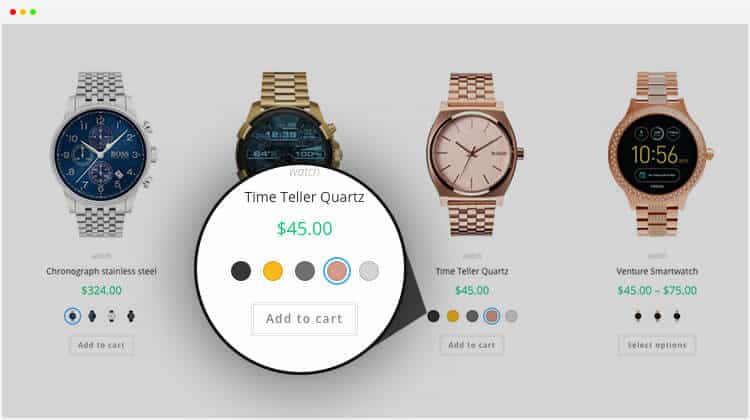 The most popular swatches plugin on WordPress with 100000+ active installs. It offers an aesthetic and professional experience to select attributes for variation products. It turns the product variation select options fields into radio images, colors, and labels. So, you can say goodbye to dropdown product attribute fields.
Top features:
Auto convert dropdown into image swatches if variation has a featured image set
Display swatch in catalog / archive page
Dual color variation swatches
Display single selected attribute on shop page
Set MORE link To align attribute variation swatches
Change Product Gallery Image selecting only color variation Like Amazon and AliExpress (Or selected variation)
Generate variation link
Product-based swatch customization
Pricing: Free version on WordPress.org, premium versions from $49
Get this Variation Swatches plugin
Variation Swatches and Photos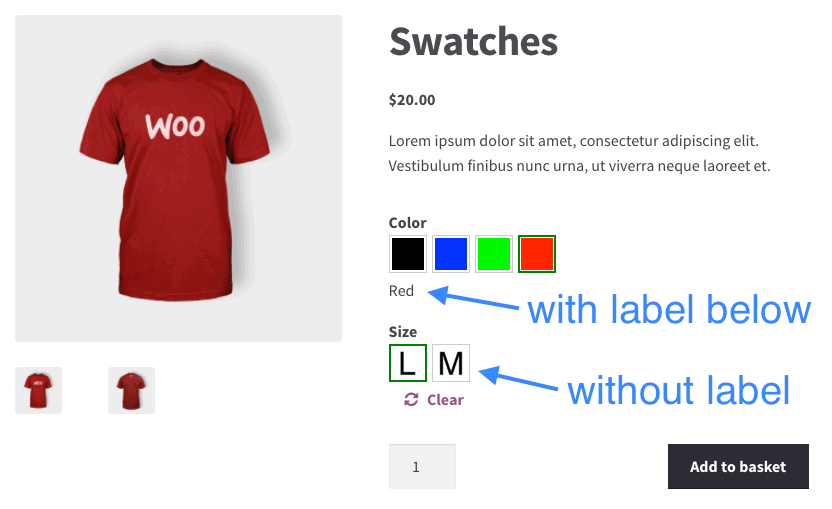 WooCommerce Variation Swatches and Photos plugin allows you to show colors and photos as alternatives to dropdowns for variations of variable products.
Using color and image swatches provides a much nicer way to display variations of a product, available styles, available sizes, or pretty much anything else you can display using an image or color.
The admin interface allows you to define colors and images at attribute level or product level.
Pricing: $99
Get Variation Swatches and Photos plugin
Variation Swatches for WooCommerce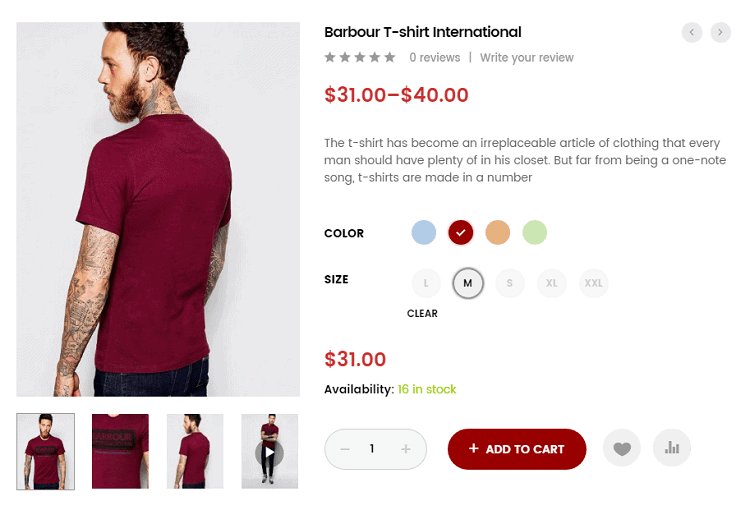 Another popular plugin on WordPress with 60000+ active installs. This plugin will help you select style for each attribute like color, image or label. With this plugin, you can present product colors, sizes, styles and many things in a better way which is not supported by WooCommerce.
This plugin only adds more options to show product variations with swatches. It doesn't touch the default drop-down style of WooCommerce.
Top features:
Completely integrate with WooCommerce plugin
Works on variable product only
Create attribute color swatches
Create attribute image swatches
Create attribute label / text swatches
Manage attribute globally
Create new attribute swatch in product editing page
Pricing: Free version on WordPress.org
Get this Variation Swatches plugin
WooSwatches – WooCommerce Color or Image Variation Swatches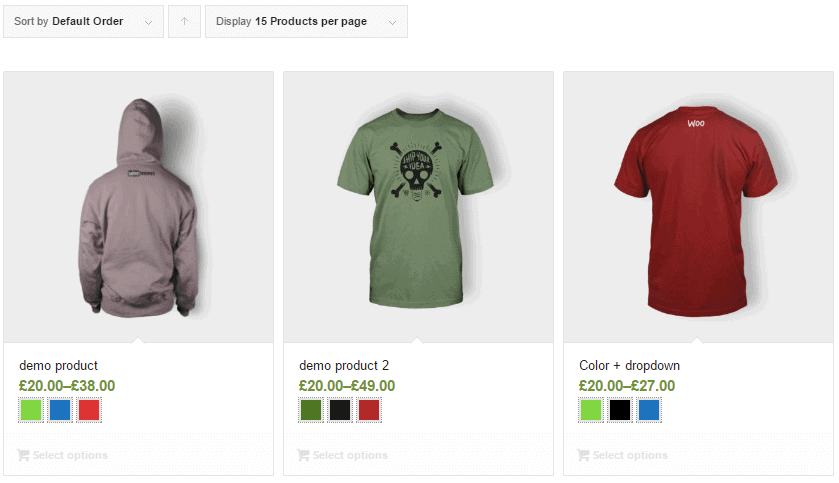 Best-selling WooCommerce variation swatches plugin on CodeCanyon. Convert your normal variable attribute dropdown select to nicely looking color or image select.
Top features:
Supports color / image / text variation swatches and dropdown select
Woocommerce improved variable product attributes and attribute swatches
Global color or image values for attributes
Inbuilt color / image product filter.
Works on mobile devices
Different sizes of swatch from small to large
Square as well as round swatch support
Option to display option name below swatch
Show selected option name on single product page
Shows color or image swatches on shop / category / tag archive pages
Inbuilt direct variation link feature
Slider for shop swatches if swatches number is higher than set value
Pricing: $19
Improved Product Options for WooCommerce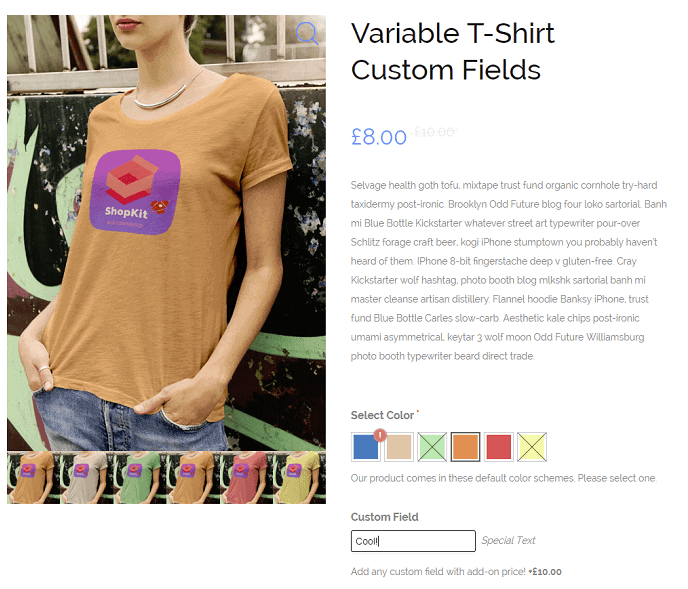 Improved Variable Product Attributes for WooCommerce is a plugin on CodeCanyon that improves attributes selection in your shop. Set up your shop attribute styles and never show the Out of stock option. Use text, HTML, images or color to show product variation selectors to your customers.
Top features:
Force users to always get the Add to cart button
AJAX add to cart support for variable products within the product archives
Add custom product options
Product backorder notification support
Override as many attributes and their terms as you have in your shop. Select one of the available Attribute styles (text, thumbnail, color or HTML), set a customization for each term, override attribute name and add attribute descriptions.
Reorder your shop attributes on the single page. Use the drag and drop customization manager to customize your attributes.
WPML support
Pricing: $24
Get Improved Product Options plugin
YITH WooCommerce Color And Label Variations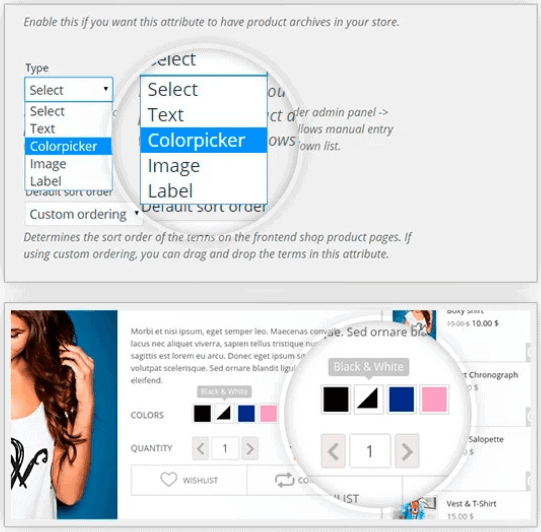 YITH WooCommerce Color and Label Variations allow you to replace standard WooCommerce selects with icons, custom images and dynamic labels. The plugin is extremely versatile and adapts to any type of product.
Top features:
Select a color picker for each variation
Create an image attribute
Different image gallery per variation
Add a tooltip to your attributes
Create a description attribute
Show variations also on the Shop page
Update the product image in a dynamic way
Enhance the "Additional information" tab
Create a custom label
Show single variations on archive page
Pricing: Free version on WordPress.org, paid version for $90
Get this Color And Label Variations plugin
Conclusion
So, we have covered the best, most popular and highly rated WooCommerce variable products plugin.
And yes, these are not limited to variation swatches but also related to the management of product variations.
Pick your choice wisely.
Have more plugins you feel should get added to the list? Drop a comment below.