Bookkeeping is the essence of any online business.
QuickBooks is a highly-trusted solution for this purpose.
And if you are using WooCommerce, integrating QuickBooks with your store will streamline the process of managing your finances, eliminate manual data entry, and avoid errors; all in real-time.
So in this article, we'll see how to automate your accounting by connecting WooCommerce and QuickBooks online using the most popular plugin.
WooCommerce QuickBooks plugins and integration types
QuickBooks is an easy-to-use accounting platform. But, you cannot integrate it with WooCommerce directly.
Intuit, the brand behind QuickBooks provides a native connector, but there are also some third-party integrations available.
All these WooCommerce Quickbooks plugins help you sync data either via one-way data transfer or via two-way data sync.
One-way data transfer
For WooCommerce businesses on a budget who are comfortable with manual data entry, a one-way transfer of WooCommerce orders to QuickBooks can provide basic information on sales, expenses, and income.
However, it can become challenging to manage as your business grows. To ensure long-term scalability, it is recommended to go for a two-way data sync.
Zapier offers one-way data transfer.
Two-way data sync
A two-way data sync plugin offers a seamless transfer of data between WooCommerce and QuickBooks, and vice versa.
This option is ideal for businesses seeking real-time updates for product information, inventory levels, customer details, and order data on both platforms.
Though a bit expensive, a two-way sync plugin provides scalability for future growth and minimizes the need for manual data entry.
Here are the popular plugins for a two-way data sync:
Integrating WooCommerce with Quickbooks the easy way
QuickBooks Sync for WooCommerce plugin is a very popular plugin to sync your WooCommerce and QuickBooks data.
The plugin adds a direct connection from your WooCommerce store to QuickBooks, bringing a full-featured customer, order, payment, product, inventory, and pricing sync to your platform in one robust extension.
It's also compatible with QuickBooks Online, Desktop and POS.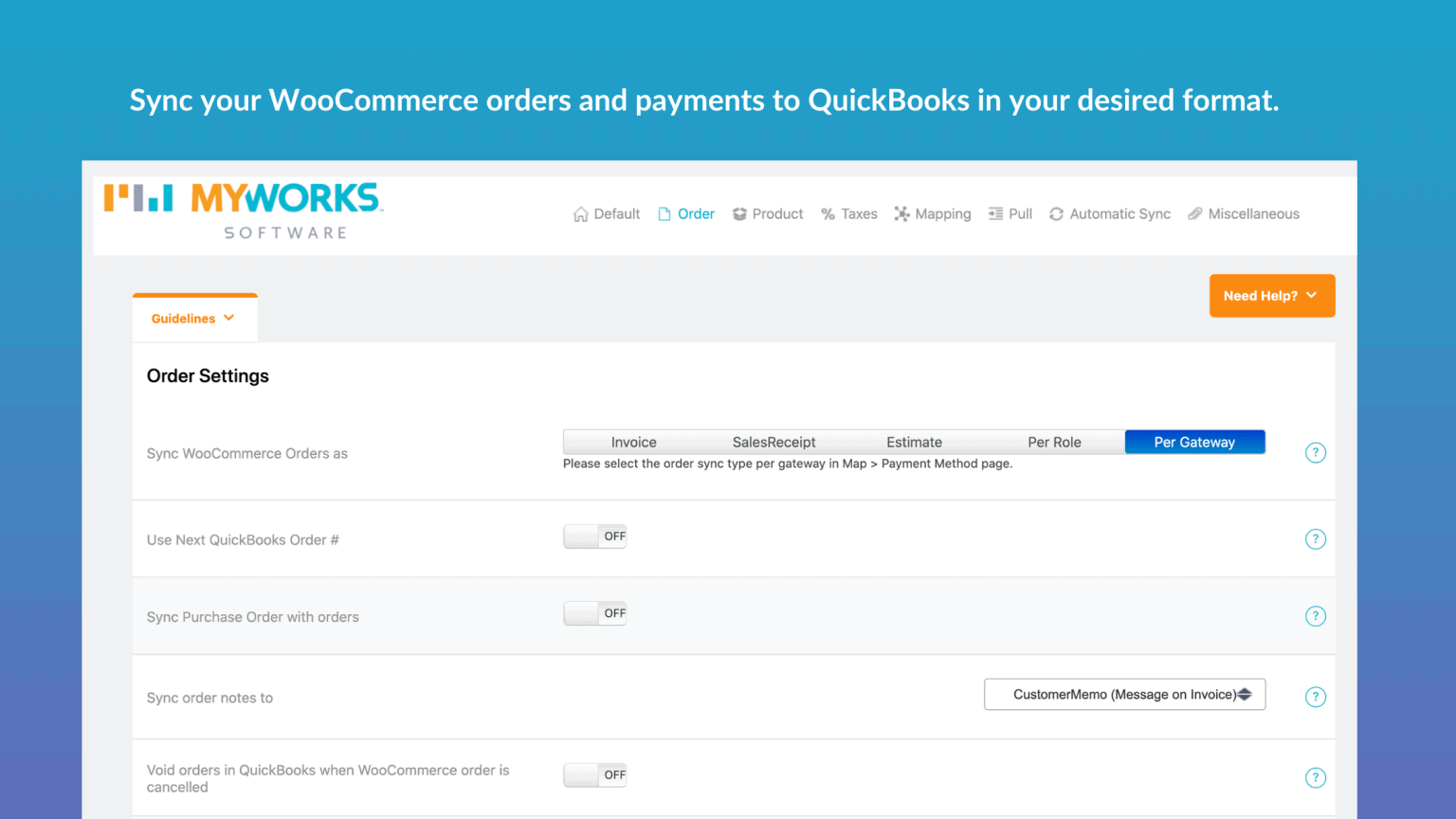 Img src – WooCommerce.com
Steps to integrate WooCommerce and QuickBooks Sync
It's a free plugin and is actively used by 10000+ WooCommerce sites. But you would need a free or paid account with MyWorks for integration services.
Installation
Download the plugin, install and activate it.
You would see a new menu on your WordPress admin called MyWorks Sync.
Connecting to QuickBooks
Go to the Connection tab in the MyWorks Sync section of your WordPress admin.
Enter your MyWorks license key from your account.
Click the Connect to QuickBooks button.
Sign into QuickBooks and select the company you want to connect to.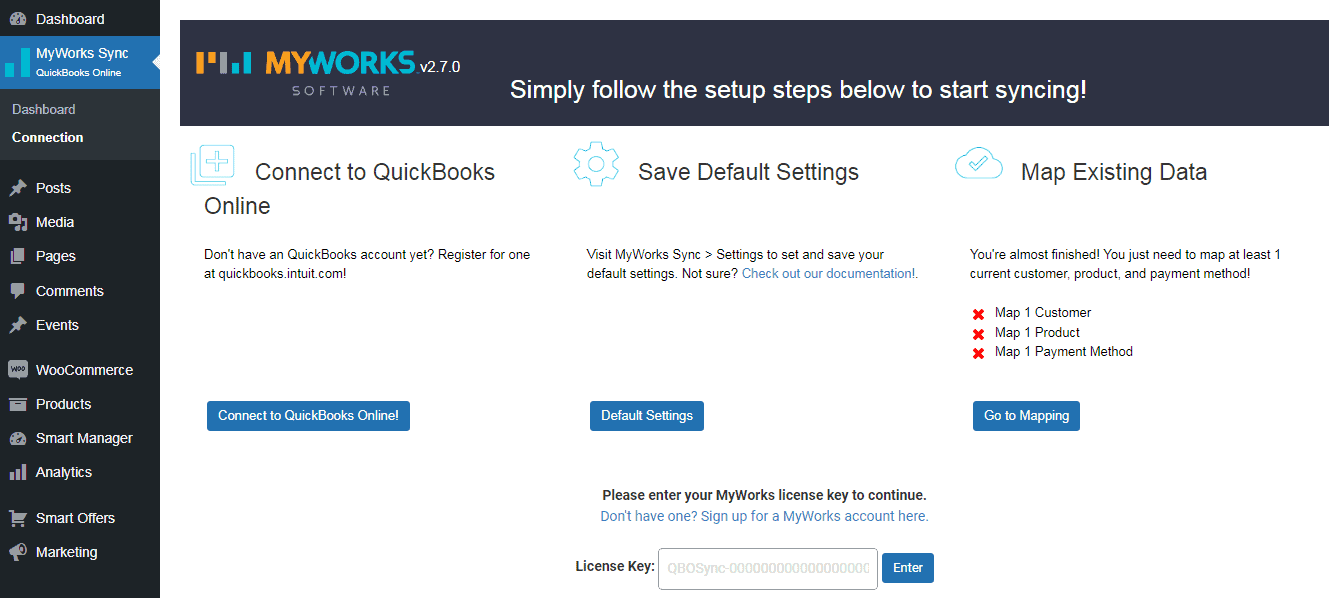 You're now connected! Your QuickBooks will remain connected until you disconnect the app from your company.
Default settings
These settings control the data transfer between WooCommerce and QuickBooks.
Go to your WordPress admin > MyWorks Sync > Settings. Choose whether to sync orders as invoices or sales receipts.
Review the optional settings to further customize the data syncing process.
Under MyWorks Sync > Settings > Automatic Sync, control which new data is automatically synced in each direction. Note: these switches do not impact the syncing of existing data.
Map existing data
With MyWorks sync mappings, you have control over the linking of your WooCommerce and QuickBooks data. Under MyWorks Sync > Map, view and manage your customer, product, payment, and tax mappings to guarantee accurate data transfer.
During the setup process, only the data that is already present in both WooCommerce and QuickBooks is mapped together. If a customer or product is only on one platform, it is not necessary to map it. You can add the mapping at a later time.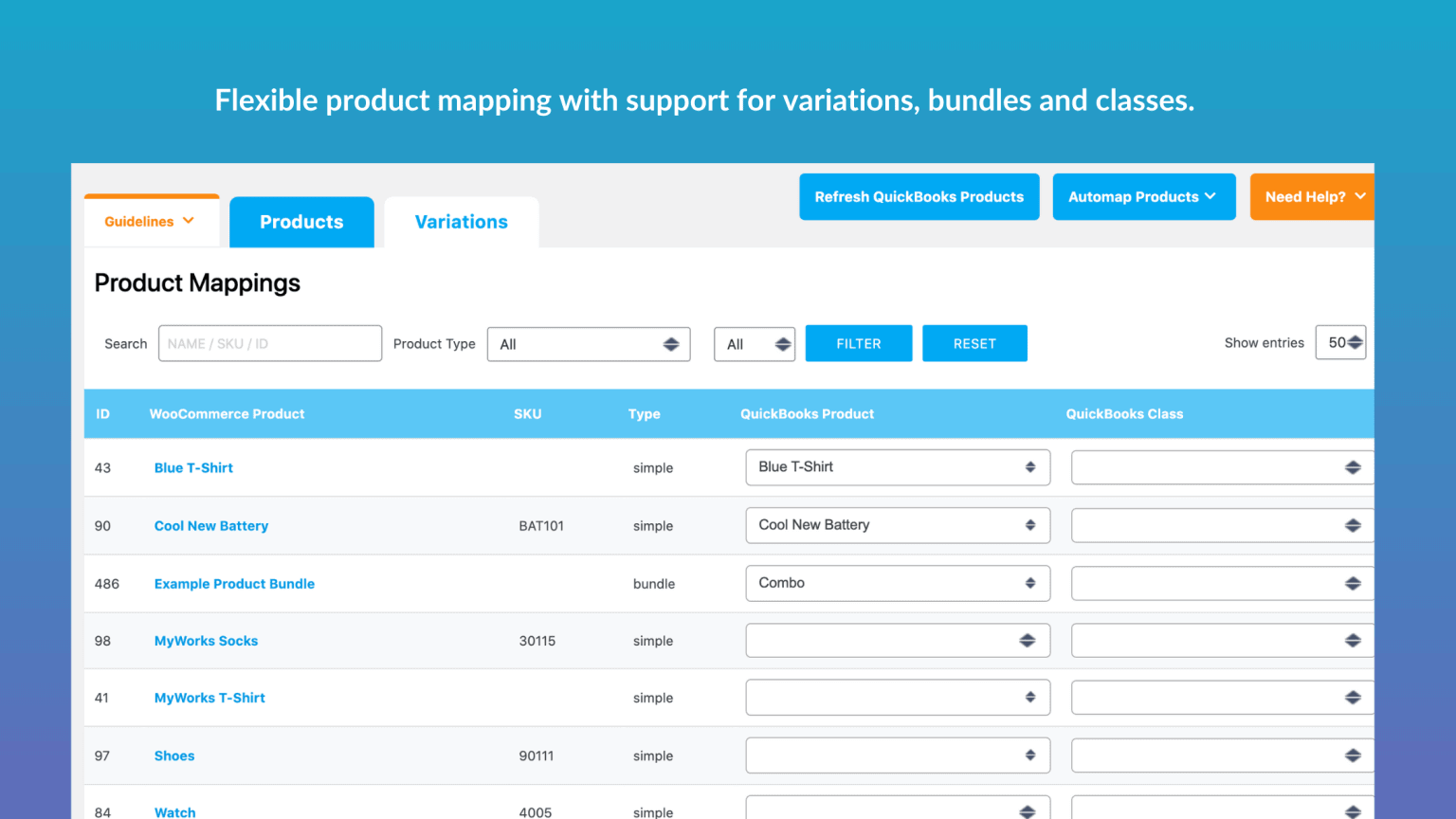 Under MyWorks Sync > Map, map customers existing in both WooCommerce and QuickBooks. Match them manually or use the AutoMap tool to match them automatically if their name, company name, or email matches between systems.
Under MyWorks Sync > Map > Products, map products existing in both WooCommerce and QuickBooks. Match them manually or use the AutoMap tool to match them automatically if their name or SKU matches between systems.
Under MyWorks Sync > Map > Payment Methods, select a QuickBooks payment method and bank account for each WooCommerce payment gateway. This is to determine which QuickBooks bank account we sync an order to.
Under MyWorks Sync > Map > Tax, map tax rates only if you're charging tax. Note – If you don't see this section in spite of managing taxes, you have Automated Sales Tax enabled in QuickBooks, and no mapping is necessary.
That's it. Your sync is now fully set up, and new data will automatically sync with QuickBooks.
For more details, refer to this documentation.
Benefits of using QuickBooks Sync for WooCommerce
Automated accounting
Data is in sync automatically – as often as every 5 minutes.
Sync your WooCommerce orders and payments in your desired format – invoice, sales receipt, sales order or estimate.
Completely customize how orders sync – order notes, discounts, transaction fees…
Support for 25+ popular WooCommerce extensions – Smart Coupons, WooCommerce Memberships, WooCommerce Multi-Currency
Supports all WooCommerce payment gateways
Flexible customer + product mapping
Final words
QuickBooks Sync plugin makes it easier to keep track of your sales, inventory, and customer data, so you can focus on growing your business, rather than managing manual processes.
Download the plugin, integrate by following the steps above and share your experience.