Most of the WooCommerce plugins out there provide you the functionality to import products. Some of them also provide you the option to export. If not, you have to use two different plugins to import and export products.
But what if I say you could not only import products but also import orders, coupons, users, pages, any WordPress post type using a plugin?
The best part, the same plugin also allows you to export products, orders, coupons, any WordPress post type!
In this article, we'll show how to add hundreds and thousands of products and other post types to your online store in record time, using a CSV file.
Why do you need tools to import products?
If you are setting up a new WooCommerce store or migrating from one to another, adding products one by one is the last thing you want to do. Product images, prices, stock, metadata and other crucial information must be exported and then imported. You miss any and the entire thing goes into jeopardy.
But by importing your products as a CSV file, you save a considerable amount of time while ensuring consistency by reducing the possibility for human error.
Now, there are two ways to go about import – either use the WooCommerce built-in product CSV importer or install a third-party plugin. Both of these options are easy and quick to import products to WooCommerce, with the only difference being some added features in the plugin.
Import using default WooCommerce
WooCommerce has a built-in product CSV Importer and Exporter.
Import, export, or update hundreds or thousands of products in your WooCommerce store with a single CSV. This tool supports most product types, including variations. But you cannot import product custom fields.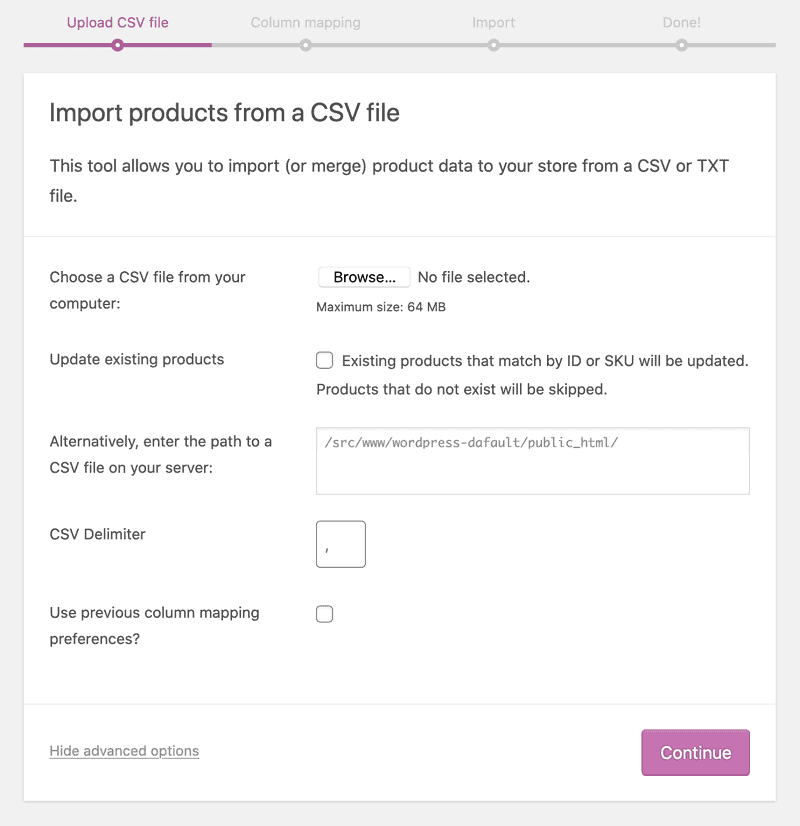 First, create a CSV. That can be created by using the export functionality. Use the CSV to add new products with one upload.
There's nice documentation for the same. You get all the steps, CSV guidelines, image guidelines and other important data to import products in the documentation.
Import using third-party import plugins
The third-party plugins go a step beyond the built-in WooCommerce import-export. We'll talk about two plugins here:
Product CSV Import Suite by WooCommerce team
Smart Manager by StoreApps (official WooCommerce extensions developers)
Let's talk about these plugins in more detail.
Product CSV Import Suite
Product CSV Import Suite, developed by WooCommerce lets you import thousands of products and supports complex products and custom data from Bookings, Product Vendors, Brands, Google Product Feed and more.
The plugin allows you to create, upload or update thousands of products at once, including complex products. You can mass update standard items like price and description, along with custom data like appointment availability, resources and more.
The plugin is compatible with WooCommerce Subscriptions, WooCommerce Bookings, Product Vendors and other extensions. This allows you to import product details for these plugins as well.
You can import information into any custom taxonomies, so you can add or update all the data about your products. The plugin also allows you to export all your store data or some of it.
At $49, this plugin is a good addition to your store.
Get Product CSV Import Suite plugin
Smart Manager – the best WooCommerce import plugin?
Smart Manager allows you to import and export all your products data using a CSV. Not just products, but you can also
This means you can also import data for your subscriptions, bookings, memberships, product vendors, brands, product add-ons and others.
Once imported, you can manage all these using an Excel-like spreadsheet. Make edits directly, bulk edit, use advanced search to make edits, add and delete, duplicate them and a lot more.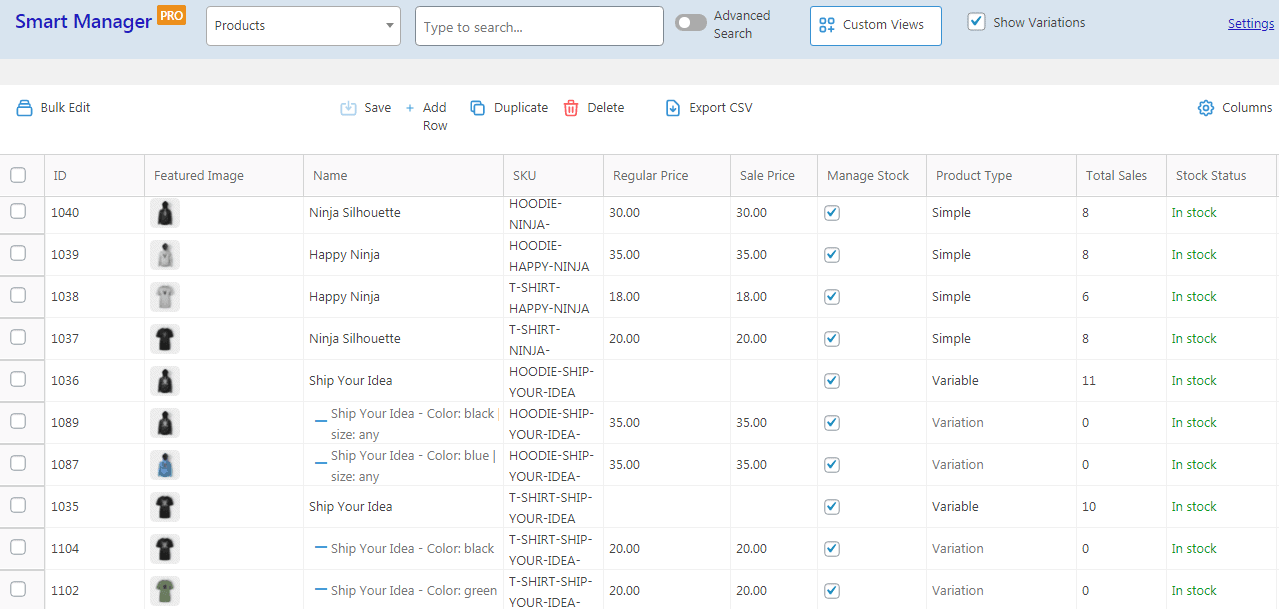 You can export all your store data or filtered data to a CSV for all post types.
FAQs
Are there any limitations on the amount of data I can import and export?
No
Can I import data back into WooCommerce using the CSV Importer and Exporter?
Yes, you can use the CSV Importer and Exporter to update or add new products to your WooCommerce store by importing CSV files.
Feedback, suggestions?
Both import and export are very crucial processes for WooCommerce stores. With Smart Manager, you have accuracy, time-savings and cost-savings.
You get all the features that other plugins won't provide. And you also don't have to use different plugins. Doing all things using a single thing is always a wise option right?
What do you think about Smart Manager's import function for all post types? Will it be a great addition to your store? Share your thoughts!