WooCommerce export orders – a goldmine of insights. This post will tell you how using a simple plugin, you can export your WooCommerce orders data – entire store or filtered data to CSV. And also what insights you can get from your export file.
A lot lies beyond WooCommerce orders export
While managing your WooCommerce store you often encounter situations where you need to export different kinds of data externally.
That is because many aspects of store management require external tools to handle them efficiently. You may need external tools for customer relationship management, tax reporting, or for a new marketing campaign.
CSV files are the perfect tool to manage large amounts of information: easily apply filters and interpret data.
That's what Smart Manager's WooCommerce export feature is capable of.
Smart Manager gives you full flexibility. You can export WooCommerce orders based on your own requirements – all customer orders CSV export, orders for a particular date range, orders based on search and admin column filters. It's not a simple but an advanced order export.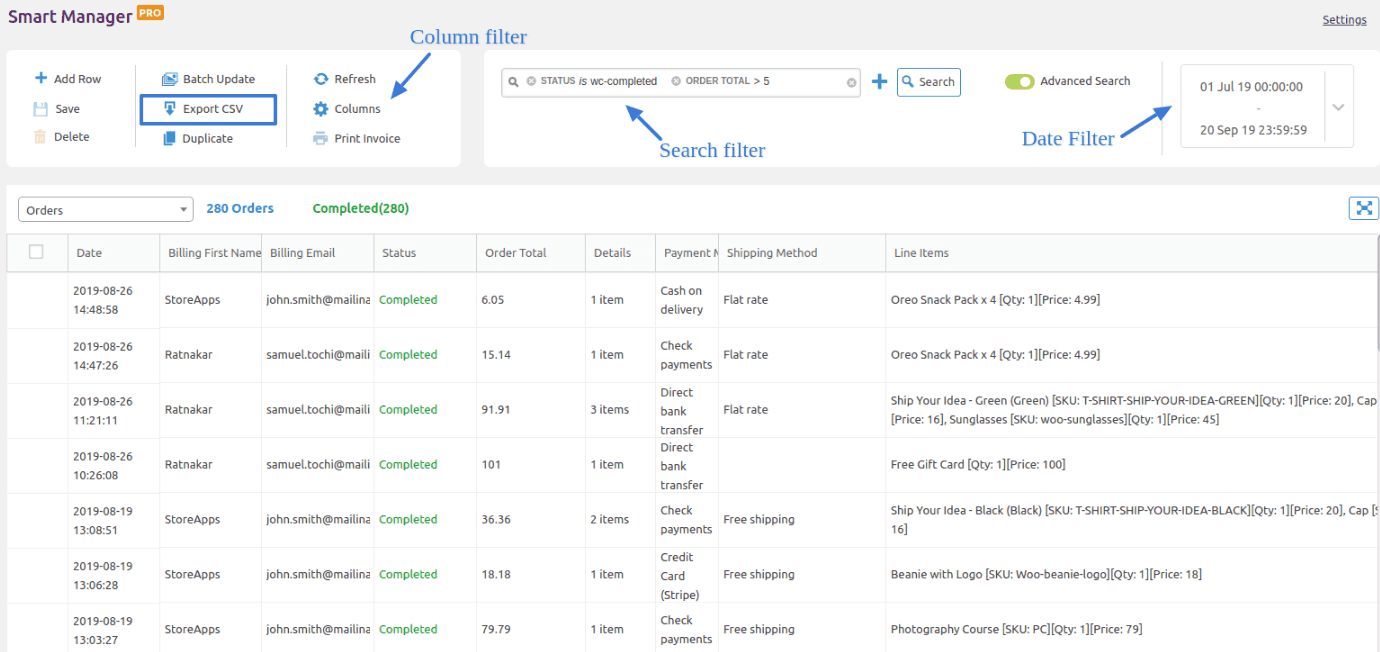 For those who entered late, Smart Manager is our best-selling store management plugin. It 10x your store productivity and saves you so much time you may haven't thought of.
Bulk edit, inline edit, advanced search, CSV export, and other powerful features make it a crowd favorite.
Get Smart Manager
Here's how to export WooCommerce orders to CSV using Smart Manager
Simply click on 'Export CSV' option to export all orders. Or apply filters before you download orders as CSV. Watch the video below to see how you can export orders based on filters.
Why Smart Manager is regarded as the best WooCommerce export orders plugin / CSV exporter?
Date, columns, search filters – export only those data you require. This will remove the clutter and confusion caused by unnecessary data.
Not just orders, export WooCommerce products, coupons, users, customers, posts; any WordPress custom post type data using filters.
With compatibility with other top plugins, you can export memberships, bookings, subscriptions, cost of goods, SEO fields data as well.
Export your CSV file, again and again, anytime you want.
Quick export. No wait times.
No limit on the number of records that can be exported.
View Live Demo
Get Smart Manager
11 insights from orders export to monitor your business
Well, I hope you are now well-versed with Smart Manager's export feature. Let's shift to the insights part.
This is very simple. You just need to know how to apply filters in Excel and that's it. The insights will be right in front of your eyes.
Not just orders, you'll also get insights based on exporting coupons, products, user data.
These use cases are based on exports we performed using Smart Manager and then took relevant actions based on insights.
1. Get 'country-wise refunds'
When you export your orders report for a particular date range, filter the CSV file based on Order status as 'Refunded' and 'Billing/Shipping' Country.
You can then make out which country contributes to maximum refunds.
Based on this insight, you can plan your sales and marketing strategies for these countries.
Note – Smart Manager tracks every order. When you filter the report to get total refund amount, you'll get exact numbers and not some error which happens with many of the analytics solutions.
2. Compare 'free shipping' vs 'flat rate' orders
This WooCommerce export order CSV report tells you for each order, whether it was a flat rate or a free shipping one.
When you export the report as CSV, set-up a filter to see how many orders are of free shipping and above a threshold value. Reset filter for flat rate orders.
If there are more free shipping orders compared to flat rate and that too for a small order total (threshold value), you are making less revenue.
3. Compare the 'payment methods' and identify which gives more revenue, which gives more refund
This is one of my favorite insight from the CSV export.
For each record exported, you'll get to know the corresponding payment method. PayPal, Credit Card or any other.
Say, for instance, you select PayPal. Note down the total revenue, refunds and other metrics you want to compare.
Reset the filter and do the same for Credit Card, Cash on Delivery and other payment methods.
Then simply compare the metrics for each payment gateway. You'll come to know which payment gateway seems the most profitable and which contributes more to refund.
You'll easily make out which payment method your customers prefer to shop on your WooCommerce store.
4. Identify 'low-performing keywords' and improve SEO
Export all your posts data based on date and search filters. This will help you compare the performance of your posts.
How?
Set the date range to two months. Export data of your SEO fields and check the traffic to these posts. Note down the results.
Change your focus keyphrase, meta description and other fields for the same posts.
After two months, export that same data whose keyphrase you changed.
Now check traffic to these posts and compare it with the earlier one.
You will able to make out whether changing the focus keyphrase and meta description worked or not.
5. Find out whether coupon sales exceeds non-coupon sales
This report will tell you whether your sales are just because discounts work for you. If so, this won't be sustainable as getting sales based on discounts will only hurt your profit margins.
When you export your WooCommerce coupons CSV report, you will be able to see for each record, how much coupon amount is applied. In other words, how much discount is issued if it's a discount coupon.
Just see the total number of orders and in how many orders, the coupon has been applied.
Then, simply add up the total sales due to coupon and compare it those without that of coupons.
You'll get to know much is the contribution of sales from coupons to your total sales.
6. Identify customers based on 'order total greater or less than' and run segmented email campaigns
More the customer spend, more the revenue you can earn by using targeted emails.
Here, you want to target those customers who have spent a good amount of money on your store. Because these customers are more easily approachable, can be potential candidates to buy more expensive products or also become an affiliate of yours.
Say for example you need to export your users' report of one year and their order total, say greater than $500.
When you apply the filter, you'll get a list of users who are your top-spenders for that year.
Simply create an email, target to these customers and see your sales soar.
7. Target customers based on their 'last order date'
More recent the customer, the more vulnerable he is to make a purchase again.
Go to 'users' in Smart Manager, apply filter by selecting the date range to three months, order total above $300 and then export. You'll see a column of 'last order date' of these customers.
Next, send a customized email and increase your chance of conversions.
8. Notify vendors about 'pending shipping' orders
You can easily filter your orders CSV to get information on orders for a particular date, say today which need to be shipped.
You can then send the filtered report to the respective shipping agencies regarding the same so that they handle the rest.
9. Update sellers about the inventory status
Same like orders, you can get a filtered CSV export of physical products or inventory. This gives you data on which product is nearing 'out of stock', products which are 'out of stock' and some products which are having a great time with the dust (not getting sold).
Share this report with the sellers, your managers in the warehouses so that the stock gets replenished at the earliest. Also, share it with your marketing team so that an action is taken on unsold inventory.
10. Search by SKU, check stock, reorder to not lose customers
This is something unique. Let me show you how.
Say, you searched for a particular product with SKU say FM3012 and export the data for 12 months of this product and check the orders placed for each month for this product.
After applying the filter, you observe the product orders kept increasing by 10% every month on an average. Jan – 100, Feb – 110, Mar – 122 and so on.
You know if this trend continues but you are low in stock, customers may shift to competitor hampering your sales.
So this report helps you better to keep a track on your stock and forecast for the future.
11. Details on memberships, bookings, subscriptions
Smart Manager is compatible with top WooCommerce plugins which include WooCommerce Memberships, WooCommerce Bookings, WooCommerce Subscriptions, and others.
So, you can easily export WooCommerce subscriptions, memberships, bookings data using all the filters – date, search and columns.
How to use?
You want a list of some loyal customers who have been with you for the past 3 years. To appreciate their loyalty, you want to upgrade their membership plan based on their order total to date, say $2000.
Simply apply the filter and get the list of customers.
Similarly, if you want to know the total number of free trials, paid plans, how many canceled, the ratio of trial to paid, export the subscriptions report, apply filters and get the results.
Conclusion
The end goal for every business is to keep growing. It is clearly evident from this article that advanced WooCommerce export orders and insights are a must.
We recommend using Smart Manager's export because it offers a detailed report for all that you need, easily and under one roof!
Get Smart Manager