WooCommerce upsell cross sell offers have an awesome conversion rate of 20%. Only if done right.
So, marketers and store-owners, all eyes here. Stay assured that this article isn't just another listicle but a thoroughly researched collection of working upsell tricks and techniques.
Not just that, get an all-rounder WooCommerce upsell plugin that will help you 2x your profits.
Let's get started.
Sit back, grab a coffee and follow this
You are a weekend shopper and usually, you spend around an hour on the net checking for new trends and designs in the market. But, there might be times when you suddenly notice its way past three to four hours.
Ever wondered, how did you end up spending hours when you were not even sure of buying a pair? Strangely funny, isn't it? This is the power the modern day WooCommerce upsell holds.
The upsell offers and products targeted are so convincing that you can't fail to ignore them. In addition, you end up buying more than what you thought earlier.
What is an upsell? Why it is a must for any WooCommerce site?
Upsell means to persuade the customer to upgrade their current product to a more expensive product or buy something additional along with their currently selected product.
To break this down, the simple phrase that's heard at McDonald's — "Would you like a bigger fries pack instead of the small one?" — is the definition of upselling.
As shown in the example below, the whole series along with the bonus is shown as an upsell offer to the user.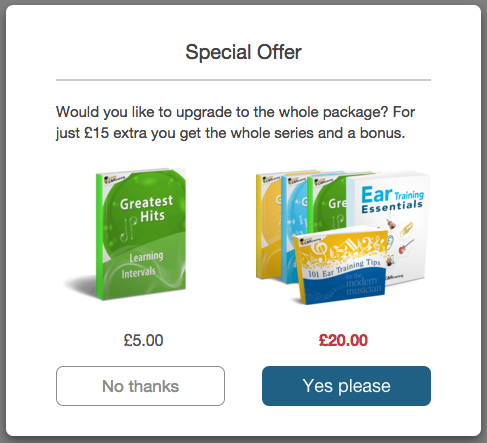 Another example – While buying a 32 GB storage capacity mobile phone, the online seller will suggest you a 64 GB model for a few extra bucks. And sooner or later, you end up buying it.
Now Amazon does it very smartly and effectively. And you should too.
They want you to get attracted by the product image and value and not intimidated by the higher price.
Just think! You wouldn't know about that upsell product until you click to view them. Brilliant, isn't it?
What is cross-sell? How it differs from upsell?
In simple terms, cross-sell is a tactic where you offer some complementary products or products that are related to the main product.
Some use upsell and cross-sell interchangeably. However both are different but aim is the same – nudge customers to buy more.
For example, offering a protective case on purchase of a cell phone.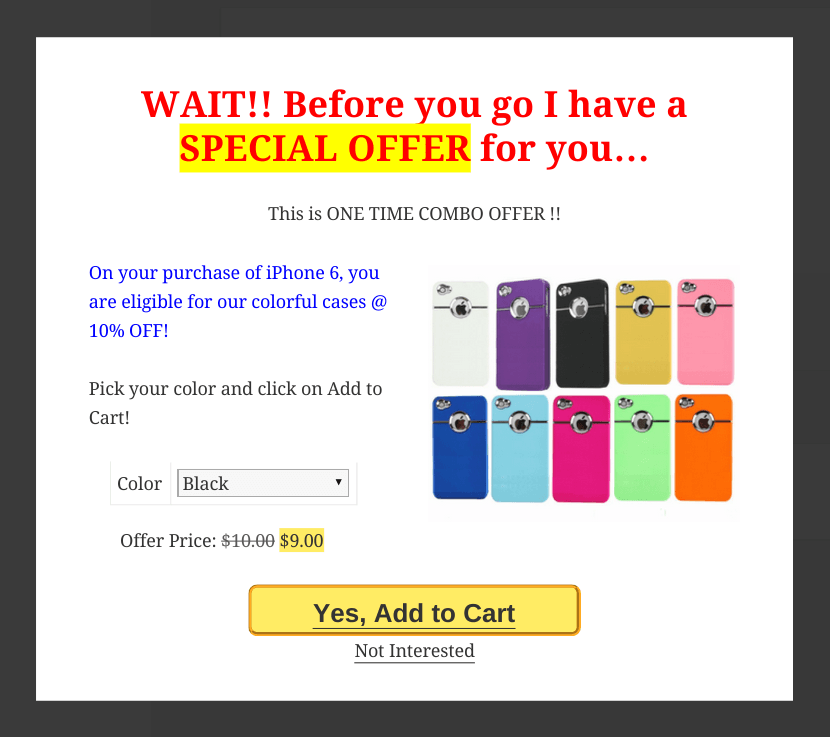 The message is clear: "If you've spent this much money on a great product, shouldn't you want to protect them by paying 5%-10% more?" That's the power of cross-sell.
And that's one of the biggest rules of upselling and cross selling – the offer should be value-driven.
But traditional WooCommerce upsell cross sell feature falls short
If you see WooCommerce settings, it will allow you to link products to your main product as upsell or cross-sell. In other words, it just gives visibility to other products.
You can show upsell only on the product page and cross-sell only on the cart page.
It cannot directly recommend an alternative to the existing product, nor it can upsell offer on the checkout page.
You need a powerful WooCommerce upsell plugin that shows upsell, cross-sell and other offers on various pages.
We'll talk about it later. But before that, let's see how some simple WooCommerce upsell methods can get your store to accumulate profits on a continuous basis quickly.
Five upselling hacks you must implement on your WooCommerce store to grow sales
The key to WooCommerce upsell is to offer more value at an increased price (without or with an offer). If you can convince users of the added value, then you might get an upsell.
Now, there is no golden rule that you only upsell a bundle before checkout or show don't show expensive products on checkout. But if you follow what has been more successful since years, it is better. And that's what we have covered below.
Nevertheless, you have control in your hands. Test, measure and improve.
WooCommerce cart upsell – Upsell a product bundle
Let's say Steve added GoPro Action Camera to his cart. Great. Now just think what else will he need so that he will be satisfied with the purchase?
In this scenario, you could offer him a 'GoPro Camera Kit bundle', that includes case, stand, carry-bag and what not. A highly valuable cross sell offer Steve won't resist.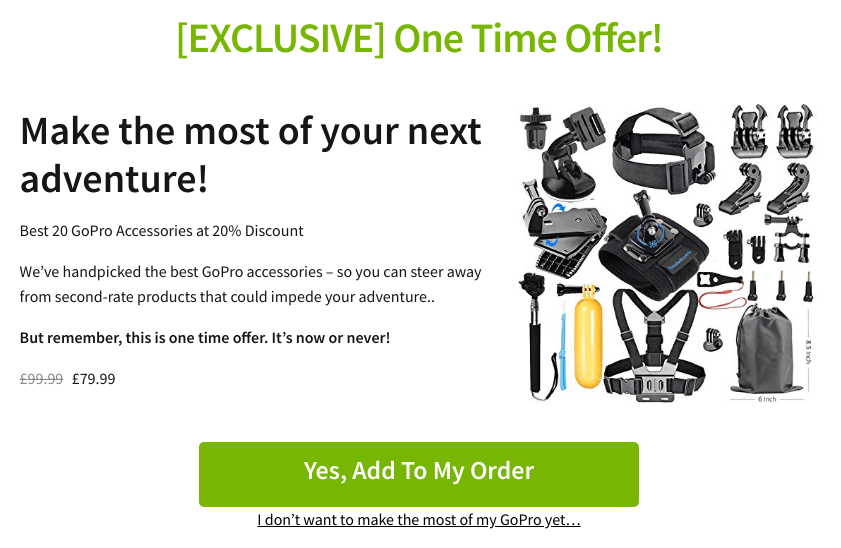 These are all things the customer might need to purchase later. But if you offer them at the right moment, you have a chance to convince the customer to spend more now.
Here's how to create WooCommerce product bundles upsell offer
Remember how Amazon shows "Frequently Bought Together" and offers a bundle? This upsell is another smart way of offering a bundle.
WooCommerce checkout upsell – Upsell on the checkout page
Checkout page is where the customer is more inclined towards making a purchase but also vulnerable.
Upselling an expensive product will lead to abandonment. Hence, offering a very useful product as a cross-sell offer at a low price will surely nail it.
And the best way to do is by using order bumps.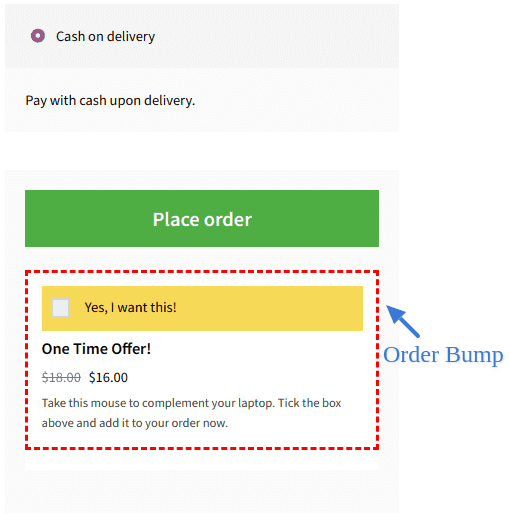 Order bump is an offer made on the checkout page to encourage users to buy more products by spending a few extra bucks.
For example – If a person purchases a laptop, a mouse or an extended warranty is the best thing they will need and won't deny. Such cheap yet highly useful products can be set up using order bump.
Learn more about order bump, its benefits, best order bump examples
WooCommerce upsell after checkout – Show a post-purchase upsell
Now, upsell after checkout is trending as it is now proving more successful.
A 15%-20% extra conversions which is great right?
Here's a GIF below which shows WooCommerce one-click upsell in action: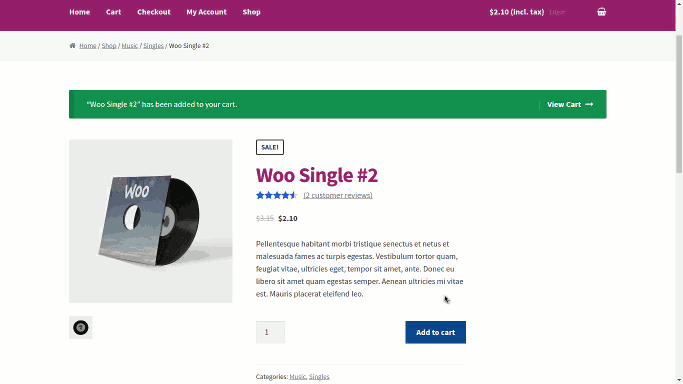 Why WooCommerce post-purchase works so well?
Order is completed instantly. No need to enter payment details again.
Customers are recent purchasers and trust you more.
Another good thing about post-purchase upsells, you give people time to think about whether they need any add-ons or want to upgrade, so there's less pressure.
Here's an easy way to create WooCommerce one-click upsells
WooCommerce upsell funnel – Show multiple offers to users
In the above methods, we generally show one upsell offer. But you can run multiple offers on different or same page to nudge customers at every stage.
It can be a upsell upsell cross-sell OR upsell downsell OR upsell upsell, etc.
Here's an example of WooCommerce upsell cross-sell downsell offer
First, we upsell a GoPro Camera Kit if customer has added GoPro Action Camera.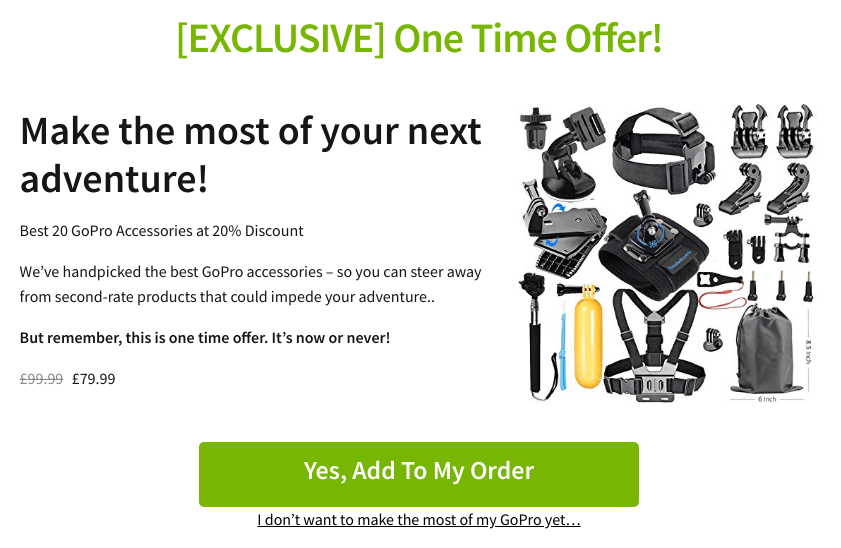 If user accepts the Kit, we cross-sell a memory card.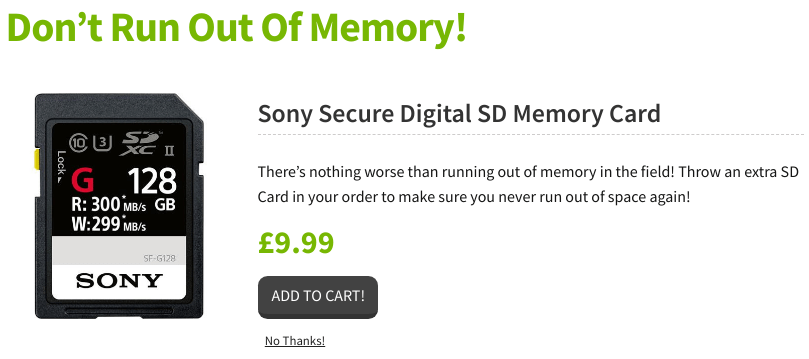 And if user rejects the upsell offer of the Kit, we offer a battery as a downsell (A lower priced version).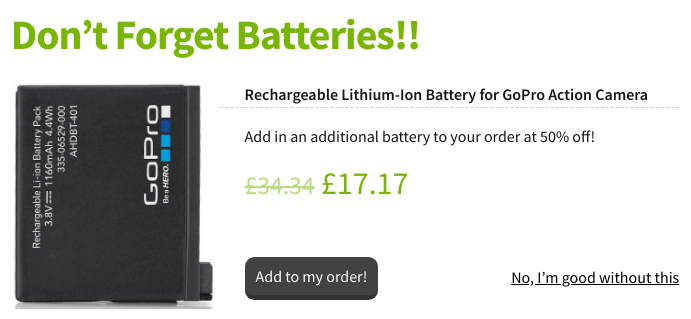 Here's how to create multiple upsell offers in the sales funnel
Upsell based on user role, bulk purchase, product attribute
You may have heard the power of email segmentation. It has good open rates, conversions, blah blah blah! Same goes for your offers.
If you want to upsell offers only to users who have purchased above a particular value or only to registered customers, you can do that.
Upsell based on user role and bulk purchase
Say for example, you want to upsell a high-end product only when user who is a customer adds product worth $500 and above.
Upsell based on product attribute
Another super way to nudge customers to accept your upsell offers. And also a great tactic to show related products and clear stock.
Upsell a large size T-shirt only when another large-sized T-shirt is added to cart? Upsell multi-site license only on purchase of a single site license?
Here's how to upsell based on product attribute
Wow! These are some amazing methods to get more sales.
Now comes a good news.
You can set-up and run all these offers using a single solution
For the above mentioned edge methods, you might need different plugins.
But if you use this popular WooCommerce upsell plugin of StoreApps, you can do all these easily. This is Smart Offers plugin.
Smart Offers can let you do all these upsell methods mentioned above and a lot more easily. You don't require coding knowledge to use Smart Offers. Set it once and let money keep coming in.
Smart Offers is jam-packed with all the essentials you need to grow sales.
You can come up with a simple offer within minutes. Our readymade offer designs will help you speed up the process.
Easy tracking of your offers tells you what type of upsell offers and bundles are working for you and accordingly help you design your other offer campaigns.
Show offers based on various targeting rules – whether users are new or returning, offers based on the cart status, different pages, etc.
Smart Offers allows you to do a lot more than just creating upsells.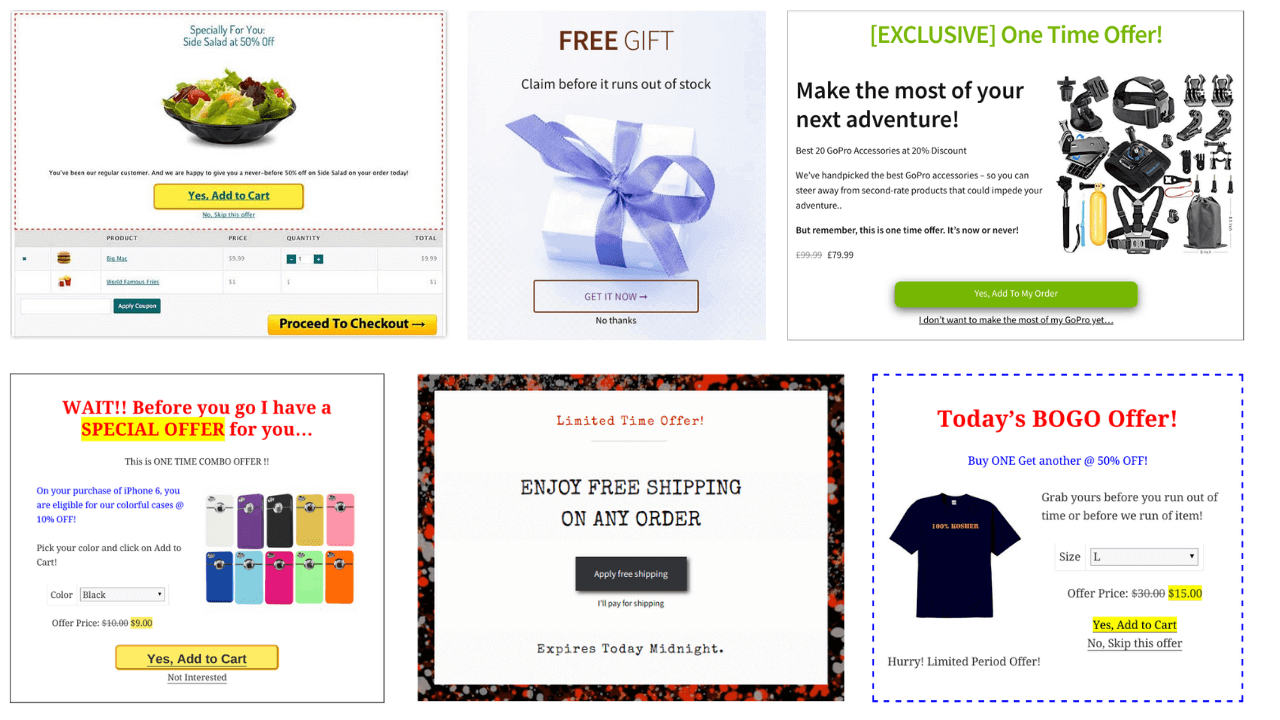 Also set-up these offer types using Smart Offers
BOGO: Buy One Get One offer at a discount or without discount.
Tripwires: Very low priced offers, usually irresistible for a viewer. The core concept is to convert each lead to a potential buyer by creating lucrative offers that grab visitor attention.
Email Offers: Simply embed the HTML code of your offer in the email and your readers can view that offer directly in their email.
Free shipping: Offer free shipping when order total exceeds a particular amount, say $350.
Giveaway: Offer a product for Free. Get this protective case Free on purchase of iPhone 11.
and a lot more offer types like backend, one-time offer, seasonal offer, exclusive deals,
Six best WooCommerce upsell cross-sell strategies to boost sales
Why big companies are able to make so much revenue regularly? Because they use upsell the correct way. They know how to design the offer, what to offer, whom to offer and when to offer. You can too by implementing the below hacks:
Show comfort or lifestyle change to users
If you could show how your product can make users life better, they won't hesitate to spend some extra bucks.
To grab the best deals from all those who prioritize comfort while flying, Virgin Atlantic created a beautiful video that got hold of people!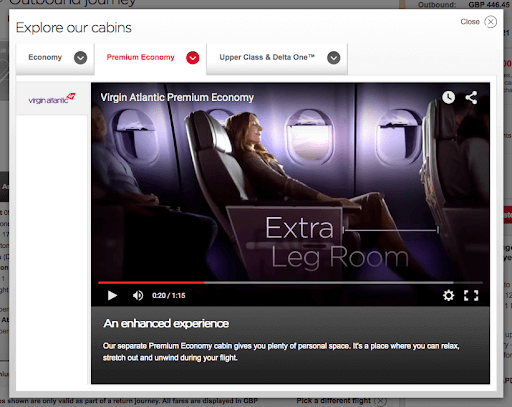 As shown above, Virgin Atlantic is upselling comfort in its Premium Economy ticket.
It is showing you that by opting for extra legroom, you can get more comfort, relaxation, space, and soothing traveling experience.
As nothing matters more than comfort, we let go off little expenses.
Upsell by limiting features in the free plan
Unique features that solve user problems or features which users can't live without easily nudge customers to buy premium products.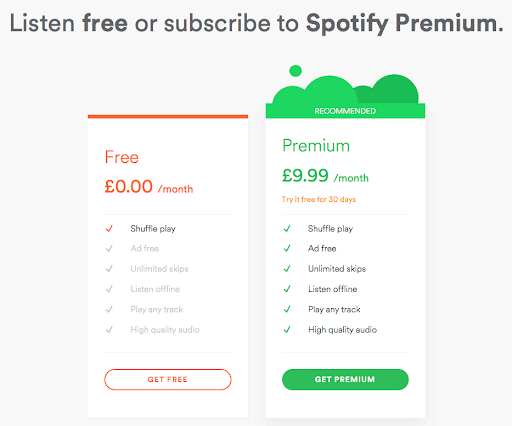 Spotify made sure to lure eyeballs by introducing the much-needed features in the Premium Plan to upsell it on the Free plan.
Ad-free, offline access and high-quality audio at such a low price! Who won't upgrade to the Premium plan!
Upsell features along with price anchoring and scarcity trigger
Bookings.com which essentially serves as a goto place for all the backpackers has not left itself behind.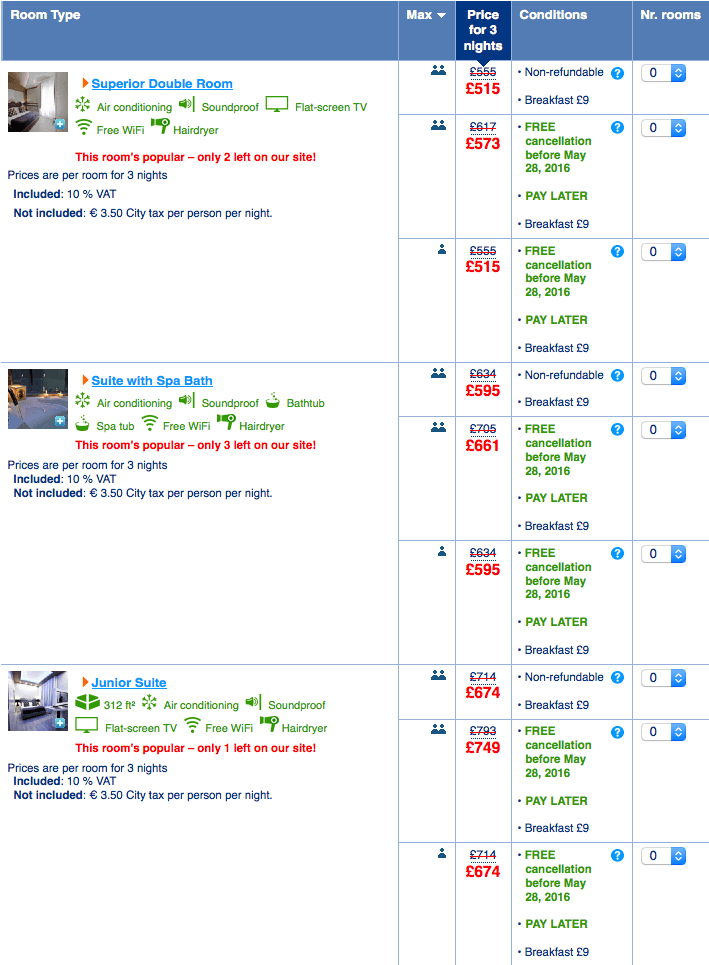 It upsells by showing multiple options together.
Just compare prices $515 and $573. It is offering free cancellation, refunds as well as option to pay later for around extra $60. It's also adding the scarcity trigger (two rooms left).
Studies reveal that scraping down the original prices and adding the updates prices makes the buyer increase their chances of tapping!
Personalize your upsells
A report by leading marketing giant suggests that human touch in communications and visuals fetch more eyeballs and gets more clicks! Make sure you dive deeper into:
Customer's search/purchase history
Name and demographical details
Preferences and buying patterns
Based on these factors, you can decide your upsell offers; like upselling higher products with free shipping or upselling extended warranty or services on premium plans.
Upsell higher revenue plans using discount
This is a great tactic for subscription businesses. Upsell annual plan for the monthly plan at a discount.
For example – Pay $19/mo or $190/year and save 20%.
Similarly, you can also upsell the lifetime license for the annual license.
Example – $100/year or $400 $300 one-time.
Just sweeten the deal and anchor in such a way that the upsell product prices don't seem higher.
Target cross-sell offer on different pages
It is not necessary to show your upsell only on the product page. You can show upsells on the cart page, cross-sell on my-account page or even on thank you page.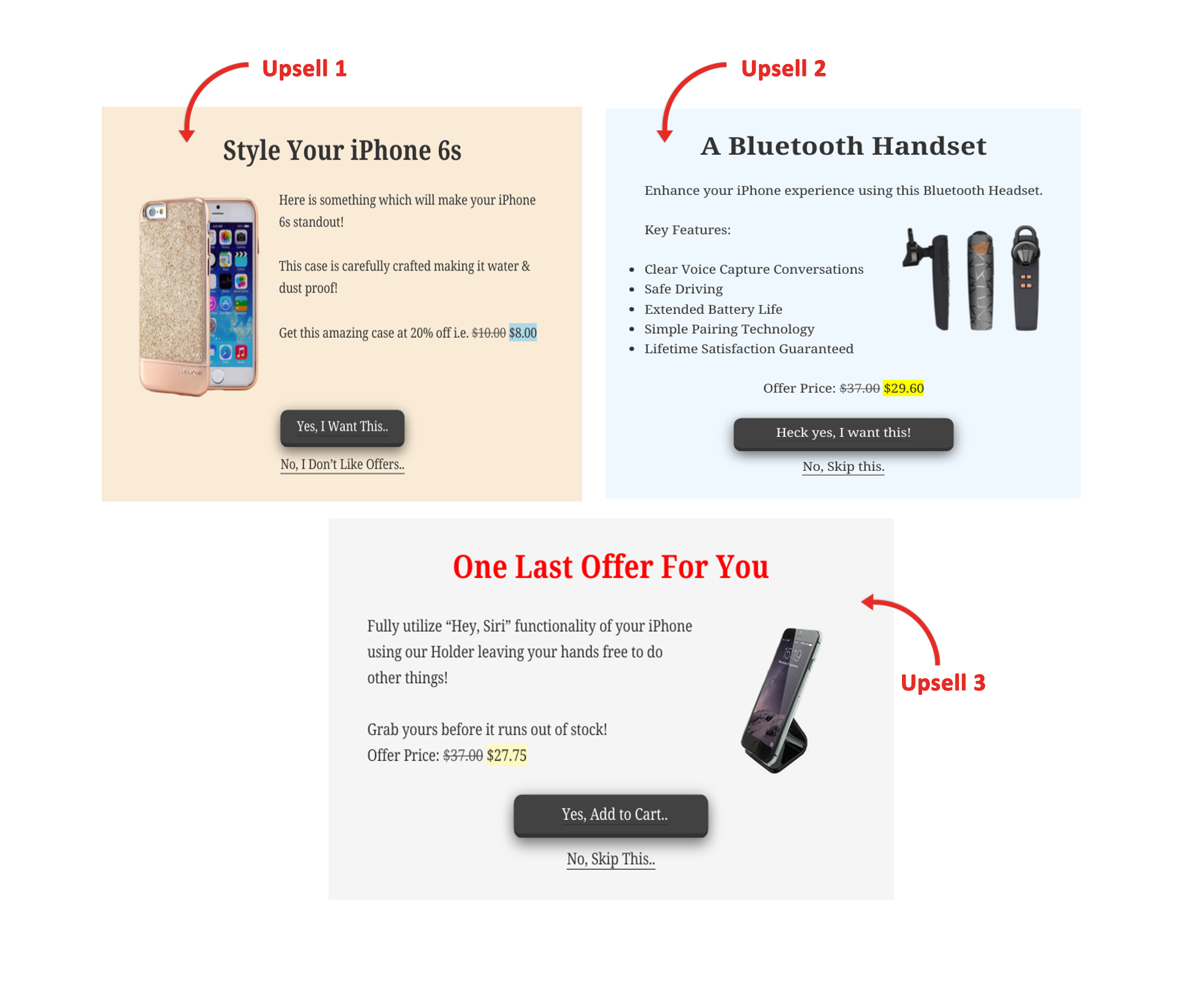 Once a user enters a funnel, make sure he doesn't leave empty-handed. A series of offers in the funnel will at-least nudge him to buy something.
But make sure you don't sound pushy.
Remember, one loyal customer equals 10 visitors!
Start getting breakthrough conversions today
In this era of goods and services flourishing in, customers are no stupid. They understand the difference between low cost and good value and all you need to do is play your best ball keeping brand quality consistent each time your customer knock at the door!
With these WooCommerce upsell strategies and practices mentioned above and with Smart Offers at your aid, be assured to grow and scale up your sales.
FAQs
What should you avoid when trying to upsell or cross-sell to a customer?
Here are a few things that can be kept in mind;
Customers don't want to feel like they are being pressured into buying something they don't need or want.
Don't try to mislead customers into purchasing something that won't benefit them just to get a higher sale.
It's essential to listen to the customer's needs and provide them with products or services that match their needs.
Customers are more likely to purchase products or services that are tailored to their specific needs and interests.
Make sure the upsell or cross-sell offer is reasonably priced for the customer and valuable to them.
Don't underestimate your customer's knowledge or intelligence. Be transparent and honest with your offers.
When should you not upsell or cross-sell?
You should not upsell or cross-sell on below situations:
When the customer expresses that they are satisfied with their current purchase and do not want additional products or upgrades.
When the upsell or cross-sell item is not relevant to the customer's current purchase or needs.
When the customer is clearly on a tight budget or has expressed concerns about the price.
When the customer has already declined the upsell or cross-sell offer multiple times.
When the upsell or cross-sell item is not of high quality or is not relevant to the customer's needs.
When the customer has a prior negative experience with the upsell or cross-sell product or service.