To successfully launch an online store in WooCommerce requires quite a lot of steps. And one of the first steps is selecting a good WooCommerce theme.
To have a high-quality theme for your store, you need to consider various factors like professional design, integration with WooCommerce, SEO effectiveness and customization.
Luckily, we found a WooCommerce theme that can meet all these needs. That's Woostify which is seen as a potential tool that can help increase conversions and sales.
You wonder how it can do that. Keep reading to explore the fantastic features in this Woostify review!
Woostify – a fast, responsive, optimized, and customizable theme
With numerous remarkable features, Woostify deserves to be present in the list of top-rated WooCommerce themes today.
A fast website considerably contributes to bringing about a great user experience, thus improving sales and revenue. As a WooCommerce theme with great performance optimization and clean code, Woostify theme can make WooCommerce sites load super faster.
In addition, Woostify is a responsive theme because it can make your site run smoothly on almost all devices. Being SEO-friendly, it also helps in higher Google rankings.
But the thing that makes users the most satisfied with Woostify comes from its customization options. You can edit or change any sections on the site as you like to create a unique design.
Is Woostify theme free?
Yes, you can download, install and use the Woostify theme for free. In other words, you can get the main theme at your fingertips without payment. Although free, the theme offers great performance along with basic customization options.
Besides the free version, Woostify has some premium plans that will provide more and more advanced features. When upgrading to Woostify Pro, you will get a chance to use a lot of helpful Woostify add-ons.
What makes Woostify stand out?
In this part, we will let you see the outstanding features of Woostify Free and Woostify Pro.
Woostify Free
First, we begin with Woostify free theme.
Free starter sites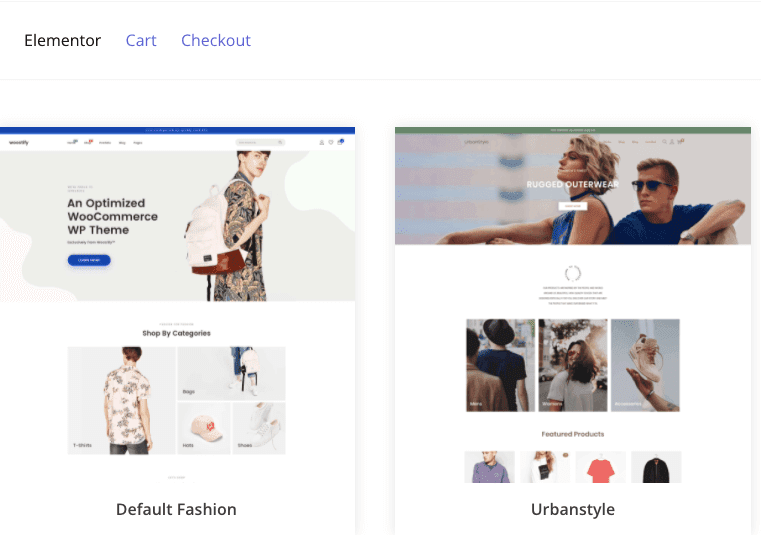 In this version, the number of WooCommerce Elementor templates is limited. With only two choices, it is difficult to meet users' needs for various niches and industries. If you want to explore more stunning templates, Woostify Pro will be a suitable choice for you. That being said, you can use it as a guide to setting up a WooCommerce site.
Live customizer
When you go to the Customizer settings, there will be options to set up or edit different parts of the site.
You will find numerous sections available for customization such as site identity, layout, page header, sidebar, Ajax single add to cart, footer widget, color, and additional CSS. Different options will allow customizing different elements for special pages or the entire site.
No matter which section you are customizing, you can see the live preview while editing any pages within Woostify Live Customizer.
AJAX shopping cart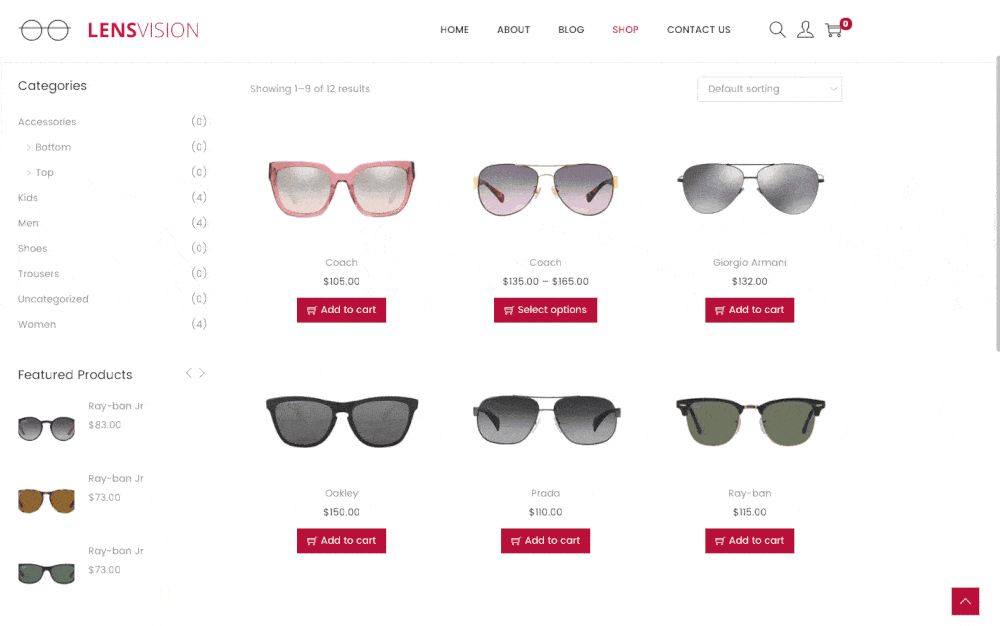 Ajax works effectively throughout all the websites offered by Woostify. Thanks to this feature, user experience increases considerably. Particularly, for the Ajax shopping carts, Ajax will let customers add their items to the shopping carts and view them without reloading the whole page.
Multi-step checkout
Multi-step checkout is an effective method created by the Woostify team. With it, the checkout process will be simplified and separated into several steps, including Billing details and Payment form. Using the multi-step checkout will be very helpful for increasing customer retention rates and boosting conversion rates and sales.
One-click demo
After installing the Woostify theme, it offers you an option to import the demo with one click. Once you select this option, the whole content of the demo will be delivered to your WooCommerce website.
After that, you can customize all the demo sections and pages on your own. Using this demo, you will save time building the website from scratch.
That's quite a good thing in the free one.
Woostify Pro
Now let's see what's special about Woostify Pro.
Stunning templates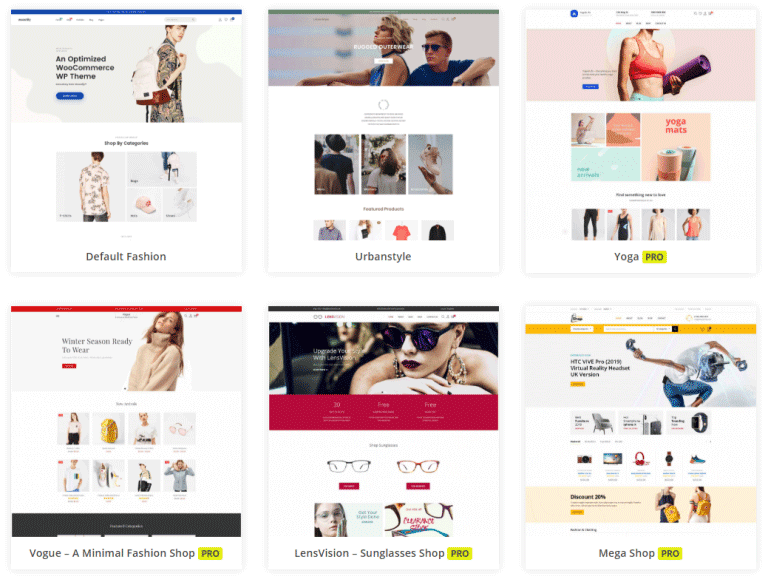 As mentioned above, Woostify Pro offers a variety of Elementor WooCommerce templates. In particular, there are up to 15 eye-catching templates available for different niches such as fashion, food, jewels, pets, sunglasses, and watches.
Elementor & WooBuilder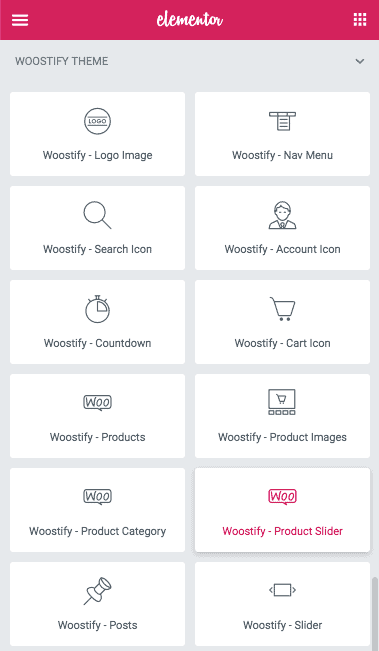 In Woostify Pro, the combination of WooBuilder and Elementor gives you full control over your WooCommerce sites. Using WooBuilder, you can build all WooCommerce pages, including shop pages, single product pages, cart pages, empty cart pages, checkout pages, and thank you pages, to your liking.
In combination with WooBuilder is Elementor that stands out due to its drag-and-drop features. Just click, hold, drag and place the selected widget to the position you want to create a new section.
In addition to the default Elementor widgets, Woostify Pro provides users with creative Woostify Elementor add-ons that strongly support you in building a unique and powerful eCommerce site.
FOMO add-ons
Today a large number of online stores take advantage of FOMO, which stands for fear of missing out to drive more sales. This method is used as a psychological trigger to convert leads into customers.
There are tens of interesting techniques to use FOMO for your e-commerce business. When coming to Woostify Pro, you can easily do that using the two add-ons – Sale Notification and Countdown Urgency.
In terms of Sale Notification, this add-on helps display recent order notifications that work as social proof. These pop-ups will show some basic information on the orders, such as customer name, bought items, and order time. When seeing other ones buying a product, potential customers surely will be encouraged to purchase from you.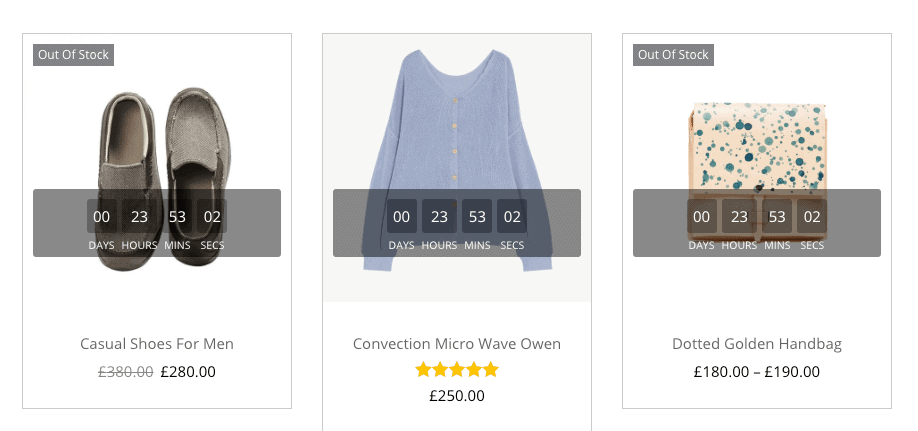 Countdown Urgency is another FOMO method offered by Woostify Pro. This is a great idea for attracting people to special deals. A countdown timer is often successful in leaving customers with a sense of urgency. Especially for those who are being interested in your products, this tip will stimulate them to come to the final decision
Smart product filter – New feature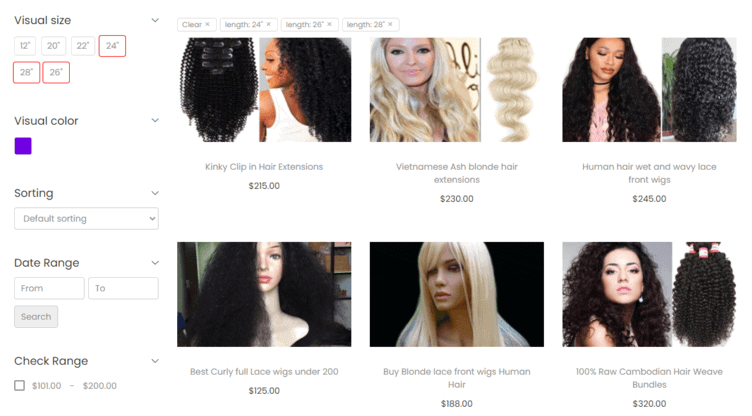 This is a new striking feature provided by Woostify Pro. Smart product filter makes it easy for customers to find the items they want on your WooCommerce store. The more great experiences they gain, the more conversions you achieve.
To simplify the searching process, the add-on provides you with the filters by attributes, categories, custom taxonomies, prices and so on. The add-on also offers two filter layout options, vertical and horizontal ones. Then, you can consider which one is more optimized for your site.
In addition to the body part (the main content) of the page, headers and footers play a special role in drawing the attention of customers. Understanding this situation, Woostify Pro gives birth to Header and Footer Builder.
In fact, the Woostify theme offers a header and footer layout by default. But you can change it if you want. Integrated into Elementor, the add-on helps fully customize the headers and footers of any WooCommerce page on your site. Besides, there is an option to display or not display them on specific pages.
Creating impressive headers and footers definitely will make visitors excited to explore your site more and more.
Ajax search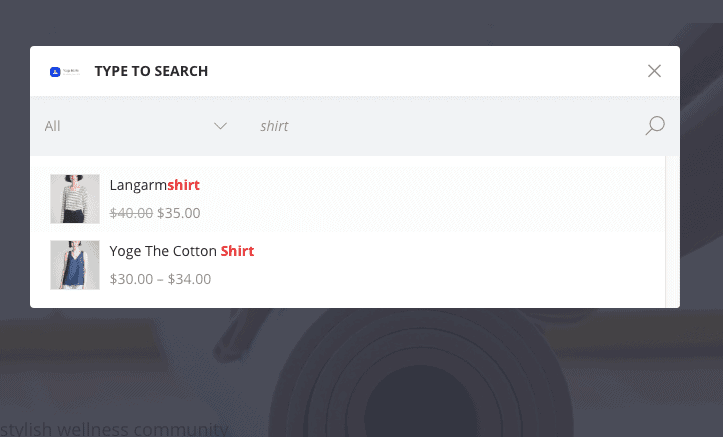 You will work with this add-on to have an AJAX search bar with live suggestions. Then, customers can search for any item they want to get based on title, SKU, category, tag and keyword autocomplete.
With this setup, customers can find their favorite products more quickly and easily than ever. Not to mention, the recent version of Woostify makes great strides in search load speed. Woostify users will love this improvement so much!
Variation swatches
For online stores that sell the same product with different variations, this feature can help a lot. On a single product page, you can create countless product attributes (color, size, weight, label, and so on) using Woostify Variation Swatches.
Depending on the characteristics of the product type, you will set suitable attributes.
The unique point of the add-on is that it lets customers see eye-catching swatches instead of the old-fashion drop-down. This creative design makes single product pages more attractive and brings more convenience to customers.
Adding detailed information to products helps customers know the products well and give them more buying options. The more clearly they understand about the products, the more quickly they decide to buy from you.
Other features
Multiple headers: The add-on allows you to customize the background color and width of the headers and display them in different styles on WooCommerce pages.
Sticky headers: The add-on brings customers deep site navigation by creating a floating header that is always visible on the page when your customers scroll down.
Size guide: With this add-on, you can create custom size charts, then assign them to any single product or category.
Sticky add to cart button: As the name suggests, the add-on keeps the button visible while customers go around the page. This feature will help simplify the checkout process and increase conversion rates.
Quick view: Customers can quickly get basic information of any product on the listing page such as short descriptions, prices, images and variations if you enable this feature. This is considered an effective way to speed up the buying process.
Buy Now button: By adding Buy Now button to the product page, you can help customers skip the cart page while going directly to the checkout page. Woostify also allows changing the text and color of the button.
Mega menu: With this add-on, you can create a responsive mega menu for navigation, with rich content and media. There are three layout options available, including horizontal, vertical, and drop down ones. Besides, the add-on offers indicator options and navigation icons.
Advanced shop widgets: They are specifically created to fully customize the WooCommerce shop page. Then, you can generate product categories, product filters, and shop page layouts for your store.
In addition to those features, Woostify also works well with other WordPress plugins such as review plugins, security plugins, etc.
Woostify Pro pricing
If you want to enhance your WooCommerce site, it is recommended to use Woostify Pro. Now Woostify Pro provides users with three pricing plans. All plans include one year of support & updates.
Woostify Personal: $49 per year for a single site
Woostify Professional: $79 per year for three sites
Woostify Personal: $129 per year for unlimited sites
For a final word
We have introduced you to one of the top-rated themes for WooCommerce stores, Woostify. Offering features and functionalities of a standard WooCommerce theme, Woostify is definitely the top choice for WooCommerce store owners. Especially when you want to find a high-converting theme, Woostify is still here.
You can install and use Woostify for free to experience basic features. After that, if you want to get more add-ons to enhance your store, then you can upgrade to the premium version quickly and easily.