Do you have a devoted community that loves your products? Is your conversion rate high when upselling and cross-selling?
Yes? Fantastic! It's time to bring new life to your WooCommerce store with an added product line.
Here we're going to take a look at ways to set up a WooCommerce multi-vendor marketplace. We'll review the official WooCommerce Product Vendors plugin and also review other popular multivendor Woocommerce plugins.
We begin with the benefits of a multi-vendor marketplace.
Why create a multi-vendor marketplace in WooCommerce
If you own and manage a WooCommerce site, there are several direct benefits of operating a multi-vendor store.
Multi-vendor marketplace benefits for store owners
An additional income stream
When you invite new vendors into your marketplace, you can take a commission on each of their sales. Establish a global commission rate or offer sellers different rates based on performance.
An expanded audience
The more sellers on your platform, the more customers you will receive. Each seller uses their social media presence, word-of-mouth contacts and established customer base to bring more visitors to your marketplace.
Full control over members
Stay in control of what's displayed on your site. Accept or reject vendors that fit the overall brand you're building. Accepted vendors can create their products in the WooCommerce dashboard but you maintain quality control, and only items you approve go live on the site.
Payouts
Payments can be automatically made through PayPal on a schedule you specify if the plugin supports it. You can hold payouts until orders are complete and returns have expired, and you can automatically pay vendors per sale, every two weeks, or every month.
Multi-vendor marketplace benefits for sellers
A multi-vendor site is good for merchants, too.
Sell anything
With WooCommerce, vendors can sell physical items, digital downloads, subscriptions, bookings, memberships…any product type. They'll benefit from instant access to a shared audience and won't have to incur the expense or effort to build a shop from scratch.
Create their products and control their inventory
Vendors have the power to control their inventory numbers, so availability is accurate and instantly updated for visiting customers.
Set their shipping rates
Shipping rates are set by vendors, so bulky, heavy, or otherwise expensive items don't have to fit into a strict pricing structure.
Customer notes
Order confirmation emails can include vendor notes, so sellers can speak directly to their customers.
Vendor report graph
Vendors can see their own sales numbers and customer information, in an easy-to-read format, in the WooCommerce dashboard. They can use their data to make sure that they're listing the right products in the right places and to drive their marketing campaigns.
The official Product Vendors WooCommerce plugin review
If you leverage your store well, you could be making a lot of money simply by letting others rent a small part of the space in your e-commerce store. However, we must emphasize it's never a cakewalk to host multiple vendors successfully, especially when you're just getting started.
The process of onboarding, directing and establishing all the processes and methods for product vendors to follow can become extremely overwhelming at times. So instead of making everything manual, we strongly recommend subscribing to a plugin that simplifies everything from A to Zee.
One of the trusted plugins we know for this is Product Vendors.
So if you're confident about your community and want to encash the opportunity to sell different products with no manufacturing cost on you, keep reading!
Overview of Product Vendors plugin
This official WooCommerce plugin helps you transform your WooCommerce store into a powerful marketplace for multiple product vendors.
The core functions of this plugin include:
Create a diverse community of sellers.
Get a detailed report of sales & earnings by the vendor.
Set a commission cap particularly for each vendor.
These and many such benefits are accomplished through a set of great features for both vendors & marketplace owners!
Benefits of Product Vendors plugin for marketplace owners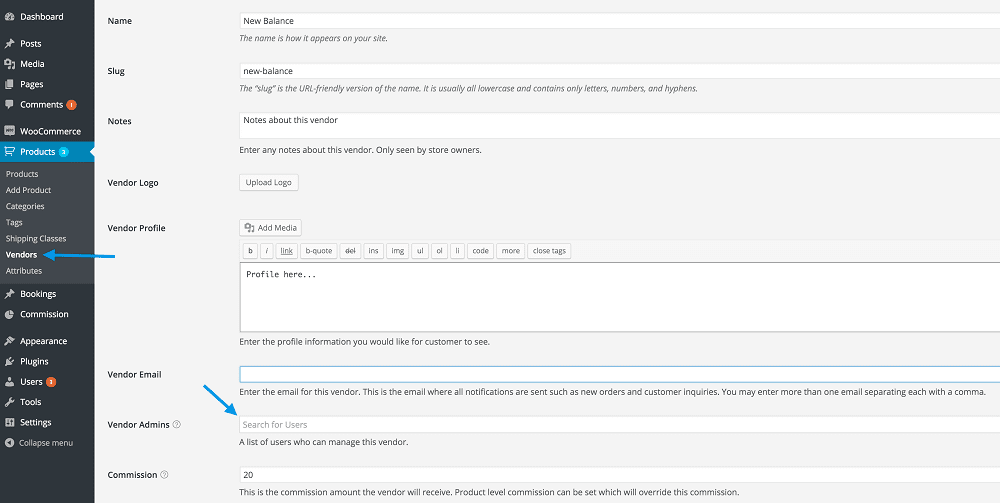 Let your vendors independently manage their store while you still have full control over their approval, rejection, payouts and other things.
Issue registration forms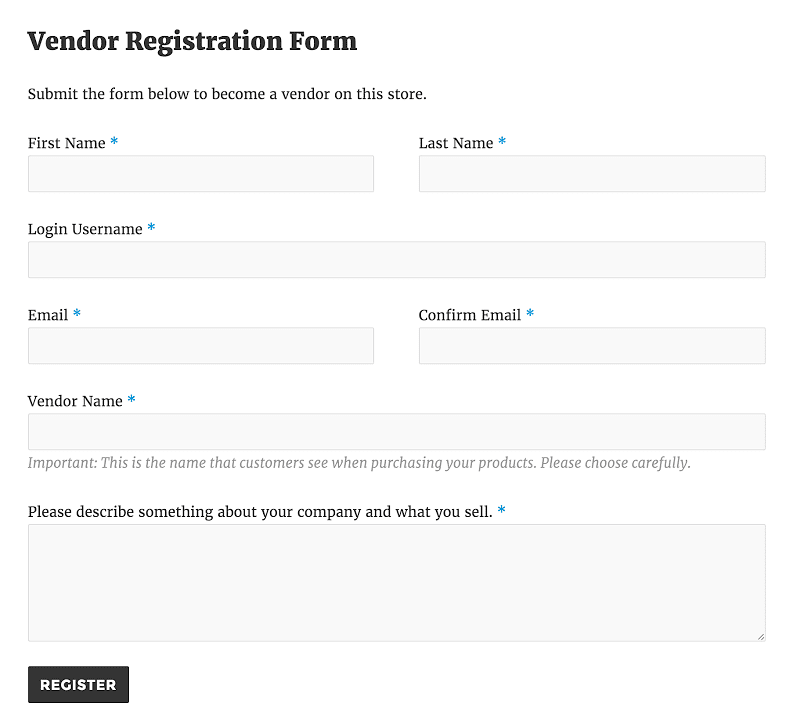 The store owners can accept & review applications from interested vendors via the registration form as shown above.
Power to display selected information
Display settings enable store owners to choose what information they want to show to vendors. They can also offer other store edit options to vendors, including logos, vendor emails, notes for customers, admin settings for vendors, commission types and product shipping rules.
Release payments to vendors
The vendor payments could be cleared instantly or on a monthly/weekly/bi-weekly basis, whatever they prefer.
Extract the commission report

There are two ways they can go about it:
Exporting a CSV file that gets you the data of paid and unpaid commissions.
Exporting a CSV file showing only the unpaid commissions.
Other than these features, the plugin offers store owners the convenience to:
Add vendors to existing tax classes or create new tax classes.
Onboard vendors in two ways – manually or the registration form.
Add/filter/delete products.
Determine the commission, create payout schedule, enable the pass shipping cost to the vendor, handle taxes, allow vendors to publish products without needing your approval.
Review sales reports of all the vendors.
Enable or disable the product shipping cost addition feature for the vendors.
We understand you may feel a little overwhelmed looking at these features, but they simply take a few minutes to enable, allowing you to save tons of time. Additionally, you can perform similar transactions in bulk instead of one by one.
Store owners can pay commission for some particular products, mark unpaid for those commissions not paid and vice versa, mark fulfilled for those products which are shipped and vice versa, and you can also delete commission, in bulk.
Refer this documentation for more details.
Benefits for Product Vendors plugin for vendors
Despite store owners having significant control over how the site is run, product vendors have a share of the power as well.
Registration & approval
Product vendors can apply for the space via a simple registration form with a unique name. Until they get their store approved, they can operate with two roles as follows:
Vendor Admin:- Gets access to all settings like reports, orders, media, profile edits, products, store settings, and support.
Vendor Manager:- Gets limited access to the dashboard only to orders, media, profile, and products.
Store settings
The store settings allow vendors to update their logo, profile, email, PayPal email, commissions and timezone, as well as edit each product based on their preferences.
Freedom to sell any products
Vendors can start selling their products once the store owner approves the product pages and the vendors creates them. Their product line could include simple, digital/downloadable, bookable, and variable products.
Analyze their sales reports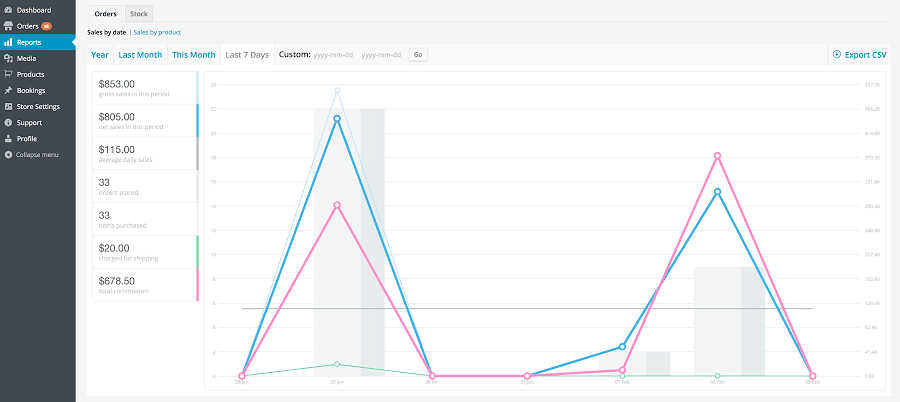 Vendors can track growth by reviewing sales reports after fulfilling and delivering their products.
While the WooCommerce Product Vendors plugin is quite effective for most of the WooCommerce marketplace requirements, it comes with two challenges:
Incompatible with Stripe payment gateway.
Vendors can't create grouped products.
Pricing
The plugin costs $79, including support and updates for a year.
Get WooCommerce Product Vendors
Other popular WooCommerce multi-vendor plugin
Apart from the Product Vendors extension, there are quite a number of other good extensions you can consider to create a multi-vendor marketplace. We highlight four plugins here.
Dokan
One of the best WooCommerce multivendor marketplace solution, Dokan makes it easy to create an online marketplace like Amazon, Alibaba, or eBay in less than an hour! Moreover, it provides extensive vendors' dashboards that are one-of-a-kind.
Dokan Multivendor provides the flexibility to manually reroute vendor registration, product publishing, subscription renewal, and more.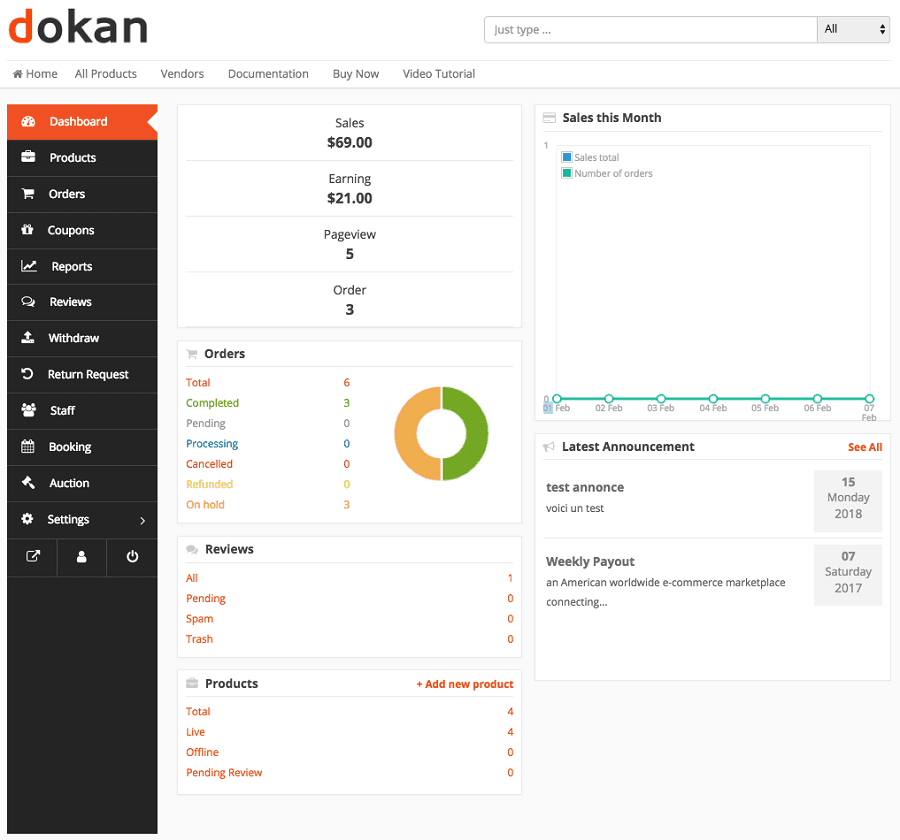 Top features:
Build any type of marketplace – traditional, digital, or service-based
A customizable storefront for each vendor.
Different commission rates for different vendors.
Vendors can access sales insights via the vendor dashboard to maintain their store performance.
Admins have authority over all activities in the marketplace.
Stores and public profiles can be managed by vendors.
Shipping can be managed individually by vendors.
Supports all WooCommerce themes, 100+ payment gateways.
Pricing: Free version on WordPress.org, premium versions from $149/year.
WCFM Marketplace – WCFM Frontend manager
Another freemium WooCommerce multi-vendor plugin that comes with tons of features to create your own online marketplace.
The WCFM plugin allows all vendors to create a vendor mobile app with deep monitoring and customization capabilities over their products, bookings, inquiries, reports, etc. For example, a vendor can change the name, price, stock, or image of a product quickly with the app from their mobile phone.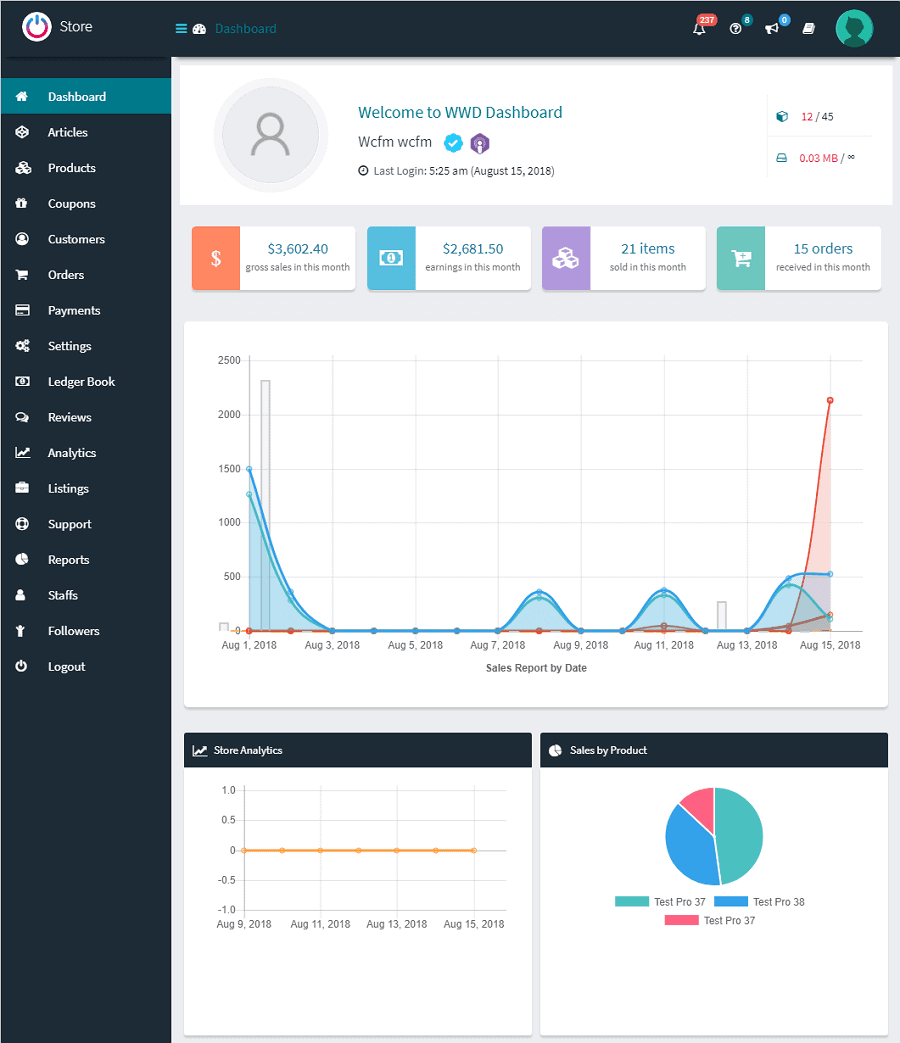 Top features:
All vendor functionalities are integrated into the frontend manager.
Vendors can track their shipping rates with flexible tracking (by zone, country, distance, weight).
Customizable commission system (fixed, percent, vendor-wise, product-wise, membership).
Live shipment status updates for shipping products.
Commission rates can be set globally or for specific vendors.
Simple refund, withdrawal, and reverse withdrawal systems.
Offering vendors the opportunity to promote their products through blogs.
Vendors can set their store's opening hours and closing hours, as well as their weekday off times.
Pricing: Free version on WordPress.org, premium version from $168/year with all the add-ons included.
WCMp – WC Marketplace (now MultiVendorX)
WCMp is also a freemium WooCommerce multi-vendor plugin. The plugin also comes with an easy installation procedure, especially when you consider the number of features it offers.
In addition to views and sales, reports, and commission sections, it provides the admin with convenient control over the marketplace. It offers multiple payment processing options so visitors can choose what works best for them.
Top features:
Dedicated and personalized dashboard for your vendors to manage their customer orders, queries, checkouts, templates, and requests.
Simplistic vendor registration process.
Allows 'Single Product Multiple Vendor' functionality.
Analyze sales reports in detail and use them to improve the marketplace.
A shipping rate that can be adjusted (based on weight, country, or product category) along with a tracking system.
Vendors can use products management tools to list their product details or export-import information.
Built-in order manager.
Pricing: Free version on WordPress.org, premium version starts from $15, based on the add-ons you choose.
WC Vendors Marketplace
We also have the WC Vendors Marketplace plugin included on our list of freemium plugins. It provides a long list of features to help you set up your marketplace.
Merchants can sell all kinds of products using WC Vendors, including physical products, digital products, subscriptions, bookings, and even auctions. You can also give your vendors membership plans, setting up parameters and limits on their products.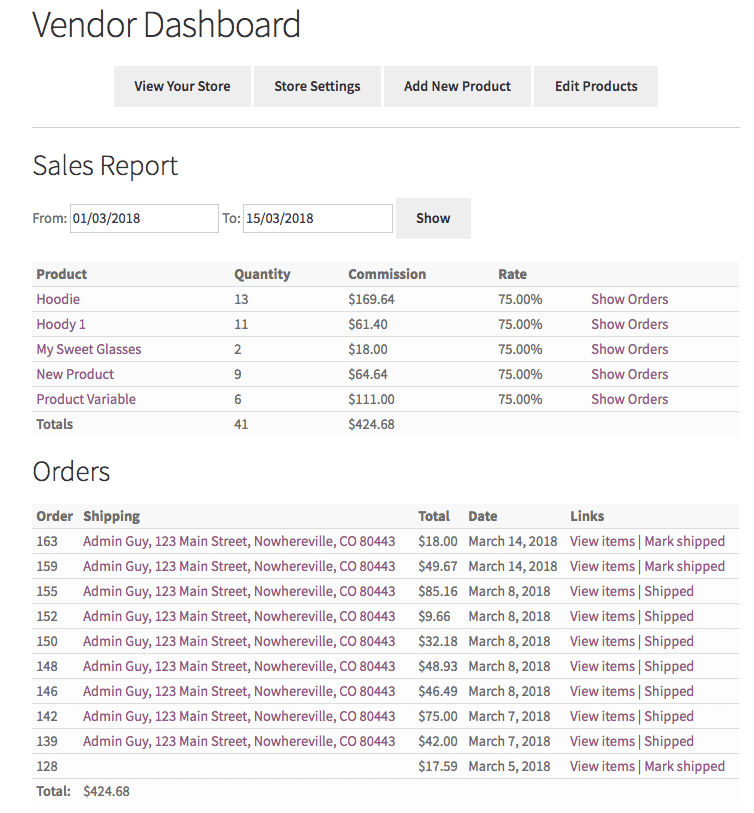 Top features:
Manage your entire marketplace and vendor storefronts from a centralized dashboard.
Vendors can manage their products, sales, shipping, etc. from a frontend dashboard.
Various commission structures (percentage, fee, fixed, sales by product/vendor).
Customers can access live support while shopping.
Different discount coupons can be created by vendors for a variety of products.
An integrated shipping system allows vendors to conduct their shipping and set their own shipping rates (table rate, flat rate).
Pricing: Free version on WordPress.org, premium version for $199/year.
Get WC Vendors Marketplace plugin
How to manage product vendors / multi-vendors from one place?
Managing too many vendors and their details is a hassle. Finding the necessary information in a large data set is also time-consuming. What if you could manage these details in one place?
Smart Manager lets you manage all your vendors and their products from one place, quickly and easily, allowing you to get all the information you need about any vendor.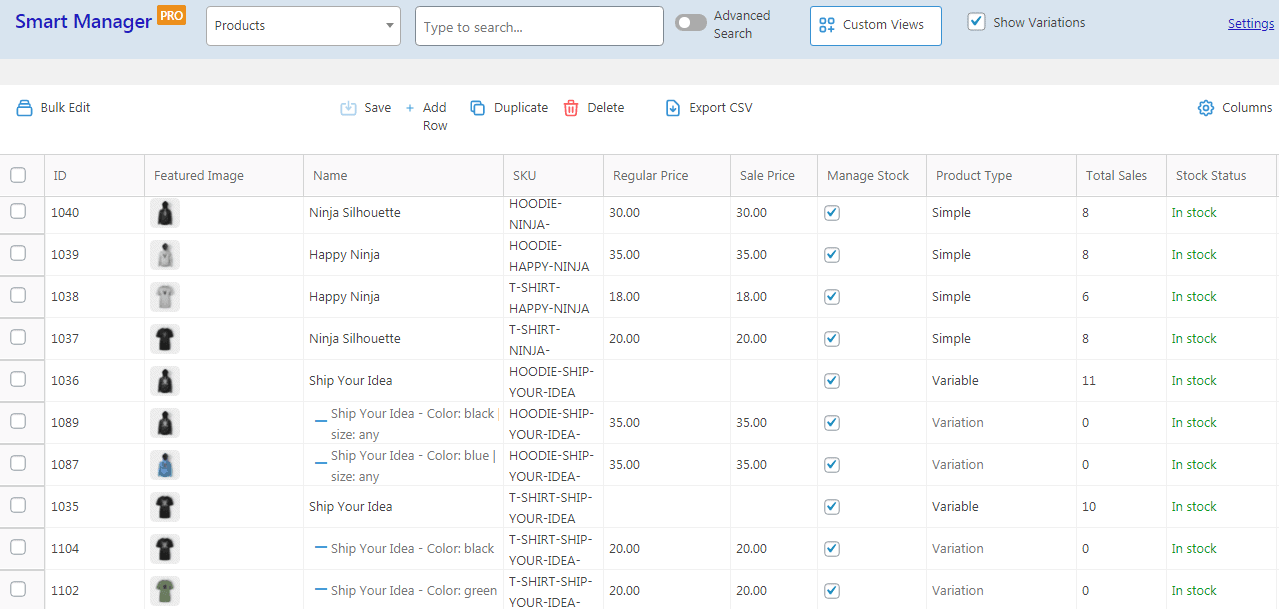 Here's how you can manage multi-vendors and other details with Smart Manager:
Manage all vendors from one place
You can view all vendors with their details in one place, including name, product, overall rating, profile photo, vendor information, vendor approval status and many more…
Inline edit vendor details
Using the Excel-like spreadsheet, you can add a new vendor, edit information such as name, email, photo, approval status and much more directly. No need to go to each vendor's profile and change information.
Manage orders, commissions and more
View order statuses, shipments, tax class, commission statuses, customer notes and more. Mark orders as complete, update commission statuses in bulk, assign shipping and tax class…all directly from the spreadsheet.
Bulk edit product prices
Consider it's the holiday season and you want to offer all your vendors' products at a discount. You can easily select all these hundreds and thousands of products and modify their prices using Smart Manager's bulk edit feature.
Another example, you want to modify prices only for specific products of specific vendors based on conditions like price above $100. Here, you can use Smart Manager's advanced search feature. Enter the conditions, you'll get your selected vendors and products. Now use the bulk edit feature to modify the prices. As simple as that.
Export vendors data as CSV
Export all your vendors data to a CSV file. Or export data based on filters. For example, you can export only vendors' data containing their name, logo, email, approval status. Another example could be exporting only specific vendors and their products data.
FAQs
Is WooCommerce a multi-vendor?
WooCommerce is not a multi-vendor platform by default, but it can be extended to support multi-vendor functionality through the use of third-party plugins.
Is WordPress good for WooCommerce multi-vendor marketplace?
Yes, WordPress can be a good platform for a multi vendor WooCommerce marketplace with the use of appropriate plugins or extensions.
Winding up
Bottom line: if you run a WooCommerce store and wish to diversify your sales, creating a marketplace can be a game-changer. However, you need the right plugins to achieve that.
If all the features and functionalities we discussed in this article stand out for you, go ahead and get WooCommerce Product Vendors and Smart Manager plugins.