Do you have a nurtured community that absolutely loves your products? Do you usually get a great conversion rate while upselling & cross-selling?
Yes? Fantastic! Then it's time you give new wings to your WooCommerce store with an added line of products.
We are talking about the official WooCommerce Product Vendors plugin.
Why Product Vendors plugin?
Along with running your WooCommerce store, you can also invite and accommodate other vendors just like you by creating a marketplace for them. Simply put, what you do here is convert your store into a multi-vendor marketplace. The outside vendors sell their products using your site and you are entitled to a commission with every sale they make.
If leveraged well, you could be minting money just by renting out a small space in your e-commerce store to fellow store owners. That said, we also want to emphasize the fact that it's never a cakewalk to host multiple vendors successfully, especially when you're just starting out.
It could, in fact, get extremely overwhelming at times to manage the onboarding, directing and establishing all the processes and methods for product vendors to follow. Therefore, we highly recommend that instead of taking the route of manual operations, subscribe to a plugin that helps you streamline everything from A to Z.
One of the trusted plugins we know for this is Product Vendors.
So if you're confident about your community and want to encash the opportunity to sell different products with no manufacturing cost on you—keep reading!
A quick review of Product Vendors
This official WooCommerce plugin helps you transform your WooCommerce store into a powerful marketplace for multiple product vendors.
The core functions of this plugin include:
Create a diverse community of sellers.
Get a detailed report of sales & earnings by the vendor.
Set a commission cap particularly for each vendor.
These and many such benefits are accomplished through a set of great features for both vendors & marketplace owners!
Benefits of Product Vendors plugin for marketplace owners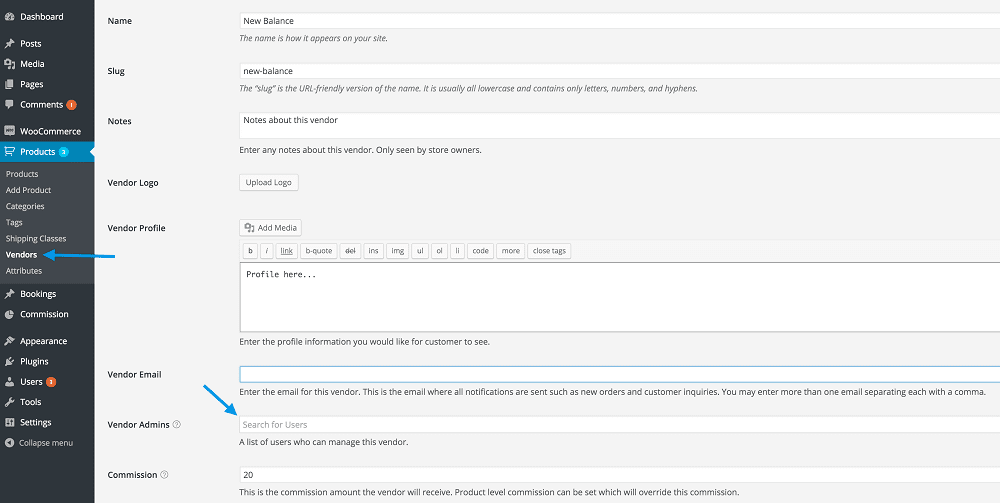 Let your vendors independently manage their store while you still have full control over their approval, rejection, payouts and other things.
Issue registration forms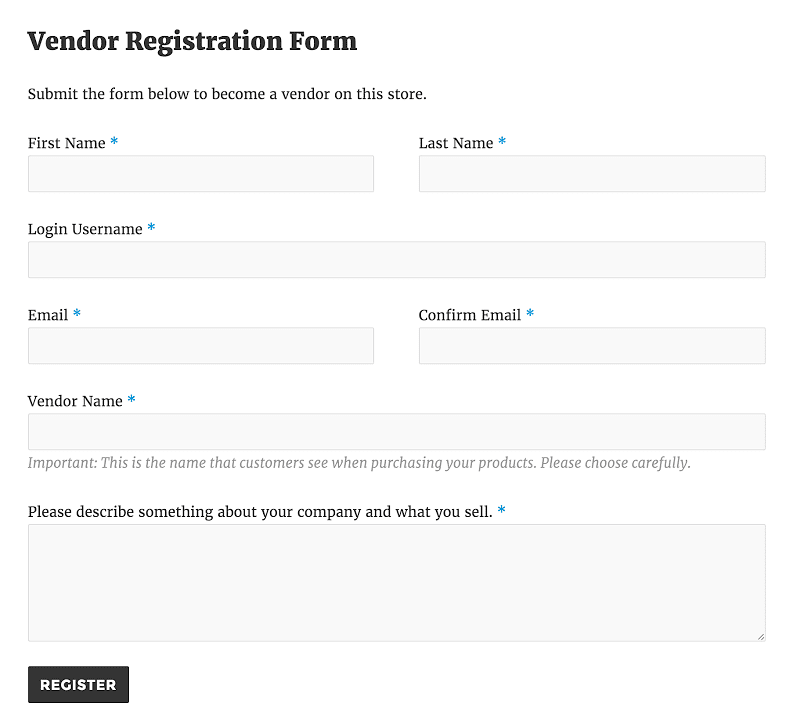 The store owners can accept & review applications from interested vendors via the registration form as shown above.
Power to display selected information
Store owners can choose to show specific vendor information using the display setting. Similarly, it can offer other store edit options to vendors, like: store logo, vendor email, notes for customers, vendor admin settings, commission type, per product shipping rules, etc.
Release payments to vendors
The vendor payments could be cleared instantly or on a monthly/weekly/bi-weekly basis, whatever they prefer.
Extract the commission report

There are two ways they can go about it:
Exporting a CSV file that gets you the data of paid and unpaid commissions.
Exporting a CSV file showing only the unpaid commissions.
Other than these features, the plugin offers store owners the convenience to:
Set up new tax classes or add vendors to an existing tax class.
Onboard vendors in two ways—manually by the marketplace owner or the registration form.
Add/filter/delete products.
Determine the commission, create payout schedule, enable the pass shipping cost to the vendor, handle taxes, allow vendors to publish products without needing your approval.
Review sales reports of all the vendors.
Enable or disable the product shipping cost addition feature for the vendors.
If you're feeling a little overwhelmed looking at these features, let us tell you they just take a few minutes to enable, saving you tons of hours. The best part is you can perform similar transactions in bulk and not one by one.
Store owners can pay commission for some particular products, mark unpaid for those commissions not paid and vice versa, mark fulfilled for those products which are shipped and vice versa, and you can also delete commission, in bulk.
Refer this documentation for more details.
Benefits for Product Vendors plugin for vendors
Although the store owners do have great control over how things operate across the site, product vendors get their share of powers too.
Registration & approval
Product vendors can apply for the space via a simple registration form with a unique name. Until they get their store approved, they can operate with two roles as follows:
Vendor Admin:- Gets access to all settings like reports, orders, media, profile edits, products, store settings, and support.
Vendor Manager:- Gets limited access to the dashboard only to orders, media, profile, and products.
Store settings
Using the store settings, vendors can update the logo, their profile, email, PayPal email, commission, timezone, etc. Other than these things, they can also edit each product as per their preference.
Freedom to sell any products
Once the vendor successfully creates the product pages and it is approved by the store owner, he can start selling. His product line could include simple, digital/downloadable, variable, bookable products.
Analyze their sales reports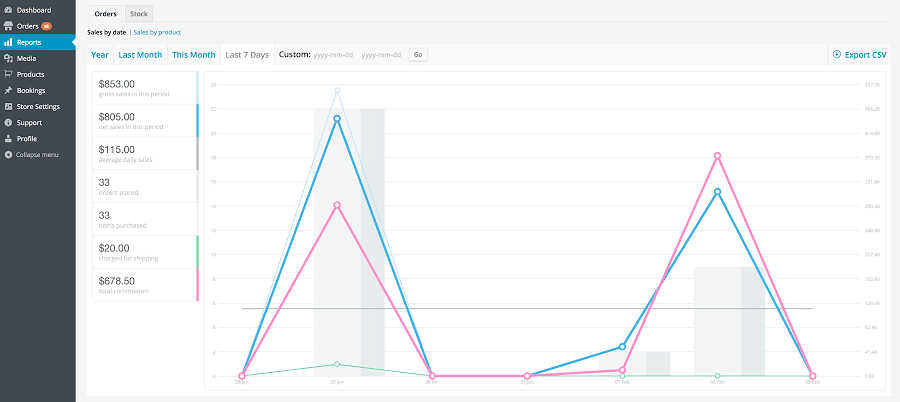 After a constant fulfillment and shipping of products, vendors can track their growth by taking a look at the sales reports.
While the WooCommerce Product Vendors plugin is quite effective for most of the WooCommerce marketplace requirements, it comes with two challenges:
Incompatible with Stripe payment gateway.
Vendors can't create grouped products.
Pricing
The plugin costs $79, including support and updates for a year.
Get WooCommerce Product Vendors
How to manage product vendors from one place?
Dealing with too many vendors and their details is cumbersome. Finding the required information from a huge data is also time-consuming. So, what if you can manage all these vendor details from one place?
Get quickly any vendor information required among thousands of vendors out there. Smart Manager allows you to manage all vendors from one place, quickly and easily.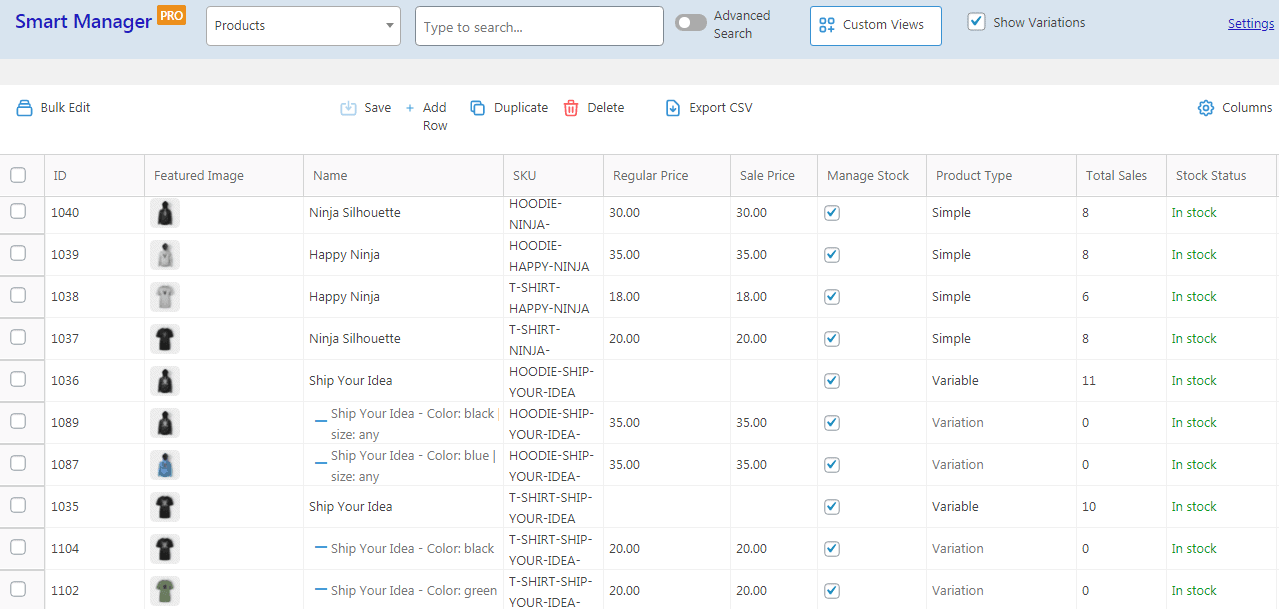 Here's how you can manage WooCommerce Product Vendors with Smart Manager:
Manage all vendors from one place
View all vendors at one place along with their details – name, products, overall rating, profile photo and profile information, vendor approval status, etc.
Inline edit vendor details
Add a new vendor directly, modify details like name, email, profile photo, approval status; delete vendors and a lot more directly using the Excel-like spreadsheet. No need to go to each vendor profile and make changes.
Manage orders, commissions and more
View order statuses, shipments, tax class, commission statuses, customer notes and more. Mark orders as complete, update commission statuses in bulk, assign shipping and tax class…all directly from the spreadsheet.
Bulk edit product prices
It's the holiday season and you want to offer all your vendors' products at a discount. You can easily select all these hundreds and thousands of products and modify their prices using Smart Manager's bulk edit feature.
Or you want to modify prices only for specific vendors on some specific products based on conditions like price above $100. Here, you can use Smart Manager's advanced search, enter the conditions. You'll get your selected vendors and products. Now use the bulk edit feature to modify the prices. As simple as that.
Export vendors data as CSV
Export all your vendors data to a CSV file. Or export data based on filters. For example, you can export only vendors' data containing their name, logo, email, approval status. Another example could be exporting only specific vendors and their products data.
Winding up
The bottom line is if you're a WooCommerce store owner looking to diversify your revenue, creating a marketplace of vendors could work out wonders for you. However, to make those wonders happen, you'll need solid plugins.
If all the features and functionalities we discussed in this article stand out for you, go ahead and get WooCommerce Product Vendors and Smart Manager plugins.