Running a WooCommerce affiliate program is a great strategy that comes with equally great challenges.
Therefore, to run it as successfully as you envisioned, you must build a strong affiliate onboarding process.
Your onboarding process will set the tone for the rest of your affiliate program and help your affiliates get a 360 degree understanding of what and how they are supposed to do things in order to convert maximum entries.
At the same time, you need to also constantly work on developing a positive relationship with your affiliates and provide an unforgettable experience for them.
To make it easy for you, we've put together eight strategies to create a perfect affiliate onboarding process. Let's get started.
Step into the shoes of your affiliate and think…
If you had to understand the affiliate program, what all things would you want to know?
Some of the most important questions that could come to your mind be:
Which product to choose or start with?
Who to contact to understand the process?
How do I start?
When and how will they pay me?
Which links to use and where do I find them?
Which platforms can I use to promote the products?
Is the marketing material given by them? If yes, where do we find it?
The affiliate program having answers to these questions will make it a successful one.
Setting up an efficient affiliate program
The list of such requirements include:
Setting up the system to collect leads for the affiliate program
Turn all your customers automatically into affiliates or manually
Creating terms & conditions document for your partnership with affiliates
Creating commission plans with its rules and regulations
Designing the signup page as per your branding
Setting the welcome and other emails
Posting all the marketing / promotional material in the plugin
If you are looking out for a plugin that provides all these without hassles, Affiliate for WooCommerce is all you need.
The plugin helps you set up a powerful affiliate system with ease and all the features that you need to run a successful affiliate program.
What makes it stand out from every other plugin is the fact it completely takes off your burden, frustration and cost to appoint people that you otherwise had to do. It runs automatically & yet you get full control over each functionality of it.
Improving communication with your affiliates
To run a hassle-free affiliate program, you must set a communication process so smooth and effective that your affiliates don't have a tough time when they are in doubt or when they have to contact you urgently.
Create a dedicated email id (avoid going for multiple ids) where they can send in all of their affiliate related queries. If possible, dedicate a particular team member or a couple of members (as required) who can be held accountable to handle them timely and smartly.
Also, know that this is not a one-time process but rather must be maintained constantly to know what your affiliates are up to and things are going well.
Other than this, you may also conduct some training or workshops for your affiliates to get an in-depth understanding of the program.
If there's a demand, you can schedule some doubt clearing sessions for them over weekends or have some online forums which are exclusive to serve your affiliates and work towards the growth of the community.
Make it easy for them
Even after providing them with each and every piece of information that you may have, there's a possibility that your affiliates are sitting somewhere and still wondering, so how do exactly I start?
To make it even easier for them, you can create some short-snackable content pieces that would effectively convey the process.
You can also offer some customized solutions, such as:
Promotional strategies as per the products
Best keywords to use
Exciting affiliate offers to choose from
Along with this, preparing a FAQ or documentation which has covered all the particular queries you've entertained in the past for your affiliates would be a great idea too.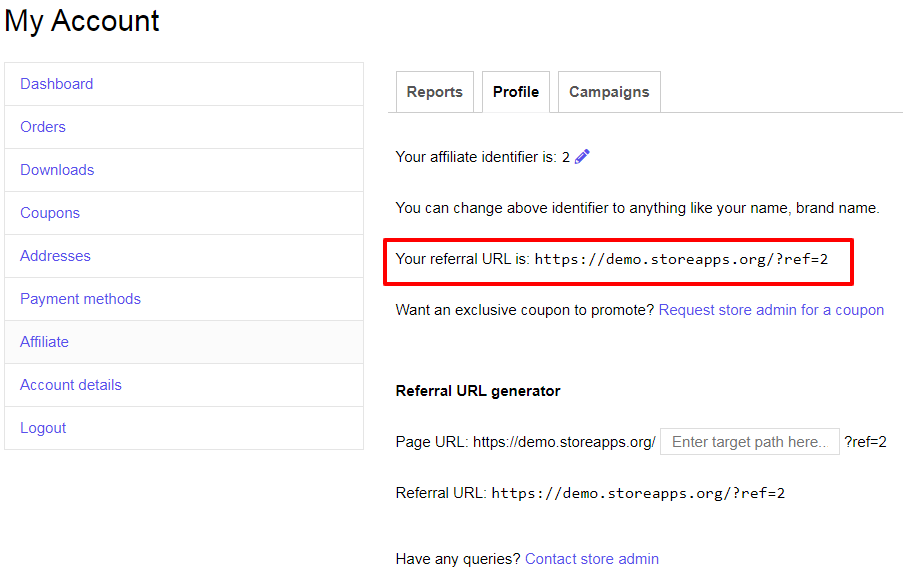 Affiliate for WooCommerce makes it super easy by allowing the affiliates themselves to modify their referral links/use coupons and for you to track visitors, conversions and payouts.
Equip them with all the marketing material
Your affiliates may not be sales experts but your promotional material will do its jobs. This will not just assist your affiliates but will also go a long way in registering your brand identity in the minds of reach outs.
This material could include images, videos, promotional copies, landing page links, product links, website links, etc. You can manage your resources better by getting them stored in different promotional sections.
As shown, you can create affiliate marketing campaigns using Affiliate for WooCommerce plugin. Add assets your affiliates can pick and use it to promote your brand better.
Leverage your past achievements, awards, remarkable mentions, endorsements, testimonials through this material.
Also, if you can provide customized marketing material as per the platforms your affiliates are going to use.
For example,
To promote through email marketing, highly convertible emails copies and designs could be made
To promote through Instagram, attractive images could be designed
Make sure this material is accessible to all of your affiliates easily on their dashboard.
Help them make their first sales
This step might demand you to go a little extra mile for your affiliates but take our word, it's worth it.
It will not just help in boosting their confidence but also establish a great relationship with them which will further motivate them to do more than expected.
You can assist them with:
Understanding their sales pitch and suggest improvements wherever required
Guiding them with the right products for their target audience
Recommendations for marketing creatives
The core intention behind providing this assistance is to develop that much-needed momentum at the beginning for your affiliates and then letting them take it ahead on their own.
Show them 'what's in it for them?'
Sometimes, people start with a motivated mindset but fail to keep up with the pace. What you can do for such affiliates is constantly be in touch with them and remind them about the benefits of your program.
Make them understand how your program will help them scale in their life or business!
To keep them active and inspired to achieve more, you can:
Show success stories of past affiliates
Create a community that constantly communicated with them
Conduct surveys. Ask them if there's any scope to make the program even better?
Present them with irresistible offers and special incentives (you can create some great commission plans with the most powerful conditional rule engine here)
Always make them feel valued and respected
Last and the most important one…
Make their experience personalized
Be it the welcome email, sign up page or how you simply attend their queries.
Again, it's never a one-time process but the ongoing assistance that you provide will throughout the entire program.
Your take
If you're just taking baby steps in your affiliate program, we hope this article helped you get that head start!
At the end of the day, it is you who is in full control of the program, so make sure to make the most out of these tips using Affiliate for WooCommerce.
However, if in the process, you happen to dodge a bullet, don't stress too much. Just get up and start again. After all, it's all about trial and error when you begin with something new.