You have created your affiliate marketing program. However, if you do not take proper care of your affiliates, you might end up losing them along with the sales they bring.
And if those affiliates are your top performers or influencers, the situation becomes even worse.
This blog outlines the pro tips on how to manage affiliates better, retain them, and enhance your affiliate program.
What is affiliate management?
In affiliate marketing, managing affiliates is about nurturing and maintaining relationships with them.
You need to keep them engaged, loyal, and send timely rewards so that they actively keep promoting your products or brand. The more qualified affiliates you retain, the more your business grows.
Happy affiliates are more committed to consistently bringing you revenue. Focusing on specific affiliates also aids in reducing your marketing expenses.
However, affiliate management requires careful planning and execution to ensure success.
Top strategies on how to manage affiliates better
Let's explore the top strategies for building stronger affiliate relationships and ensuring long-term online business success.
Well also discuss how the Affiliate for WooCommerce plugin can assist you in implementing these strategies.
In a nutshell, this plugin helps you easily run a successful affiliate program in WooCommerce. Monitor referrals, sales, commissions, payouts and marketing campaigns from one place. Trusted by 4000+ customers and consistently rated five stars.
Coming back to the strategies:
Identify top affiliates from real-time analytics
Monitor the performance of each affiliate to make data-driven decisions. Identify which affiliates bring the most sales, those who excel in selling slow-moving products, conversion rates, and more.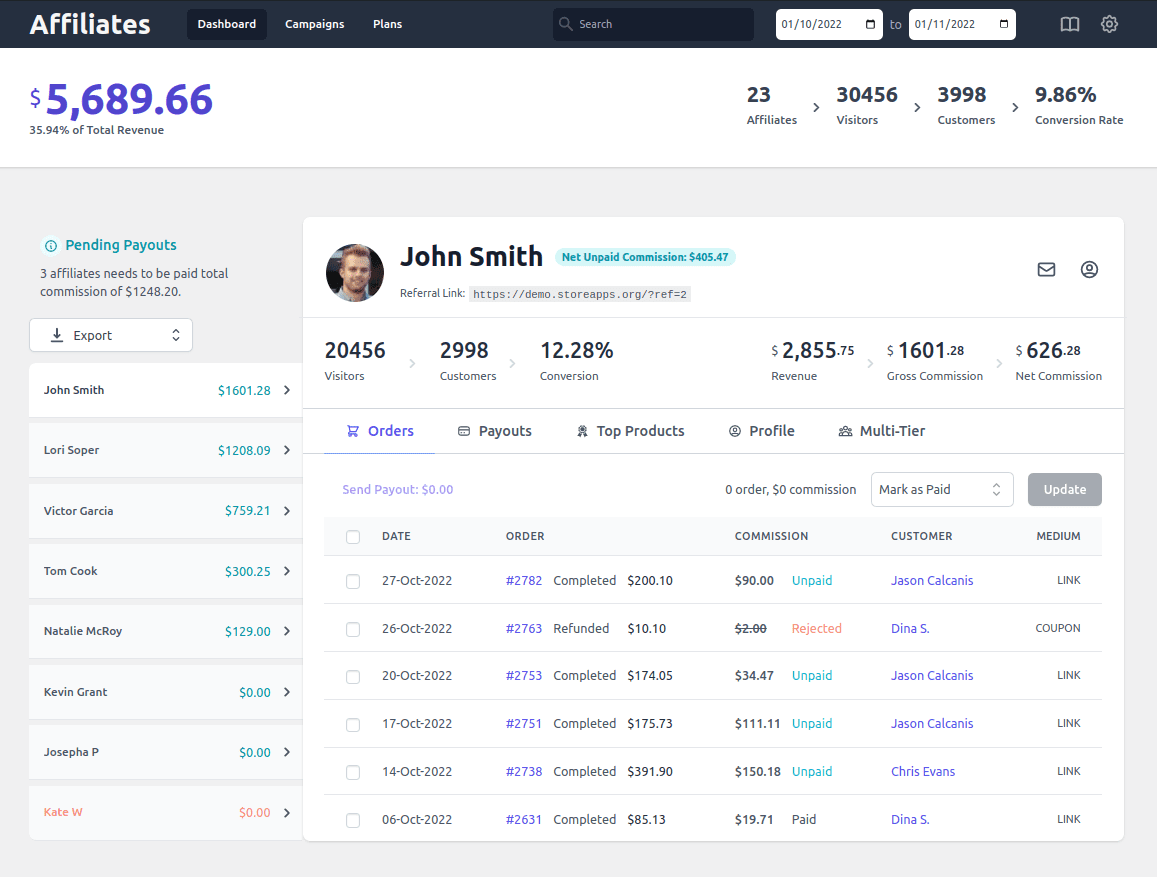 With the Affiliate for WooCommerce, you gain a dedicated dashboard offering comprehensive insights into each affiliate's performance. Metrics such as conversion rate, products sold, earnings, and more help assess the effectiveness and reach of each affiliate.
Offer special and lifetime commission
When you identify top affiliates, you have to reward them with extra incentives for their performance.
This will help you retain those affiliates for a longer period and they will be encouraged to bring more revenue to you.
With the Affiliate for WooCommerce plugin, you have the flexibility to assign a special commission rate to each affiliate.
For instance, you've set a default 20% commission rate for all affiliates. You check the dashboard and find that John has bought 100+ successful referrals, so you want to raise John's commission rate to 25%.
Similarly, you can assign a 35% commission rate to all your Influencers, grouping affiliates for specific rates.
You can also set lifetime commissions for specific affiliates.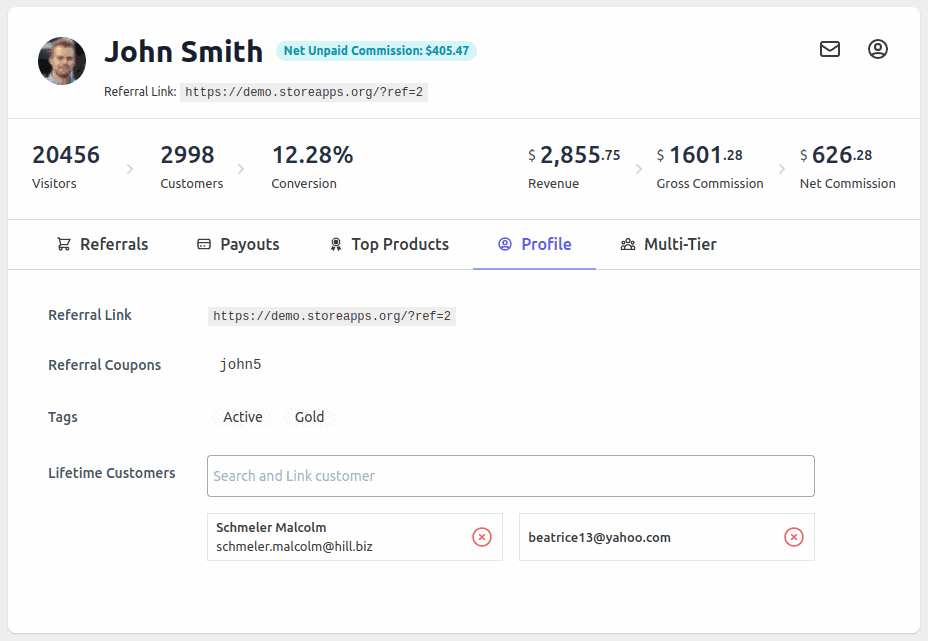 Provide the necessary marketing assets
When you have an affiliate marketing program, it's crucial to support your affiliates by giving them the necessary marketing assets.
These assets empower affiliates to represent your brand accurately and maximize their marketing efforts.
Banners, graphics, product descriptions, videos, email swipes, educational resources…create unlimited campaigns using the plugin and add these resources within those campaigns.
Your affiliates can then pick them up and effectively promote your products or services across multiple channels.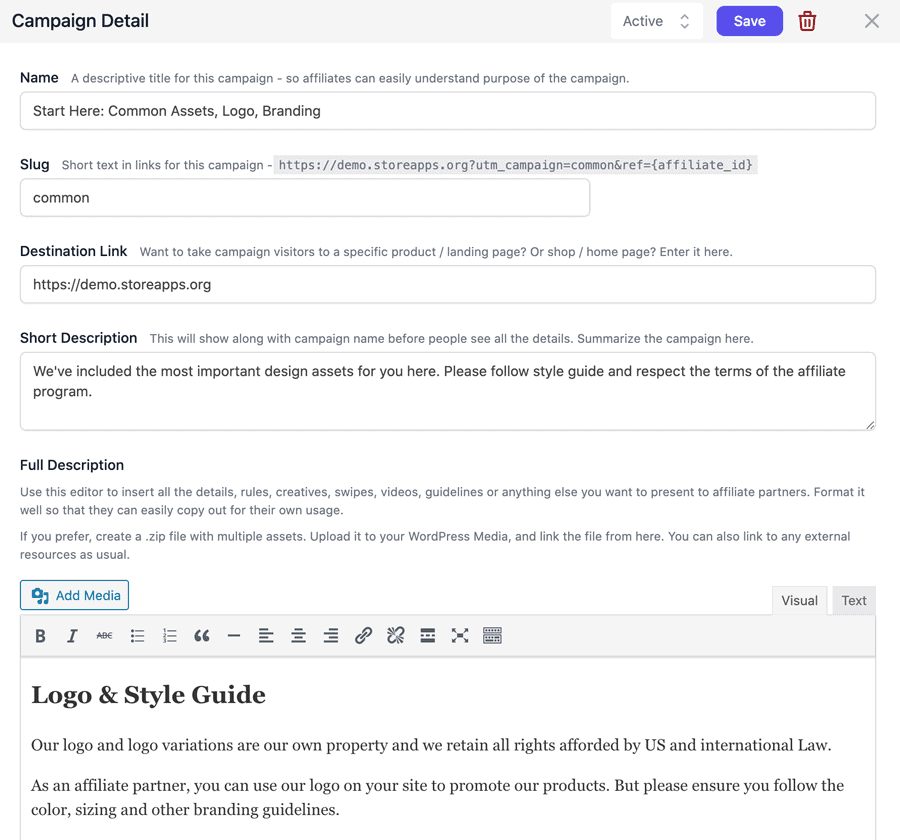 The plugin also allows you to share specific resources with specific affiliates only. For example, providing new product launch graphics solely to your influencers.
Train affiliates and keep them updated
As affiliates often include social media marketers and bloggers, staying updated on trends is crucial. Training that aligns with your brand identity enables them to excel, utilizing formats like videos and podcasts for optimal communication.
Since affiliates promote your products in real-time, timely communication is vital for informing them about product updates, promotions, and policy changes as they occur.
Reach out via emails or have private groups on social media to keep your affiliates on track with the latest updates about your brand. You can also use the Campaigns feature mentioned above to send all the required updates to your affiliates.
Have a face-to-face conversation
Effective communication is vital for nurturing robust affiliate relationships.
Face-to-face interactions provide opportunities for networking and potential collaboration. You can take their opinions, discuss growth opportunities and even talk about hobbies and personal life lessons.
The affiliates feel you value them and are open to taking their feedback and suggestions for your brand improvement. This engagement keeps affiliates dedicated and involved in your program.
Create trust with reviews and case studies
Affiliates take pride in being associated with a program that has a track record of success.
When affiliates see others succeeding within your program, it validates the program's credibility and potential. They're more likely to stay when they witness real success stories from their peers.
Being part of a program with strong social proof can contribute to their personal brand reputation as well.
Make timely payouts
Avoid affiliates from chasing you for money. Pay your affiliates in a timely fashion to avoid leaving a sour taste in their mouth.
The Affiliate for WooCommerce plugin allows you to pay your affiliates via PayPal from within the plugin.
It also allows you to mark commissions and then pay your affiliates manually later outside the plugin for direct bank transfers, cash, store credits and reward points.
The plugin provides a dedicated dashboard for affiliates, so they can keep an eye on their earnings and individual performance.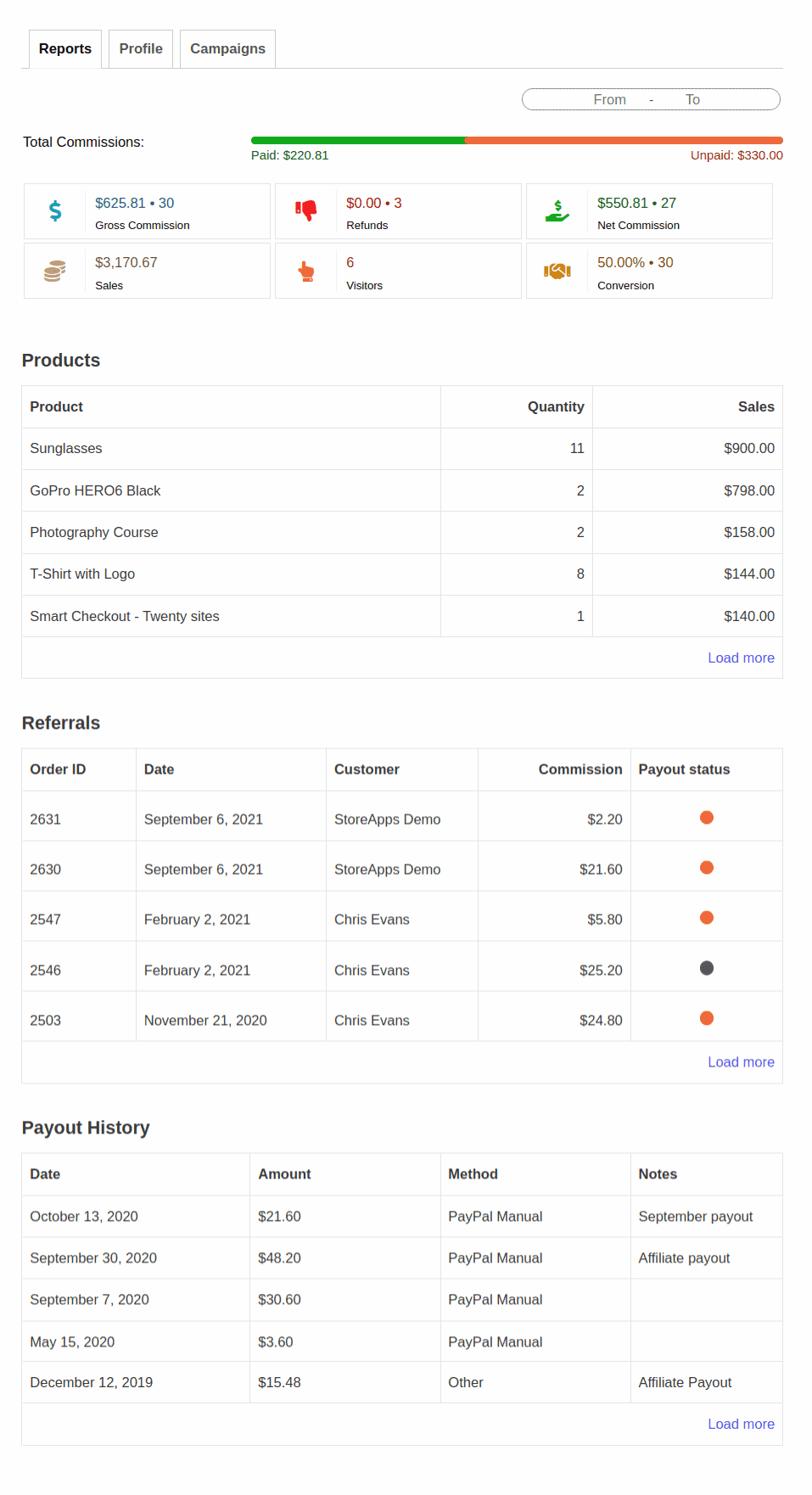 On a parting note
Effective affiliate management involves careful recruitment, transparent communication, and the provision of valuable resources.
With the help of these mentioned strategies, you can foster strong relationships with your affiliates, harness their power to expand your reach, enhance credibility, and drive sustainable growth.
And if you are in the WooCommerce space, then the Affiliate for WooCommerce plugin is your best bet for affiliate management.