Affiliate for WooCommerce
Create and run
your own successful affiliate program
Affiliate for WooCommerce is undoubtedly the simplest WooCommerce affiliate plugin that helps you track affiliate sales, referrals, commissions, record payouts and much more – all from a single-screen interface. Super-easy and jargon-free.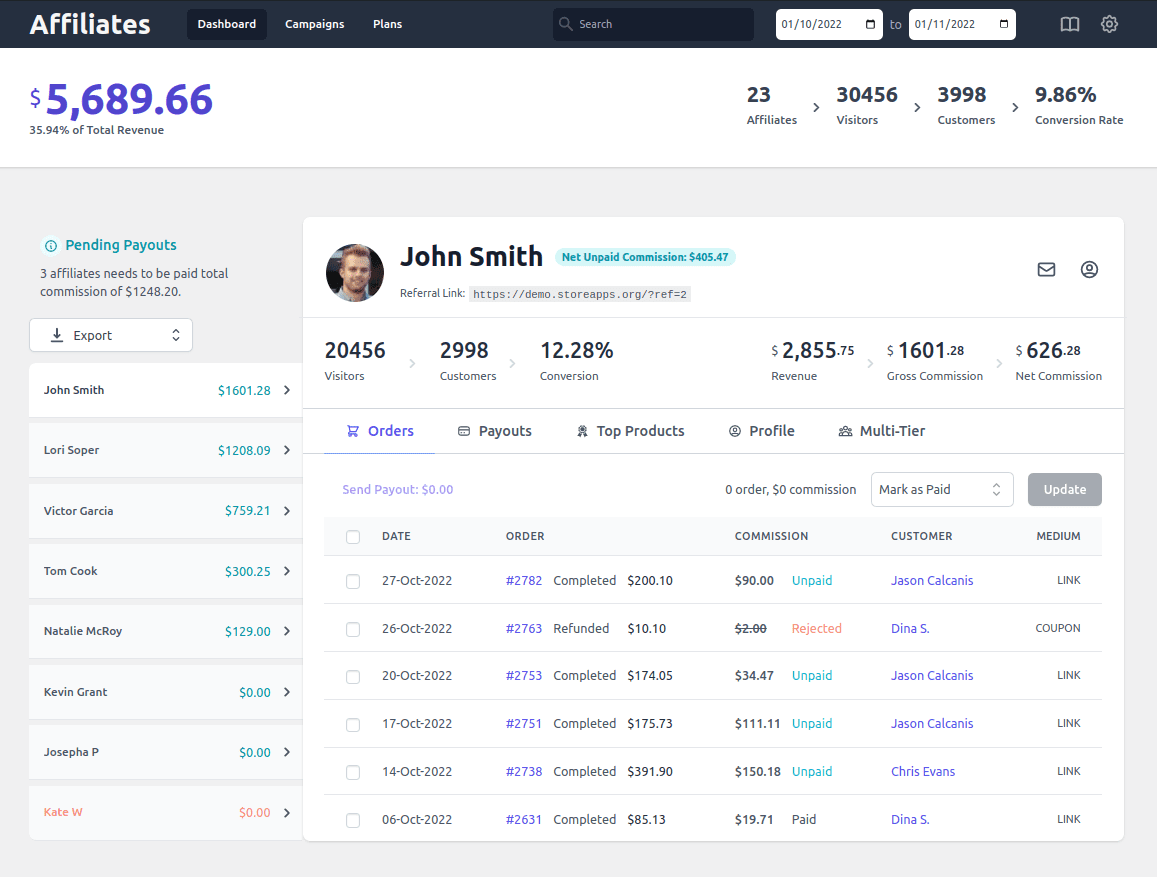 Get more qualified leads, sales and loyal customers
Commission rules, unlimited creatives, PayPal payouts…
It's very difficult to convince visitors to buy on their own. You need people whom visitors trust. Their recommendations can put your sales on a roll. That's the power of word of mouth.
Affiliate for WooCommerce allows you to recruit such an army of trustworthy people – customers, friends, influencers…who can easily promote your brand to a large audience, sending you potential customers, thus amping up your conversions.
Self-manageable

No shortcodes. No complex procedures are to be followed. Affiliates can register, generate links, and track commissions themselves. You can also automatically turn your customers (or any other WordPress users) into affiliates.

Compatible with Contact Form 7 and Elementor

Use simple registration forms to allow users signup for your WooCommerce affiliate program. Or use these two popular WordPress forms plugin to add some style elements to your form. You have the flexibility to show/hide form fields as required.

Track all KPIs in a single place

You no longer have to struggle with different screens and menus to track affiliates, referrals, payouts, order status, products sold, etc. Everything is available in one single dashboard.

Affiliate referral links and coupons

Allow affiliates to use referral links or coupons in the URL for promoting your products. The plugin also allows customizing the affiliate referral link – tracking param and affiliate ID.

Affiliate commission rules

The only plugin that gives the flexibility to set different types of commission plans or rules – based on affiliate, product, product categories, affiliate tags…

Lifetime commissions

The affiliate can earn commissions on all future purchases made by their linked customers, regardless of cookie deletion, referral ID/coupon, or device change.

Unlimited creatives (marketing campaigns)

Create campaign assets that your affiliates can use for promotion. Banners, videos, swipe files…be it anything, use the familiar WordPress editor to design your campaigns that match your brand.

Search filters, tags, export

Find affiliates by name, email, predefined filters and tags. Use tags to create affiliate groups like Influencers, Gold, Silver…Export all affiliates' data or based on filters to CSV.

Flawless WooCommerce integration

The plugin automatically links WooCommerce orders with affiliates and updates commission status as order status changes. Pending to Completed, Completed to Refunded… You don't need to lift a finger.

Commission payouts

Send commissions to your affiliates with PayPal in one click directly from the plugin. Or use other methods to mark commissions. Easy and risk-free.

Crisp real-time reports

Our WooCommerce affiliate plugin gives you clean, simple and intuitive reports about total sales, sales from affiliates, reports on Individual affiliates' performance, an affiliate leaderboard…all in real-time.

Unlimited tracking

There is no limitation to the number of affiliates and the affiliate traffic. Track them all!
Consistently rated 5-stars
Worth every penny, Easy-to-use, great support
This is what you'll come across frequently when you read Affiliate for WooCommerce reviews. It's an investment that has a guaranteed RoI for a lifetime.
"Right out of the box, this plugin seems pretty straight forward, easy to use and is a good value for what it does." – Eric Meyer
"I suggest this extension over other affiliate program since it is super easy to configure and support is extremely prompt." – Novacell Biotech
"The plugin is very helpful in tracking sales affiliates for healthcare plan site for my client. Support was also very good." – Abhishek
"We had some issues with Paypal payments, but the dev team was responsive and resolved it. Overall, this is a great plugin to quickly and simply setup a well rounded affiliate program at a reasonable cost." – Acquilinea"
"I made the best business decision ever to add an affiliate marketing program to my agency offerings and bought the most easy-to-use software. Happy to renew my subscription." – Wab Digital
"This plugin is a game changer! I've been using it for a few months now and it has completely transformed my website. If you're looking for a powerful plugin with excellent support, look no further!" – Mikraj Digital
Special commission for special affiliates
Storewide, lifetime, tiered…
Set up a default commission rate. But reward some affiliates based on their performance. Influencers get an extra share of pie, while some affiliates get more on the sale of specific products.
You can also set up lifetime commissions and multi-level (tiered commission) structure. The most powerful commission rules system.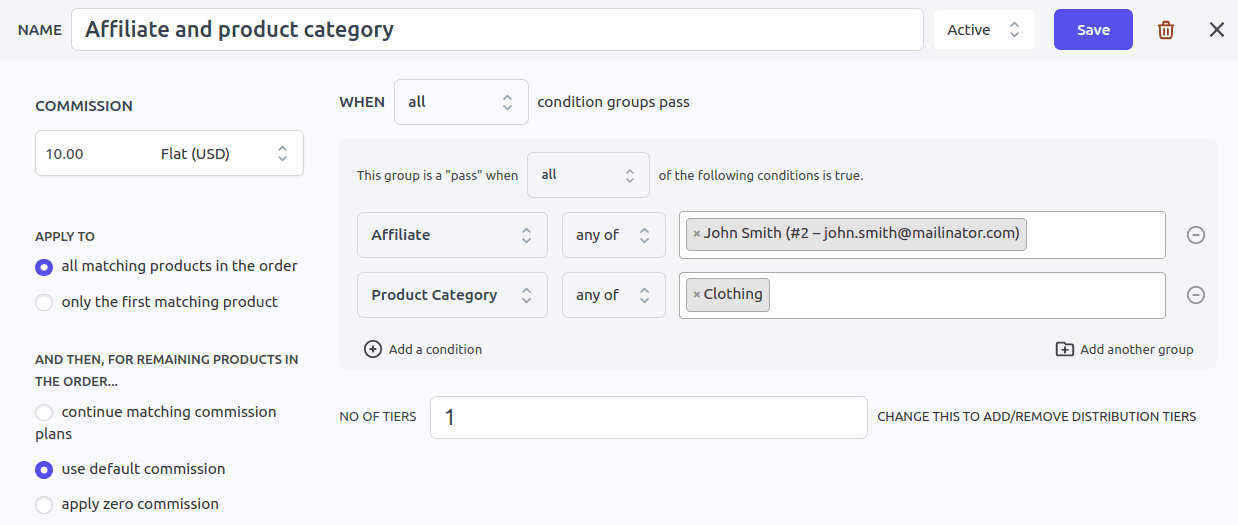 Marketing campaigns and assets
Unlimited Creatives for better promotion
Your familiar WordPress editor to prepare affiliate marketing campaigns in a few minutes. Images, videos, PDFs, swipe files, logos, banners, e-books, whatever you want, you can add to the campaign.
Your affiliates can pick up the marketing assets from the campaign and use them on their various channels to promote your brand.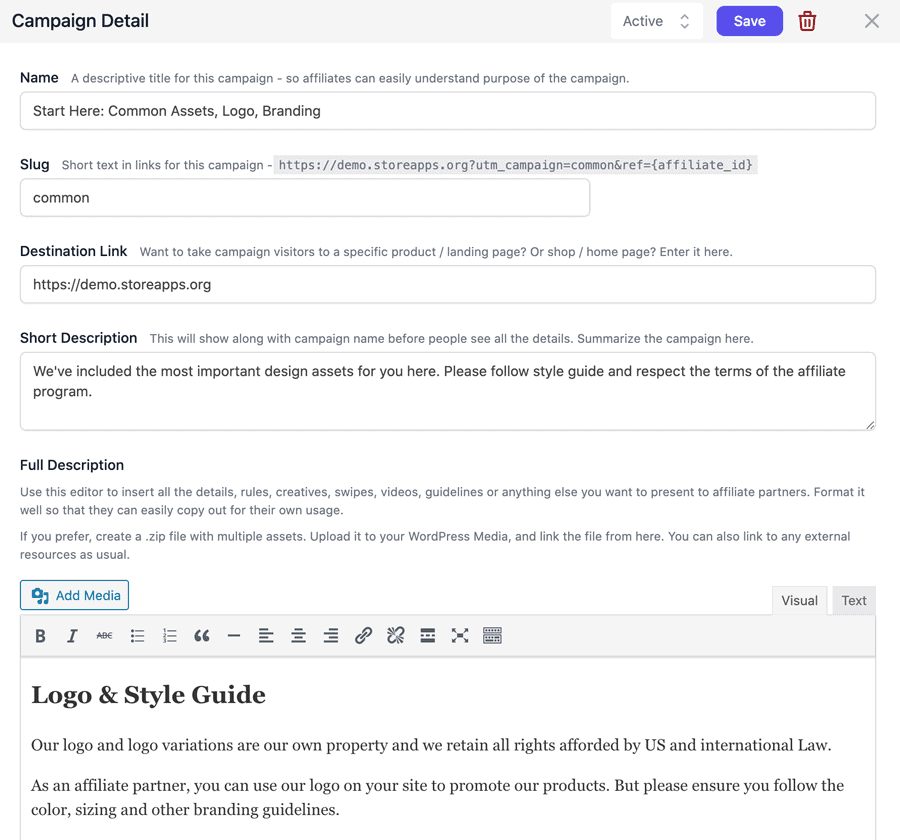 Commission payouts
Pay via PayPal and other methods
Make commission payouts via PayPal directly from the plugin. Or use other payment methods and mark them as paid manually.
You can also assign store credit and reward points to affiliates instead of payouts using Smart Coupons and Points and Rewards plugins respectively.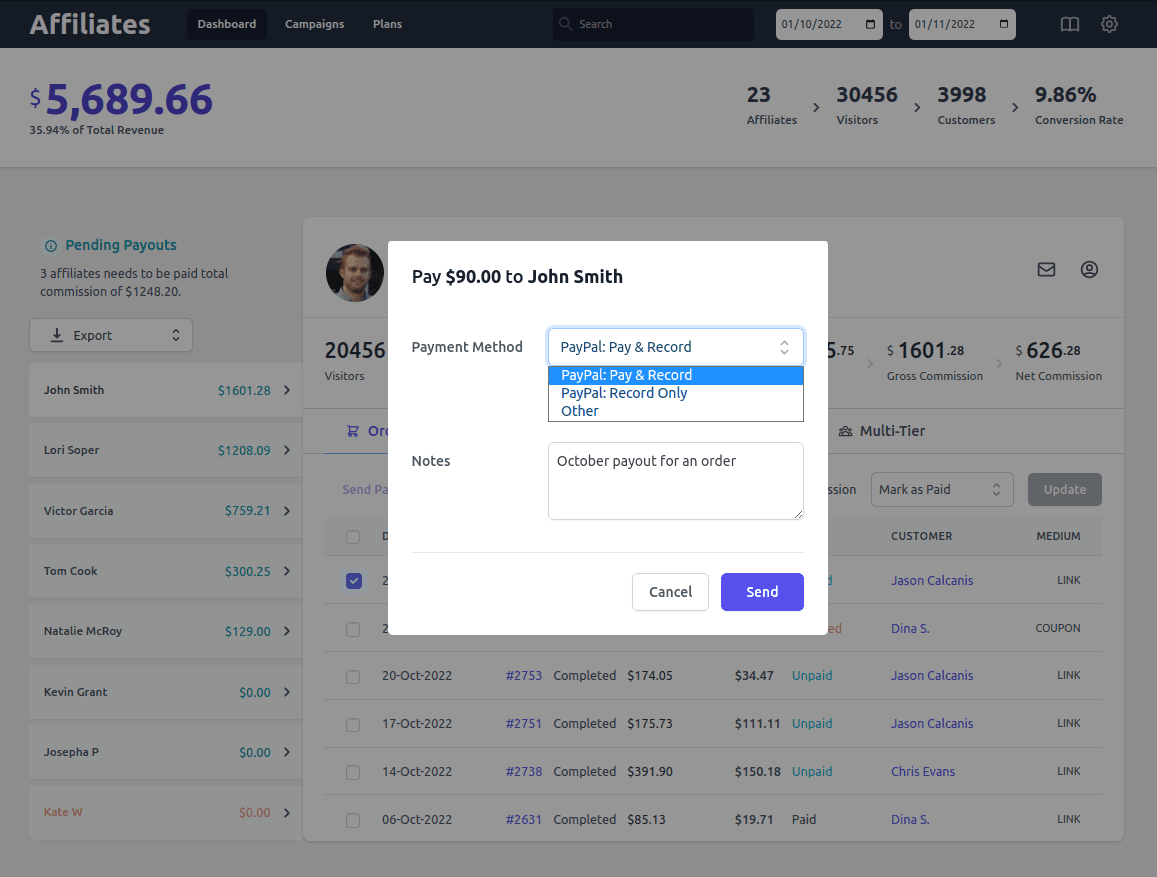 Dedicated dashboard for affiliates
Track and manage everything from 'My Account'
A self-care dashboard for your affiliates. They can generate and customize their referral URL, ask for coupons, track commissions and performance, and also use the assets for marketing your brand.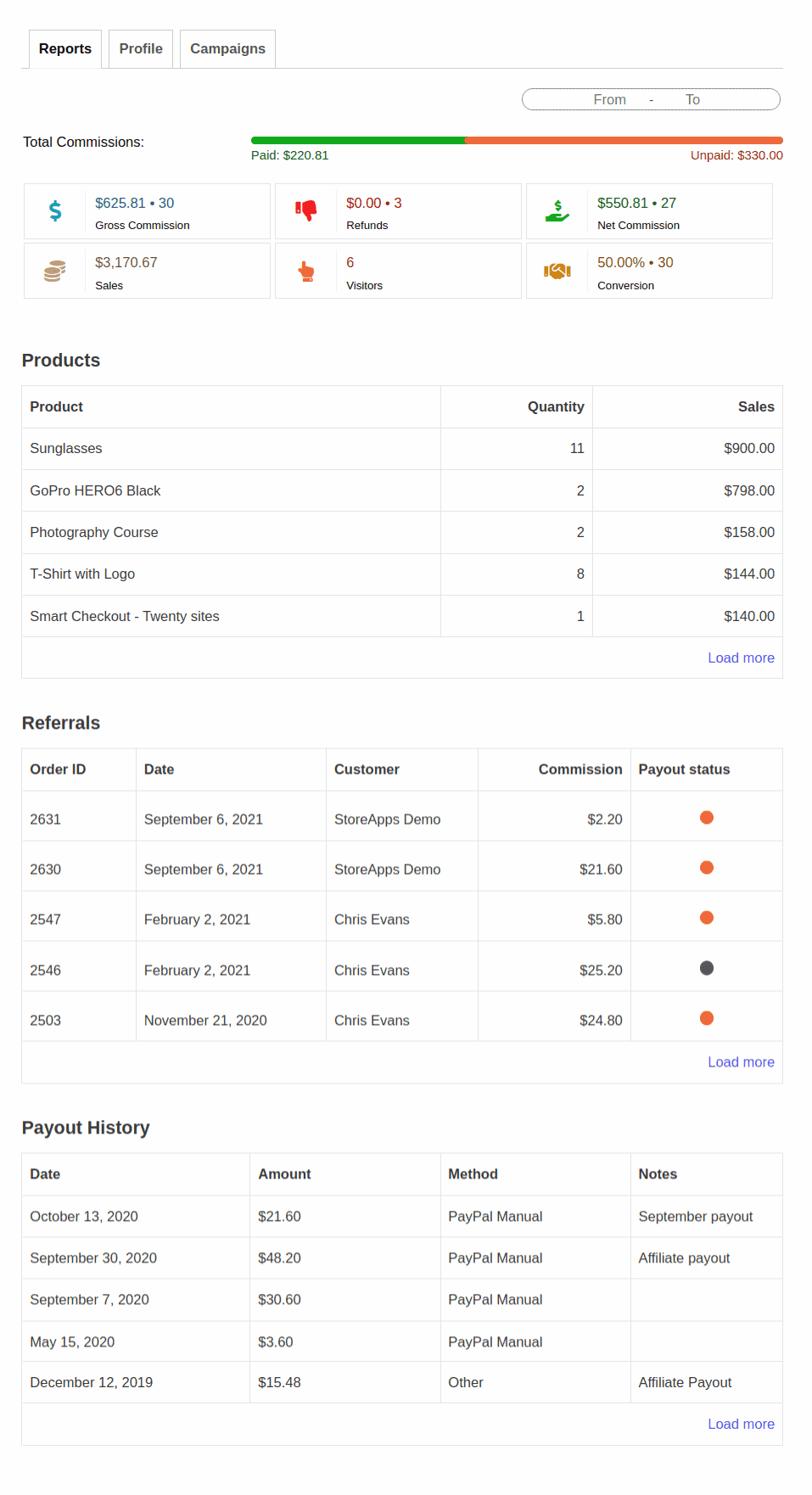 No confusing terms, clunky interfaces, or multiple screens
Different from other WordPress and WooCommerce affiliate plugins
Simple, single-screen intuitive dashboard makes Affiliate for WooCommerce plugin stand out from AffiliateWP, Affiliates Pro, YITH WooCommerce Affiliates, Tapfiliate, Referral Candy and others. You also get a rock-solid WooCommerce and Subscriptions support.
FMCGs, Electronics and technology, fashion and lifestyle, health and fitness, food and drink, digital stores…having 100 or 100,000+ products, our WooCommerce affiliate plugin will work, without slowing down the website.
Your junior staff can also take care of month-to-month operations without any tech help. Just count the cash, this plugin will handle the rest.
Affiliate for WooCommerce Pricing
The right price for you, whoever you are
Affiliate for WooCommerce will create huge value for you, your team and your business. It will give you higher visibility, qualified traffic, higher SEO rankings, and higher revenue, and full control over your own affiliate program. We sell the single site license from the WooCommerce marketplace. For multi-site license pricing, click on 'Get a Quote'.
For micro, small and medium sized WooCommerce stores.
Multi-site / Unlimited sites
Custom
For high and very high volume sized WooCommerce stores.
FAQs
What if I buy one year license and then cancel?

You can certainly do that if you wish. Cancellation is easy. You can manage all your subscriptions easily from your account. But keep in mind that you are eligible for support and updates only if your license is active. So you will need to buy again at then prevailing prices if you cancel now and need updates later.

How do you count number of sites for a license?

Each website – whether it is a subdomain, cross-domain, subdirectories… is considered a separate website. Learn more about it from here.

What if I want a refund?

Refunds within 30 days of purchase, if the plugin is broken, and if we do not solve it in reasonable time, after mutual communication. Refunds for single site are governed by WooCommerce refund policy. Renewals, problems due to third-party plugins / themes / code / hosting etc do not qualify for a refund. Please read all our terms here.
Buy with confidence – you're in good hands
You're buying from the best!

Rest assured that you will be well taken care of when you buy from StoreApps.

Top selling plugins for marketing and store management
Official WooCommerce and GoDaddy partner
Founded in 2011, one of the early Woo third party developers
40k+ customers, 300k+ users, millions of downloads
Consistent 5 star review ratings
WordPress community contributor, sponsor, speaker.

Friendly support from top quality developers

Our plugins are easy to use. We also have ample documentation. But whenever you need further assistance, you will get support from the same people who develop these plugins! We make sure you succeed!