Affiliate For WooCommerce
Create and run
your own successful affiliate program
Affiliate for WooCommerce is undoubtedly the simplest WooCommerce affiliate plugin that helps you track affiliate sales, referrals, commissions, record payouts and much more – all from a single-screen interface. Super-easy and jargon-free.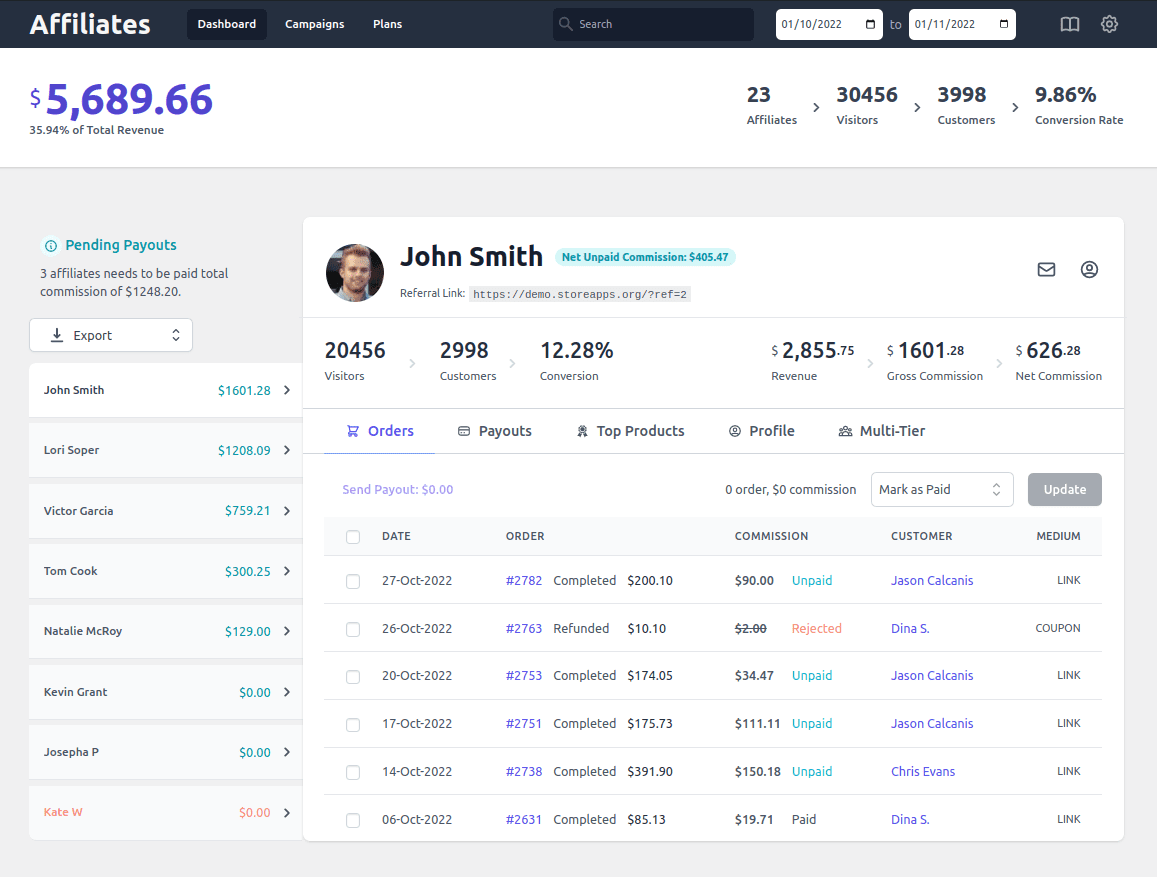 Get more qualified leads, sales and loyal customers
The fluff copy, hype that sellers bombard to buy their products have made the audience extra careful and cautious. Therefore, a genuine copy and adopting a straight-to-the-point approach have become difficult to convince visitors to buy.
So, one sure way to break this is to have a successful affiliate partner program. Why?
Because customers trust people they know and like. Your own customers, friends, influencers…can easily promote your brand to a large audience, sending you high quality, qualified leads, thus amping up your conversions. That's the power of word-of-mouth.
38% of marketers confirm affiliate programs as one of their top customer acquisition channels. You only pay for paying customers, not for ads or leads! When you run an affiliate program, you pay commissions only when affiliates bring you a paying customer.
The best part, we have a solution for this – Affiliate for WooCommerce plugin. Create and share exclusive affiliate links of your store / products with your affiliates (partners) wherein, users can purchase your products through these affiliates.
Self-manageable

No shortcodes. No complex procedures are to be followed. Affiliates can register, generate links, and track commissions themselves. You can also automatically turn your customers (or any other WordPress users) into affiliates.

Track all KPIs in a single place

You no longer have to struggle with different screens and menus to track affiliates, referrals, payouts, order status, products sold, etc. Everything is available in one single dashboard.

Flawless WooCommerce integration

The plugin automatically links WooCommerce orders with affiliates and updates commission status as order status changes. Pending to Completed, Completed to Refunded… You don't need to lift a finger.

Crisp real-time reports

Affiliate For WooCommerce gives you clean, simple and intuitive reports about total sales, sales from affiliates, reports on Individual affiliates' performance, an affiliate leaderboard and more…all in real-time.

Affiliate marketing campaigns

Create campaign assets that your affiliates can promote. Banners, videos, swipe files…be it anything, use the familiar WordPress editor to design your campaigns that match your brand.

Affiliate commission plans

The only plugin that gives the flexibility to set different types of commission plans – based on affiliate, product, product categories, affiliate tags…

Affiliate coupons, PayPal payouts

Use coupons for tracking referrals instead of links. Send commissions to your affiliates with PayPal in one click directly from the plugin. Easy and risk-free.

Unlimited tracking

There is no limitation to the number of affiliates and the affiliate traffic. Track them all!
How is Affiliate for WooCommerce plugin different from other WordPress affiliate plugins?
What sets Affiliate plugin for WooCommerce different from its competitors – AffiliateWP, Affiliates Pro, YITH WooCommerce Affiliates and others is its simple, single-screen intuitive dashboard.
Easy to understand, single-page UI. No confusing terms, clunky interfaces, or multiple screens for basic tasks.
Rock-solid WooCommerce and Subscriptions support. Your affiliates don't have to worry if their referral will be credited to them or not. You don't need to think of doing the math. The plugin handles all.
Your junior staff can also take care of month-to-month operations. This means less cost, less frustration and zero headaches for you.
Setting up affiliate marketing campaigns
Affiliate for WooCommerce plugin gives you a single-screen interface wherein you can prepare your campaign in a few minutes. Images, videos, PDFs, swipe files, logos, banners, e-books, whatever you want, you can add to the campaign.
Your affiliates can pick up the marketing assets from the campaign and use them on their various channels to promote your brand. Learn more about creating affiliate marketing campaigns
Intuitive dashboard for your affiliates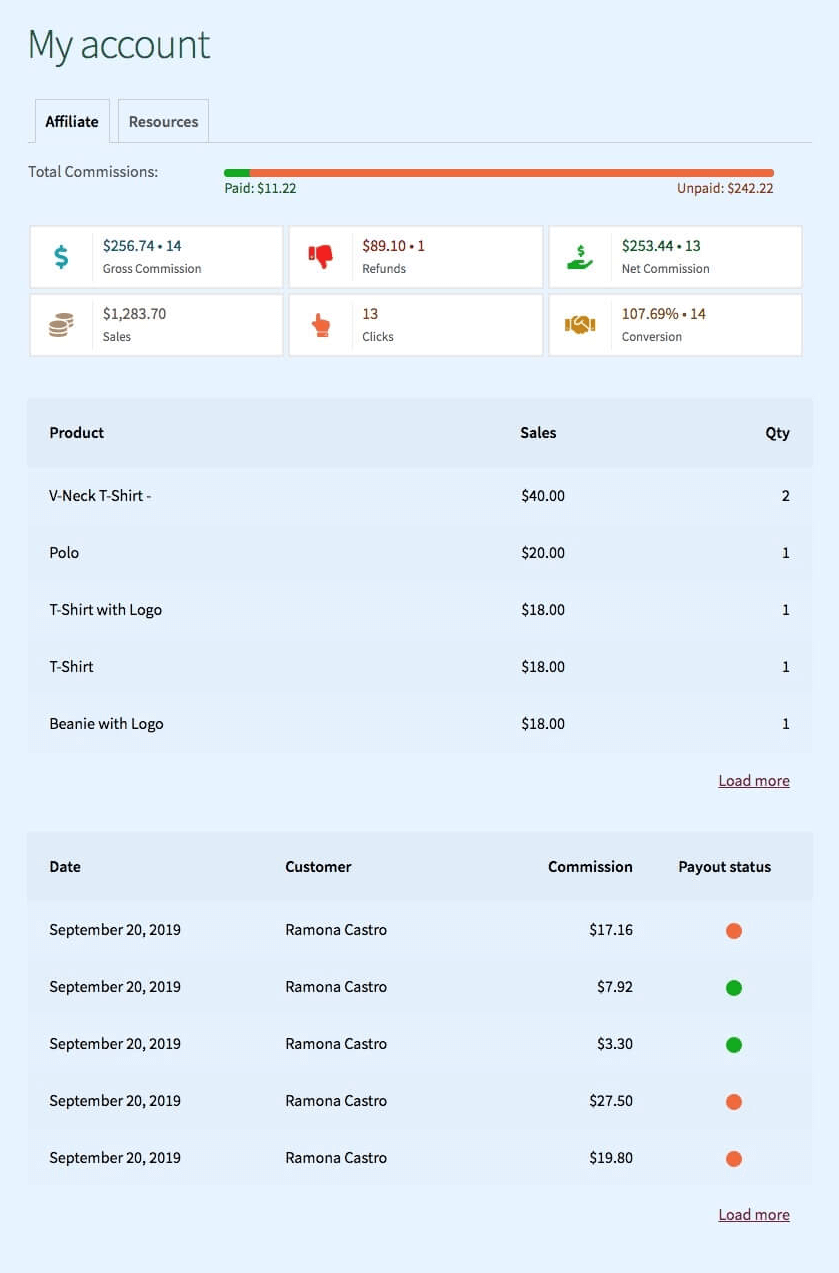 Your affiliates can track all their commissions, products sold and other KPIs from a single dashboard.
Count the cash, this plugin will handle the rest
Sit back, grab a cup of coffee, relax! Affiliate for WooCommerce plugin will take care of all calculations, commissions, order status, etc.
You just have to monitor your money scoreboard which will keep increasing!
The end result, you pocket more and more sales and customers, as well as your WooCommerce store become more visible than ever before!