What if visitors don't notice your coupon code? What if they put the wrong discount code? Troublesome, right?
You can simply avoid it and let the discount code get auto-applied on the cart page or checkout page.
This article shows how you can auto apply coupon codes in WooCommerce in one step. You'll also see some best applications of automatically applied coupons for better sales.
Simply enable the checkbox to auto apply coupon in WooCommerce
The built-in WooCommerce coupon options don't provide this advanced functionality to apply discount coupon codes automatically. But with the official WooCommerce Smart Coupons plugin, you can do that in a single step.
Yes, you heard it right, in one step. Tick the Auto apply checkbox and it's done.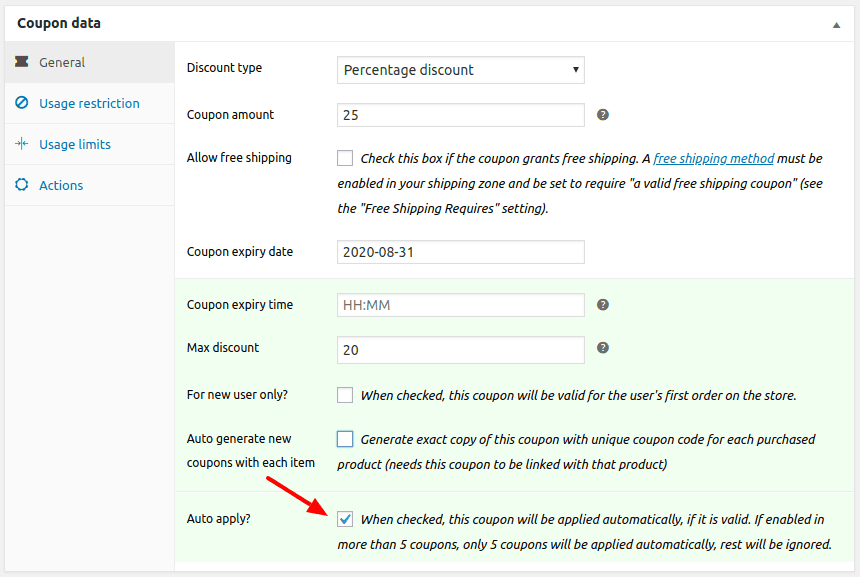 However, you need to first create a coupon and set restrictions as per your choice.
Another thing, using Smart Coupons, you can auto apply coupons based on cart total, product categories, etc.
Not one, not two but you can auto-apply a maximum of five coupons using Smart Coupons..
Note – Currently, your users can't auto apply gift cards and store credits.
The best part, using Smart Coupons, you can also set these restrictions for auto-applied coupons:
Allow coupons only for new users only.
Apply coupons only if customers belong to specific countries.
Restrict coupons if it doesn't match specific payment gateways.
Schedule coupon to get expired at a specific time to avoid misuse.
and many other conditions…
Without a doubt, Smart Coupons is also a popular auto coupon applier plugin.
Smart Coupons plugin allows you to create gift cards, store credits, bulk generate coupons, auto apply WooCommerce subscription couponns, auto apply coupon via URL, etc.
Benefits of using automatically applied coupons
Proof of why auto apply coupons are so important:
No coding required
Why go the hard way? Why mess around with code every now and then? You can simply enable a setting and the coupon will get auto-applied.
You can auto apply coupon in WooCommerce programmatically. But if you look at the code and the steps, it's not that easy. We don't recommend it as well.
Free from copy-paste error
A great part of UX is to allow customers to do the minimum. When a promo code coupon is auto-applied, it eliminates the steps of searching, copying and pasting the coupon code. It also eliminates the errors which occur if the wrong coupon code is applied.
Removes the hassle of remembering the coupon code
You show your coupon code sitewide and on other channels. But what if the customer fails to apply the code? What if they don't remember the code? Auto-applied coupons eliminate this pain point for store owners as well.
Surprise and delight customers
Usually, customers don't expect a discount if sale banners are missing. But when they see a discount automatically applied at checkout on the products they wish to buy, they feel happy and surprised. And even if they wish to abandon, they won't because of the discount.
Set your own good looking coupon code
Name your coupon codes as per your convenience rather than having to factor in how it will look for the customers.
Here are 60+ coupon promo code ideas that will help you name the coupon code based on an occassion.
In the end, it's all about reducing friction for customers and delighting them. And of course, better conversions for you.
Six best use cases of automatically applied discount coupons
Black Friday / Cyber Monday sale
This is the most profitable season and you want the maximum number of users to grab the discount. There can be no better use of auto-applied coupons than this.
New product launch
A small discount coupon auto-applied will work well on your new product launch to attract more customers and nudge them to buy.
Festive discount for specific locations
Now, sales are high when you offer discounts only to people from specific locations. For example – Independence Day sale for US customers, special discount for Ireland customers on St.Patrick's Day, Diwali in India, Singles Day in China.
Double discount on high-value purchases
A customer purchasing a high-specs laptop or expensive smartphone will look out for discounts. In this case, offer a direct 15% off and a surprise additional 10% Off. Both coupons auto-applied. The customer will be dancing with joy.
Cancel out shipping charges using a coupon
This is a smart way to show customers you don't charge for shipping. Say you levy a $1 shipping charge. Create a coupon of $1 which automatically gets applied. When customers see this, they feel the burden of shipping charges being removed.
Schedule exact expiry time of auto-applied coupons
If you forget to shut down your coupon at the exact time, more customers may use it. Then there's no point in creating urgency. Better to expire the coupon at the exact time, say 11:59 AM.
Conclusion
So, that's all related to WooCommerce auto apply coupons. And very simple to set-up and going with Smart Coupons plugin.
Use it on your websites and start getting more conversions. It won't fail.
Questions, feedback, suggestions? Share your thoughts in the comments box.