Do you sell any of the following fashion items – clothing, jewelry, watches, footwear, eyewear, cosmetics, perfumes…?
If so, your search finally ends here.
Those who sell fashion goods on WooCommerce rely on a simple tactic that gives them income even when they are asleep. A tactic that is also cost-effective and doesn't involve hard work or technical tit-bits.
By running an affiliate program, you can recruit an army of affiliates who will promote your brand in exchange for a small share of the revenue.
It is flexible, easy to set up and serves magnificent results.
This blog will help you to set up your own WooCommerce affiliate program for online fashion retail store and get sales rolling.
Fashion is a recession-proof industry
People are willing to spend thousands on anything that makes them look better. It's that burning desire to have the kind of MetGala look or imitate the style of their favorite celebrity.
People have spent on designer clothing and accessories even during the economic crisis. It's a Maslow thing.
So if you look only at the US clothing market, while brick-and-mortar stores are closing down, online sales rose from $481 billion to over $600 billion within the same handful of years.
Different occasions require different clothes. Different weddings require different attire. Also, there is the summer look or the active look for the airport, and you need dry-fit outfits for the gym or to go trekking, and of course, you need swimwear for the beach or pool.
In addition, you will need accessories, such as watches, sunglasses, imitation jewelry, make-up items, and footwear for various occasions that will complement your clothes.
That's the fashion industry for you, recession-proof. People are willing to spend more than what they initially plan to spend.
This tells how this fashion retail market can be worth affiliate marketing income.
How will the affiliate program benefit me?
This question may come to your mind, which is great!
Look, all the popular fashion stores out there are running their affiliate program. They rely on their users (customers + influencers) whose single tweet, post or Instagram reels can bring other potential customers to the store.
Here's a list of 30+ high-ticket fashion affiliate programs.
If these stores can do it, why not you?
In other words, if your WooCommerce store sells retail fashion and you don't run an affiliate program, you're losing thousands of dollars in revenue.
Well, this even hurts more because this is the easiest thing to do.
How fashion retail stores can set up their own affiliate program?
So if you have realized the importance of having an affiliate program for your store, let's see how to set it up.
As the core WooCommerce doesn't have any mechanism to allow you to set up an affiliate program, you need a powerful plugin for it.
Affiliate for WooCommerce, the popular and official extension on the WooCommerce marketplace is all you need, to easily set up your affiliate program.
Simple to set up, with no jargon, you'll have all the features you need to run a successful affiliate program.
Let's set up your affiliate program.
Define your affiliate program terms
Once you purchase the plugin, install and activate it. Then, go to your WordPress Admin panel > WooCommerce > Settings > Affiliates.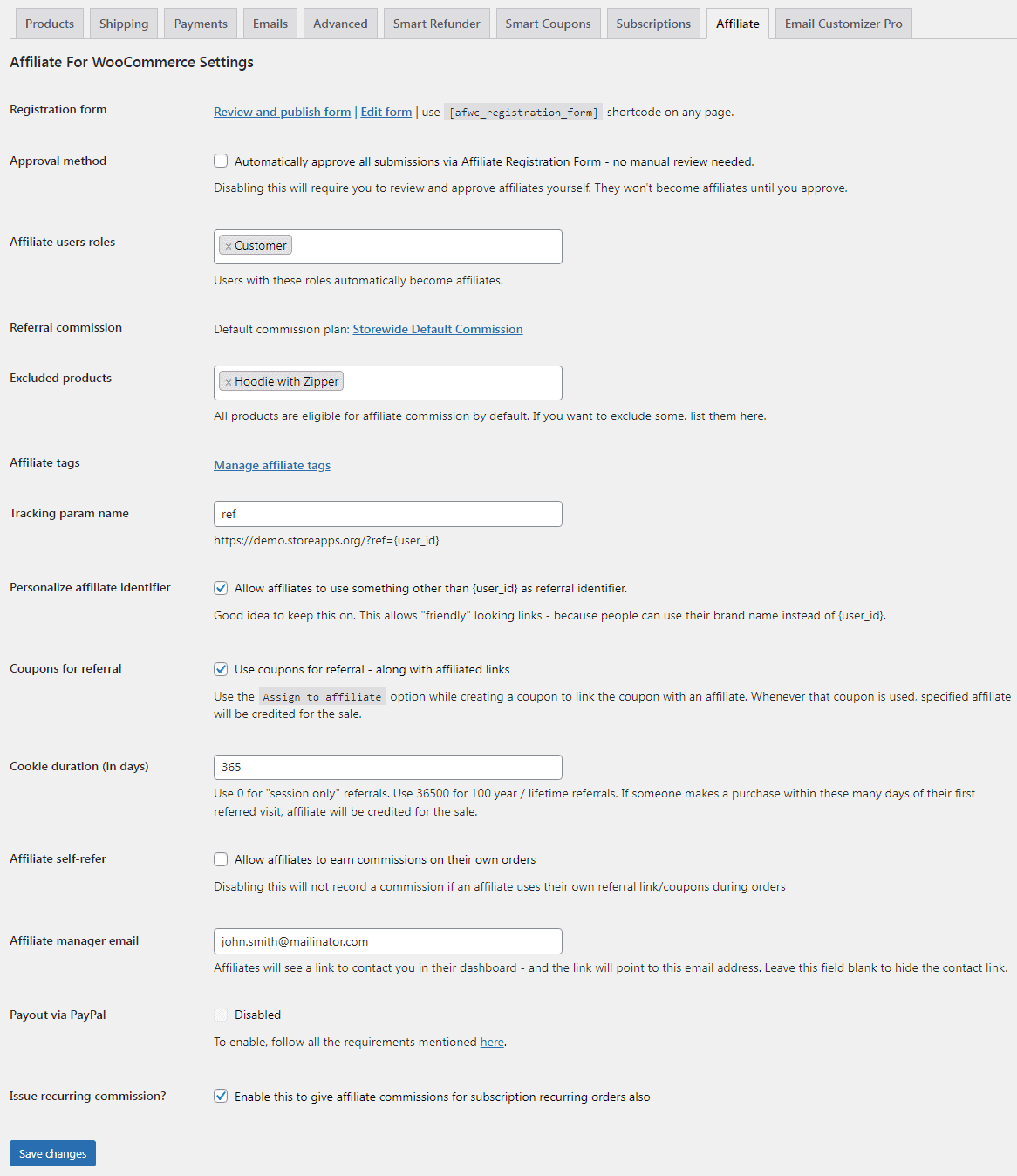 Here you can set some basic requirements for your affiliate program.
The first thing you would come across is the registration form. Your affiliates can register via this form for your affiliate program. You can edit the form fields if required.
You can decide which affiliate request to accept or reject manually or allow all the users to become your affiliates automatically. If you are selling expensive items, especially jewelry or watches, it is recommended to manually approve affiliates. You require only influential people as affiliates that can encourage users to buy expensive items.
It is possible to choose which user roles will become your affiliates automatically. If you have set up a new clothing store and want more promotions, it is advisable to make all your Customers your affiliates.
You would set a default commission rate for your store. The plugin allows you to set up different commission rates for different products and affiliates as well.

20% commission on the sale of t-shirts, jeans, shoes…
25% commission on the sale of eyewear and cosmetics
35% commission on the sale of jewelry

and so on…

The default commission rate can also be set up as a tiered commission structure. For example, $20 commission to John and $10 commission to Rebecca on a successful referral by John. This is because John was referred by Rebecca for your affiliate program.
You can choose if you want to exclude any products from the affiliate commission. Best-sellers or very expensive items like Chanel 5 perfume and Rolex watch should be excluded. You can also exclude products like single-color round neck t-shirts that have negligible profit margins.
Tag affiliates based on their performance – Platinum, Gold, Silver, etc. You can filter them by tags quite easily.
You can also assign coupons for referrals instead of links, avoid self-referrals, allow payout via PayPal and allow commission for recurring orders.
Save your changes.
Affiliate links and affiliate coupons
Affiliate for WooCommerce plugin gives store-owners a unique referral ID for each affiliate. Your affiliates can use the Referral URL generator to create a link for the products they want to promote. They will find it under their My Account > Affiliate > Profile.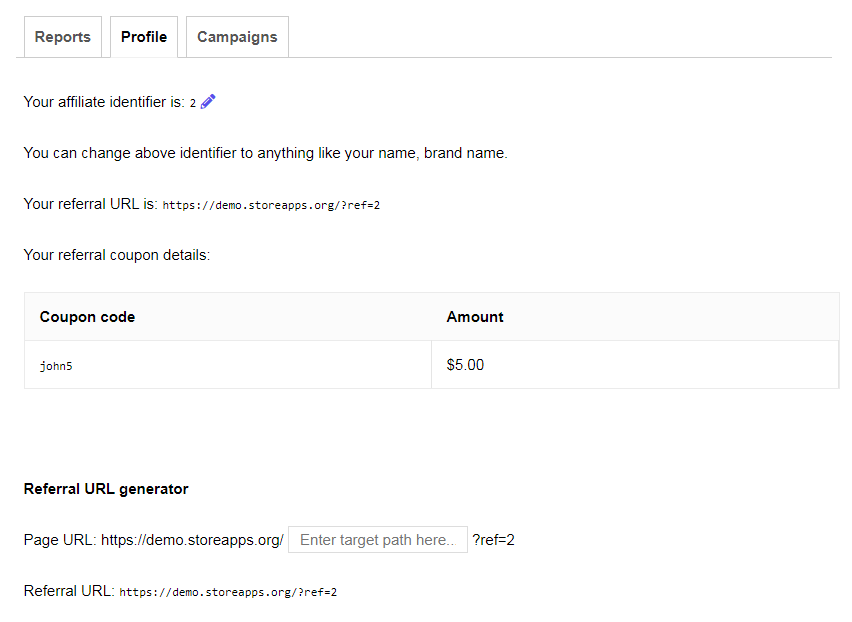 As shown, the referral URL is https://demo.storeapps.org/?ref=2.
Another example could be of promoting Nike shoes and the affiliate link would be like this: https://fashionworld.com/shoes/nike-sneakers-blue/?ref=7
Instead of referral links, affiliates can also promote products using a coupon. But for that, they will have to contact the store admin for a coupon.
The affiliate will find the coupon code under My Account > Affiliate > Profile area as well as under their User Profile once assigned by the store admin.
Commission plans
This is when the Affiliate for WooCommerce plugin shines for fashion stores. Now, customers can buy more than one item at a time when shopping for fashion products.
If your store is very large and thousands of products are available, the commissions for all the products and affiliates won't be the same.
The plugin provides full flexibility to set up a commission plan based on multiple conditions: product-based commission, affiliate-based commission, tag-based commission, tiered commission, or others.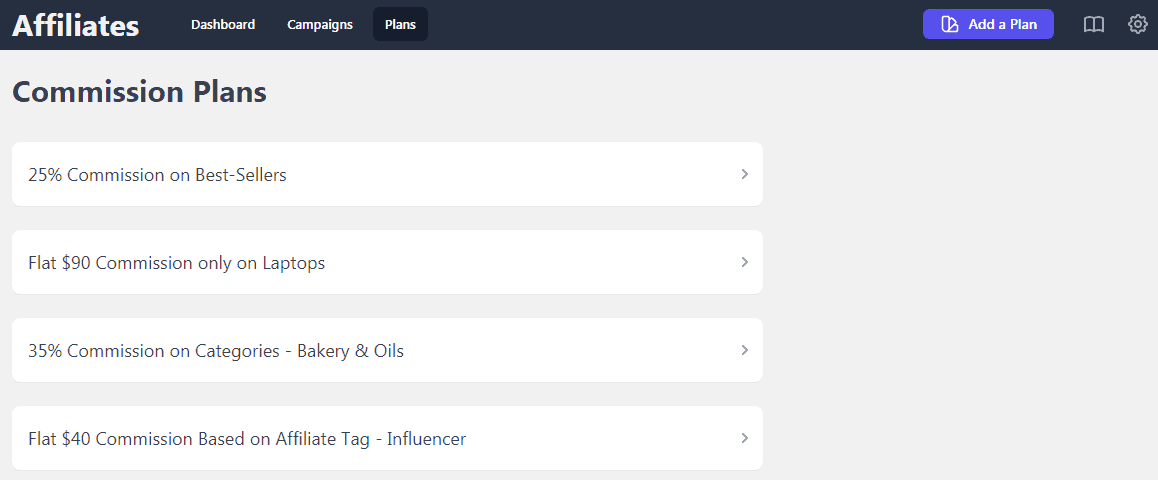 In the case of multiple products in an order, you can choose whether to assign different commissions on different products, commission only on the first product, choose storewide commission or give no commission.
Here are some popular commission plans you can create for your retail fashion store:
25% commission for product category 'trekking shoes' and 20% commission for product category 'sneakers'.
35% commission only on Solitaire Diamond ring to affiliates Lisa and Nevil, 30% commission on other gold rings.
20% commission on a U.S polo t-shirt and no commission on the cap purchased in the same order. This is an example of no commission on upsells or cross-sells.
40% commission to affiliates having the 'Influencer' tag for the sale of Omega watches.
15% commission on the purchase of the Apple watch and 5% commission on the purchase of the watch strap in the same order.
$5 flat commission on the purchase of Ray-Ban glasses and other matching commissions set for other products.
$25 flat commission on a branded phone only to one affiliate.
20% commission on Ralph Lauren perfume and a storewide commission of 15% on branded lipsticks if present in the same purchase order.
Three-tier commission – 15%, 10%, 5% on purchase of designer suits.
and hundreds of commission plans for thousands of products you can set up…
To create a commission plan, go to WooCommerce > Affiliates > Plans > Add a Plan.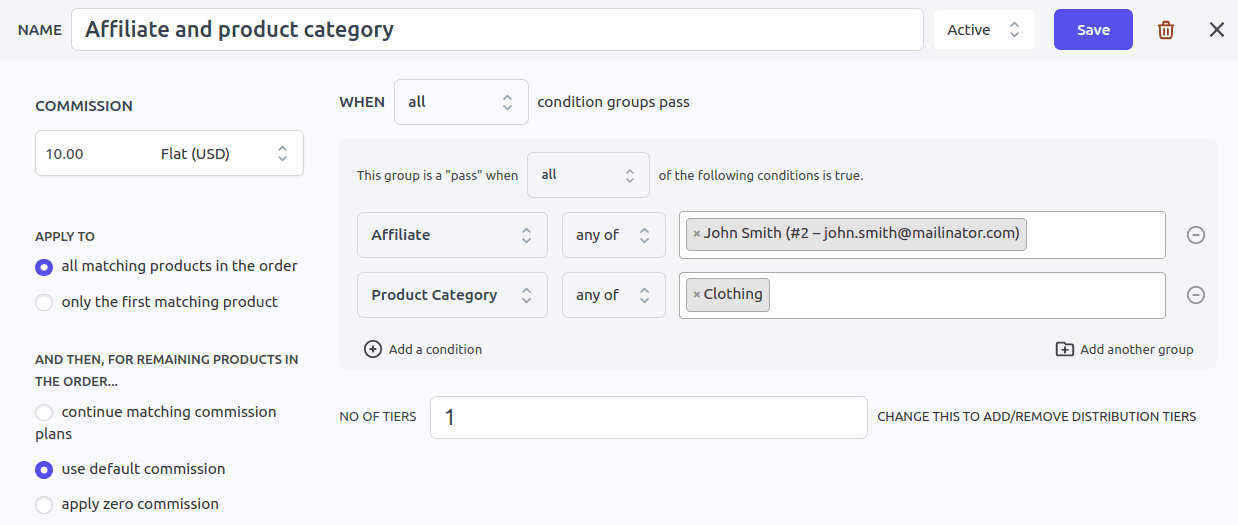 In the above plan, for instance, John will earn commission only on specific product category listed in the plan.
Affiliates will earn the desired commission based on the plans you create here.
Learn more about commission plans
Affiliate marketing campaigns
If you want to turn the tide in your favor, you need to help your affiliates with the resources they require to promote your brand and products better.
No doubt, it's the strong visuals that keep the visitors engaged in your products. Description and price come secondary. Agreed?
Affiliate for WooCommerce allows you to create marketing campaigns that provide your affiliates with all the marketing assets they need to promote your brand – images, videos, banners, logos, e-books, and product manuals.
Affiliates will then use these materials on their website for better promotion.
Learn more about creating affiliate marketing campaigns
Monitor referrals, sales, commissions…from one place
Affiliate for WooCommerce plugin provides everything in one single dashboard. You don't have to struggle with different screens and menus to track revenue, affiliates, referrals, and payouts.
The plugin provides two dashboards – one for store owners and one for affiliates.
Store owners can track important metrics like net affiliate sales, unpaid commissions, refunds and complete details of each affiliate – payment method, order date, commission paid, payouts, parent affiliate assigned, etc.
Affiliates can track gross and net commission, total sales and conversion rate, details of products sold, a commission earned from each customer, and payout history.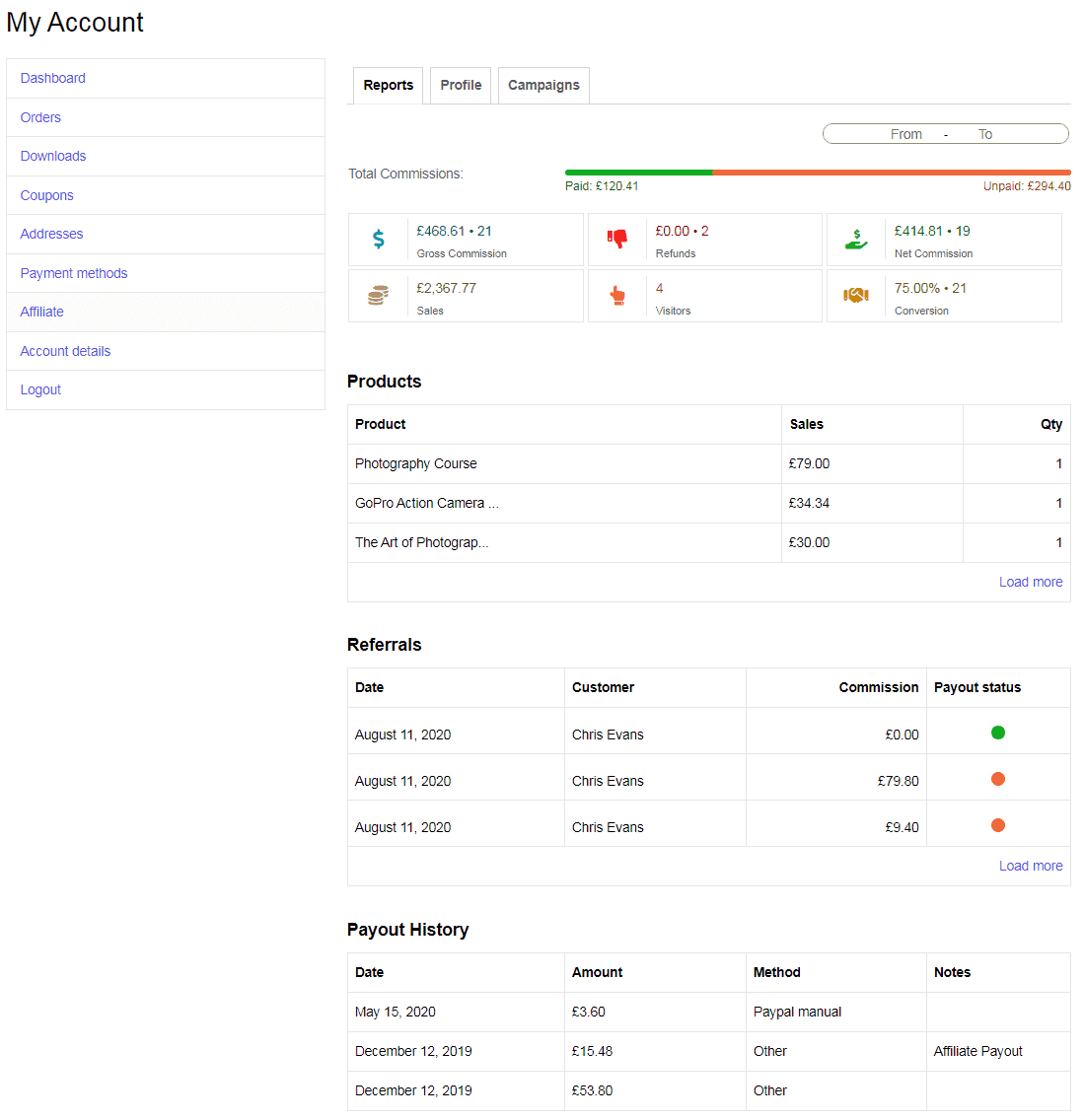 Affiliate payout
You can make commission payout in two ways:
Commission payout via PayPal
Manual commission payout
For payout via PayPal, refer to this doc for the steps.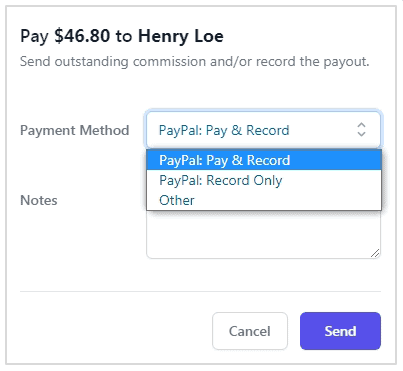 The manual commission payout is to keep a track of the commission payout. The actual payment of the commission is done by you outside the Affiliate for WooCommerce plugin. It can be done, using a bank transfer or other payment method.
You can also mark reward points for affiliates instead of payouts and then actually assign reward points or pay. Here's how.
Fashion stores benefit from this since, in the lure of earning more points, affiliates promote them more. More the rewards, more the money earned later.
Whenever a visitor buys a product from your affiliates through the referral URL, you get your money as well as your affiliates. As simple as that.
Thus, these affiliates promote your products in their circle giving your products and your WooCommerce store a more global outreach.
Woopie! Your affiliate program is set up.
View Affiliate for WooCommerce live demo
How to use Instagram and other resources to boost your affiliate program?
The more you help your affiliates, the more they will be able to promote your products.
Let's look at some cool ways to promote your products:
Using coupons for referrals on Instagram
The selling point for fashion stores is how attractive are the product images. And what can be a better platform than Instagram to showcase your products.
But Instagram does not allow you to put affiliate links in your post. So, your affiliates can use coupons instead of links to promote your products on Instagram.
Btw…Instagram's audience is more of the youth. So any cool product like superhero printed t-shirts, smart watches, caps, chains that music rappers wear can be easily sold via Instagram.
To add your own swag, you can wear your products and make Instagram reels to promote them. Some engagement and conversions from there as well.
Use of videos for product launches
A video can quickly help users have a deep look into your products. A short video mentioning the product works quite well.
For example, you may have seen videos wherein women seems more happy and confident after wearing those jewelry items, glares or using cosmetics.
Simply add these videos to the affiliate marketing campaigns from where your affiliates can pick them up and use them on their promotional channels. It can be Facebook Ads, YouTube as well as their emails.
Using influencer reviews
Another thing is some customers or influencers reviewing your products can strongly impact conversions.
A trekking expert reviewing your trekking shoes or a designer reviewing your high-end clothes can bring you more sales quickly. The review can be a blog post or a video.
Though, this may come at a slightly increased cost as you need to increase the commission only for these people. But don't you think it is worth it?
What more Affiliate for WooCommerce plugin offers
Real-time reporting about total sales, sales from affiliates, reports on individual affiliates' performance…
Pre-defined filters to search for affiliates
Export affiliate data based on filters
Set different affiliate commission rates for different users.
Commission status syncs with WooCommerce order status automatically.
Unlimited affiliate tracking – 1, 100, 1,000…track them all.
Easily see a detailed log of every payout sent to affiliates
Assign/unassign order to an affiliate
Assign parent to the affiliate in a multi-tier affiliate program
Compatible with Smart Coupons, WooCommerce Subscriptions
Get Affiilate for WooCommerce plugin
Ready to deploy your affiliate program?
Do content, do SEO, do ads. But do not regret affiliate marketing.
Using Affiliate for WooCommerce plugin is simple, result-oriented, and cheap. You just need some good affiliates that can do the honors for you.
Having your own fashion affiliate program in WooCommerce gives you that awe-inspiring feeling, doesn't it?