Last updated on August 18, 2020
Do your customers ignore the coupon code on your WooCommerce store? Looking out for an alternative to coupon boxes? The solution is URL coupons.
What are WooCommerce URL coupons?
WooCommerce URL coupons are those where you add a unique coupon code to the URL. Clicking on which the discount gets automatically applied and (optionally) adds products to the customer's shopping cart.
Say, for example, your shop URL is https://myshop.com. Then you can embed a coupon code to the URL like this – https://myshop.com/?coupon-code=holidaysale15.
Making life easy for your customers should always be a priority and WooCommerce URL coupons make a small contribution to it.
Two fundamental reasons why use WooCommerce URL coupons
1. No coupon code hassle, no copy-paste needed
It's very common that customers see a discount code but don't apply it or forget. But with URL coupons, no effort at the customer end to remember it. One-click and it's done.
2. Easy to share anywhere
Since the coupon code is added in the URL, you can easily share URL on deal sites, with affiliates, social media, email, etc. It makes it easy for people to notice the availability of the coupon.
More visibility means more sales and more customers, no doubt!
Now, a simple URL coupon will not fetch desired sales. You need smart ways that will help you achieve the sales target.
The best part, you can easily get there with the help of this coupon extension known as WooCommerce Smart Coupons. For those who entered late, Smart Coupons by StoreApps is the best-selling coupon solution on WooCommerce.com.
How to enable URL coupons?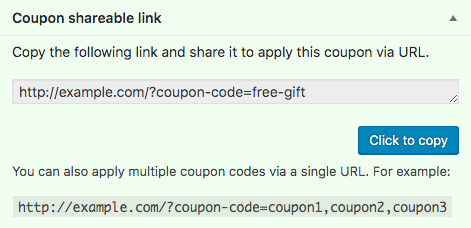 Basic steps:
Go to WooCommerce > Coupons > Add new Coupon
Set the discount type, coupon amount & other settings. Publish it.
Under 'Coupon shareable link', you'll find a button 'Click to copy'.
Click on the button to copy the link & share it via any method: email, social media, deal sites, etc.
Here's a sample URL as shown in the image above – http://example.com/?coupon-code=free-gift
BONUS – Apply multiple coupons via a link
Another advantage of using Smart Coupons is you can add and apply multiple coupons via that single URL.
Pass a comma-separated list of coupons in the link as shown in the image above – http://example.com/?coupon-code=coupon1,coupon2,coupon3
That's it. Repeat this same every time you want to add a coupon to your URL.
View live demo
Get Smart Coupons
9 best applications of URL coupons using Smart Coupons
Now let's take a look at some best use cases of WooCommerce URL coupons.
1. Win back dormant or lost customers
Some of your customers may haven't purchased from you for months. A simple way to bring them back and make a purchase is a discount.
To do that, simply add a URL coupon in the email clicking on which these users get one of your good selling products at a discount.
2. Email URL coupons before the sale end
The majority of customers don't buy until there's an urgency created.
And even if urgency is created, it's not sure whether they will apply the coupon code.
To avoid these, it's better to send the entire URL in the email with an urgency message.
Customers will surely click the link to claim the discount.
3. Share URL with your affiliates
You have a new product launch and want to offer a discount. Now if your affiliates or influencers have strong outreach, why waste this opportunity?
Simply share the URL with these people and let the sales happen. You can reward these affiliates to encourage them to promote you more.
4. Share URL on deal sites
Like affiliates, don't underestimate deal sites as well. Sharing your coupon code URL with deal sites will give you more visibility amongst a broader audience. And to audiences who haven't heard about you yet. They can be your potential customers.
5. Share URL on social media, blog posts, etc.
Why leave social media and blog posts dry when you can easily share the link on these channels and grow sales? Be it Twitter, Facebook, YouTube, Instagram. LinkedIn, post your coupon URL.
6. Apply store credit using URL
Another advantage of using Smart Coupons is you can also add store credit/gift certificate to the URL.
You want to offer a flat 10% Off + $10 store credit on the purchase of a high-end smartphone. So instead of two coupon codes, simply add these coupons to the URL.
When the user adds the smartphone to the cart, both of the coupons will be automatically applied.
7. Increase sales of low selling products
Another thing is that after the URL coupon is applied, you have the option to offer another product at a discount. This tactic works best to sell low selling products or to clear out stock.
You can also display a custom message after the URL coupon is applied.
8. Apply only URL coupon to avoid misuse / restrict individual use
You don't want to offer too much discount. So you only want the URL coupon to get applied and restrict other coupons from getting applied. Simply tick the 'Individual use only' under Usage Restrictions' for this.
9. Add UTM parameters to track URL coupon performance
How many people clicked the URL? How many paid orders you got via URL coupons?
Google Analytics is the best source to get answers to this.
Embed UTM parameters to the coupon. Leave the rest on Google Analytics.
Pass your UTM parameters like this –
https://example.com/?coupon-code=sale15
&utm_source=facebook&utm_medium=ad&utm_campaign=jan2020-productlaunch
Only URL coupons plugin or all-in-one coupon solution?
Now, there are some plugins out there that only give you only URL functionality.
But Smart Coupons offers tons of possibilities beyond:
Store-credit, gift certificates
Restrict coupons based on attributes
Restrict coupons based on location, payment methods, email address
Set maximum discount limit on percentage coupons (40% Off upto $40)
Issue product as a free gift using coupons
Schedule coupons for delivery
and a lot more…
Here's the complete Smart Coupons documentation
It won't be wrong to call Smart Coupons the best WooCommerce coupons plugin.
So, will you pay just for URL coupons plugin or invest a little more for in an all-in-one coupon solution and get better ROI for a lifetime?
If you agree, Smart Coupons is for you.
Get Smart Coupons
Conclusion
A simple approach to get sales and delight customers – WooCommerce URL coupons.
Implement it now on your WooCommerce store and set the cash register ringing.
And no doubt, Smart Coupons is the preferred solution for this.