For those who aren't aware, the 'WooCommerce thank you page' or 'WooCommerce order confirmation page' is the page your customers see after they check out or complete the purchase on your online store.
If you think this default WooCommerce thank you page is enough for your business, you are wrong. Or, you have not yet explored the wonders a custom thank you page for WooCommerce can create for you. Showing offers, coupons, building customer relationships, and a lot more.
This article list the top WooCommerce thank you page plugins you can select to build customer relationship and grow sales.
Let's dive deep into this article where we will discuss –
Neglecting WooCommerce thank you page is losing a goldmine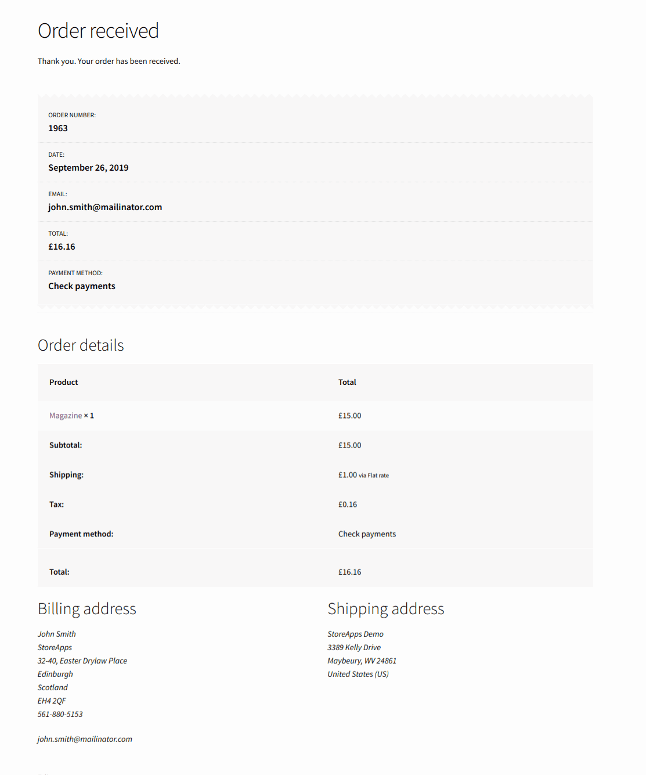 All that the default WooCommerce thank you page says is: 'Thank You. Your order has been received.'
And the summary details, of course. But that's all it. There's nothing further. It's a dead-end for your customers.
Think you can do much more to this page? We think the same. How about turning this into a powerful marketing tool?
That's how powerful a WooCommerce custom thank you page is if you do it right. Here's why –
1. Subtle promotions
When the customer has purchased something from your store, that means they trust you now more and will be interested in purchasing further with you.
A customized thank you page is a great opportunity to show some further promotional offers & upsell to your customers the second they check out. They might not buy it immediately, but it's on their mind now.
Visibility
There is no guarantee that customers will browse other pages of your site but the thank you page is an exception.
As they check out, the custom thank you page automatically appears in front of their screen and hence there's a certainty that they will take an action.
Use this opportunity to present them with offers, discounts, newsletter subscriptions or any marketing promotion that you want them to sign up for.
Build a relationship with your audience
A thank you page having a plain message v/s A thank you page greeting you, welcoming you and showing you how you can benefit more.
I and you, both know which will create a better impact. This impact further helps in building trust and a strong bond with your audience. Now that you have made them feel special about purchasing from you, they will come back and turn into a regular customer over a period of time.
That's why it's a goldmine.
Now that our 'Why custom thank you page' is clear, let dig into 'How to customize it'!
How to customize WooCommerce thank you page using redirect and filters
If you are some coding geek, here's a nice article that lists three ways to customize WooCommerce thank you page –
Customize WooCommerce thank you page by creating a Redirect
Customizing WooCommerce thank you page with Filters
Customizing WooCommerce thank you page by overwriting WooCommerce templates
Best plugins to help you develop a customized WooCommerce thank you page
Now for those who don't like to mess with code, who are looking out for some popular plugins to do the job quickly, here are our picks.
As they clearly say, "Make more money using our WooCommerce Thank You Page plugin." StoreApps WooCommerce thank you page plugin helps you turn your one-time buyers into repeat customers.
A thank you page optimized with this plugin allows you to upsell, build an email list, promote your offers and do a lot more.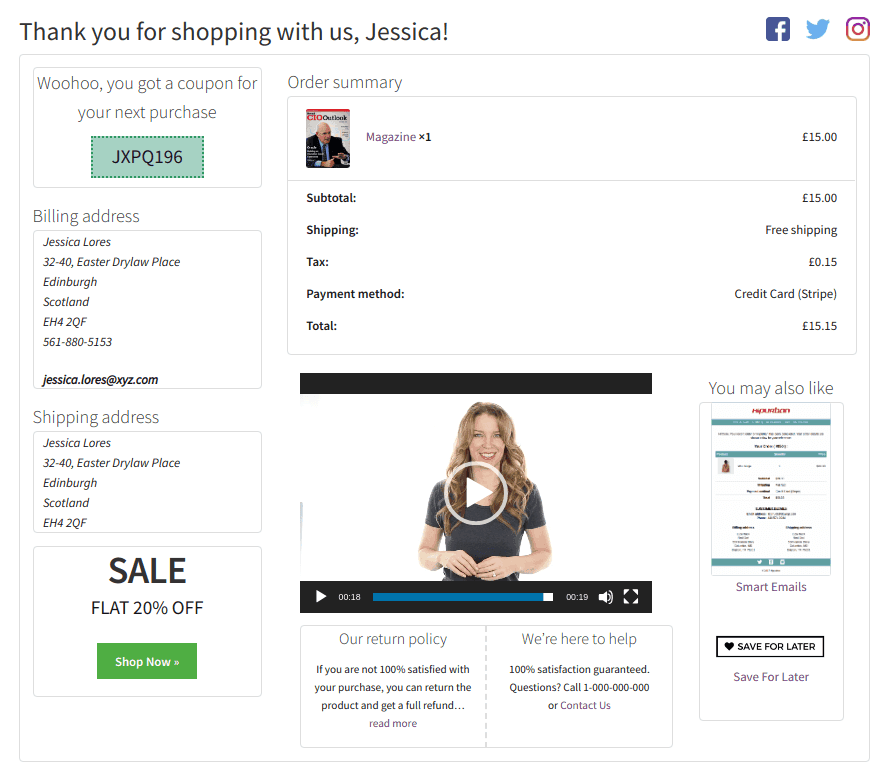 Top features that help you convert default thank you page into a powerful marketing tool
Enable custom thank you page storewide
Enable a custom thank you page per product
Offers you a variety of readymade high-converting thank you page templates to help you get started with a bang.
Redirect users after purchase/payment to affiliate links, third-party links or resources.
Gives you an opportunity to build the thank you page as per your favourite theme, plugins, page editors & design the page the way you desire.
Collect feedback, build email list, show upsells and cross-sells (using Smart Offers), show video message, testimonials, coupons & much more.
Bonus feature
No coding required, it's a simple set-up.
Pricing
$39 for annual license
$119 for lifetime license
As they state, "A thank you page is a powerful place that can be optimized and not many WooCommerce sites are still taking the best advantage of this."
Custom Thank You Pages plugin helps you leverage this 'feel good' moment your customers have about you just after the purchase and keep them interested further. This plugin is listed on WooCommerce.com.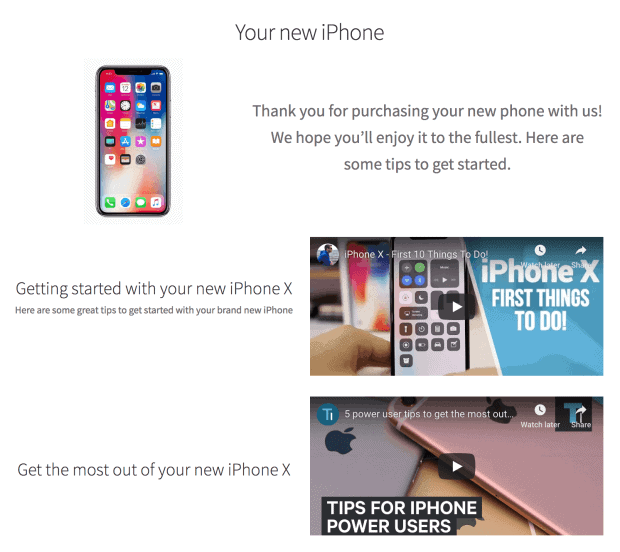 Top features that help you make the most out of the plugin
It helps you retain the customer and upsell products effectively
Showing related products based on what someone just purchased
Creates an exciting onboarding experience by showing customers creative and useful content
Promoting your newsletter subscription without using pop-ups
Pricing
$49
Thank You Page Customizer for WooCommerce is a WordPress plugin that helps you create a beautiful design and build meaningful content for your thank you page easily and professionally.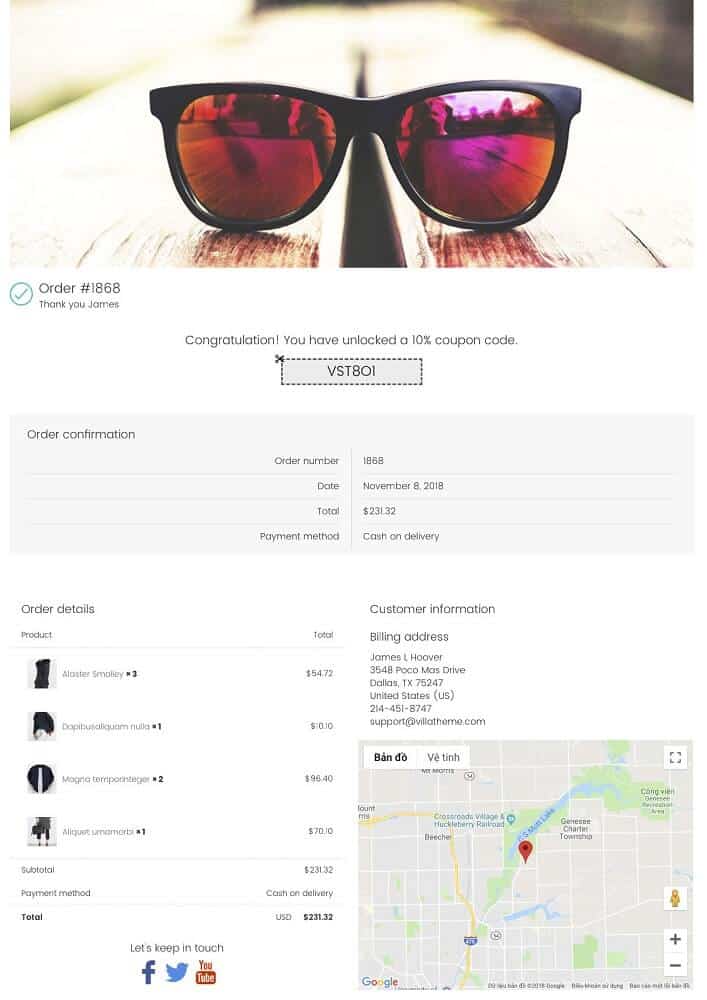 Top features with which it helps you achieve this goal
Design your thank you page with a live preview
Various components available in the set up to write the content, decide coupon, link to social media, map and much more.
Easy drag and drop way to make quick changes
Effective text editors to design the content
Perfectly responsive on different devices
This is a free version. The Pro Version has some advanced features like showing related products, offers and others.
Pricing
$26
WooCommerce Redirect Thank You Plugin establishes that 'Don't just end the process at the order summary, guide your customers further to provide them with the best after-purchase experience.'
Top features through which you can accomplish this goal
Create a friendly, easily navigated and customized thank you page for customers
Set a global Thank You page without editing theme templates
Set the redirection customized to the products they purchase
Add social share buttons to the custom thank you pages for specific products
Run A/B tests to check upselling strategies
Pricing
Starts at $79
WooCommerce Thank You Pages by Plugin Republic intends to up your marketing game with your newest customers as they join in & land on your thank you page.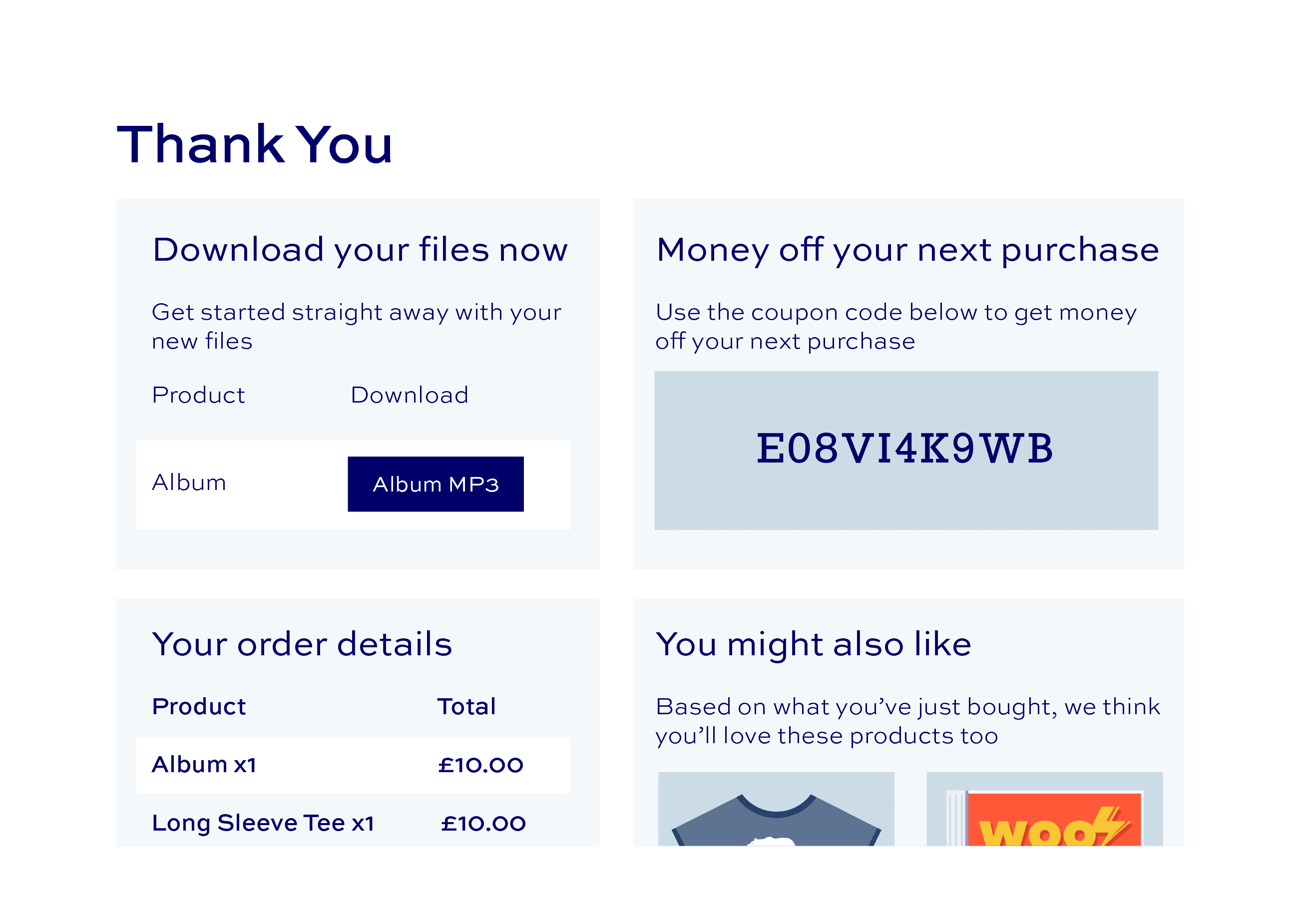 Top features
Support customers with FAQ links and other information needed on the thank you page to clear their doubts.
Offer deals and discounts to customers who have just made a purchase
Transform the thank you page to supercharge the marketing game.
Create a single or multiple thank You pages, depending on products in the order.
Help the non-coders & developers by having a simple set up process.
Pricing
$49 for 12 months (Basic Version)
$89 for 12 months (Pro Version)
Woostify is a theme, not a plugin. But when you come to the Woostify pro version, this theme is integrated with the WooBuilder add-on, which offers numerous adding options to Thank You pages using Elementor page builder.
The drag & drop feature makes it super friendly to use and simplifies the process of creating thank you pages.
Woostify allows inserting conversion-boosting elements, including social media buttons, Google Maps, illustrated images, videos, or any elements you like.
Pricing
Starts at $49
Hopefully, this article sheds light on all the concerns you had about WooCommerce thank you page plugins.
Our recommended plugin and why
With so many great options at hand, we would love to have you explore the unmatchable benefits StoreApps WooCommerce Custom Thank You Page plugin provides to substantially grow your business.
Our goal with this plugin is simple:
Help you make more money
Provide you uninterrupted technical as well as visual experience
Help your customers get an unforgettable onboarding experience and get them hooked to your brand instantly
Kickstart a life-long relationship with your customers.
Get StoreApps WooCommerce Custom Thank You Page plugin
If you're stuck with your thank you page set up, comment down and we will be more than happy to help!