WooCommerce Stock Manager
Quick, Bulk Inventory Management
Manage stock of products and variations from a single screen. Stock status, prices, filters, stock history, import/export. Best free WooCommerce stock management plugin.

Download Now – It's Free
All Stock Keeping Tasks From A Single Window
Updating product stock and inventory, quickly filtering them, adding taxes, price, etc… These are all time consuming (and error prone) tasks.
Going through each product and managing its prices and stock is a daunting task. But now with this stock manager plugin, you can complete all of them directly, from a single screen.
Table Editor
WooCommerce Stock Manager plugin gives you table cells and dropdowns to manage stock data. So making changes and navigating is fast and simple!
Quick Inline Edit
Create, remove or update many items at once directly. Each product or variation, can be saved separately, or you can save all displayed data.
Admin Columns
Show, hide columns based on your needs. The plugin gives only limited yet all important stock fields. This makes the dashboard look neat and makes stock editing easy.
Stock & Price Management
Navigate through the dashboard and update stock status, quantities, manage stock; set and modify sale price or regular price, backorders, tax status, tax class, shipping class, weight.
Edit All Product Types
Simple, variable, grouped, affiliate…set SKU and product name for each. The plugin also displays product thumbnails. Click on the "Show variables" button to edit product variants.
Pre-defined Search Filters
Three predefined filters (facets) – Product Category, Product Type and Stock Status to filter data and make an edit. You can also search and sort using product name and SKU.
Product Stock History, Import & Export

The plugin also gives you a Stock log page using which you can filter products using predefined filters and see the stock history for each product.
This helps you identify how quickly a particular stock is moving or which stock is not moving.
Not just stock log, you also get the Import/Export feature.
You can export all stock data from your shop, edit them and import back with a CSV file. Or if you have another CSV file of your products you want to manage, you can import it into the plugin in a particular file format. (Format available inside the plugin)

30K+ Users… The Most Popular Stock Management Plugin
YES! Exactly what I needed

Thank you so much. This is so much easier to take care of stock changes and also price changes. Only wish there would be a link to click to do a full edit of the product. But that is really minor. Great job. ~ Daspi
Great plugin

Easy to use and saves tons of work. I recommend it to all my clients. Thanks a lot. ~ Karolina Vyskocilova
Simple and Effective

Thanks for the plugin, managing the e-shop has saved us a lot of time. ~ IMCONNECT
Download Now – Free
Want more? Batch Updates, Advanced Search, Ability to Manage Products, Orders and More??
WooCommerce Stock Manager plugin is a great tool for stock management. But we also offer Smart Manager – our best selling plugin to manage not just stock, but also products, orders, customers, coupons, and every other post type within WordPress in a familiar spreadhseet interface.
Smart Manager also includes advanced search, batch update and many other features.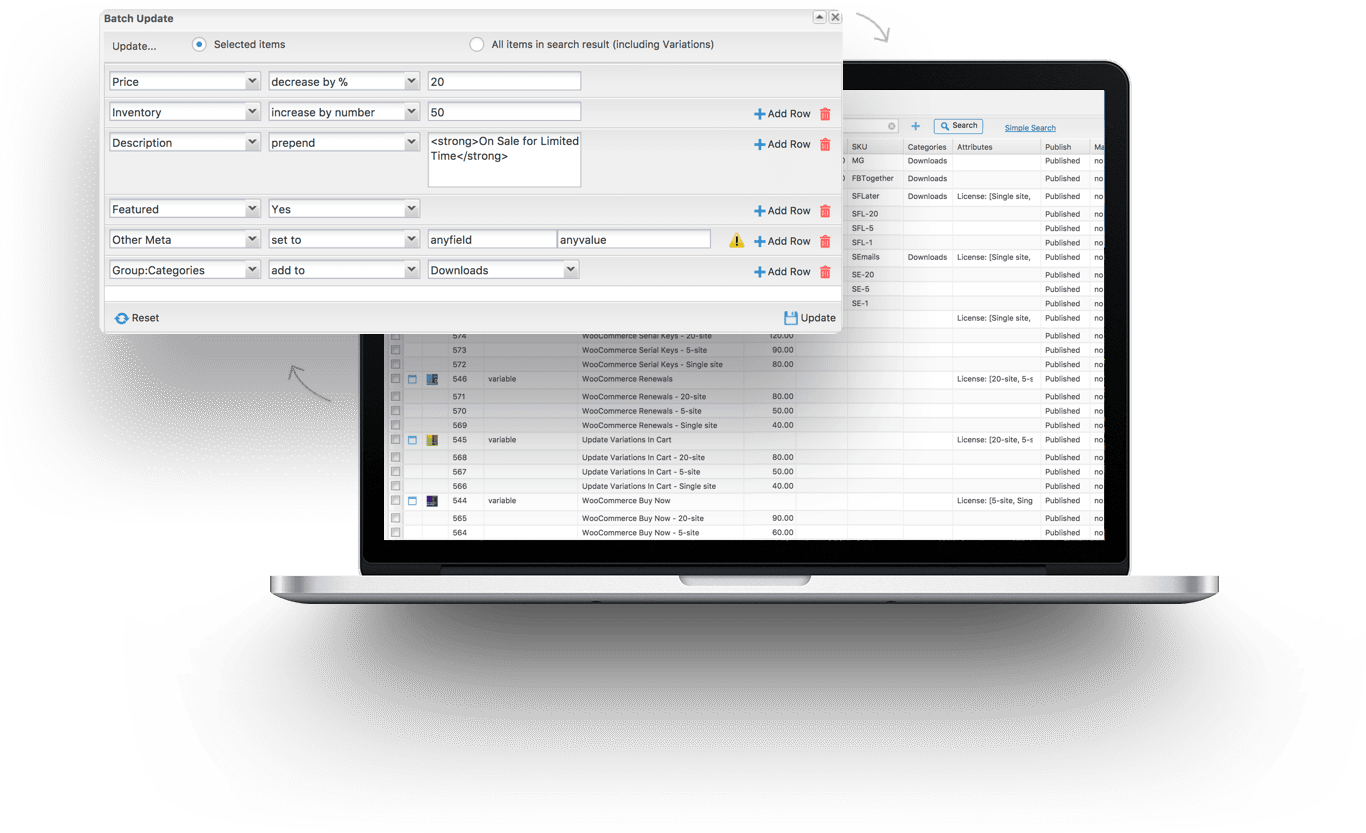 With Smart Manager, you can:
Bulk edit product and stock fields – sale price, regular price, quantity, tax status, shipping class, product weight, etc. for thousands of products at once.
Inline edit and batch edit orders, coupons, blog posts, users, any WordPress post type.
Advanced search filters for quicker and more accurate results
Filtered CSV export for all post types.
Admin columns management
and a lot more…
Get 10x more with Smart Manager →