We know how painful it is to manually update or assign attributes to hundreds and thousands of products on your WooCommerce store. Hence, we have an awesome solution using which you can bulk edit product attributes on your WooCommerce store at once, quickly.
First, the difference between attributes and variations in WooCommerce
I had Googled this earlier as it's confusing. So let me make it simple with an example.
Attributes are characteristics that define a product. While variations are products created based on attributes.
Example – A Red colored, XL size T-shirt is a product variation created based on attributes 'Color' and 'Size'.
You can't bulk edit attributes using default WooCommerce
As a store owner, what matters to you is speed and time, right?
We know how annoying it is to edit products one-by-one. I don't want to mention the pain of doing it for thousands of products.
The default WooCommerce allows bulk editing only for simple products. And that too like price, tax, size, weight, etc.
You can't bulk edit attributes – be it pre-defined product attributes or custom attributes. The filtering option is also not that good.
So with the help of our Smart Manager plugin, you can easily bulk edit attributes – add, remove, overwrite them in no time.
Is Smart Manager the best WooCommerce plugin to bulk edit attributes?
Smart Manager provides an Excel-like spreadsheet (sheet editor) to manage your WooCommerce store.
Be it products, orders, coupons, users, any WordPress post type; you can directly make edits.
However, the biggest USP of Smart Manager is the Bulk Edit / Batch Update feature. You can bulk add products, add attributes, add price to products based on attributes, bulk delete variations, bulk edit orders, change prices in bulk and a lot more.
Get Smart Manager plugin
Let's see how you can bulk manage and edit attributes in WooCommerce using Smart Manager:
Add or remove attributes in bulk
Suppose you ordered ten new Blue T-shirts. To set attribute for these products in one shot, go to WP Admin > Smart Manager > Products.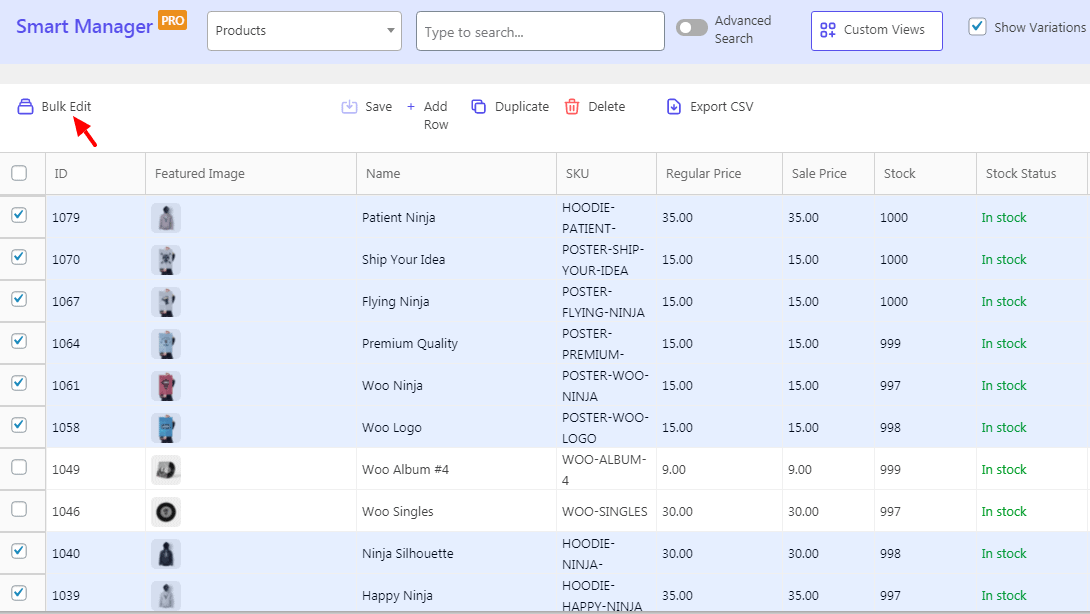 Select the required products. If you have more than tens or hundreds of products, use advanced search to get all these products quickly. Click on Buk Edit and it will open up a slide-over panel.

Select Add attribute > Color > Blue and click on Update as shown in the image above . All these T-shirts will be assigned Blue color.
Similarly, if you have hundreds and thousands of products and one want to add all of them to pre-configured attributes in one go, use the bulk edit functionality mentioned above.
Add custom attributes in bulk

Consider the same above example. But all the blue T-shirts are printed with Avengers' weapons. Using Bulk Edit option as mentioned above, you can add a custom attribute 'Avengers Print' for all products at once.
Assign multiple attributes based on a search filters
You are selling a vast range of electronic items and you want to assign attributes only when product category is laptop, belonging to Dell brand, each having a price above $700.
Go to WP Admin > Smart Manager > Products and click on the Advanced Search toggle. It will open up a slide-over panel. Enter the search conditions as shown in the below image and click on Search.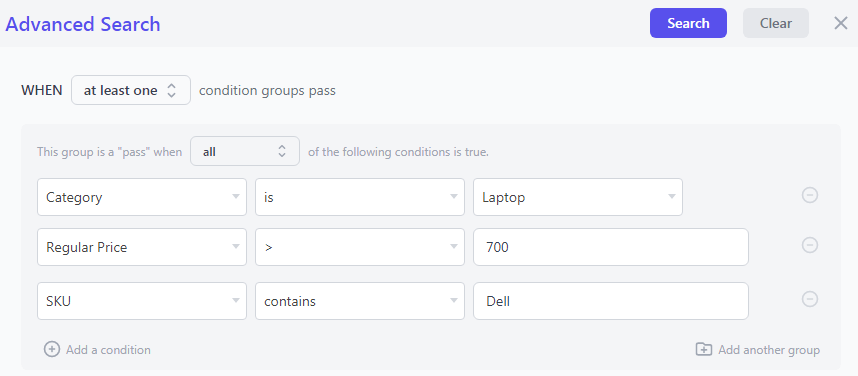 All your required products will be assigned the attributes you wanted to add.
Edit product prices based on attribute filters
Smart Manager also allows you to instantly search for products based on attributes and make an edit or update price in bulk. Example – Reduce sale price by 10% of all cell phones having internal memory 128GB.
There's a lot more with Smart Manager
Bulk edit any fields of any post type – products, orders, coupons, posts, etc
Export CSV based on search, date and column filters
Add your own logo to packing slips/order printing and also print the same in bulk
Know the lifetime value (LTV) of all your customers along with their total purchases to date and last order details
Manage WordPress user roles – change user role, change password, etc.
Compatibility with top WooCommerce & SEO plugins – Subscriptions, Bookings, Yoast, etc.
and a lot more…
Conclusion
If you have a WooCommerce store that has dozens of products, Smart Manager is a life-saver.
Not just attributes, but anything you want to manage better and fast – price, orders, coupons… Smart Manager won't fail you!
Until we come with another post, happy growing!