If you're looking for the best way to create a WooCommerce redirect after checkout to more value-driven pages, keep reading!
This post will show you the importance of redirecting, how to set up a redirect from the WooCommerce checkout page to a custom thank you page and other pages to increase your chances of upselling, list building and more.
Also, we will see a plugin that will assist WooCommerce redirect to checkout after add to cart.
About WooCommerce redirect after checkout
Every time when a customer purchases something on your WooCommerce store, they will be redirected to the default order received page or thank you page.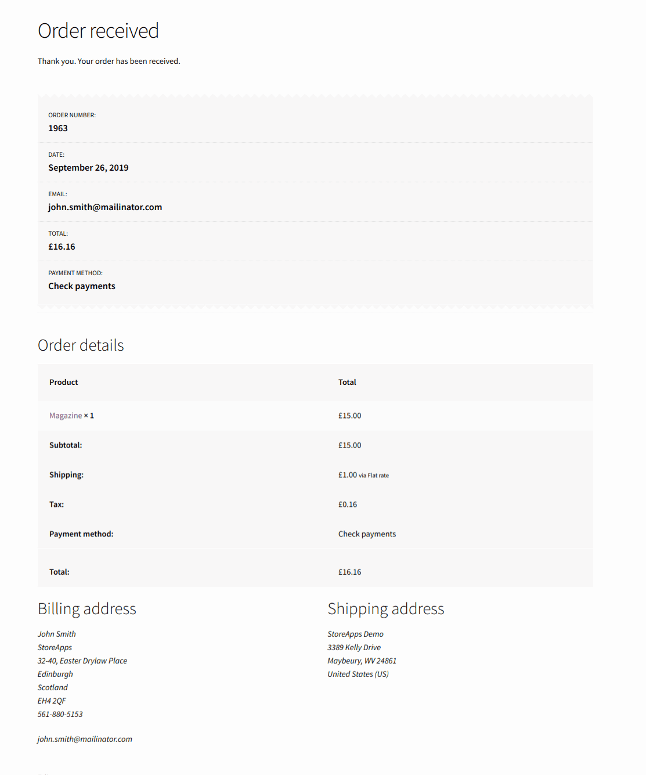 This default WooCommerce thank you page contains nothing more than order details and is a dead end for you and your customers. You can't do anything here to make them buy something more.
However, by redirecting users after checkout to other pages, you can make the most use of every checkout done by customers.
In some cases, you may want to redirect a customer to a tailored URL that is not the regular page of their order information after they make a purchase.
Maybe you didn't want to miss the customer's purchase momentum and want to redirect the customer to see a related product, a sale, or a contest landing page.
You want to run an A/B test between different offer pages to see which converts better.
and many more such cases…
For instance, you could create a page with a cross-sell deal for customers who purchased leather shoes to buy a polish while on another page, you could present a skin care kit to customers who purchased hair growth serum.
As a result, you can personalize the customer experience and provide related products to increase revenue.
That's what a redirect after checkout can do!
Difference between redirect to checkout and redirect after checkout
Now, before knowing about setting up WooCommerce redirect after checkout, let me distinguish it from redirect to checkout.
Both these redirects aim to improve the customer checkout experience.
The redirect after checkout will take customers to any page specified while redirect to checkout will skip the cart and redirect customers only to the checkout page on click of the WooCommerce Buy Now button.
Redirect to checkout is quite useful for stores where users purchase a single item. Here, the cart page is an additional step that is not required. So customers can checkout directly.
One of the simplest solutions for WooCommerce skip cart is the Cashier plugin.
It assists you in reorganizing the whole checkout process which includes checkout field editor, one-page checkout, cart enhancement options, upselling and cross-selling.
In simple words, this plugin optimizes the complete checkout funnel and increases sales like never before.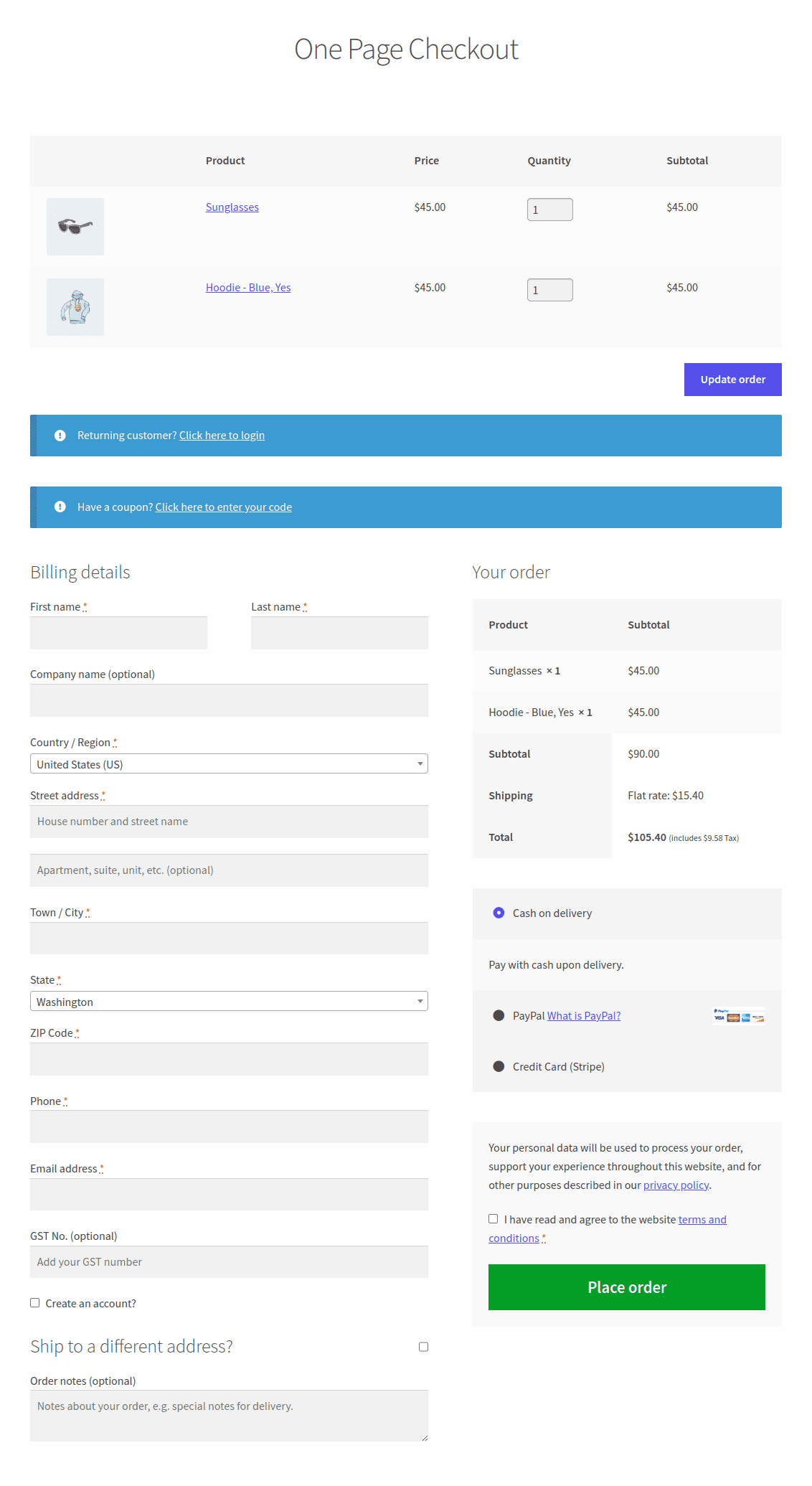 Five pages to redirect customers after checkout for better sales
Every stage of the customer journey represents an opportunity to provide more value to the customers while generating more revenue for your store. Here is a list of options where you can redirect your customers from the WooCommerce checkout page.
Custom thank you page
A thank you page communicates gratitude for the user's action while strengthening the customer relationship.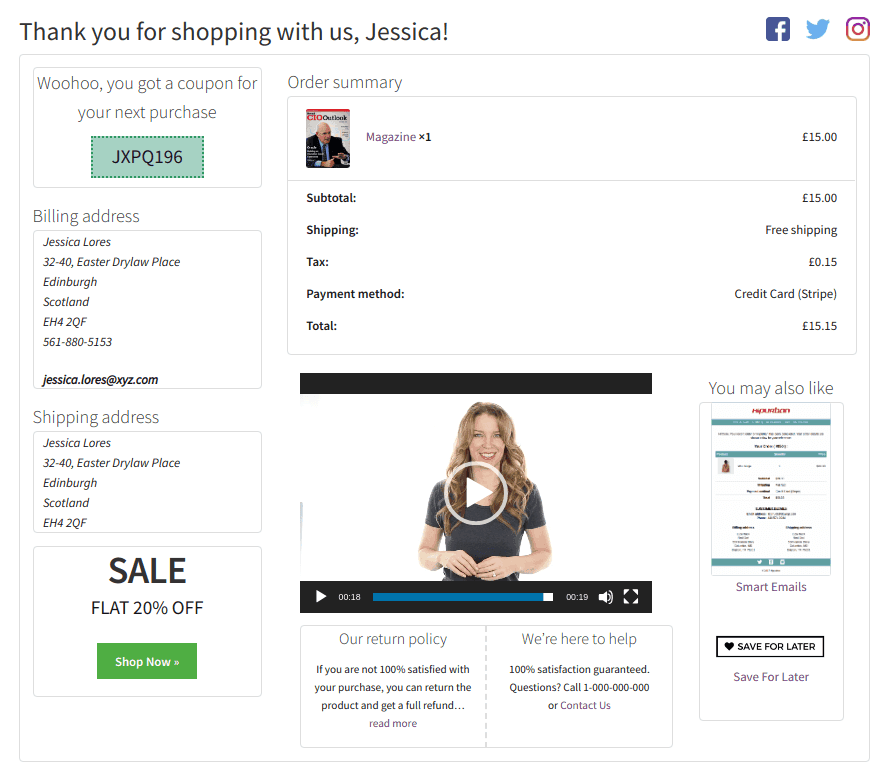 You can create your own custom thank you pages using the Custom Thank You Page for WooCommerce plugin. A custom WooCommerce thank you page can help improve user experience and:
Make the user onboarding process as simple as possible.
Start sharing unique offers, such as a next-order coupon, to entice them to shop more.
Remind customers of their loyalty points, perks, or membership status and increase the number of subscriptions.
Allow referrals to friends and increase traffic.
Increase sales via upselling/cross-selling by recommending related products.
Affiliate page
Another simple way to boost your brand's value and gain customers is to redirect users after checkout to affiliate pages.
You can gain affiliate traffic by setting up a lead capture system. That way, you can gain a lead even when it doesn't immediately convert into a sale.
You can also encourage your customers to join your affiliate program.
Allow people to become affiliates by filling out registration forms. They can create an affiliate link and promote using referral links or coupons.
Not everyone will go out of their way to promote you, but those who do will be well worth it.
When you use Affiliate for WooCommerce plugin, you can track and manage all from one place. Unlike other plugins, you don't have to shuttle between various screens for creating different commission rates or creating marketing campaigns or making payouts.
Featured product/exclusive product page
Redirecting to the featured products page is an excellent way to promote your special products, bundles and memberships.
It increases product visibility and their sales and also provides more value to customers.
Subscription signup
If you want to add recurring revenue to your WooCommerce store, redirecting to the WooCommerce subscription signup page is the best option.
You can create multiple subscription products, newsletter signups, offer a content upgrade to build your email list and so on.
Other notable benefits you can reap are boosting SEO rank and connecting to relevant posts and resource pages.
Offers page
Redirecting to the offers page will increase revenue and average order value.
Smart Offers plugin is extremely easy to use and allows you to create dynamic offers with powerful targeting rules.
The plugin allows you to run targeted WooCommerce one-click upsells, cross-sells, BOGO, dynamic pricing, and discounts.
How to redirect after checkout to the above pages?
Custom Thank You Page for WooCommerce plugin is your best option to increasing repeat purchases.
The plugin allows you to redirect users to a custom thank you page or any other page you wish to. It's easy to use and produces game-changing results.
Redirect to a custom thank you page
Follow these steps to redirect customers to a WooCommerce custom thank you page per product:
Create a new page or edit the current one.
In the editor, enter the content you want the customer to see on the redirected page.
If you would like to display the order details on the redirected page, include the shortcode in the content. Alternatively, select a pre-made custom thank you page style and then click Update.

Copy the permalink of that page.
Create a new simple, variable or subscription product type, or edit an existing one.
Navigate to Products. Under General > Thank you page URL, paste the permalink.
Save the product.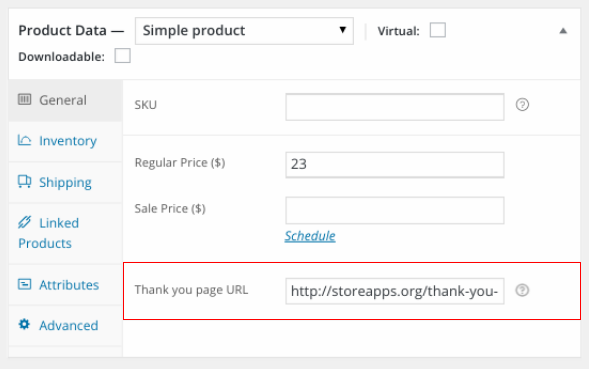 To setup a common thank you page for all your products, refer to these steps.
Redirect to affiliate, upsell, Non-WordPress pages
Follow these steps to redirect customers to pages other than the custom thank you page:
Create a new simple, variable or subscription product type, or edit an existing one.
Navigate to Products. Under General > Thank you page URL, add the redirect URL.
Save the product.
After the customer purchases a product, they will be automatically redirected to the URL that you have added.
Conclusion
With the WooCommerce thank you page plugin, redirecting to a custom thank you page and other different page options is quite easy.
You should now be able to provide a customized user experience, boost sales and increase your revenue. So make your WooCommerce thank you page into an effective marketing tool.