The WooCommerce order received page / WooCommerce thank you page is full of unexplored potential. Only if you explore and experiment, you'll find out that it is hidden gold.
The thank you page of a website allows you to deliver useful content. It has the potential to engage customers and increase the chances of sales.
So, why not use the thank you page to increase the momentum of your conversions?
This blog is dedicated to leveraging your WooCommerce order received page to boost sales, without coding and much efforts.
Why WooCommerce order received page needs customization?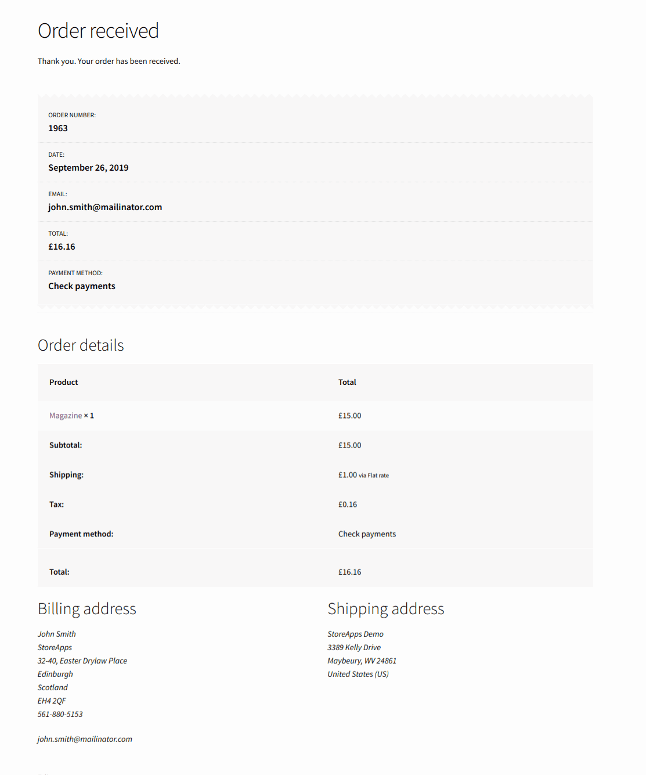 Whenever you place an order, you are shown the default WooCommerce order received page or the thank you page. Just look at it again. Don't you feel it's plain, boring, a dead end?
Your customers feel the same. They struggle and leave. But the good thing is you can easily customize this thank you page and that too without coding. Yes, you read that right!
You need not know even the ABCs of coding to design or customize the WooCommerce order received page. Though the option of using code is available, it's not necessary you must go for it.
Look, not everyone owning an e-commerce business is a developer. So, this no-code customization works really well for the people belonging to the non-developers community.
A few benefits of this no-code customization are:
Super easy to implement
Both developers and non-developers can access it seamlessly
Not complex and time-consuming as coding customizations
No risk of making 'technical' errors
If you still like to play with code, this post will surely help you.
A must-have WooCommerce thank-you page plugin
When customers make a purchase, there's a feel-good factor that needs to be tapped instantly. The best way to tap into this feeling is by customizing the WooCommerce order received page.
And how can you do it? By using StoreApps' Custom Thank You Page for WooCommerce plugin.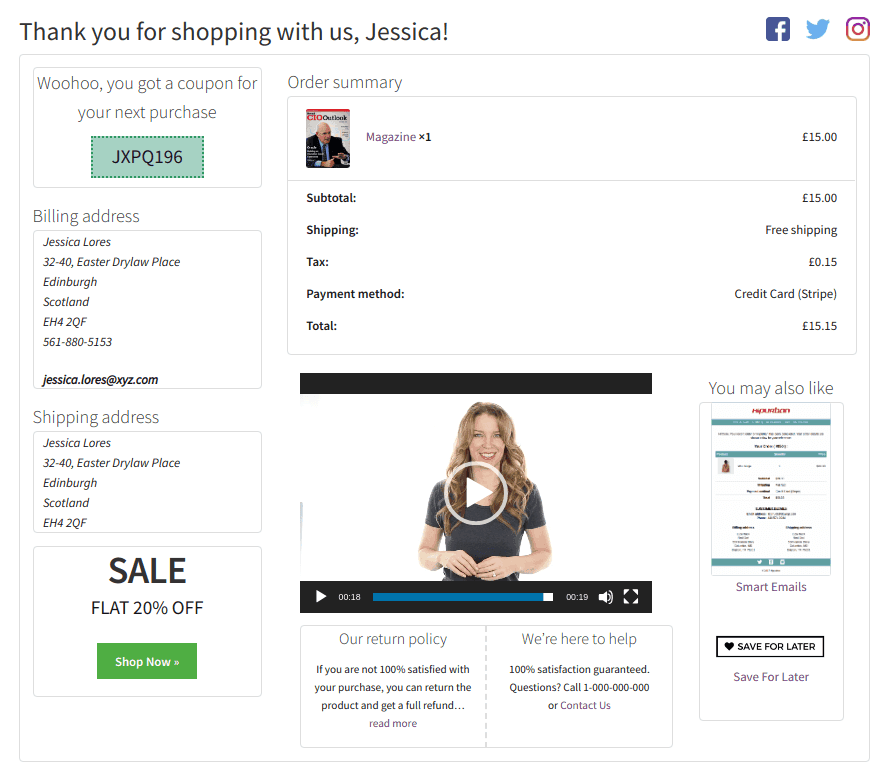 This plugin turns the WooCommerce order received page into a strong marketing tool for your business. Compare this customized thank you page to the default thank page. You know what you want to do next, right?
It allows redirecting customers from the thank you page to any URL of your choice. Here's a list of the features that you can access with this plugin.
Set a custom thank you page for all products in your store.
Set a custom thank you page per product. This feature applies to simple, downloadable, variable, subscription, and virtual products.
Pre-built high-converting thank you page styles to help you get started.
Redirecting customers from the checkout page to other affiliate links or resources.
Design your custom thank you page with your favorite page builder, theme, short-codes and plugins of your choice.
Easily customize your thank you page by adding coupons, upsells, offers, promo codes, feedback forms, subscription forms, and design it the way you want.
Get Custom Thank You Page plugin
16 ways to leverage WooCommerce order received page
As you are now familiar with the custom thank you page benefits, it's time to use it for your own good. If you're running short of ideas, no worries.
Here are the fifteen ways to design your WooCommerce order received page. You may require other plugins along with the thank you page plugin. Get ready for a huge transformation!
Welcome your tribe
A warm welcome always feels good. Using your thank you page, welcome the customer to your community with their purchase. Of course, saying 'thank you for your order' is prevalent but starting with a welcome is kind of different.
Use the thank you page for offering customers instructions on what to do next. Works? We think so.
Encourage with a start guide
Use the thank you page to show buyers where to start from. For example, tell them how to create an account or sign-up with you. You can also share documentation links, provide a lead magnet using forms (list building) or give them a quick tour of how to use the product.
Testimonials work great, isn't it? When you read about the wonderful shopping experience of other buyers, it immediately boosts confidence.
So, use your thank you page to share testimonials for your brand and other products. It will boost buyer's confidence and the result is a remorse-free buyer.
Give free goodies
Who doesn't like things for free? Everyone does!
So, offer customers a gift through the thank you page. You may offer free shipping on the next order, coupon codes, a new launch sample product, etc.
Establish a human connection with a video message
Video messages work well with customers. Videos make the thank you page more attractive. Plus, it helps in establishing customer relationships.
For example, you can add a team photo or embed a short video on your thank you page about the company culture and your team. It's a great way to show customers what your brand is all about and how you work as a team.
It's a different feeling when customers get to see the people behind the brand. They actually get to know who they are purchasing from. This helps in creating a strong bond with customers.
Include product recommendations
Product recommendations are a clever way of increasing sales. For example, you might tell customers what they might like more. Suggest other products in line with the ones ordered.
Give discount coupons
Offer customers discounts on their next order or provide them with a promo code. You can also choose to offer store credits that they might use on their next purchase.
Increase your fan following
Share your social media links to increase followers – Twitter, Facebook, Instagram, etc. Call upon customers to follow you so that they remain updated. This increases brand visibility.
Link to Black Friday deals and products
Use the WooCommerce order received page to link back to your existing holiday season guides.
Or use it as an opportunity to promote affiliate products or services, deals roundup page or recommend some good products that you used and have solved some of your pain points.
Display upsells and cross-sells
Use Smart Offers to upsell and cross-sell through the thank you page. For example, encourage a customer to buy a cover who has just ordered a phone. That's cross-selling. Or encourage customers to add more products or buy a more expensive phone. That's upselling.
Take a look at how Amazon does it. Around 35% of Amazon's purchases come from upsells and cross-sells.
Show recently viewed products
Displaying products in which customers have shown interest is another way to entice them. Add a carousel of recently viewed products to the thank you page.
This might make customers want to buy another product. As a result, your sales will multiply.
Add any other content of your choice
WooCommerce order received pages can be designed free-hand. You can add whatever content you like that goes well with your brand.
WordPress short-codes are a blessing to add content easily. Otherwise embedding content would require complex coding.
Make a limited-period offer
Tapping into customers' FOMO (Fear of Missing Out) often results in higher sales.
Customize the WooCommerce order received page with bumper offers. For example, flash sales, 50% discount only for today, etc. Plus, the countdown timer adds to the sense of urgency. Chances are, it might trigger another order to avail the discount.
Display a map
This is an interesting add-on to a thank you page. The idea here is to display the location where the order will be shipped, that is, the customer's shipping location.
Maps add to the details of an order delivery and boost customer's confidence in the brand. Their trust in receiving the order increases. They'll love it and feel instantly connected!
Collect feedback
Feedback is a way of telling customers that they matter to you. It boosts growth. So, offer short surveys for customers through your thank you page. This will help you improve your service.
Promote a cause
Mention a charitable organization that you support and encourage customers to contribute.
For example, you may support a non-profit organization working for a better environment. So, add their logo to your thank you page, give a short overview, and build customers' trust to make them contribute.
Conclusion
Your thank you page can serve multiple purposes. From increasing sales to recommending products to increase engagement, it can do it all.
WooCommerce order received page can be designed in different ways. While we have given you a few ideas, you can experiment with a few more with the Custom Thank You Page plugin.
So, ready to customize yours?