Coupons are great. They lure customers, promote sales and generate more traffic. But, what if a customer enjoys too many coupons or coupons distributions aren't equal?
The coupon strategy will soon become a migraine. This is why every WooCommerce store owner must learn about ways to restrict coupons, that includes WooCommerce subscription coupons as well.
It could be too complex and error-prone without a plugin. Hence, we present you with an easy solution.
Discount types with WooCommerce subscriptions
WooCommerce Subscriptions plugin help to alter the subscription renewal cost and apply discounts and coupons.
By default, you get these four discount types:
Sign up fee discount
Sign up fee % discount
Recurring product discount
Recurring product % discount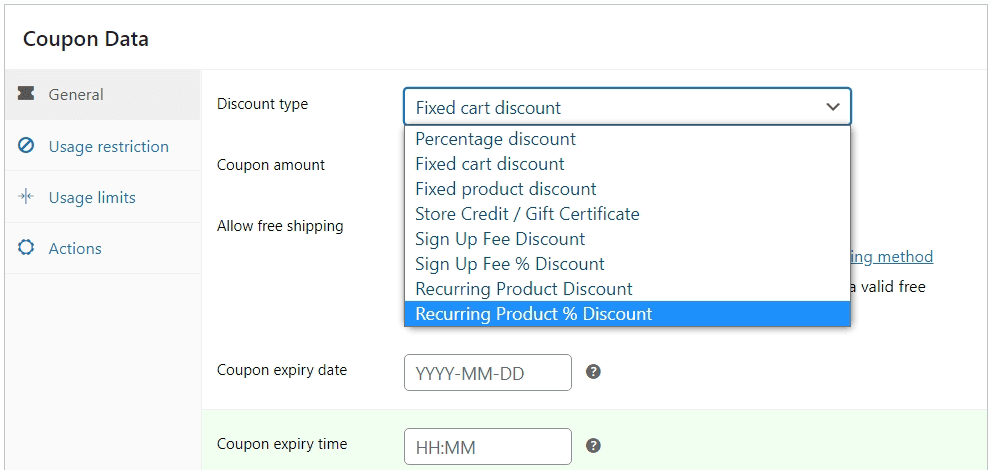 The other discount types are provided with default WooCommerce coupons, except Store Credit / Gift Certificate that is provided by Smart Coupons.
So, how do these discount types help customers? Here are a few examples:
Get $10 flat off on the signup fee for a product worth $50.
Get 15% off on the signup fee for a product worth $100.
Get a $10 recurring coupon for a product valid for 10 payments.
Get a 15% recurring coupon for products valid till 9 payments.
Be it a % or flat discount, a signup fee waiver helps in gaining new customers, whereas recurring coupons help you retain customers over a longer period.
To summarize, these discount types help customers reduce the cost of buying the subscription product and also save on renewals.
Refer to this doc for more details on creating a coupon.
You can't keep providing subscription discount coupons all the time
Agreed that using subscription coupons encourages more people to buy and also reduces churn. But doing so will only hamper your profits in the long run.
If you keep offering discounts, customers will expect more. Once you stop, the same customers will churn.
Take any big brand in your country – food delivery, cab bookings, grocery deliveries…you would hardly find discounts after the initial few months. There may be some but limited.
Business is all about being sustainable in the long run. So better to limit the discounts and aim for profit margins.
With default WooCommerce Subscriptions, you can allow discounts up to certain renewals. But what about other restrictions based on location, payment gateways and product quantity?
Let's see how to better restrict WooCommerce subscription coupons.
Setting up advanced WooCommerce subscription coupon restrictions
Smart Coupons by StoreApps is a powerful WooCommerce coupons plugin. It can help you manage discount coupons, gift cards, store credits, product giveaways and various other things in one go.
More than 20,000 WooCommerce store owners have already used this plugin and are experiencing hassle-free subscription coupon management.
The interface is intuitive and flexible. Using Smart Coupons, you can allow the coupons to get auto-applied, restrict coupons for specific payment gateways and location, subscription products, etc. For example:
$10 flat off on sign-up fee for a product worth $50 auto-applied.
15% off on sign-up fee for a product worth $100 when the payment gateway is Stripe.
$10 recurring coupon for product valid till 10 payments for US customers.
15% recurring coupon for products valid till 9 payments for all subs products from category Marketing.
Auto-apply both a signup + recurring discount on product X (need two coupons separate for each)
Club multiple conditions for restrictions on subscription products purchase.
and many more…
Location and payment method restriction based subscription coupon
Consider you want to apply a 10% off recurring product discount coupon for nine months for customers in the US only and for payment gateway Stripe. We also set the coupon to get auto-applied.
Once installed and activated Smart Coupons plugin, go to your WordPress Admin panel > Marketing > Coupons > Add coupon.
Under the 'General' tab, select Recurring Product % Discount as the 'Discount type' from the drop down and enter Coupon amount as 10.
Tick the Auto-apply checkbox.
Enter '9' under Active for x payments.

Now under the 'Usage restriction' tab, under Products, search and select the subscription product you want to restrict the coupon discount.
Under Locations, search and select 'United States'.
Under Payment methods, search and select 'Credit Card (Stripe)'.
Publish the coupon.
That's it. When all the above restrictions are met, then only the subscription coupon will get applied.
There is no end to the rules. You can define them as per the need of the hour. In case you need to apply for a signup and recurring discount together, then also Smart Coupons is of great help. It will help you define different rules for different coupons.
Using gift cards for subscription renewals
A gift card distribution strategy is an effective customer retention strategy that goes beyond discounts and deals.
Black Friday and Cyber Monday deals are all over the internet. So you might want to set up some gift cards to encourage customers to buy new subscriptions or renew their existing ones during this season.
With Smart Coupons, you can allow customers to use gift cards/store credits for renewals.
Go to your WordPress Admin panel > Marketing > Coupons.
Open Smart Coupons Setting and go to Recurring Subscriptions on the left side of the dashboard.
Tick mark the Use store credit applied in first subscription order for subsequent renewals until credit reaches zero option.
That's quite easy, isn't it? Learn more about using gift cards for subscriptions.
Conclusion
For a subscription-based business, effective and prudent use of coupon codes is a must for continual sales and an improved customer base.
All in all, applying restrictions on WooCommerce subscription coupons and managing multiple coupons isn't a tough task as long as you have the help of Smart Coupons by your side.