Having an online store isn't enough. You must ensure that the store gets enough traffic, convertible leads and soaring sales. One might find it hard to achieve all of it. If that's what you're also feeling, you probably haven't explored the power of WooCommerce tripwires.
Capable of improving the viability of sales strategy in every sense, the tripwire is a potential tool to use. In this post, we'll talk about the tripwire funnel, its efficacy, benefits and the procedure to set them up.
Let's start by comprehending the meaning of a tripwire.
What is a tripwire? Introduction and example
It's a workable sales strategy that involves proposing a high-quality and appealing service/product at a subsided cost or free to provide an opportunity of buying. When cost is reduced, skeptical buyers will make a move as less money is at stake.
Once the customer buys the product, you keep on upselling/cross-selling other products and finally pitch your core or main offer.
This works well for new customers and customers who have ceased purchasing because of XYZ reasons. By offering a lucrative deal, the business breaks the primary entry barrier and manages to infuse confidence in the customers and introduces its services at lower risk.
Based on this basic definition, it seems the WooCommerce tripwire funnel strategy has two goals to fulfill:
To awaken the inactive traffic and get sales from it.
To find out the 'interested' traffic percentage. There is no point in working on traffic that will probably never buy from you.
Tripwire example:
You have a sales goal to sell a box of 6 premium lipsticks, costing $30. Customers will hesitate to buy because of the high cost while lacking experience with the product.
You make a tripwire offer in which you offer the same box at a very reduced cost, let's say at $10. This makes the deal lucrative and allows interested customers to have a feel of the product at an affordable price.
. Once you have the customer, you now sell them a box of nail polishes for $30 and then some other beauty accessories.
Lead magnet vs Tripwire
Tripwire may sound similar to a lead magnet as both are used to grab the attention and interest of the customers. But, they both are different.
Lead magnet refers to proffering free products/services in exchange for customer email(list building).
While the tripwire tunnel involves providing services/products at a heavily cut-rate price or for free. It's like you create a series of offers one after the other to nudge customers.
Lead generation is the key aim of a lead magnet, while a tripwire is useful to get paid customers who can keep purchasing again and again.
Look at the images to see the difference between them: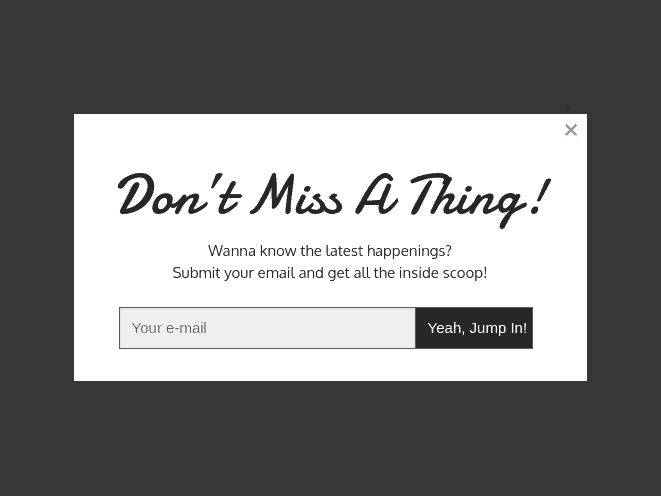 What types of tripwires you should create?
Tripwires are of various kinds and you need to be aware of what they mean and where they should be implemented for result-driven implementation.
We have identified five types of tripwires you can run on your WooCommerce store:
Low-cost trials: One of the most-effective ways to awaken the cold leads and turn them into paying customers. Ideally, low-cost trials should be used on the Home page only. Example – 14-day trial of a premium analytics software at $5.
Online events: This is suitable for list building. Example – Webinars.
Trailer of the core offer: In this type, you provide a small version of the core product so that customers can have a feel of it and gain confidence to buy the bigger version. Example – Digital marketing courses.
Tangible products: It involves offering a relatable offer at the time of checkout as long as customers are ready to pay the shipping cost. Example – You pay the shipping, and we will give you a free book.
Complementary services: One of the oldest types of tripwire funnel, offering complimentary services are used as a cross-selling strategy. Example – Get a Netflix subscription-free with the Smart TV.
These tripwire funnels work very well. You can also use them more effectively during the Black Friday and Cyber Monday season. Add more customers to your store by offering heavy discounts initially. Once user enters the funnel, reduce the discounts on other products you offer.
How to set up a WooCommerce tripwire funnel?
Tripwire funnel set-up isn't a tough goal to achieve, provided you have the right assistance by your side. Smart Offers is a very useful and productive WooCommerce upsell and cross-sell plugin using which multiple tripwire funnels can be created.
The plugin allows sales marketers to create hundreds of irresistible tripwire funnel offers like:
Tripwire > Upsell > Downsell > Core offer
Tripwire > Cross-sell > Core offer
Tripwire > BOGO > Order bump > Core offer
and many more…
The best part is that the plugin allows tripwire funnel implementation at different stages and pages. For instance, you can offer a BOGO on the product page, while order bump on the checkout page and core offer on the order received page.
Let's set up a WooCommerce tripwire offer funnel with Smart Offers.
Assume that your users are passionate about photography but are beginners. And you want to help them amp up their photography skills.
So you offer them a photography book for free (but charge only for shipping and delivery) that contains some stunning photos and some tips that make users excited.
Then, you offer some related product as an upsell/cross-sell.
Finally, say to them "If you like to have such photos", there's a special course available (core product) on the same which you can then offer at a special price.
To set up any offer, make sure Smart Offers plugin is activated on your store. Then go to the WordPress Admin panel > Smart Offers > Add New > Offer.
For every offer, assign a title to it. You can use the editor to create more attractive offer designs with the help of popular WordPress page builders like Elementor, Visual Composer, Divi and others.
Setting up the first tripwire offer in the funnel
Under What to Offer, choose the product and the price/discount rate. Since we are offering the photography book for free, set the discount to 100%. Do set the shipping and taxes in the product or in WooCommerce settings to cover your delivery expenses.

Click Show offer on page and select the page you like to show your offer. Since we want to show this offer on a landing/product page, check the Anywhere shortcode is added option. Here, you need to open that product page/landing page and add the shortcode to show the offer.

Choose how you want to show your offer – as a popup or as inline with page content under the Show offer as tab.

Under Accept actions, you can select what action needs to be triggered if the customer accepts this offer. We select Add the offered product to cart and Show another (Upsell) offer. You can also select other options as needed like Enable one click checkout with Buy Now to skip cart and redirect customers to checkout.

In case, if the customer skips / rejects this offer, you can also choose what to do under the Skip actions tab. We select Hide this offer. You can also select other options as needed.

Publish your offer.
Now, once a user accepts the tripwire offer, we show them a memory card as a cross-sell offer.
Setting up a cross-sell offer in the tripwire funnel
The steps to create an offer for the memory card remains similar to what you did for the tripwire offer with some exceptions:
Under What to Offer, select the product – memory card and offer it at 50% off.

Under Offer rules, select Cart/Order > Contains products, search and select the product 'The Art of Photography Book' and set Quantity is equal to 1.
Click on AND and set rule Cart/Order > Does not contains products, search and select the product 'Memory card', i.e.the offered product.

Since this offer will be shown when the user accepts the photography book, no need to select a page to target the offer. But you need to show the offer in a pop-up by selecting the option under the Show offer as tab.
Set the rules for Accept actions and Skip actions tabs as per your need and publish your offer.
The user will then checkout with the Photography book + Memory card together or only Photography book.
Setting up the core offer in the tripwire funnel
Once users make a successful purchase, we can pitch the core offer – 'Photography Course'.
Again the steps remain similar with some exceptions.
Under What to Offer, select the product – Photography course and offer it at 30% off.

Under Offer rules, select Cart/Order > Contains products, search and select the product 'The Art of Photography Book' and set Quantity is equal to 1.
Click on AND and set rule Cart/Order > Does not contains products, search and select the product 'Photography course.

Next, since we want to show this offer after users purchase the Photography book, we select the WooCommerce Order Complete page option under Show offer on page tab.
Since this offer will be shown when the user purchases the photography book, it is advisable to select 'Inline' under the Show offer as tab.
Set the rules for Accept actions and Skip actions tab as per your need and publish your offer.
That's it. Your tripwire funnel offers are ready. Here's how the three offers will look: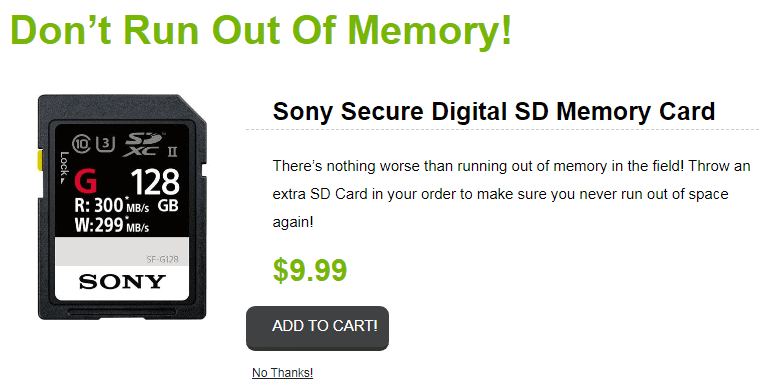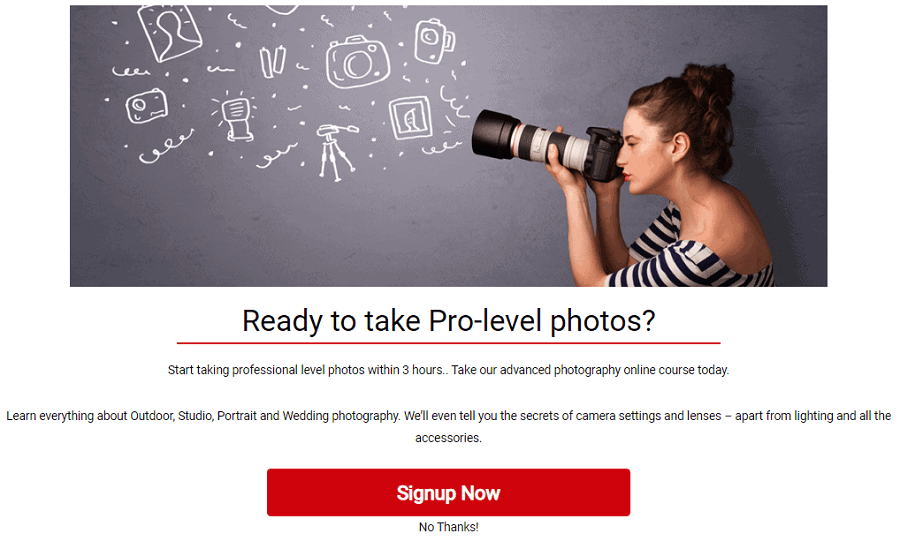 What makes tripwires successful?
The secrets to success for a tripwire funnel are many:
It should be a combination of low risk, low cost, low commitment and high value.
Make sure that the perceived value of the tripwire product should be higher than the charged cost. Gain the buyers' confidence.
Maintain the product quality despite the reduced cost. This is very important as customers shouldn't feel cheated.
The offer should provide a product experience in a way that your customers will feel wanting or yearning for it.
Create a sense of urgency to make sure your customer gets the offer. Let your customer believe that it's a once-in-a-lifetime opportunity.
The tripwire offer should be connected to the actual product/service. There is no point in offering a tripwire offer of a two-day online course on indoor gardening while your core product is a Python programming course.
Real world examples of successful tripwire funnels
Netflix – Its mobile-only offer is a great tripwire example. Netflix subscriptions may sound costly to many. Hence, the online streaming giant started offering mobile-only streaming subscriptions at a reduced cost. When users experienced it, many converted to full-fledged and high-value subscriptions.
Name.com – It's a famous domain name reseller and managed to build a reliable customer base with a lucrative tripwire offer. The company offered the first year subscription at a very reduced cost and charged a regular price second year onwards.
Tripwires as a marketing strategy
Tripwires, when used effectively, hold the power to level up your marketing strategy on multiple fronts.
Reduce the marketing overhead
Expand the email lists with potential buyers
Find out what exactly your customers love and want
Promotes micro commitments between customers and businesses that further lead to large and big-ticket commitments.
Conclusion
An effective WooCommerce tripwire funnel will change the face of your marketing strategy and will make it more impactful and effective. However, its success depends on its goal-driven implementation. Make sure you know the nitty-gritty and have the help of a reliable tool like Smart Offers.
With Smart Offers in action, no one can stop your WooCommerce tripwire funnel from converting potential users to customers.