A cakewalk solution that entices both new and returning customers on your store – coupons. This article will make you well-versed with the use of WooCommerce coupons, how to use it better using a plugin and some top applications of using coupons to grow sales. The best part, no technical knowledge is required.
Are you satisfied with the default WooCommerce coupons?
Whenever someone gives a gift or a bumper discount, it's a cloud nine moment, right? That's the power of coupons.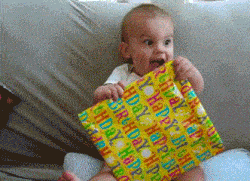 Like normal coupons, WooCommerce coupons are also vouchers or discount codes you share with your customers – on cart or checkout page, via emails, newsletters, social media, etc. A simple strategy to reward customers, promote products and thank customers.
And WooCommerce does a good job when it comes to creating coupons with some restrictions.
But, even your competitors do discounts using coupons. What you'll do better than these people to attract users to your store and convert them?
You need to think beyond discounts. You need a powerful WooCommerce coupons plugin that has extended coupon features and advanced funtionalities like store credit, gift cards, bulk generation and so on.
If you are already familiar with WooCommerce coupons, jump to the powerful WooCommerce coupons extension.
But, if you are a beginner, first learn how to set up coupons for your store.
Steps to create a WooCommerce coupon
Step 1 – Enabling a coupon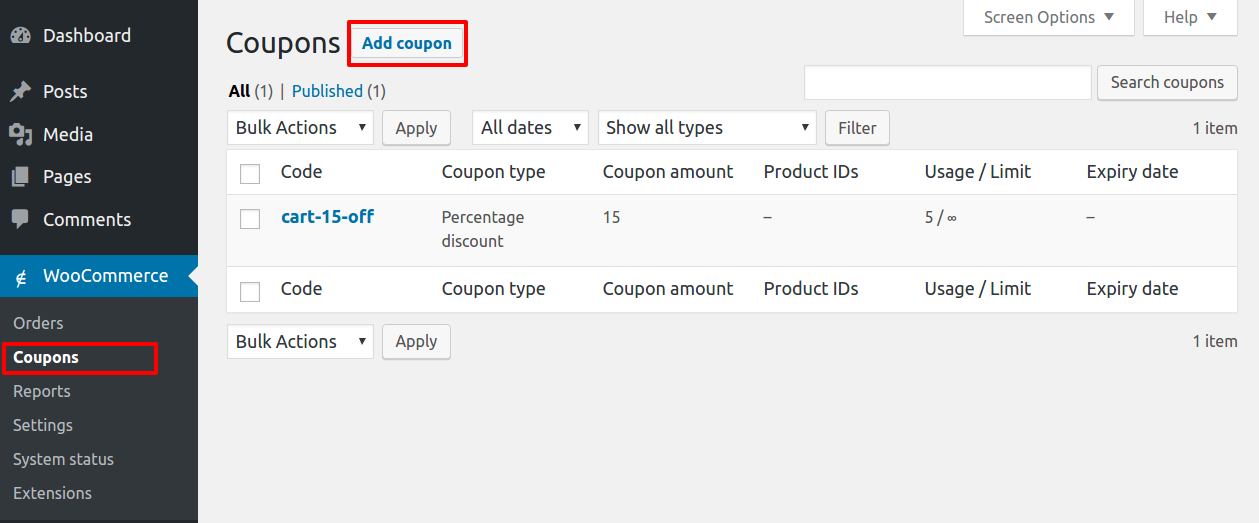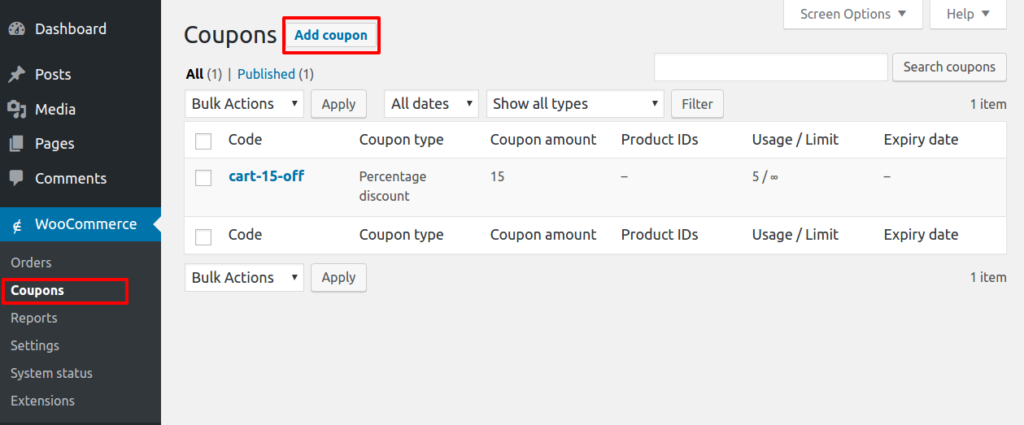 Select WooCommerce > Coupons > Add Coupon
Step 2 – Enter coupon data and discount
1. Enter coupon code
Using the WooCommerce coupon code generator, enter unique code or set your own coupon code.
2. Coupon description
Write coupon description for your reference.
3. Select discount type
This method involves selecting what type of discount you need to give for a particular coupon along with the coupon amount.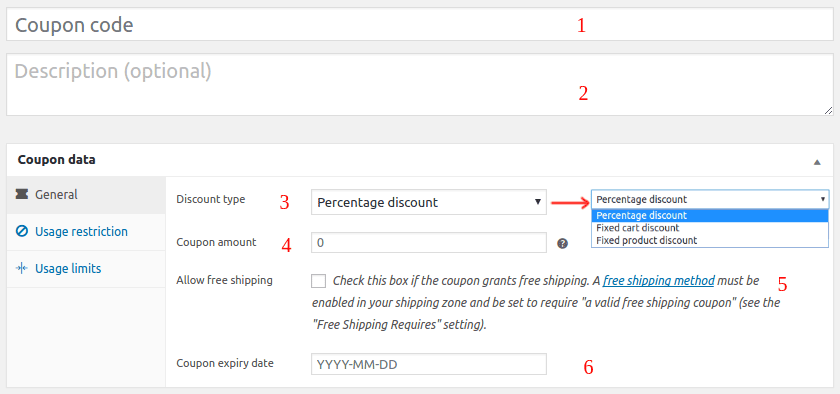 There are three ways you can set WooCommerce discount types:
Percentage discount – percentage discount offered on the cart
Fixed cart discount – flat amount discount on the cart
Fixed product discount – flat amount discount on a specific product
For example, when using coupons for a cart consisting of three pairs of shoes selling at $50 each, it sums up to $150 in total. So, a fixed cart discount of $20 gives the user $20 discount on the overall price or cart total.
On the other hand, a fixed product discount would translate to a total discount of $60 for the three pairs ($20 for each).
As for the percentage discount, the price in this case would be $45 for each pair, when the coupon discount percentage is 10%.
4. Coupon amount
Enter the discount or fixed price value.
5. Allow free shipping
Tick the checkbox if your product qualifies for free shipping.
6. Coupon expiry date
Set an expiry date for your coupon.
Step 3 – Set Usage Restrictions
WooCommerce coupons have restrictions that govern their utilization, to avoid the likelihood of misuse by customers.
You can set a maximum of 9 restrictions for a particular coupon. The following lists them all and it's your choice which one you want to set for your coupon.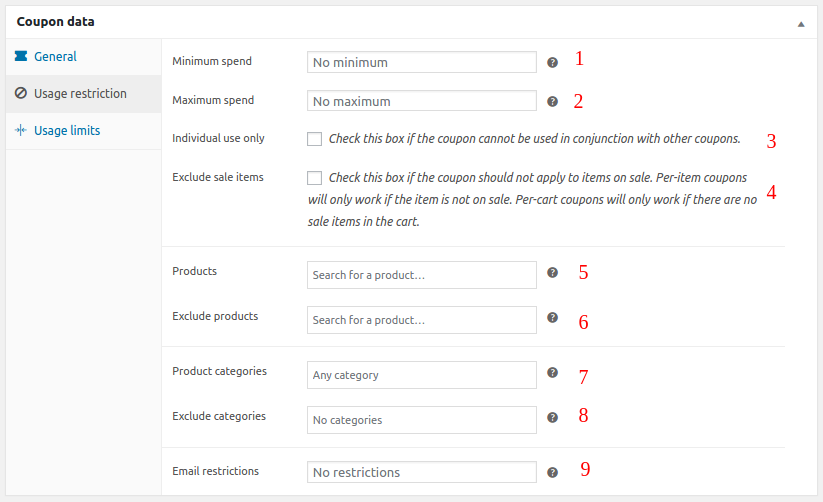 1 – Minimum spend
Customers cart or order total should be at-least this much amount for the coupon to get applied.
2 – Maximum spend
Coupon should not get applied beyond this amount.
In other words, set the best range of amount limits between which coupons can be applied.
3 – Individual use only
Tick this if you don't want any other coupon to get applied. Best to control over-use of coupons and discounts.
4 – Exclude sale items
Select this option if you don't want to add coupon to products on sale.
5 – Products
This will allow to add coupon only on specific products.
6 – Exclude products
Set this option if you don't want to give discount on some products. Say your best-sellers.
7 – Product categories
This will allow to add coupon only on specific product categories.
8 – Exclude categories
Set this option if you don't want to give discount on some products categories.
9 – Email restrictions
Enter list of emails to be checked against customer's billing email for coupon to get applied.
Step 4 – Set Usage Limits

1 – Usage limit per coupon
Define the number of times this coupon can be used before it is void.
2 – Limit usage to X items
Set a limit to the number of items you want the coupon to be valid. If not selected, it will apply to all items in the cart.
3 – Usage limit per user
Define the number of times an individual can use the coupon before it becomes invalid.
Step 5 – Publish & Verify
1 – Publish
Cross-check again if everything you want is in place. If yes, click on Publish.
2 – Test
Go to you store, add products to cart, apply coupon code and check if discount is applied to cart.
Congratulations! You have now successfully learnt how to create a WooCommerce coupon.
But simple discounts won't boost your sales or build customer loyalty
As I said earlier, simple discounts won't work every time. In the long-term, people will just wait when you run discounts to buy. It will be a drought period of sales for you all throughout.
With growing competition, store owners must be smart enough to offer lucrative discounts that attract audiences to their store and trigger an excitement among them to buy.
So what's the solution?
A powerful extension built on top of WooCommerce coupons – The 'All-in-one' Smart Coupons
Developed by StoreApps, Smart Coupons provides the most advanced coupon solution for WooCommerce. You can purchase it from WooCommerce.com.
WooCommerce Smart Coupons has everything you need to grow sales and customers using discounts, coupons, credits, vouchers, product giveaways, offers and promotions. It's the
If I write all functionality of coupons here, the blog would turn into a solid book of coupons.
You can refer this dedicated documentation for each Smart Coupons functionality.
Difference between standard WooCommerce coupons and Smart Coupons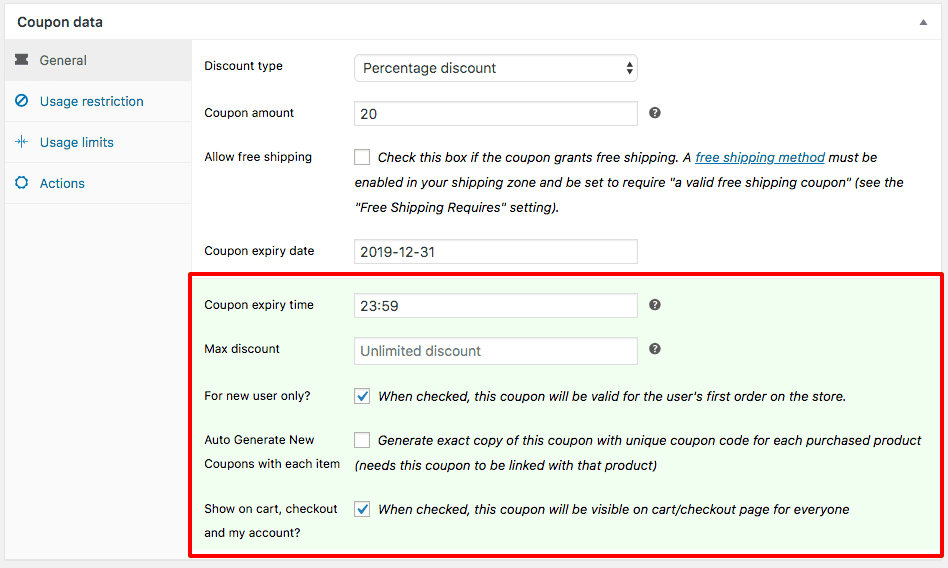 The same configuration screen. But all things highlighted in GREEN are provided by Smart Coupons.
Top WooCommerce Smart Coupons features that make it a crowd-favorite
Smart Coupons is loaded with proven methods to run discounts and promotions automatically. Using it well will give you higher sales, repeat customers and better customer loyalty.
1. WooCommerce gift cards / store credit
Essentially, they are the same. But how to use them is what you need to do to boost sales. (We have covered it below in the applications)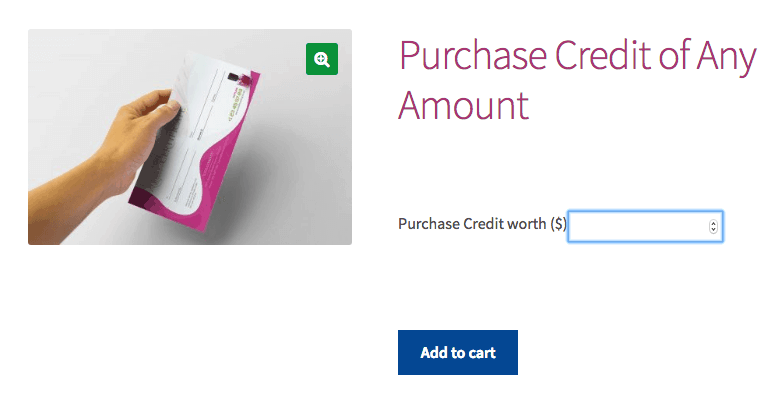 One of the hot features users buy Smart Coupons. You assign a monetary value credit to customers. They make purchases until the credit is exhausted or the validity expires. Credits are used instead of charging a card / PayPal.
Here's how you can create store credit
BTW…you can offer a credit for a refund. A great way to retain customers. You can create and assign store credit or gift certificate on any value.
Another good thing is that people can purchase credits and gift them to others. Like on birthdays or Christmas. Smart Coupons also allows to add a custom message and schedule delivery of the gift voucher in future.
Refer this article on how to create and send WooCommerce gift cards
2. Coupon code generator – Bulk generate coupons

Another popular feature of Smart Coupons. Generate hundreds of thousands of coupons quickly and add them to the store / export as a CSV / email all the recipients.
Learn how to bulk generate coupons in bulk within seconds
3. Customizable Smart Coupons styles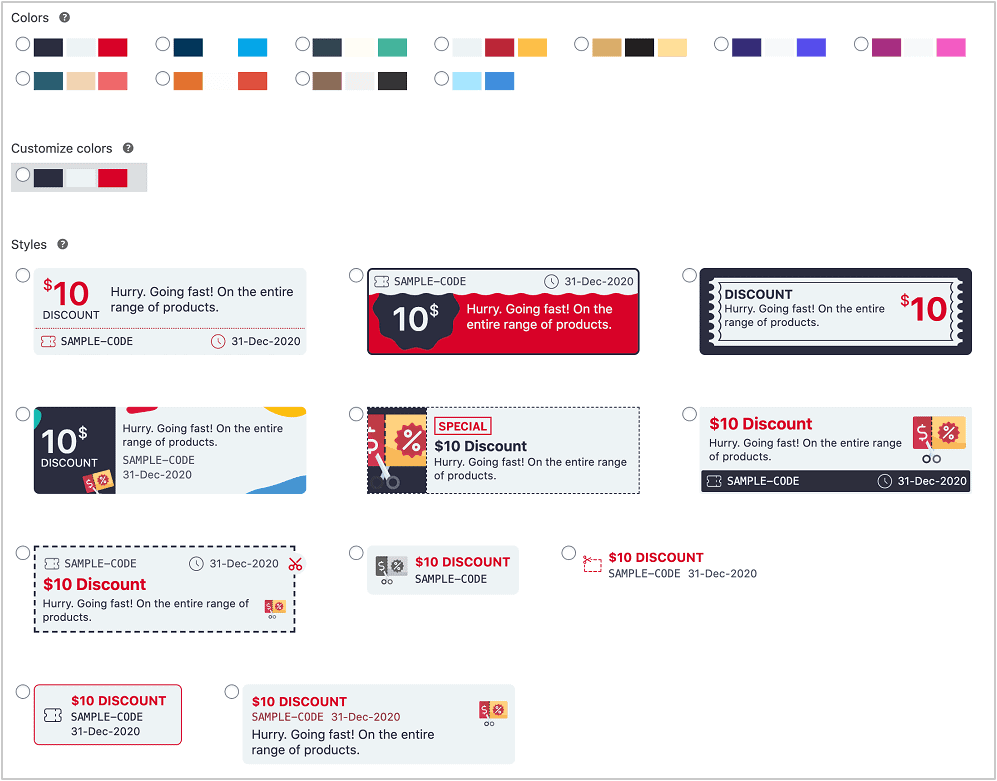 Beautiful and high-converting coupon styles. Predefined color schemes, but you can customize them to match your brand colors. No coding required.
Learn more about Smart Coupons styles
4. WooCommerce URL Coupons
Quickly generate links you can embed in emails or social media posts (or anywhere else) – with one or more coupons. You can also apply multiple coupon codes via single URL.
5. Provide free product with purchase
Automatically add products to cart when a coupon is applied. Product can be added as a free gift or offered at a discount.
Here's how to gift a product using a coupon
6. Issue coupon with product purchase
Automatically generate and issue coupons / store credits / vouchers for future purchases when someone buys a product.
7. Advanced coupon restrictions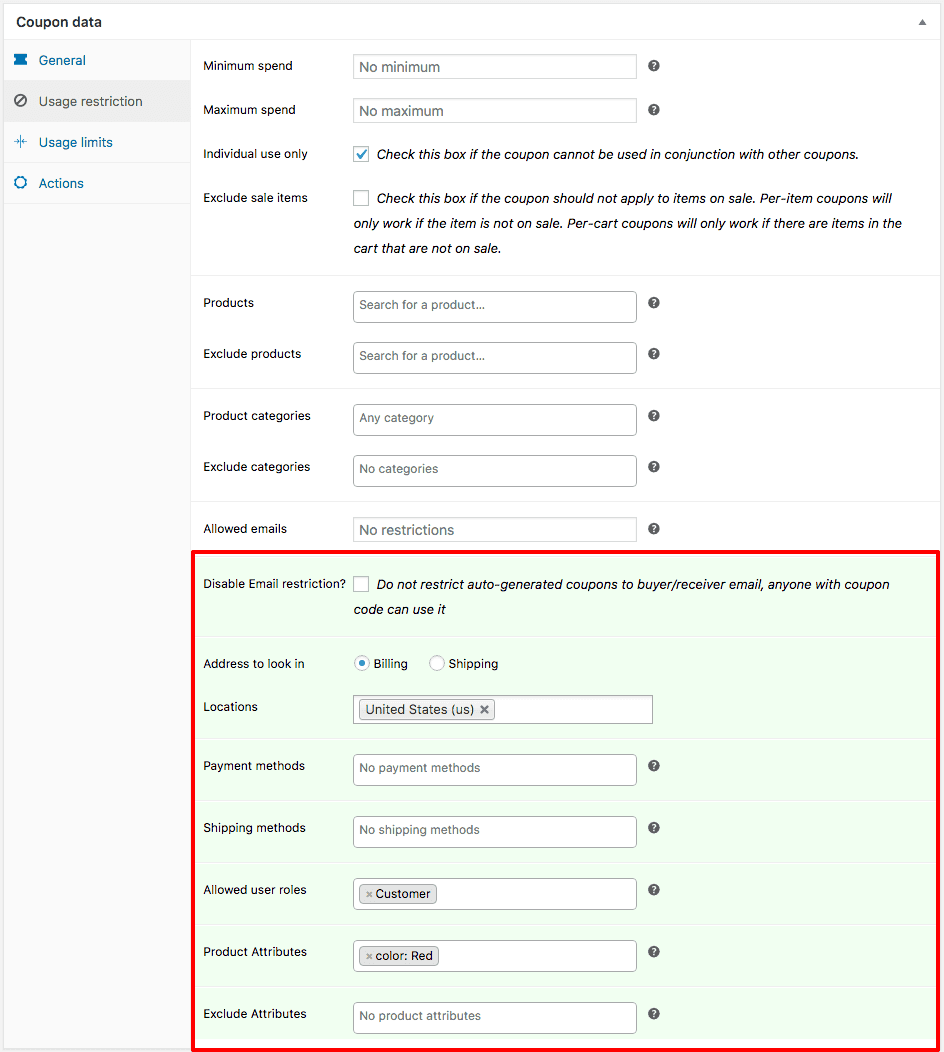 You only want coupon to apply if payment is made via PayPal. OR Don't apply coupon only if it qualifies for Free Shipping…and many other restrictions. You can restrict coupon usage by user role, emails, payment methods, shipping methods, attributes.
Refer this in-depth guide on WooCommerce advanced coupon restrictions
8. Subscription / Recurring Coupons
Smart Coupons is compatible with WooCommerce Subscriptions. Give a recurring flat or percentage discount with subscriptions or use store credits towards renewal payments.
9. Bulk manage WooCommerce coupons
Smart Coupons is also compatible with Smart Manager plugin. You can extend store credit limit or validity for all coupons, delete all coupons in bulk in seconds.
View some best applications of bulk managing WooCommerce coupons.
10. Run time sensitive discounts
Set coupons to expire at a specific time like 11:59AM (WooCommerce provided only date, Smart Coupons gives you the provision to set time), limit maximum discount amount for percentage discounts, and run automatic seasonal promotions.
Get Smart Coupons plugin
Top 12 applications of Smart Coupons
1. WooCommerce store credit – Customer retention, compensation for a poor customer experience
Say for example, Ryan purchases a $150 store credit from your store. So, the next time if he purchases a product priced at $200 or greater, he can redeem that $150 store credit.
Or, say if Chris is not satisfied at the first purchase and asks for a refund, you can issue him a store credit instead of a refund. This is a good tactic to encourage him for making another purchase and compensate for earlier poor experience.
Recommended read – 9 best use cases of WooCommerce store credit to boost sales
2. WooCommerce gift cards / gift certificates – Birthday gifts, Christmas gifts, customer relationship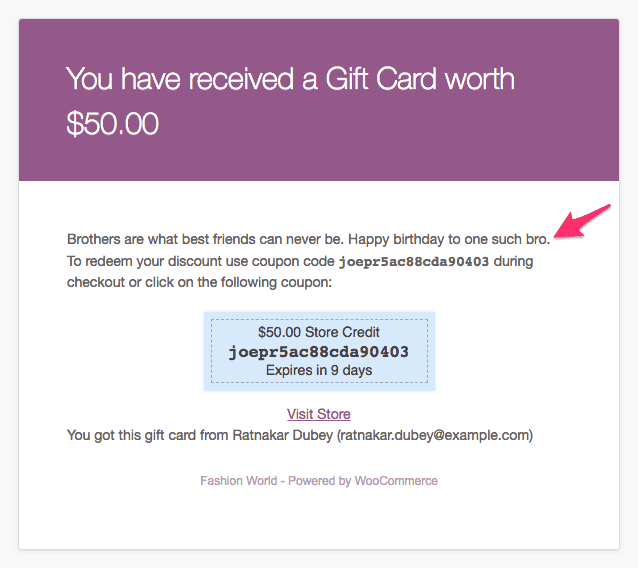 This is similar to purchasing gift cards on Amazon.
Your customers can buy a store credit and then issue it as a gift to the person they want. They can also send it now or schedule it for later.
Here's how to schedule coupons in WooCommerce
This is a best application for Christmas. Many users purchase store credit or gift cards at a discount during Black Friday sales and schedule them to their loved ones for Christmas.
For store owners also, this is quite useful. You can create and send gift cards or store credits to your customers on their birthdays or as a Bonus during holiday season.
Here's how to create and sell gift cards on your WooCommerce store.
3. Schedule coupons to expire at a precise time – Create a time scarcity offer during Black Friday / Halloween / Festival Days
Schedule a coupon that is only valid for a particular time. Say 11:59PM. No need to personally wait for 11:59 PM and shut the coupon.
During Black Friday period, promote the coupon well in advance. Show the remaining time left to claim the discount coupon to create scarcity among your audiences, prompting them to buy at the earliest.
4. Bulk generate WooCommerce coupons – Partnership with deal sites
With Smart Coupons, you can generate a bunch of coupons and export them to a CSV file. When you share this CSV file with the "deals" site, they can issue one coupon to each purchaser.
Also, you can give a direct link to the product on offer with the generated coupon in the URL.
5. Issue a product for free or paid using coupon – Best for stock clearance, new product launch, giveaways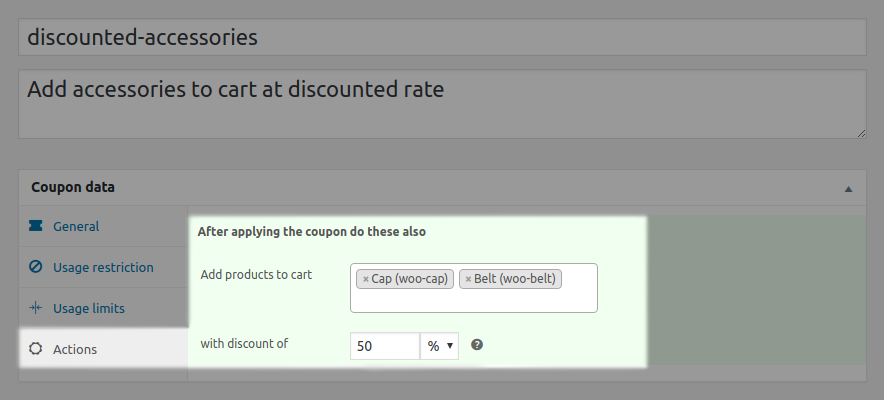 Instead of a discount, a product can be redeemed for the coupon code.
Hence, when a coupon is applied successfully, the product or gift is automatically added to the cart and the customer may continue shopping or checkout normally.
6. Offer high value coupon at a low price and earn money in advance – Brings high end and loyal customers to store
Consider a case where you offer a $550 credit coupon at $500. Here, you are giving an additional $50 store credit to your customers. So, you have already pocketed a $500 customer if they buy it.
Hence, the next time if a customer purchases any other product, he already has the $50 credit to redeem.
Point to be noted here is…
7. Do a BOGO (Buy One Get One) for limited quantities
For example, if a person has selected a T-shirt, you can send another T-shirt as a free gift.
Note – Here the free T-shirt will be fixed which will go as a discount. If you have other products and want to set them on BOGO offer, you can create an individual coupon for each.
8. Set maximum discount limit on the coupon – Get 70% Off upto $50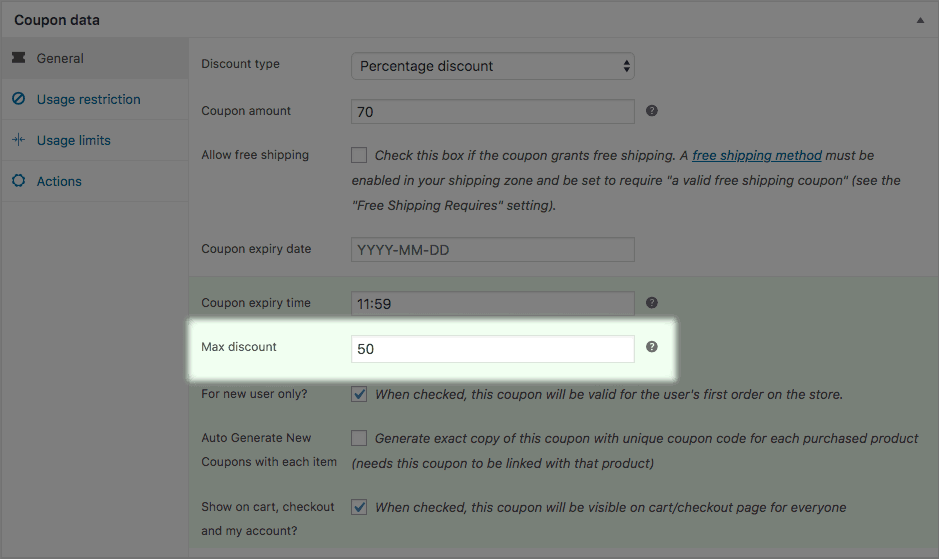 A smart way to nudge customers make a purchase by showing a big discount offer. Another smart way to not overspend by restricting the amount to be redeemed. Most widely used by grocery stores, food delivery apps…works for all industries.
9. Restrict WooCommerce coupons by Location – Get sales only from specific locations
It will check all location parameters customer's values for a match. If any of the locations you've entered in coupon setup match customer's billing country, city or state, then only the coupon will be applied.
For example – Offer an "Independence Day" coupon to customers from the United States only on 4th July.
10. WooCommerce Coupon Message – Interact with your customers

If you want to say something or offer anything to your customer who uses a particular coupon you can easily do it with this feature.
Show coupon details, terms of use, additional offers or anything else that will help customers and increase conversions.
You can show anything in the message and even embed WordPress shortcodes. You can send this message in the order confirmation email. Here's how
11. Sell high end product using a lower end product – Best used at Food outlets / Electronics / Clothing
Whenever a customer buys a lower end product, issue a coupon with it that can be redeemed only with the high-end product. This way, you are prompting customers to buy your higher end product and pocketing more sales.
Same like at McD…if you opt for a small fries pack, they will tell you that they have a big pack at a discounted offer? Will you purchase that big pack? Probably yes.
12. Issue multiple coupons to one or more products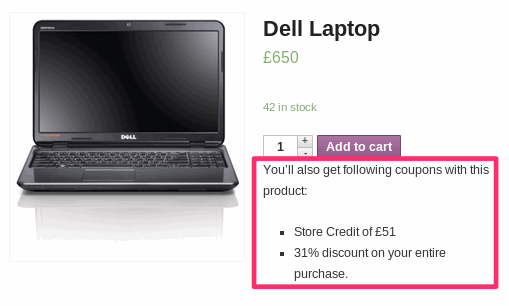 Customers always like a steal. So offering multiple discounts sometimes is not a vague idea.
On the contrary, it drives more and more new customers as well as keeps existing customers delighted.
Example – You can issue a coupon of 10% discount on product A and another discount of 15% on product B.
Or, if a customer doesn't get convinced with a coupon of say 10% discount, you may even attract him with another coupon, say a 15% discount on the same product.
Also, you can set multiple coupons for the customer to redeem for the same product at one go as shown in the image above.
I hope you liked these applications and it's a guarantee they will surely turn out extremely valuable for your WooCommerce store.
Get Smart Coupons
Start getting loyal customers today
Coupons are a solid conversion bait for encouraging more and more customers to make a purchase. And Smart Coupons seems to be the most attractive WooCommerce coupons plugin out there…for all your needs related to coupons.
If you are already using Smart Coupons, let us know in the comments section what you like most about it.
If you are not using Smart Coupons, there's no place for a second thought. Get Smart Coupons now to get more sales and repeat customers, forever.