It's no secret that One Click Upsells is one of the most popular methods of growing sales. In this article, I will show you the fastest way to setup a One Click Upsell offer on WooCommerce.
In this article, I will show you the fastest way to setup a One Click Upsell offer on your WooCommerce store.
So let's get started…
Understanding Upsells
You must be familiar with the term Upsells.
For the ones who are not, Upsells is nothing but the art of persuading a customer to buy something additional or more expensive.
Now this process of upsells seems straightforward in an offline scenario. Reason being it's not automated. There is a salesperson who understands your requirement and pitches you products according to your needs.
But what about, online sales?
How to upsell offers to online customers?
Also, how to ensure this process of upselling is smooth, targeted and not frustrating?
That's where One Click Upsells comes into the picture.
One Click Upsell – The Most Successful Upsell Technique On the Web
One click upsells, as the name clearly indicates it's a process where the user is presented upsell and is made to checkout in a single click.
Now as simple as it sounds this technique is just as simple to implement. Continue reading to know more…
Is One Click Upsells in-built in WooCommerce?
No. Not entirely. WooCommerce does provide inbuilt features to upsell, cross-sell products to your customers. But what it lacks is the ability to target these offers. Also, these Upsells are not one click. Thus there is a higher chance that the customer abandons the upsell.
Due to no targeting, no one click upsells the success rate of WooCommerce upsells is low.
But don't worry, we have a solution.
How To Create One Click Upsell For Your WooCommerce Store
Yes, you can now easily setup a One Click Upsell on your WooCommerce store.
And to achieve this, there are 2 things you will need
Repeat customer – The customer needs to have bought atleast once prior to this purchase
Payment done via Stripe, Woocommerce Authorize.net or Braintree.
Now look at the technical requirements…
Technical Requirements
Need to know more about Smart Offers or Buy now plugin? Send us a mail here.
Complete Walkthrough: How To setup One Click Upsells on WooCommerce
Step 1: Installation
Download above mentioned plugins & install in your WordPress site. Then activate each plugin.
Download WooCommerce Braintree
Buy Smart Offers + WooCommerce Buy Now
Note: Only download the payment gateway which you want to enable on your WooCommerce store.
Step 2: Configure WooCommerce Stripe Payment Gateway
Go to WooCommerce > Settings > Checkout > Stripe or Braintree. Fill other details as shown in following screenshot & make sure you've enabled Saved cards.
Note: For 1-Click Upsell function to work correctly, customer should have at least 1 order paid from his/her account via your payment gateway (with Saved Cards enabled).
Step 3: WooCommerece Buy Now
Activation of the plugin will be sufficient. No additional settings required.
Step 4: Create Upsell using Smart Offers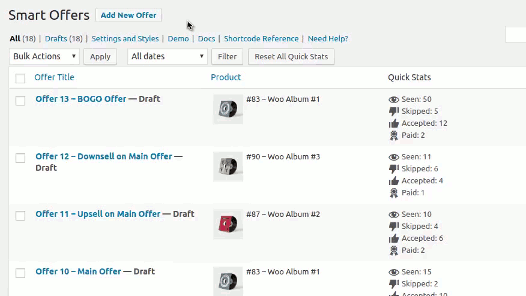 Go to WooCommerce > Smart Offers
Click Add New Offer
Set Title: This will not be visible to user. This is for your reference. For example: 1-Click Upsell
Set Offered product: Choose product you want to offer
Set Offer at:  Here set amount or discount you want to give on offered product
Create Offer Description: This part will be visible to customer. This is a WordPress's default editor, so you can use almost all feature of WordPress editor like adding media, font size & color, layout etc
Set Show this Offer on: Choose page where you want to show the offer. For example: Order Complete page
Set Show this Offer as: Choose whether you want to show as inline content or as popup
Set When to show this offer: Select conditions when you want to show the offer. For example: Cart/Order > Contains Product > Search & choose product. You can set multiple rules here based on visitor, registered user, customer's lifetime value, cart/order total and many more.
Set Actions to take when offer is Accepted: Here choose what all actions you want to perform when offer will be accepted. You can choose multiple actions from given set of options. For example: Add offered product to cart and Instantly checkout with Buy Now plugin
Set Actions to take when offer is Skipped: Define actions you want to perform if offer is declined. Here you can choose only one action from given set of action. For example: Instantly checkout with Buy Now plugin
Set Hide From This User (optional): If you want to make the offer as One Time Offer, enable this option
P.S. For your convenience we created a short gif on how the 1 click upsell process will look on your store. Check it out below.
1 Click Upsell In Action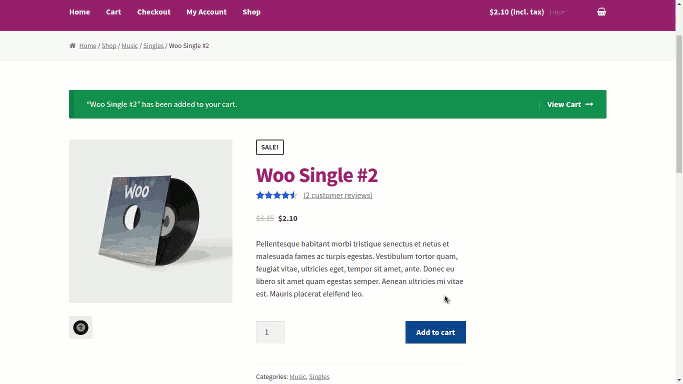 Your Turn To Setup 1 Click Upsell
Buy Smart Offers + WooCommerce Buy Now
Go ahead. Setup 1-click offers on your WooCommerce store and tell us about your experience. If you have any questions, feel free to drop in a comment. I will definitely get back to you.
Major Benefits Of 1 Click Upsells
Growth in revenue.
Opportunity to sell more products.
Reduced cart abandonments.
Faster checkouts.
P.S. Don't have Smart Offers, Buy Now on your WooCommerce site? Get them right away…
Buy Smart Offers + WooCommerce Buy Now
Limitation
The only limitation present currently is, The Buy Now plugin only supports Stripe and WooCommerce Authorize.net.
However, there are plans to add more gateways to this list. Real soon!
Other Recommended Resources on 1 Click Upsells