Do you sell digital products but fail to get the desired sales? Do you struggle with marketing? Or do you want to take your digital product sales to the next level?
A cost-effective approach is to set up an affiliate marketing program for your digital products.
Teaming up with affiliates lets you use word-of-mouth marketing to reach more targeted people than you could on your own.
With the Affiliate for WooCommerce plugin, you can easily set up your own successful affiliate program for digital products and physical products.
Plugins, themes, courses, podcasts, ebooks, music, graphics, apps, swipe files, software, photographs…sell any digital product on your WooCommerce store, the plugin will help build your brand and grow revenue.
Benefits of starting an affiliate program for digital products
Cost-effective marketing: Pay commissions only for successful sales.
Enhanced credibility: Affiliates' endorsement adds trust to your products.
Diversified marketing: Benefit from various affiliates' unique promotional strategies.
Higher sales potential: Affiliates' efforts can lead to a surge in sales.
SEO boost: Backlinks from affiliates' sites can improve your website's SEO.
Data insights: Gain valuable customer behavior insights from affiliate-driven sales.
Brand awareness: Expand your brand's presence across affiliate platforms.
Let affiliates promote your digital products. You focus on collaborating with the right affiliates to build relationships and get revenue. That's what affiliate marketing is about.
How to set up an affiliate program for digital products?
Starting an affiliate marketing program for digital products is very straightforward using the Affiliate for WooCommerce plugin.
4000+ users have successfully set up and amplified their affiliate program using the plugin. Check out the real reviews.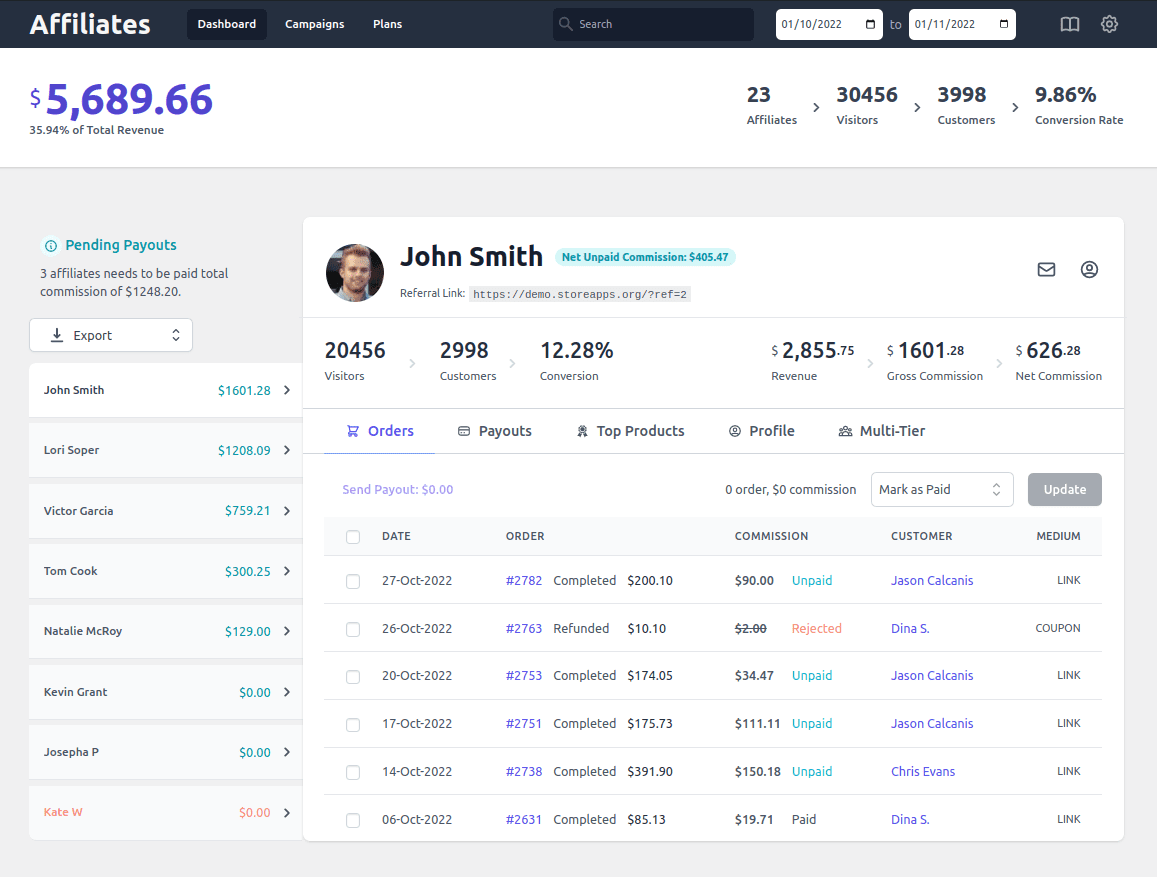 Affiliate links and coupons, commission rules, marketing campaigns…the plugin provides all the powerful tools for your digital products business. Let's explore this more in detail.
Installation and activation
As this plugin is specifically designed for WooCommerce, there's no need for integration steps. Just install and activate the plugin like you would for any other WooCommerce plugin.
Affiliate enrolment and settings
Enable affiliates to enroll in your program through the standard registration form. You can tailor the form fields using Elementor or Contact Form 7 to collect additional details from potential affiliates.
You can auto-approve affiliates but use the manual approval option to individually assess each submission, granting approval solely to the most exceptional affiliates. There's no cap on the number of affiliates you can onboard.
You also have the option to make existing customers your affiliate partners.
Configure some more settings based on your requirements:
Exclude some digital products from commissions
Allow coupons for referral
Allow lifetime commissions

Issue recurring commissions (works with the WooCommerce Subscriptions plugin)

More about the settings here. Save them and you are ready for the next.
Referral links and coupons
The plugin assigns a unique referral ID to each affiliate. Affiliates can easily create a referral URL using the Referral URL generator to promote the digital product.
For instance: https://demo.storeapps.org/?product=woo-singles&ref=2
Alternatively, affiliates can use coupons for product promotion, which can be requested from the store admin.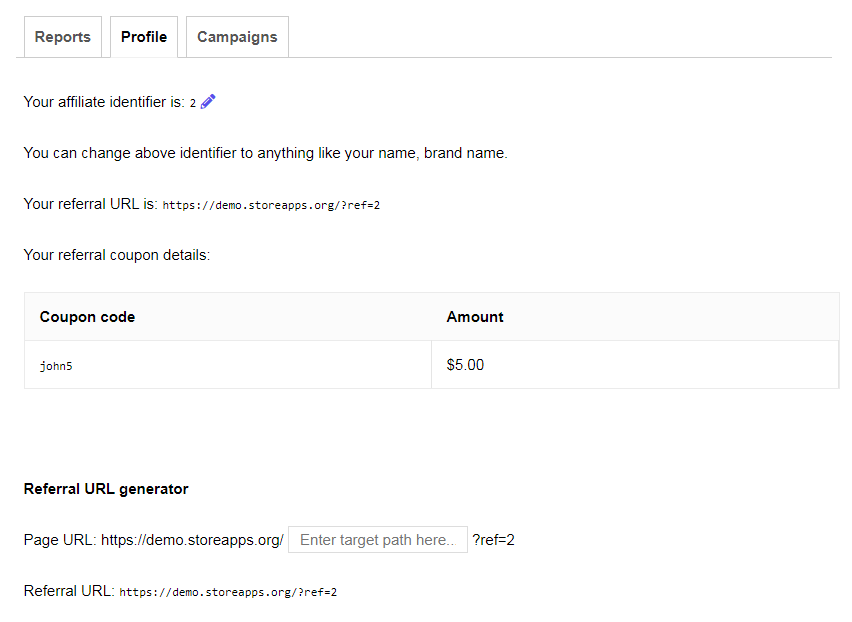 Customization is straightforward as well. Affiliates can personalize their affiliate ID by choosing their name or brand, such as: https://demo.storeapps.org/?ref=smith
Set flexible commission rules
Unlike physical products, digital products cannot go out of stock. There are also no shipping or overhead costs.
Even if you give higher commissions to specific affiliates who bring you more sales and loyal customers compared to others, you still make good money.
Using the Affiliate for WooCommerce plugin, you can create such customized commission rules using the Plans feature based on affiliates, affiliate tags, products, product categories and referral medium.
For example:
25% commission to all affiliates only on Themes (product category) but a storewide commission (20%) on other products.
Assign a flat $10 commission to Maria and James for every sale of your low-selling ebooks.
Your influencers – John, Lori and Kiara will earn a 50% commission on the sale of your email marketing and SEO courses.
Set up a three-tier commission plan for your apps.
and many more…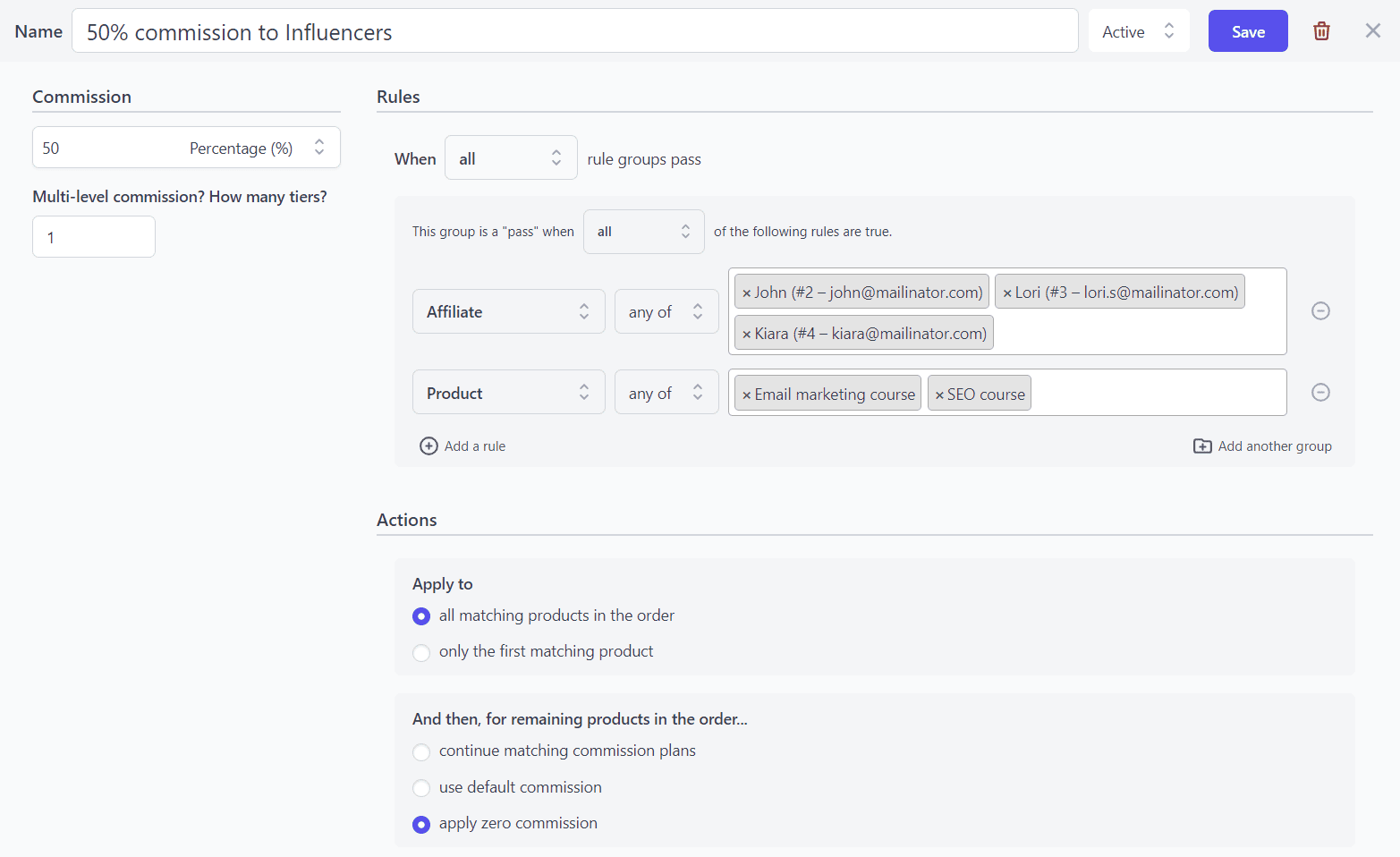 Such is the flexibility of the plugin. Refer to this blog on setting different commission rates.
Create tailored marketing campaigns (creatives) for your affiliates, aligning with your brand's identity.
Incorporate a range of assets: images, videos, PDFs, swipe files, banners, e-books, logos, and beyond within the campaigns. Empower your affiliates to utilize these resources across their platforms, amplifying your brand promotion.
Additionally, you have the option to either share these assets with all affiliates or restrict access to specific ones. For example, share banners and swipe files about your digital courses only with Influencers.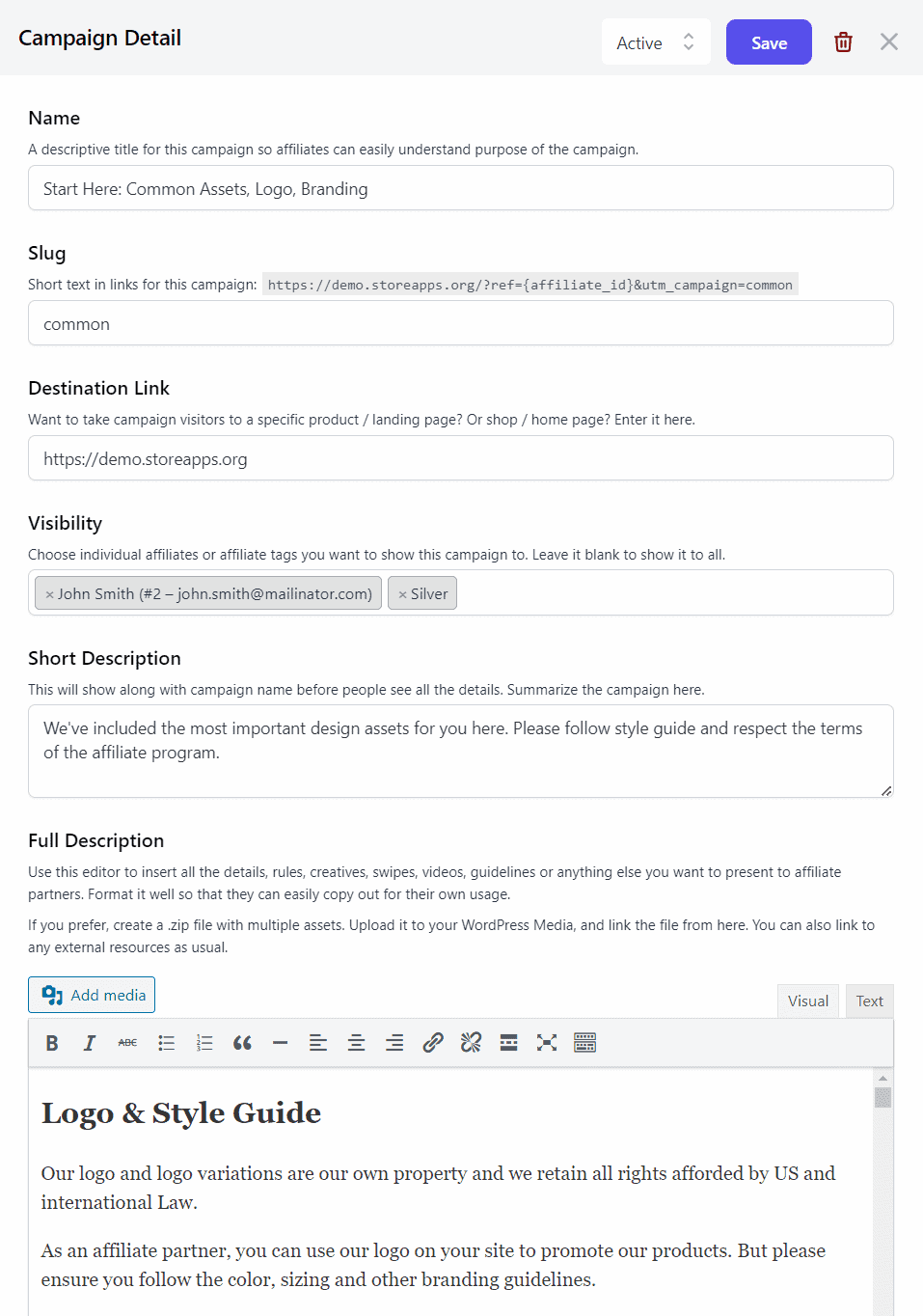 Making payments to affiliates
Providing prompt affiliate payments fosters loyalty, encouraging affiliates to remain engaged with your brand over the long term.
You have the option to pay commissions via PayPal using the plugin or mark them as paid and execute manual payouts outside the plugin.
That's it. Your affiliate program for digital products is set up.
Monitor everything from one place
Simplicity is plugin's focus, so you get all the essential metrics for a straightforward view of affiliate performance. No overwhelming data, just key insights at your fingertips.
Store owners can monitor net affiliate sales, outstanding commissions, refunds, payment methods, order dates, payouts, and additional details.
Moreover, there's a specialized dashboard for affiliates to monitor their performance, including commissions, sales, and products sold. They can access campaign resources, view and personalize their affiliate URL, and gather insights.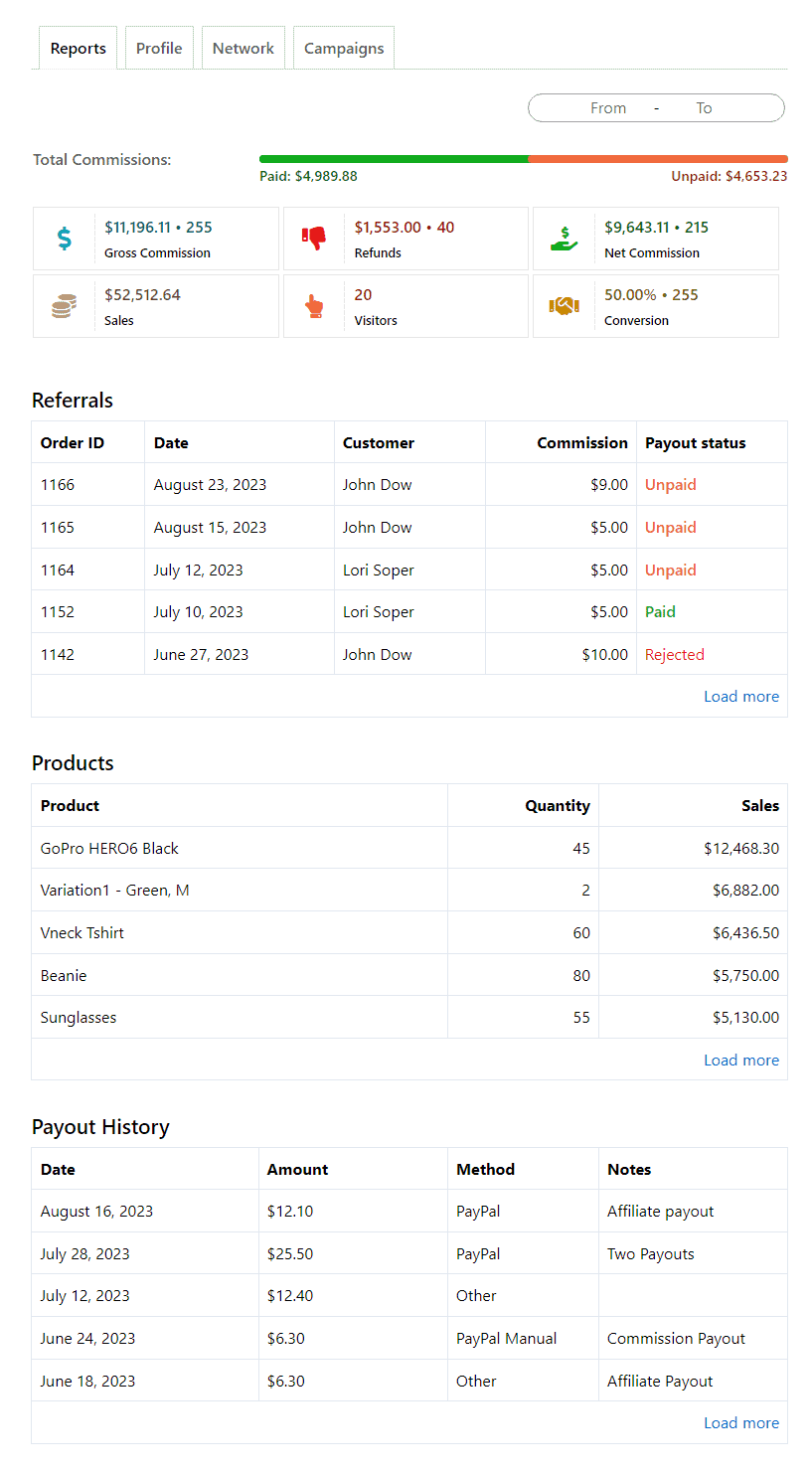 Launch your affiliate program today
Establishing an affiliate program for your digital products can yield substantial benefits for your business's growth and success.
By initiating this program, you open up avenues for growth and collaboration, creating a win-win scenario for your business and your affiliates.
With the Affiliate for WooCommerce plugin, it's a matter of time before you start seeing revenue growth.