People usually don't buy things right away. They like to find discounts or good deals first.
Because everyone loves deals, especially coupons. And seasons are the best times when customers buy and gift their loved ones.
However, not all seasonal promotions are for you. You need to think of your profit margins.
With Smart Coupons, you can put your seasonal discount campaigns into reality with ease. With its gift cards, BOGO and advanced discount rules, you can enhance your WooCommerce stores' sales.
In this blog, we look at the best seasonal promotion ideas for each month to boost revenue.
What are seasonal discounts?
Seasonal promotions or seasonal discounts are special offers and discounts tied to an event during the year. This can be an Independence Day offer for a country, Black Friday or Christmas.
It's a smart move to plan your promotional calendar for the year. You can surprise customers with unique deals, boosting sales and brand presence, thus beating the competition.
Sometimes, certain times of the year are really important for making money because you sell a lot. Also, when people get more interested in buying things during specific times, you have a good opportunity to turn them into regular customers.
Top seasonal promotions ideas for the year
Here's a list of potential seasonal promotions that could be run for each month in different countries, taking into account holidays, events, and consumer behavior patterns.
January – Leverage New Year resolutions
At the start of the year, people often set goals for getting healthier and managing money better.
Take advantage of this mindset by helping people with their fitness goals. You can offer free personalized fitness tips and then upsell your better products they might like.
You can even run a clearance sale to clear out old stock and make way for new inventory.
If your target audience lives in Australia or India, the 26th of January provides an excellent opportunity to run a clearance sale. It's their National Day and Republic Day respectively.
Use Smart Coupons to create coupons that auto-applies only on specific products and only for visitors in Australia or India.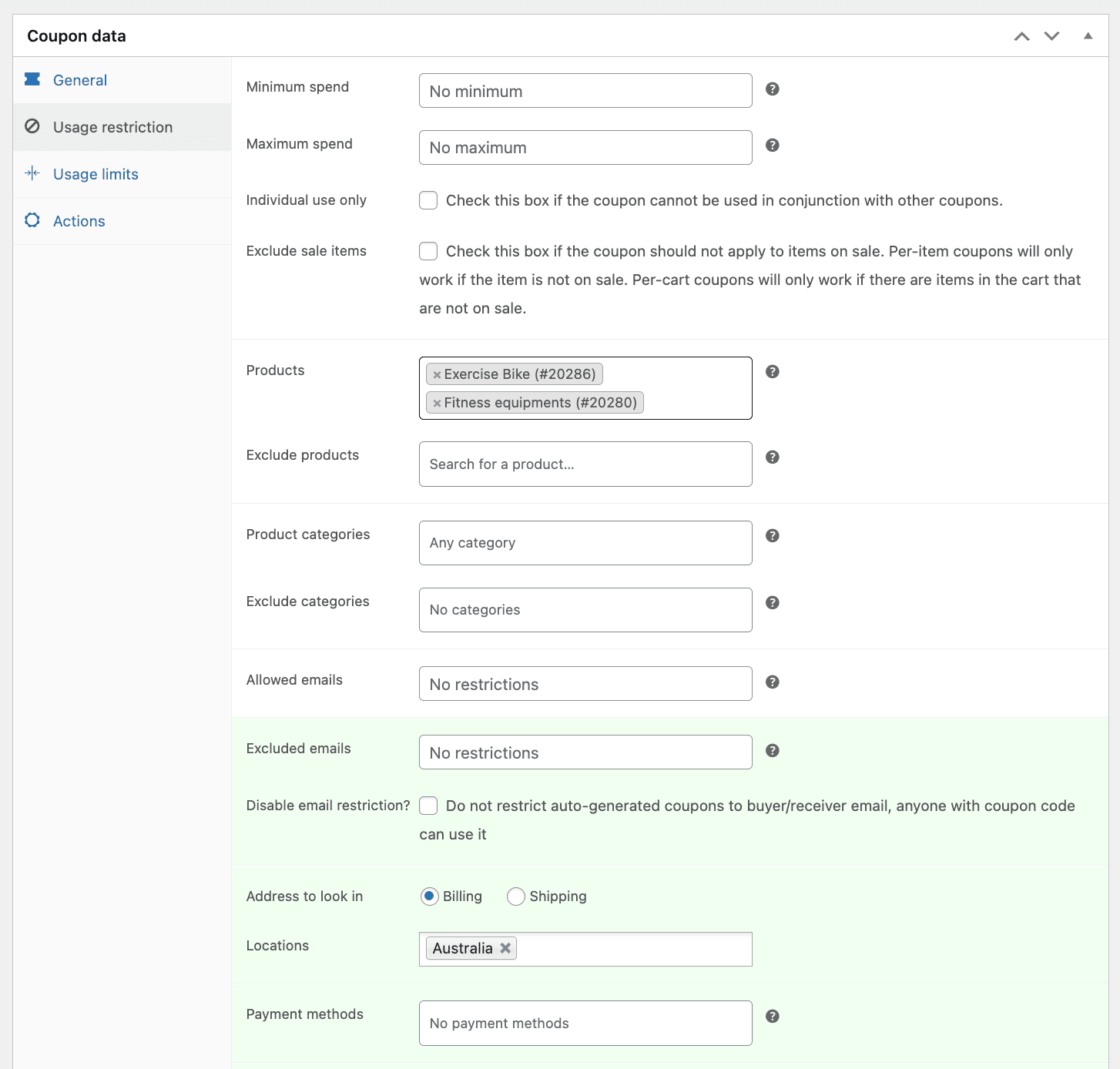 February – Offer bundles on Valentine's Day
Love sees no discounts. So why lose the opportunity to earn more money?
Do not run discounts. Instead, offer valuable bundles or customized hampers that can make your customer's Valentine's Day very special.
Combine items from earrings, pendants, rings, bouquets, chocolates, photo frames, teddy bears, and mugs into romantic packages your customers will adore.
If you are using WooCommerce, use Chained Products to create alluring Valentine bundles to boost your revenue.
Valentine's Day is now celebrated globally with enthusiasm, extending beyond the US, Canada, and the UK. Seize the opportunity to spread and receive love!
March – Go Green for St. Patrick's Day!
This idea resonates with folks in Ireland, the UK, and the US.
Set up a sitewide notice with the coupon code across your site using the Smart Coupons plugin. Try something like: "Get 10% off sitewide. We'll donate 5% to environmental protection. Use code patrcik10."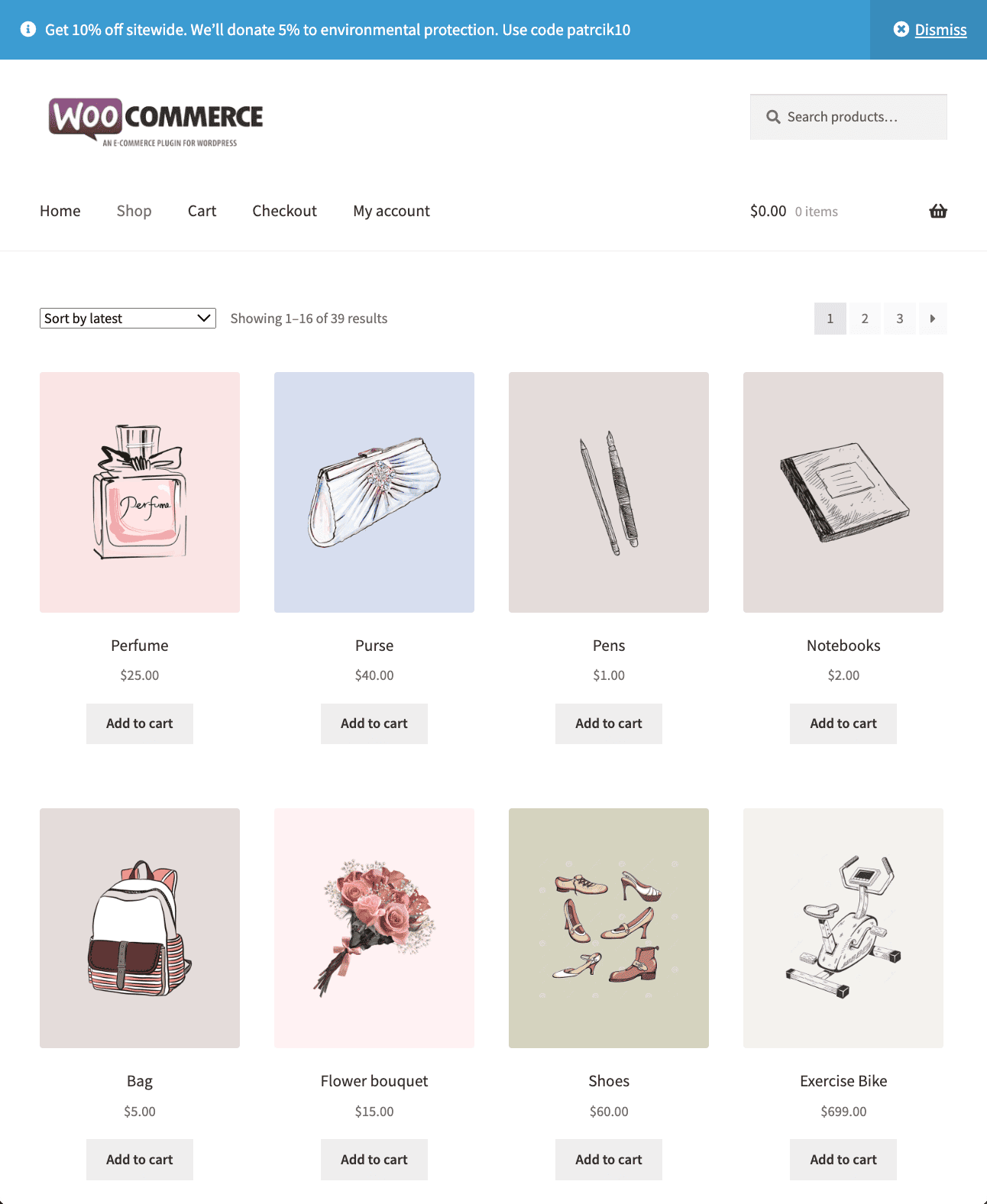 It's not just an offer; it's a way to do something good and still boost your sales.
April – Lucky coupons in Easter Eggs
Do not give direct discounts, but let customers choose the discount they want.
Icegram Engage plugin can help you set up an Easter Eggs campaign wherein each egg contains a different discount. If you are the lucky one, you get a higher discount.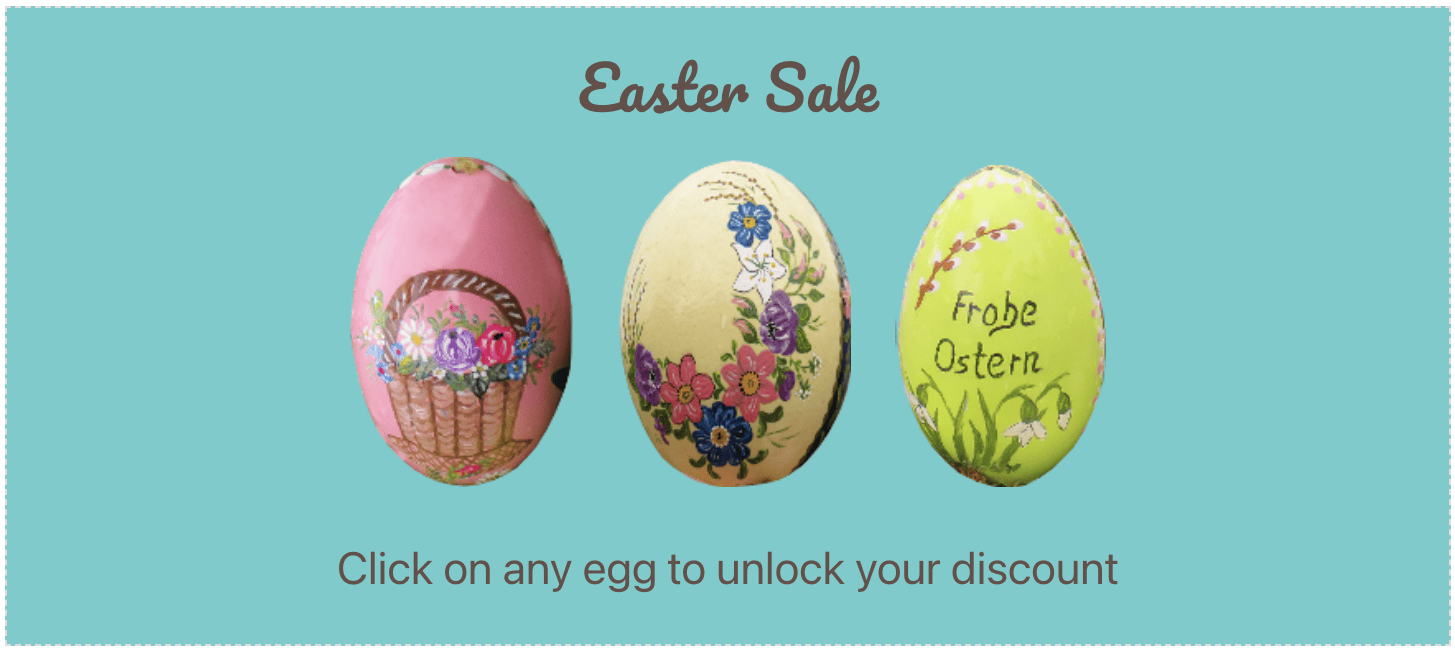 An out-of-the-box thing, right?
Observed on the second Sunday of May in many countries, Mother's Day holds promise for your seasonal promotion tactics.
Moreover, Mother's Day isn't limited to one industry. While perfumes and flowers are classics, you can promote nearly anything as a gift since women have diverse interests. Think clothes, shoes, bags, watches, jewelry, and more.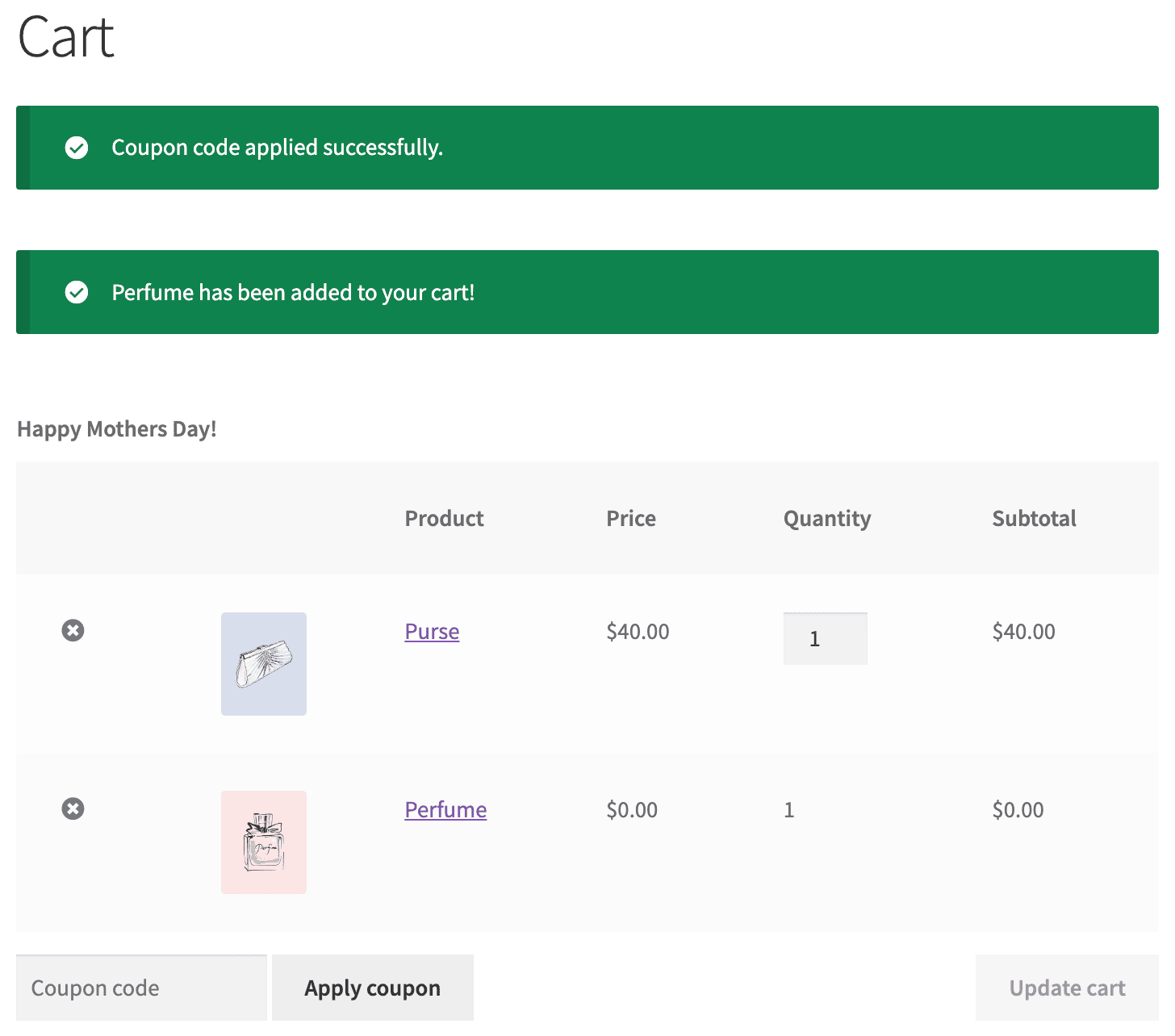 This day is not about sales but building your brand and acquiring customers.
Buy One Get One offers are the best deals to offer. You may spend some from your pocket on this day but you will make some lifetime customers.
Again, look nowhere beyond Smart Coupons to run BOGO deals on this auspicious day.
June – One for unsung heroes: Dads
You can then adopt a similar approach for Father's Day in June. It's a great opportunity to sell electronics and home improvement products, clothing and accessories, along with essentially anything else in your store.
It can be BOGO offers or giveaways. Just make sure to set up a great offer message.
June is also the start of summer in Brazil, France and other European countries. So offer discounts on beachwear, outdoor equipment, travel-related items, vacation packages or travel accessories.
This season also tends to bring refund requests due to travel changes. Keep these customers engaged by offering store credit for refunds for cancelations.
July – Canada Day and US Independence Day
Here's a list of Independence Day of all countries. A clever approach is to offer discounts exclusively for the country celebrating its Independence Day, especially if you're based there or targeting users from that location.
For instance, on July 1st for Canada and July 4th for the US, roll out sales specifically for residents of those countries. Feature patriotic items, BBQ essentials, and summer fashion, i.e offer discounts by product categories.
August – Back-to-school campaigns
August is prime time for back-to-school promotions, particularly if you're catering to customers in North America.
Capitalize on the return-to-school season by highlighting products like laptops, backpacks, stationery, and study essentials.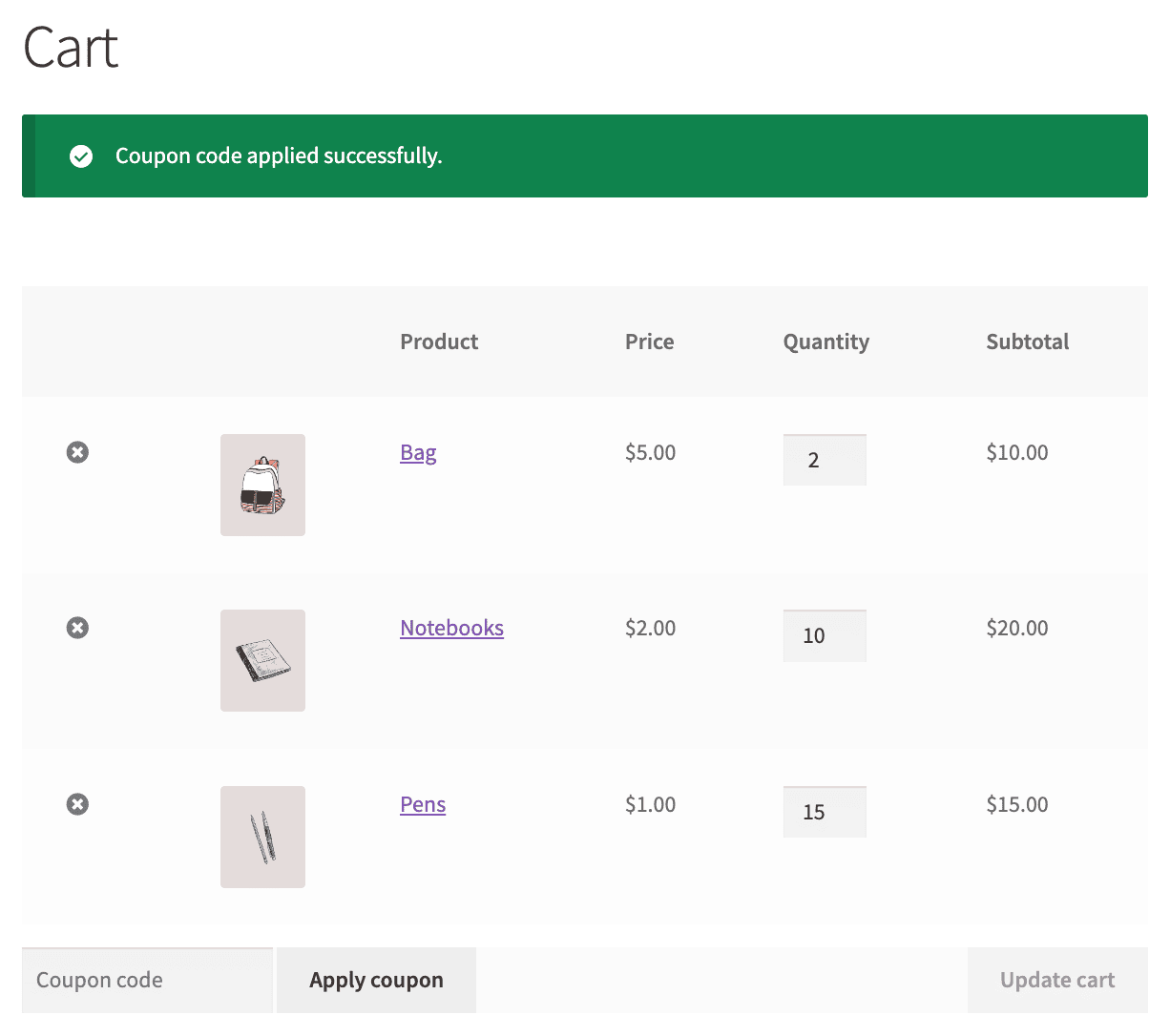 A better deal would be to offer more discounts based on product quantity in the cart with Smart Coupons.
September – Do not run offers
The following three months after September are major money spinners in the world of seasonal promotions, presenting numerous opportunities to rack up impressive sales numbers for many businesses.
So better to stay away from deals and coupon codes in September. In case you want to get some revenue, run a one-day 'End of summer sale'. Offer discounts on outdoor furniture and clothing, especially in Germany and the United States.
October – Spread the light with festive offers
There are two main events in this month.
Diwali, the festival of lights and joy in India falls in October or November. And people shop like crazy. From running discount offers to BOGO, 250 million+ online customers are waiting to be served.
Halloween falls on 31st October. It can be an opportunity to offer deals on home decor items and spooky clothes for people in the US and Canada.
November – Mega savings for Singles Day and Black Cyber
Prepare for the biggest shopping events of the year:
Singles Day on 11 Nov in China
Thanksgiving, Black Friday and Cyber Monday in November end
These are the times when you can offer big discounts across various categories – digital products, fashion, or food items. You might even find amazing flat 50% off deals. People go on shopping sprees during these events.
You can also smartly pitch your offer as 70% off but limit the maximum discount up to $50 using Smart Coupons. This is just to not burn holes in your pocket. A smart move for high-end electronics and furniture items.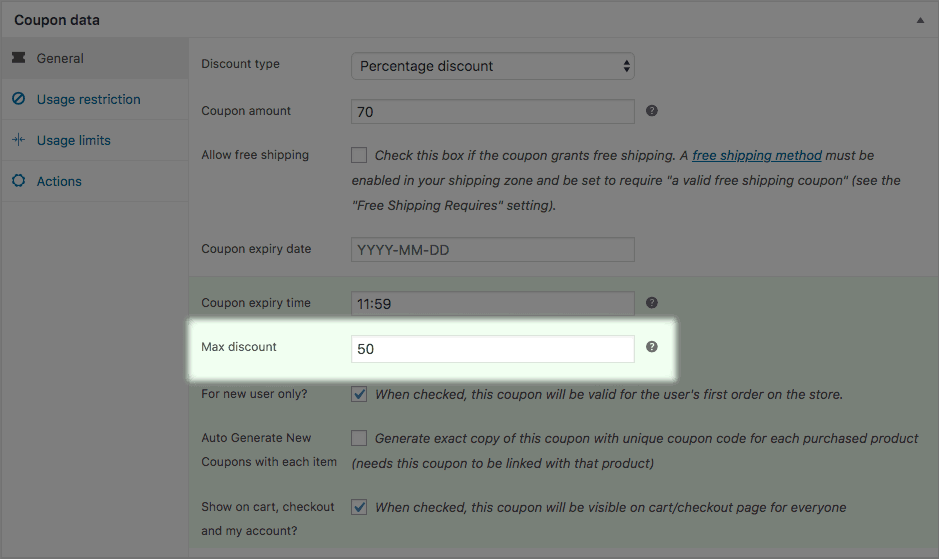 Another benefit of using Smart Coupons is you can bulk generate thousands of unique coupons. Distribute these seasonal coupons to deal sites and tap into some unknown yet targeted audience during this Thanksgiving season.
December – Schedule gift cards for Christmas
No surprises here – it's Christmas time! Allow customers to buy and schedule gift cards using Smart Coupons.
They can purchase these cards from your store before Christmas and give them as presents on the big day, becoming their very own Santa Claus.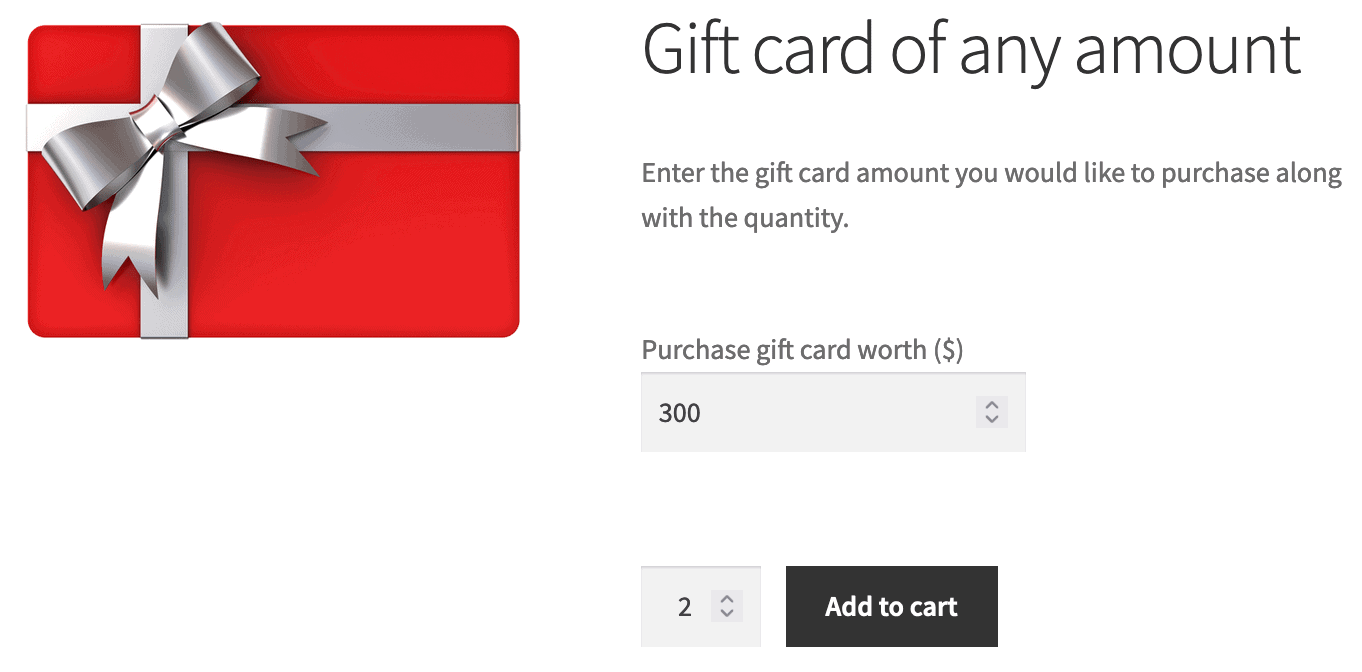 The day after Christmas is also significant – it's called Boxing Day, celebrated in the UK, Canada, Australia, South Africa, and Europe. Many people take advantage of Boxing Day sales, often due to their Christmas holidays.
In fact, due to the Christmas holidays, people choose to take advantage of Boxing Day sales.
Remember, these are general ideas, and the effectiveness of these promotions can vary based on market trends, cultural preferences, and local events. Experiment with what works better for you and plan your future campaigns based on data and trends.
How to create a seasonal promotion coupon?
Consider, for instance, you need to create an Independence Day coupon that expires on 4th July at midnight and is valid for users only in the United States.
Once you install and activate the Smart Coupons plugin, follow these steps:
Go to your WordPress Admin panel > Marketing > Coupons > Add new coupon.
Click on 'Generate coupon code' or enter your own code.
Enter coupon description for reference – Independence Day Sale.
Select Percentage discount as the Discount type, and enter 15.
Set the coupon expiry date(2023-07-04) and time (23:59) respectively.

Under the 'Usage restriction', check the Individual use only option.
Scroll down to the Locations option. Search and select the United States.

Under 'Usage limits', set the usage limit per user to 1.
Publish the coupon.
You can use the storewide notice coupon feature of Smart Coupons to show this 15% discount coupon code in an action bar (header or footer) on your website.
Repeat the steps to create similar coupons for different location restrictions. For more coupon-related use cases, refer to this doc.
Do not run the sale for every holiday
Seasonal discounts are good. But you don't have to use every holiday or yearly event for promotions, and it's better not to.
If you have a sale for every holiday, you might not make as much money. People will always wait for your offer and purchases won't happen, leading your business into losses.
So depending on what you sell, there are specific times when you earn the most money. Promotions work best during those times.
For example, Black Friday is best suited for digital sellers to tap the US market. If you serve the Indian market, the Diwali festival is the best time to run discount campaigns. For European markets, the winter sale is a good campaign to run during the end of January.
Marketing is about experimentation. However, amid the struggle to acquire more customers, store owners overdo discounts without analyzing trends and data.
We suggest using Putler to delve into your store's performance over the past years. This provides insights into successful approaches and areas that need improvement. Such insights can fuel innovative messaging and help you connect with potential users effectively.
Winding up
Every month of the year provides at least one focal point for your seasonal promotions strategy. Whether you're sticking with Black Cyber or branching out to Mother's Day, you'll have plenty of festive sale opportunities.
Adapting your strategies to suit the specific needs and interests of each country will yield the best results.
Use the plugins mentioned and your WooCommerce business will be thriving.